Manchester United suffer striker crisis, is Sir Alex Ferguson behind or against the Red Knights, SWP is the new Ashley Cole & Warnock takes on Jordan in the battle of the quotes
Comment & analysis round-up
Quote of the day: "I was disappointed with Wayne [Rooney]. He didn't come off, I couldn't believe it, and now he's a doubt. We're going to have to assess him because he played virtually the full game for England, which I am disappointed about. Playing at Wembley on that kind of pitch for almost an hour [in the Carling Cup final] on Sunday, and then almost the full 90 minutes on Wednesday, it's far too much. Wayne is exhausted. I don't blame Fabio at all, but don't forget he [Rooney] was not supposed to be playing at all. That's what Wayne told us on Sunday because he was feeling his knee. Then all of a sudden you press get hold of him, and people put an arm round his shoulder with England, and he wants to play. He went into the game with an injury and I don't think he should have played but his own enthusiasm has caused it. He can't say no, that's his problem." – Sir Alex Ferguson.
Runner-up: "At City, when I was playing, I knew that at some point the substitution board would go up and I was going to come off because the manager [Roberto Mancini] didn't have trust in me. Then, you start to lose your confidence on the pitch… It wasn't a lack of respect, though. I just think it was a lack of ability on the part of the manager." – Robinho.
Today's overview: Wait a minute. Wasn't Michael Owen finished? And wasn't his move to Manchester United pretty much a flop after he was kept on the bench for the majority of the season? Well, somehow all of that critique of Little Mickey has fallen by the wayside after the striker confirmed his season is over due to a hamstring injury and, with Wayne Rooney less than fit too, all of a sudden United have striking problems.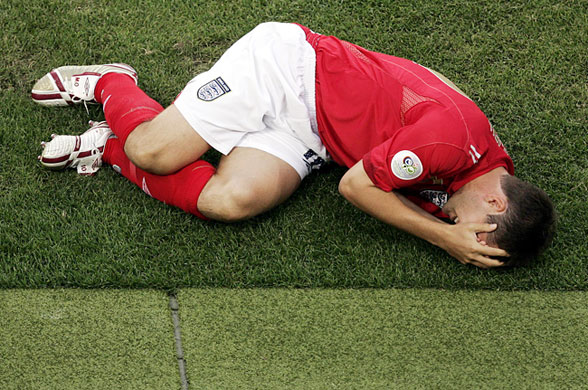 Sensationalising the story, Mark Ogden chugged "Michael Owen has plunged Manchester United into a striker crisis after succumbing to a hamstring injury that will rule him out for the rest of the season… It also all ends Owen's hopes of forcing his way into Fabio Capello's England squad for World Cup 2010." (Erm… wasn't that a given anyways?!)
Similarly rewriting history, Henry Winter seems to think there is something special in calling Little Mickey the third best English finisher around. "Apart from Wayne Rooney and Defoe, there is no better English finisher around. Even this season, when people have sought to belittle a forward who stands behind only Sir Bobby Charlton, Gary Lineker and Jimmy Greaves among England's all-time scoring greats, Owen still showed his enduring class."
Daniel Taylor thumbs over the wider attacking issues causing Fergie problems. "With 28 goals already, it is obvious why Ferguson is desperate to protect Rooney, particularly as Owen's absence limits the club's attacking options, with Federico Macheda having regressed since last season and Daniel Welbeck on loan at Preston North End. Dimitar Berbatov's form has been erratic and Ferguson confirmed the Bulgarian may need an operation at the end of the season due to a knee problem. Mame Biram Diouf is new to English football after signing from Molde in January."
From one issue to the next at Old Trafford, where today the Red Knights have called in a few favours from the fourth estate in their bid to negotiate the price of Manchester United down across the backpages.
Although the Glazers seem reticent against selling the club, Owen Gibson shouts "the group of wealthy Manchester United fans looking to wrest the club from the Glazers today moved to play down speculation that they would pay up to £1.5bn, believing it to be worth little more than half that. The Red Knights, a group now numbering more than 60 wealthy United fans from around the world, are understood to believe that a more sensible valuation is around £800m."
Putting the valuation of Manchester United to one side, Patrick Barclay voices a host of uncomfortable questions about the Red Knights. "I've just read that some chaps in the City are so poor that they can barely afford to raise £1.5 billion for Manchester United. Seriously, is it just me? Or did you, too, react to the news that dozens of financiers and the like have huge sums available to put towards United's rescue from debt — a minimum of £20 million each is understood to have been pledged for this heart-wrenchingly good cause — with nausea?"
Nevertheless, others, like James Lawton, remain convinced that the Red Knights are good for English football. "What the Red Knights are proposing do, in essence, is buy back a substantial part of English football. Vitally, they are doing it from a position of long-held affection for the club. They are not casually acquiring an asset or a fad – at least we have some reason to believe this – they are not disposing of some of the proceeds of oil or other mineral rights in foreign lands, they are not likely to run foul of human rights groups, they are not announcing any new or bogus allegiance."
Where does Sir Alex Ferguson sit regarding the Red Knights?
Dishing the negative first, James Ducker shouted "Sir Alex Ferguson has insisted that there is "no chance" of the Red Knights persuading Manchester United supporters to boycott games in their battle to wrest control of the club from the Glazer family." Yet, almost amazingly, Paul Kelso delivers a completely opinion writing "the Red Knights consortium stalking Manchester United received a boost on Friday after Sir Alex Ferguson offered an equivocal assessment of their plans to try and tempt the Glazer family into selling the club. "
Moving on, Daniel Taylor uses Paul Scholes as an example to needle away at Shaun Wright-Phillips for his apparent stubbornness in his contract negotiations at City. "The first reaction on hearing that Shaun Wright-Phillips feels under-appreciated to be offered a new contract worth £70,000 a week is one of weary acceptance… Over at Manchester United, meanwhile, a high-ranking source reports that it will "probably take two minutes" for Paul Scholes to agree the terms of a new contract, without the help or otherwise of any agent, when he gets round to discussing it with the club's board. Scholes, you could say, has a genuine affinity to his club. Wright-Phillips? He is just another on the long list of football's multi-millionaires who thinks he deserves better."
Pressing his tongue firmly against his cheek, Des Kelly also laid into SWP. "Cruelly, the diminutive winger has been left to struggle on a salary of just under £4.2million a year and, with two years of his present deal still to run, faces being locked in this penury for some time… It's another Ashley Cole moment. With one dim diatribe Wright has managed to re-enact the most notorious example of misplaced, spoilt rage by a greedy footballer in modern times."
SWP is then found pleading his case to Rob Beasley in The Sun, with readers asked to swallow the fudge that apparently money is not main factor driving the City winger. "Wright-Phillips said: 'No way is this a question of money. It's just that I love it at City and want to stay here for ever'… He is currently on £60,000 a week and is looking for a rise to £75,000. Fellow City stars like Emmanuel Adebayor and Carlos Tevez earn more than double the £60,000."
There are a couple of pieces of injury news worth wrappping up this weekend.
All the papers report that Owen Hargreaves is set to return to the pitch on Thursday in a reserve match for Manchester United. Rob Beasley dampens the mood though reporting that "Michael Essien is set to miss the rest of the season after a serious setback in his recovery from knee surgery… It follows news Portuguese right-back Jose Bosingwa will not play again this term after being told he needs a second knee op."
Moving north of the boarder, Gerry Duffy publicises that "Rangers were at the centre of a dramatic bidding war last night with TWO offers on the table for the debt-ridden club.  A group of London-based tycoons are putting together a bid but face a rival Far East consortium in the battle – with the deal expected to top £60MILLION."
Onto the Saturday transfer gossip.
The Telegraph repeat the well-known fact that Everton are hoping to extend the loan deal for American forward Landon Donovan, while Chris Hatherall announces that "Joe Cole's future at Chelsea is assured, according to assistant manager Ray Wilkins, after the club moved swiftly to dampen rumours that the midfielder could be allowed to leave on a free transfer this summer." Lastly, John Cross writes that "Wigan boss Roberto Martinez has lined up a summer swoop for Espanyol striker Jose Callejon."
The final issue to flag up is a words of words between Crystal Palace owner Simon Jordan and ex-boss Neil Warnock (now at QPR) which has broken out this Saturday.
Writing in his weekly column in the Independent, Warnock attempted to justify his reasons on jumping ship from the Eagles to Rangers. "On Monday, the parties were still talking but I felt we needed a firm decision one way or the other, so I told them both that if an agreement was not reached by lunchtime I was going to stay put until the end of the season. An hour before the deadline, I was told I was free to talk to QPR… Obviously Simon was disappointed at the timing but I think it might work out best for everyone… Palace are for sale and, although the deadline keeps being extended, I could have ended up with
an owner that didn't want me. Against that, QPR were offering me a three-and-a-half-year contract. I loved the club, but in the end I didn't think I could take the risk. If you asked 100 people what they would do in the situation, 99 of them would take the security of a contract."
Speaking to Neil McLeman though in The Mirror, Palace chairman Simon Jordan hit back with a angry response to Warnock. "I feel that he has shown no loyalty. There is a lack of decency. He was a very dear friend and I looked after him for two-and-a-half years both professionally and personally. If you are close to a guy who has lost the club he has owned for ten years, his reputation is damaged and he has lost a shedload of money and he needs you to stay in there to help the club to survive, you would do it, wouldn't you?… There is not one iota of morality about Neil's decision… There is one reason and one reason only that Neil Warnock went to QPR. It is nothing to do with the administrator."
---
GAMBLING CAN BE ADDICTIVE, PLEASE PLAY RESPONSIBLY