Manchester United should remain wary of "the Mourinho factor" while Robin van Persie has emerged as the de facto leader at Arsenal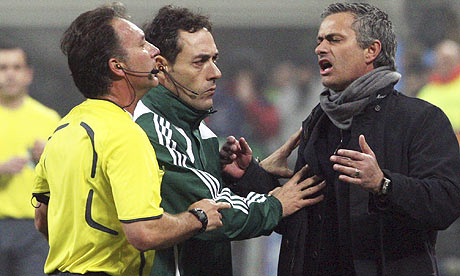 Comment & analysis round-up
Quote of the day: "My dug-out is a special dug-out. I have a special door in the dug-out that means I can leave directly to the dressing-rooms. But yesterday I left a £300 bottle of wine [for Ferguson] together with a card saying that we will see each other at Old Trafford after the game so that he knows that I am always close to him, always friends, and that I will be there to speak to him in Manchester. When we go there [to Old Trafford] we will not have the same referee. If we have another referee it gives so much protection to the away team, then it will be us who go to the quarter-finals. Hopefully in the next game the referee will be on our side." – Jose Mourinho.
Runner-up: "Seriously? I thought we saw a marvellous performance from the referee. He wasn't intimidated and that's what Mourinho means when he says he was disappointed. He was hoping to get a referee who would come here and be intimidated. But this referee wasn't intimidated at all. I thought he was first-class… There's always the threat we could lose a goal at home and that's why we wanted to score an away goal here. That's the great beauty of European football, but we didn't score against Barcelona either [in last season's semi-final, first leg] and we played a marvellous Barcelona side in the return leg. Our focus and concentration in that particular match was outstanding and that's what is going to be needed in this return match – focus, concentration and hopefully we will be all right." – Sir Alex Ferguson.
Today's overview: There is a cautious air in today's backpages as Manchester United's goalless draw at the San Siro and Arsenal's narrow win over Roma are chewed over at the midway point of the ties.
United will be kicking themselves this morning according to Kevin McCarra after the Red Devils again put in a shift that showed "superb coordination and technique, but they do not score abundantly despite their superiority in most games."
Oliver Kay delivers a more upbeat appraisal of how United should view their performance, claiming "logic, along with all the available evidence, tells you that United should progress to the quarter-finals, having been by far the more impressive team here, but first they must overcome the Mourinho factor." While Oliver Holt concluded "if Inter conjure a victory out of this tie after the way they were picked apart last night, then it will feel like if not the death of football, then at least a heavy blow to its solar plexus."
On the battle between the Premier League and Serie A, Sam Wallace penciled "United's dominance before the break did not rely on a few favourable decisions, instead it demonstrated that the gulf between the best in England and the best in Italy is widening fast." Along similar lines Martin Samuel compared the performances of Zlatan and Cristiano. "Ibrahimovic postured like a great player, Ronaldo played like one. All he lacked was the sprinkle of luck that would have turned a match-defining performance into a match-winning one."
Offering a dissenting voice, Matt Dickinson poked holes in Sir Alex's tactics. "If starting without Wayne Rooney could be regarded as vindicated by United's excellence in the first half, holding him back until the 84th minute seemed perverse because there was no attacking outlet in the second half, with Dimitar Berbatov frustratingly quiet."
Richard Williams was quick to talk down Inter's performance last night. "Inter may be romping away with a fourth consecutive Serie A title, but even under Mourinho's care they appear to remain what they have been for many years: a collection of variously talented players lacking any sort of authentic cohesion." Daniel Taylor echoed the same sentiment bleating "this Inter side, when you take away all the posturing of Jose Mourinho, are not actually that impressive. A better side would surely have done more to single out Evans on a night when the young centre-half had to play the biggest match of his life with a badly swollen ankle. Or they would have cottoned on much earlier to the fact that O'Shea, also playing after a late fitness test, might be vulnerable if Zlatan Ibrahimovic went directly against him."
Swimming against the tide, Henry Winter was able to credit Inter's draw to on player. "United left the San Siro goalless only because of Inter's superb goalkeeper, Julio Cesar."
Arsenal's narrow win over Roma left Amy Lawrence crowing over RVP. "In this season of cursed captaincy… Van Persie has emerged as the de facto leader of the team. It is not just the 15 goals he has plundered this season. It is the fact he has shown up in games when too many of his team-mates have been cowed." A more cautionary appraisal was offered by Matt Hughes, who was disappointed Arsenal didn't book "their place in the quarter-finals last night, because Roma were thoroughly outplayed in one of Arsenal's best performances of the season."
Jason Burt continued the qualified post-match analysis of Arsenal's win. "Arsenal blew Roma away but, at the end, they had only Robin van Persie's first-half penalty and a bucketful of missed chances to reflect on. An ugly thought, but there was great beauty in their football, great admiration for their bold, lightning-quick approach."
Ahead of Liverpool's match in the Bernabeu tonight, Sid Lowe chronicles Rafa Benitez's long-standing connection with the club, noting Rafa "was born in Madrid, grew up in Madrid and was schooled in Madrid. He went to university in Madrid, married in Madrid and did military service in Madrid, barely a hundred yards from the Santiago ­Bernabeu." While in a separate article for the Guardian, Spanish supremo Sid Lowe praises Lassana Diarra's impact on Los Blancos. "[Diarra] has been a revelation. He has settled quickly, has made himself popular in the dressing room with an unassuming attitude and has performed brilliantly, suggesting that Madrid have succeeded in getting a new Claude Makelele who might actually be as good as the old one."
While David Pleat picks out his key clashes in the Real Madrid-Liverpool match, Rory Smith views tonight's match in Madrid as a job interview for Benitez. "Beat Juande Ramos's resurgent team and Benitez will surely find more than one contract offer at his fingertips come the summer. Prove, yet again, that he has the magic touch to deliver the 10th European Cup that is Real's obsession and one of the club's presidential hopefuls would surely come calling."
Taking a complete opposite position, John Edwards claims that Rafa Benitez has been talking himself out of the job at Real. "They are not renowned for accepting excuses at Real and it hardly portrayed Benitez in the right light when he reflected on Liverpool's faltering title push and claimed he was being made to carry the can for two decades of failure in the league."
In a standout article Matthew Syed describes Steven Gerrard's worth to Liverpool. "He is so omnipresent, so bound up in every move on the pitch and nuance off it, that he sometimes seems less like a player and more like a conductor; Sir Georg Solti rousing the orchestra in the final stages of Mahler's Fourth Symphony, our hairs standing on the back of our necks."
With Spurs and Aston Villa set to play weakened sides in the UEFA Cup this week, Tim Nichols wonders what is the point of the tournament. "The allure of the Champions League is undeniable, but what's the point of the UEFA Cup if clubs aren't going to take it seriously? What's the point of toiling all season to secure European football, only to give up as soon as the competition reaches the knockout stage?"
In other football news, Rob Stewart details how Newcastle have decided to cut season ticket prices by 9% in an effort to raise home attendances, Matthew Fearon picks his all-time leaing Liverpool XI in the Independent, while the Daily Mirror claim "Chelsea are tracking Sparta Prague wonderkid Vaclav Kadlec, 16,  regarded as the best Czech prospect since Tomas Rosicky. Sparta want around £6million for the youth international striker."
---
GAMBLING CAN BE ADDICTIVE, PLEASE PLAY RESPONSIBLY