Manchester United chase Lampard, Man City try to gazump Chelsea for Taison & Arsenal want Biglia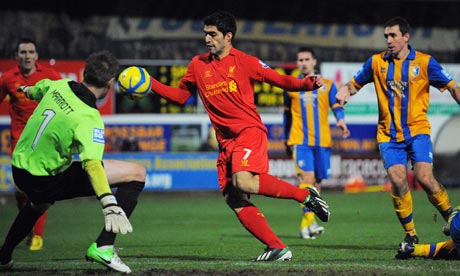 Comment & analysis round-up
Quote of the day: "If he has to tell the referee that he handled, do the defenders have to go and tell the ref every time they foul a striker? It's laughable, it really is. Seriously, Suarez did nothing wrong, and I'm amazed at the reaction. I honestly don't even believe he handled deliberately. The ball is smashed right at his hand from very close range, and he'd need some reactions to have calculated that one. You can see by the way his arm bounces above his shoulder after the ball hits him that he isn't braced for it. That tells you something. I think the way he then knocked the ball in the net he assumed it would be ruled out, but if there's any criticism, it should be at the referee, not the player." – Robbie Fowler.
Runner-up: "Yes, I would like to come back to coaching. I have been out for a year and it's what I would like but there is no reason to give any more specific details. I don't have a team to go to but I would like to go back to coaching. I have taken a decision to return but beyond that no decision has been taken." – Pep Guardiola.
Lionel Messi wins 4th Ballon d'Or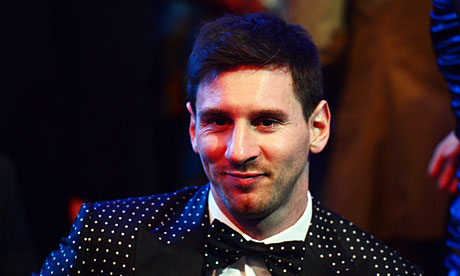 Lionel Messi: a fourth Ballon d'Or and dominance looks unstoppable (Sid Lowe, Guardian) Another record falls. Lionel Messi finished 2012 on 91 goals in 69 games. He began 2013 by winning the Fifa Ballon d'Or (with 41.6% of the votes), Cristiano Ronaldo (23.7%) came second and Andrés Iniesta (10.9%) third. It is the fourth time Messi has won it and no one else has won it so often. Because the award is a merger of the old European Footballer of the Year and the Fifa World Player of the Year which was inaugurated only in 1991, Diego Maradona never won it and nor did Pelé but it is doubtful if they would have matched Messi's achievement. Marco van Basten won the European award three times in five years, Johan Cruyff three in four and Platini three years in a row. Alfredo Di Stéfano won it twice. Messi has superseded all of them.
Lionel Messi rewarded for displays no rival could ever match (Paul Hayward, Daily Telegraph) Lionel Messi is monopolising the world player of the year title the way his feet dominate the ball. The little maestro's magnetism has kept the prize in his possession for a fourth consecutive year. Cristiano Ronaldo is an all-time great stuck in a back-up role. The true measure of Messi's brilliance is that there is a twitch of anticipation every time the ball rolls to his toes. You can feel this universal excitement in stadiums, bars and living rooms. It is the promise of sorcery – of the unexpected – and it comes dozens of times in his every game. Those who voted for him again for the 2012 award are obeying this sense of wonder despite the strong claims of his rivals in a gilded age.
Lionel Messi makes us smile – Luis Suarez shows game's ugly new face (James Lawton, Independent) On the night Lionel Messi reminded us that uncommon grace can still occasionally walk easily alongside the highest achievement, Luis Suarez was still locked away from the kind of uncomplicated acclaim that once again bathed football's fabulous Little Big Man in Zurich. While Suarez's apologists, led by his Liverpool manager Brendan Rodgers, insisted that he owed the game no more than his most ruthless accomplishment, Messi was suggesting that his unprecedented fourth straight Ballon d'Or should really have been handed to his relatively unheralded Barcelona team-mate Andres Iniesta. The images of two remarkably gifted footballers were separated by more than a large slice of Europe.
Luis Suarez and that goal at Mansfield
Liverpool's main problem is not Luis Suárez's handball but his future (Andy Hunter, Guardian) Suárez's subsequent performances will only have increased the appetite of major European clubs to sign the Uruguay international and it is Champions League football, not a handball that a referee failed to penalise against Mansfield, that will trouble Liverpool should they fall short again this summer. In the meantime Liverpool have to make progress under Rodgers to convince Suárez that his ambitions can be fulfilled at Anfield – the FA Cup fourth round, through fair means or otherwise, included.
Luis Suárez accused of embarrassing Liverpool with goal at Mansfield (Owen Gibson & Andy Hunter, Guardian) Mansfield were also aggrieved that three penalty claims against Liverpool players for handball were not given by the referee, Andre Marriner, and at Suárez's celebrations following his 19th goal of the season. Radford, the owner and chairman, said: "I'm going to be biased but I'm watching a Premiership referee, a game between a Conference side and a Premiership side, and some of the decisions were hurtful. "When you get a professional player like Suárez celebrating a deliberate foul then it hurts. Of course it does."
Suarez is an easy target but I have sympathy for him (Ian Wright, Sun) Luis Suarez  is a villain in the eyes of many fans but I do have some sympathy. The Liverpool striker has not helped himself during his time in English football — but he's now being blamed for things which are not his fault. Suarez is an easy target and everyone is giving him a good kicking. During my career, I found myself in a similar situation and it's frustrating when the finger is constantlybeing pointed at you. Suarez is getting loads of stick for his goal against Mansfield in the FA Cup on Sunday but I strongly believe the handball was unintentional. He was trying to move his hand AWAY from the ball before it struck and as he scored, you could tell he thought it would be disallowed.
Manchester United chase Lampard
Fergie wants Frank (Neil Custis, Sun) Manchester United want Frank Lampard and the Chelsea star is ready to move to Old Trafford. Lampard has been told he is no longer wanted at Stamford Bridge, with his contract set to run out in the summer. United manager Alex Ferguson is convinced the veteran midfielder, 34, can still do a job at the very highest level. He is a long-time admirer of the player and tried to get him before he even joined Chelsea. It is unlikely a deal will be done this month — when a fee would be involved — while Lampard is also keen to see out the rest of the season at Stamford Bridge.
Manchester United considering move for Chelsea midfielder Frank Lampard in summer transfer window (Mark Ogden, Daily Telegraph) Ferguson, who is also planning a £16 million summer move for Borussia Dortmund forward Robert Lewandowski, has been a long-term admirer of Lampard, with his interest in the three-time Premier League winner dating back to a failed attempt to hijack Chelsea's £11 million deal with West Ham United in 2001. In 2009 he went on record with his respect for Lampard, saying: "He is an exceptional player and a huge asset to his team."
Where is Pep Guardiola going?
Stand Guard! United, City and Chelsea on alert as Pep Guardiola announces he wants summer return (Martin Lipton, Daily Mirror)Pep Guardiola fired the starting pistol on the biggest managerial scramble for years by revealing he is ready to return to the dug-out. The former Barcelona chief is half-way through a "sabbatical" year with his family in New York after leaving the Nou Camp last summer. Sources close to the Catalan had insisted he would decide by February what his plans for next season were. But last night, attending the FIFA Ballon D'Or Gala in Zurich where Lionel Messi was named World Player of the Year for the fourth consecutive year, Guardiola made his move ahead of schedule.
Manchester City try to gazump Chelsea for Taison
Tai takeway? Chelsea in danger of losing Taison after Man City make late enquiry (John Cross, Daily Mirror) Roman Abramovich could lose out on £11m target Taison after Manchester City tried to hijack the deal at the last minute. Taison, 24, believed he was on his way to Stamford Bridge after Metalist Kharkiv agreed a deal with Chelsea who have also settled on personal terms with the Brazilian midfielder. But Metalist are understood to have suddenly asked for more money after City, Benfica and Shakhtar Donetsk all made enquiries. Chelsea owner Abramovich is aware of the last minute change and is desperate for Taison not to join their Premier League title rivals. Despite being uncapped by Brazil, Taison is in big demand and Metalist have told Chelsea to sort it out in the next 24 hours – or they will go elsewhere.
Chelsea want Fellaini
Chelsea at the front of the queue as English clubs alerted to Fellaini's £22m buyout clause (Laurie Whitwell, Daily Mail) England's top clubs are on alert over reports that Marouane Fellaini has a £22million buyout clause in his contract. The Everton midfielder is interesting a number of teams but the clause, inserted in a five-year contract in 2011, can only be triggered by a club who play in the Champions League. Holders Chelsea are likely to be at the front of the queue. Fellaini, 25, scored his ninth goal of the campaign in last night's rout of Cheltenham, and Chelsea are on the lookout for someone to replace Frank Lampard, who has been told that he can leave in the summer.
Mario Balotelli scores two for City U21s
A day in the life of Mario… handed run-out for City's kids team, turns up laughing and joking, scores two goals, snubs hat-trick by rejecting TWO penalties and is then chauffeur-driven home! (Alex Horlock, Daily Mail) Mario Balotelli was back in the goals for Manchester City in a surprise performance for the champions' Under 21 outfit – but he turned down the chance to score a hat-trick from the spot, twice. The controversial striker returned to action for the senior squad on Saturday, when he replaced Edin Dzeko in the 71st minute in City's 3-0 FA Cup win over Watford. The striker has been out of favour over the past month following a lacklustre showing in City's defeat to bitter rivals in the Manchester derby on December 9.
Zeki Fryers' move from Manchester United to Tottenham via Standard Liege
Fryers feels 'disrespected' by Fergie's transfer jibe after United offered him £1,500-a-week deal (Sami Mokbel, Daily Mail)
Zeki Fryers was left feeling 'disrespected' by Manchester United ahead of his summer exit from Old Trafford. Last week, United manager Sir Alex Ferguson asked the Premier League to look into the 20-year-old left-back's switch to Tottenham, who tried to sign the England Under 19 star last January, but refused to pay United's £6million asking price. Instead, Fryers went to Standard Liege for a small compensation fee in August, but last week joined Spurs in a £3m move – a transfer Ferguson claims was pre-planned. Fryers is said to have no sympathy for Ferguson, having felt undervalued by United after being offered £1,500 a week, despite having a £6m price tag. He is now on £20,000 a week.
Arsenal chase defensive midfielder
Arsenal consider £8m Biglia to add much-needed midfield steel (Sam Wallace, Independent) Arsenal are monitoring Anderlecht's Argentina international Lucas Biglia as a potential new signing for them in midfield where they lack an established defensive player since the departure of Alex Song in the summer. Biglia, who has two years left on his contract after this season, was considered as an option in the summer and is valued at around £8m by the Belgian champions. The holding midfield position is one of a number of areas that the club want to strengthen if possible this window with a striker, a full-back and a central defender all sought.
Emmanuel Adebayor to play at the African Nations
Ade U-turn on African Nations Cup (Sun) Togo claim Emmanuel Adebayor has changed his mind and WILL play at the African Nations Cup. Tottenham striker Adebayor, 28, had previously said that he would not go to the tournament, which starts on January 19 in South Africa. But reports in Africa suggest the striker has flown to Ghana to meet up with the Hawks for their pre-tournament training camp. Ameyi Gabriel, Head of the Togo Football Federation said: "Of course we're in the African Nations Cup with Adebayor, we will be together in South Africa. "It is very important to have him there because he is our player and captain of the team."
---
GAMBLING CAN BE ADDICTIVE, PLEASE PLAY RESPONSIBLY