Manchester United are ready to sell Berbatov and buy Benzema, Silva & Neuer while City target Vucinic, Cardozo & Ozil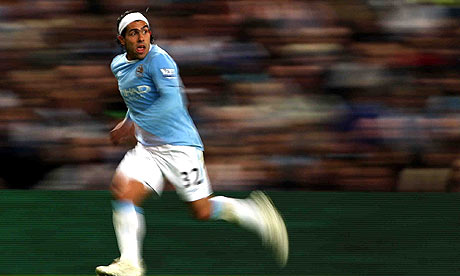 Comment & analysis round-up
Quote of the day: "The players are not happy with this. We are at the end of a long season, we have big matches, we are tired but there are still double training sessions, morning and afternoon. Then, the next day, we train for two hours. I do not understand. But, please, he [Robert Mancini] is the coach and I am the player. He is in charge. I am OK with him…I never understood the intention of that poster. What was the point? Was it to welcome me to Manchester City or was it to anger Manchester United? Nobody ever told me. I'm indifferent towards it but it is important you know I had nothing to do with the poster. I'd have preferred for it not to be there. I have respect for all the clubs I used to play for. That was not showing respect, was it? I did not transfer from United to City for the controversy… Mark [Hughes] should have been given more time. The decision was taken with too much haste. Did the directors think it through? You cannot invest so much and then sack the manager after five months. Mark brought us all here. He is a great manager and he will get another big club, 100%." – Carlos Tevez.
Runner-up: "Carlos is an interesting character. When he was at United, he saved all his energy for the games. He didn't really go over the top at training. He'd do his work in the gym. He was a professional in that sense, but everything he did was geared towards the match at the weekend. You could see him conserving his energy during the week and then laying it all on the line out on the pitch. That's not the way I operate. I have to train at a high level every day." – Rio Ferdinand.
Today's overview: It's a mixed bag this Tuesday in which the most interesting reading across the backpages surrounds the usual selection of unlikely transfer rumours amongst England's top clubs. Elsewhere, Liverpool's ownership and financial issues remain sketchy, Arsenal's boardroom remains divided and there is mixed opinion on Pompey's hopes of European football next season.
Transfer Lies: The Sun have the leading transfer news this Tuesday, as Neil Custis barks "Manchester United are ready to take a massive hit on Dimitar Berbatov and dump him at the end of the season… With United's title bid all but over Ferguson is looking ahead to next season.  His No 1 target a year ago, Karim Benzema, will be back on the market this summer after a poor season at Real Madrid." In a secondary article, Neil Custis continues to spread the gossip adding "the Old Trafford manager wants £60million – around twice as much as in recent seasons – to spend on Karim Benzema and David Silva."
Almost immediately squashing hopes of such lavish signings though, Mark Ogden disappoints Manchester United fans announcing "Karim Benzema, the French forward who rejected United to sign for Real Madrid last summer, insists he is not interested in leaving Spain, despite emerging as a leading Ferguson target again."
Continuing the Manchester United summer wish-list, Alan Nixon claims "United will also have to invest in a new keeper to come in for Edwin van der Sar, with Schalke's Manuel Neuer top of the wish list ahead of Lyon's brilliant Hugo Lloris. The Frenchman is too costly and would be reluctant to come to United and wait for veteran Van der Sar to fall off his perch as the club's undisputed number one."
Next, the Daily Mail fart "Everton are considering a move for Inter Milan midfielder Sulley Muntari in a bid to add bite to their midfield," while also announcing that "Arsenal have been linked with a move for versatile Uruguay defender Martin Caceres as Arsene Wenger seeks to remodel his defence."
The Mirror trumpet a host of new targets for Manchester City, spewing lies that Mancini "is keen on Werder Bremen's 21-year-old attacking midfielder Mesut Ozil, Roma forward Mirko Vucinic, plus two defenders, Hamburg's Jerome Boateng and  Leonardo Bonucci of Bari." Adding a fifth player to City's transfer targets, John Cross claims "Manchester City have put Benfica striker Oscar Cardozo on their summer hit-list."
Liverpool continue to be Yanked: After news broke at the start of the week that Hicks and Gillett are looking to sell Liverpool, today Andy Hunter gives the latest updates on the story revealing that had measures not been taken the Reds would have been forced to sell their star players for funds.
Hunter: "The deal [with the Royal Bank of Scotland] represents a six-month extension to Hicks and Gillett's existing arrangement with the bank and affords the Americans added time to find an investor willing to meet their £500m asking price for the club. It also reduces the threat of a "fire-sale" of key assets such as Fernando Torres and Steven Gerrard this summer should the co-owners fail to repay £100m of their £237m debt before July, as was stipulated in their last refinancing agreement. The failure of Hicks and Gillett to secure investment is the latest in a catalogue of unfulfilled promises by Liverpool's unpopular co-chairmen, who have had a fractured business relationship and have both been badly affected by the global economic crisis."
Contrasting that gloomy picture, David Maddock in the Mirror delivers the unsubstantiated, throwaway lines that "better news for Reds fans is expected this week as owners Tom Hicks and George Gillett announce that they will hand over day-to-day control of Liverpool as they look to sell the club. A series of massive changes will also see up to £50m made available for new players."
Politicking at Arsenal: Boardroom shenanigans at the Emirates make the backpages as news breaks that one of Arsenal's longest serving owners wants out.
Matt Scott reveals that "Lady Nina Bracewell-Smith today attempted to set up an auction for her Arsenal shares by hiring investment bankers to scour the market for potential buyers. However, few expect Bracewell-Smith, the holder of 15.9% of Arsenal's shares, to find many takers."
Ignoring the negativity of whether any buyer can be found, Helen Power explains the potential impact of a sale on the control of Arsenal's boardroom. "Buying Bracewell-Smith's holding alone would not hand control to [either main shareholder, Stan] Kroenke or [Alisher] Usmanov. The American wields the power because he has the support of Danny Fiszman, a director who owns 16 per cent. By buying that stake and those of small shareholders, Kroenke could call on more than 50 per cent of a vote. A combination of Fiszman and Bracewell-Smith's holdings would give Kroenke or Usmanov control."
Walking wounded: After long absences, several high-profile players look set to return to the Premier League soon.
Dominic Fifield, in his match preview ahead of Chelsea-Bolton tonight, delivered the throwaway line "Ancelotti, who welcomed Ashley Cole into training with the first-team squad at Cobham yesterday, will nevertheless omit Joe Cole and Deco, both of whom 'need a rest.'" While Gary Jacob, looking ahead to the north London derby, wrote "Robin van Persie could make his first appearance for Arsenal
since November in tomorrow night's North London derby at White Hart Lane. The Holland forward has returned to full training, but Aaron Lennon has been ruled out of the match."
Liverpool fans will be frustrated by Tony Barrett's report on Fernando Torres' knee problem. "Liverpool's anxious wait to discover the extent of the knee injury that kept Fernando Torres out of Sunday's goalless draw at home to Fulham is set to continue after the forward remained in Spain to undergo further assessment."
Penniless Pompey: Still celebrating after their FA Cup semi-final win, Portsmouth are getting back to reality to work out whether they can play in Europe next season, play their best team in the final, and perhaps even find a new owner.
Jeremy Wilson delivers a comprehensive update on news on the south coast. "Portsmouth are confident of being at full strength for the FA Cup final after the players agreed to forego their bonuses and steps were taken on Monday to renegotiate the loan agreement with Lens for Aruna Dindane. However, despite encouraging signals from Uefa, they remain highly unlikely to convince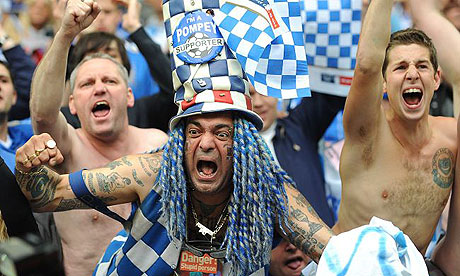 the Football Association that they can meet strict financial criteria to gain a licence for the Europa League… Businessman Rob Lloyd has already begun the process of due diligence at Portsmouth on behalf of his mystery British investor and Andronikou revealed that there had been fresh interest on Monday following the semi-final win over Tottenham."
On Portsmouth's chances of playing in the Europa League next season, Nick Harris tempers expectations. "Portsmouth will make a late application for permission to play in Europe next season but their chances of success are slim at best, and hinge on emerging from administration imminently, an outcome nobody at the club expects."
However a completely picture is painted by Peter White in The Star, who sings "UEFA have told FA Cup heroes Portsmouth they WILL be allowed to play in Europe next season having secured a place in the FA Cup Final, Pompey are poised to be given a European reprieve which would allow them to play in next season's Europa League after all."
---
GAMBLING CAN BE ADDICTIVE, PLEASE PLAY RESPONSIBLY