Manchester City to play in a new 4-1-4-1 system to accommodate Kaka & the £785 ticket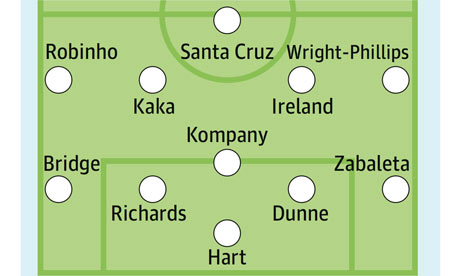 Comment & analysis round-up
Quote of the day: "The next step is Kaka's father will talk to Manchester City." – Kaka's spokesman Diogo Kotschko.
Runner-up: "The money involved is something we feel, from a football and business point of view, works, the process has moved forward at a pace this week but people shouldn't be thinking that it is just a whim. It's been done with structure and understanding, we're all very much involved in that process; myself from a football point of view and (chief executive) Garry Cook and (chairman) Khaldoon Al Mubarak from a club and business point of view. It would be naive to think I have not been involved in discussions over this transfer. I have had meetings about it and have had an input." – Mark Hughes. (Mark Hughes' latest press conference can be seen here.)
Whinging quote of the day: "It doesn't look in connection with what is today's world, on one hand you have the economic situation, which is worrying. It goes against the economic situation and I don't feel in connection with that, because we are at a club where we live in the real world. We live with three incomes: the gates, the sponsors and the television money. That is the real world of football, the rest is exceptional. It is a special income with unlimited resources. Good luck to them. But it's not the real world. The rules allow it so you cannot say it is cheating. It is unfair competition maybe." – Arsene Wenger. (Arsene Wenger's latest press conference, in which he spoke about Kaka and also Arshavin, can be seen here.)
Today's overview: With the initial shock of the Kaka move to Middle Eastlands sinking in, the papers this morning are a little more forward looking as to how the deal will be completed and where Kaka will play for City.
The "world exclusive" in The Sun is that "Kaka has given the green light to join Manchester City after the club increased their offer to a phenomenal £243million. AC Milan last night confirmed they had received the mind-boggling bid which changes the face of world football."
The lead story in The Guardian reports that "Mark Hughes is so confident of Manchester City signing Kaka that he has already drawn up a new 4-1-4-1 system to accommodate the former world footballer of the year in his proposed debut against Newcastle United on 28 January. Hughes and his management staff have devised an adventurous system that would see Kaka partner Stephen Ireland in the centre of midfield with Robinho on the left, Shaun Wright-Phillips on the right and, if everything goes according to plan, Roque Santa Cruz in attack."
Gabriel Marcotti in The Times analyses what Manchester City would have to do to keep Kaka happy when he does arrive. "Who should they sign? If they were to plug Gianluigi Buffon, Pepe, Michael Essien and Fernando Torres into the gaps, they would be instant contenders. But that quartet would cost in excess of £250 million and so it is not going to happen (at least not for now). Yet there are cheaper solutions for each of those positions. And if City can fill them in the right way, they could give Kaká the assurances he needs." Marcotti also looks back on "three days that shook the footballing world."
Nick Harris in The Independent lists "How the world record transfer fee has evolved over the past 25 years and what happened to the men saddled with the tag "the planet's most expensive player ever."
On the other side of Manchester, Tim Rich in The Guardian analyses how Manchester United will cope without Wayne Rooney. "­Manchester United's immediate future rests on two men labelled "the new ­Cantona". Sir Alex Ferguson has compared at least four of his strikers to the mercurial Frenchman but this awkward mantle has been one the United manager has consistently attempted to place on the shoulders of Dimitar Berbatov and Carlos Tevez." Also on United in The Guardian, Scott Murray has a great piece arguing that "The Manchester United manager is considered the master of mental manipulation, but his press promptings don't really have any effect at all."
Duncan White (Daily Telegraph) picks out Nemanja Vidic as his player of the season so far. "The big Serb is brutal in the challenge but refined on the ball and, as was demonstrated against Chelsea, likes a headed goal. United have the best defensive record in the league and I've lost count of the number of times Vidic has saved his team with a perfectly-timed last ditch intervention. Aside from a deserved red card against Liverpool, Vidic has a great disciplinary record in the Premier League and has only been booked once – impressive for an aggressive centre half."
Ian McGarry is the latest in The Sun to bring reports of a bust-up between Ricardo Carvalho and "Big" Phil Scolari. "Carvalho disagreed with the decision to switch to zonal marking at set-pieces.  Boss Scolari then dropped the defender for Wednesday's FA Cup win at Southend." In some more positive news for Chelsea, Michael Essien could be back a month earlier than expoected.
In other transfer news, the double act of Simon Cass and Colin Young in the Daily Mail claim "Tottenham manager Harry Redknapp was locked in talks on Thursday night with Craig Bellamy after West Ham accepted a £12million package for the Wales striker. Redknapp has agreed to pay £10m up front with a further £2m based on performance in a bid to head off interest from Manchester City for the 29-year-old forward. City are expected to match the Spurs offer on Friday, having had their last bid of £9.5m rejected." Also on Spurs, with the Wilson Palacios deal close to completion, Jermaine Jenas' days at Spurs look numbered with a move to Inter Milan (!) mooted.
Ahead of the Blackburn-Newcastle clash this week, Louise Taylor (Guardian) looks back on the reign of Sam Allardyce at St James' Park. "The big problem was that Big Sam was more worried about stopping the opposition than out-playing them. Significantly, shortly before his dismissal a first teamer revealed that in the premable to one game – coincidentally against Blackburn – Allardyce spent 30 minutes discussing how to thwart Rovers before a Newcastle player finally piped up with: 'But what do you want us to do when we've got the ball?'"
John Edwards in the Daily Mail reports that "Real Madrid have put on sale their most expensive-ever tickets for Liverpool's visit in the Champions League next month. Top seats at the Bernabeu on February 25 will cost £785 — and that's before the touts get hold of them."
The story of the day comes in The Guardian who report on The Times list earlier this week of the 50 hottest young football talents which included a Moldovan player that doesn't exist! "And so it was that a journalist from The Times included, quite accidentally, a totally fictitious footballer at No30 in their own list of fledgling superstars. He's not on it any more, of course, though the evidence is there if you search, but this is what they wrote:
30. Masal Bugduv (Olimpia Balti)
Moldova's finest, the 16-year-old attacker has been strongly linked with a move to Arsenal, work permit permitting. And he's been linked with plenty of other top clubs as well"
---