Manchester City in for Silva & Dzeko; Gerrard injury scare & UEFA's financial fair play
Comment & analysis round-up
Quote of the day: "We analysed Barry's ankle two days ago. The recovery time is shorter than we thought.We are going to decide next week but we are very confident. Rooney is fine. He's not been scoring recently but I'm pleased with what he's doing in training because he's back at 100 per cent." – Fabio Capello.
Runner-up: "I like players at the end of their careers. I love to have some players who are 33 or 34-years-old. They are players who you buy and you do not recover the money but if they give you good performances for two or three years, you've got your money's worth. Both [Gerrard and Lampard] are great players who always give everything… Normally, we play with four [at the back] but with two offensive full-backs of the style of Ashley Cole or Maicon. In midfield, we can play in a diamond or triangle. If we play with the triangle, then we line up to three forwards." – Jose Mourinho.
World Cup quote of the day: "It's not a bad thing for the players to have sex with their wives or girlfriends during free periods.  They can manage the situation in their own way. But problems arise when they indulge in excesses, with people who are not their regular partners, or at 2am with two bottles of bubbly and a couple of Cuban cigars. That will damage them. It is obvious, and the players are aware of it. But it is not negative for them to do what anyone does under normal conditions." – Argentina team doctor Donato Villani.
Today's overview: There is little focus today but plenty to chew on. Manchester City dominate the transfer gossip whilst Manchester United's finances are scrutinised by both the Independent and BBC. Steven Gerrard's injury scare in England training is also widely covered by Fleet Street as are a whole bunch of other angles on the Three Lions.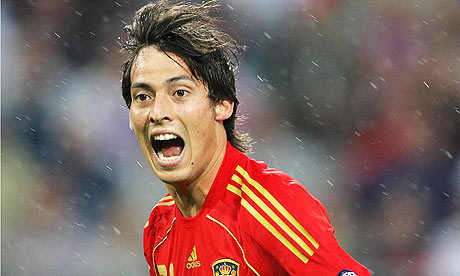 Free spending Manchester City: Daniel Taylor reports in The Guardian that Manchester City plan to sign Edin Dzeko and David Silva. "Manchester City's determination to build a team that will be recognised as authentic title contenders next season has led them to target David Silva, the Valencia midfielder, as well as Edin Dzeko, the prolific Wolfsburg striker. City are aware that in both cases there will be strong competition from Champions League clubs but, backed by the immense wealth of the Abu Dhabi United Group, they are hoping they have the financial muscle to convince two of Europe's more coveted footballers that they can fulfil their ambitions at Eastlands."
On the double swoop, Martin Blackburn adds in The Sun: "Roberto Mancini has put the 24-year-old flyer on his wanted list and would be willing to break the bank for the £30million-rated star. However, the Eastlands club are not prepared to be held to ransom by Steve McClaren's Wolfsburg over Bosnian hitman Edin Dzeko.
Oliver Kay in The Times puts Manchester City's spending into perspective. "Manchester City are preparing a £34 million bid to sign Edin Dzeko, the Wolfsburg forward, as they look to build before Sheikh Mansour's spending power is curtailed in 2012 by new financial regulations. Uefa, European football's governing body, announced last night that its executive committee had voted unanimously in favour of 'financial fair play' regulations, which will severely restrict the influence of super-rich owners such as Sheikh Mansour at City, Roman Abramovich at Chelsea and even Mohamed Al Fayed at Fulham."
David Anderson widens Manchester City's net in the Mirror. "Manchester City have launched a daring swoop for David Silva and three other La Liga stars. City chief executive Garry Cook met Valencia president Manuel Llorente in Spain last night to discuss Silva after earlier holding talks with Real Madrid about Gonzalo Higuain, Rafael van der Vaart and Fernando Gago."
Manchester United: The Independent speak with Manchester United chief executive David Gill in the first part of a two-part interview. Gill: "I understand people's concerns but that has always been the case. There have always been people who have not been happy. Very few football clubs are happy with their owners. Chelsea are happy with Roman Abramovich, Manchester City with [Sheikh] Mansour but very few football clubs are happy because the fans always want the best players, low ticket pricing, this, that and the other. What we have is effectively the same business model – it has changed with the debt – since 1991 when we floated on the stock exchange. We live within our means."
Mark Ogden adds in the Daily Telegraph that "Manchester United's finances under the ownership of the Glazer family, the club's £712 million debt and the £80 million raised by the 2009 sale of Cristiano Ronaldo are set to be the subject of an investigation by Panorama, the BBC current affairs programme."
Transfer gossip: The Sun report that Everton will win the battle for Jermaine Beckford, Blackburn are to move for Kris Boyd and MLS side DC United are chasing Marlon Harewood. The Times detail Chris Iwelumo's move to Burnley with Steven Fletcher possibly going to Wolves.
The Daily Mail have their usual selection of stories, including West Ham's 3 million pound offer for Frederic Piquionne and Javier Hernandez has recieved his work permit to play for Manchester United. The Mirror add West Ham lead the chase for Curtis Davies and Cardiff want to make Craig Bellamy their highest earner ever.
Of course no day would be complete without another angle on Cesc Fabregas moving to Barcelona. John Cross reveals: "Cesc Fabregas has revealed to friends he made up his mind to quit after a bust-up surrounding Arsenal chairman Peter Hill-Wood. Fabregas claims he was "50-50″ about staying at Arsenal this summer but was enraged by Hill-Wood's recent comments that he would not be able to get into the Barcelona team. Hill-Wood said last month: 'If you want my opinion, I'm not sure he would even get in their team. Do they need him? I'm not sure that they do.'"
Jose Mourinho to Real Madrid: Gabriele Marcotti updates on the latest moves regarding The Special One. "Barring an improbable last-second miracle, Florentino Pérez, the Real Madrid president, will not be getting his immediate wish: José Mourinho may soon be presented as the club's new coach, but it will not be this morning, as Madrid's publicity machines have been suggesting all week. Inter Milan have accepted that Mourinho will leave, but he will not go cheaply."
Why let the facts get in the way of a good transfer story though. David Anderson reports in the Daily Mirror: "Jose Mourinho has launched his latest £30million bid to sign Steven Gerrard – and it could be third time lucky for the Special One."
UEFA's Financial Fair Play: Oliver Kay analyses the new rules introduced by Michel Platini and UEFA. "If the new regulations promised to break that cartel, to turn the top domestic leagues into the kind of meritocracy that Platini enjoyed when Saint-Etienne were dominating French football in the early 1970s, with Borussia Mönchengladbach doing likewise across the border in West Germany, we would all be celebrating. Instead, financial fair play threatens to reinforce those class divisions, making the possibility of upward mobility, of the type enjoyed by Fulham and, regrettably, Portsmouth in recent years more remote than ever."
Malcolm Clarke also reacts in The Times: "We understand why so many fans are in favour of salary-capping in the Premier League, but we think there are better ways of achieving that objective. The financial controls in place in Germany and, dare we say it, France are the way to go to stop the financial Mad Hatter's Tea Party. As for putting a cap on ticket prices — Yes, Yes, Yes! We have the most expensive admission prices in the world in Britain. At the same time as the game continues to be carpet-bombed with television billions, ticket prices have gone through the roof. The game is now unaffordable to many, many fans.
The Three Lions: The Sun lead with some worrying news: "Steven Gerrard gave the nation a World Cup scare when he lasted only 30 SECONDS of a training session yesterday. England had just kicked off an 11-a-side game here at the foot of the Austrian Alps when their vice-captain limped out. Fitness coach Stefano Tirelli rushed to the Liverpool star and spent 20 minutes massaging his right calf and back. Gerrard, 30 on Sunday, was treated at the side of the pitch before returning for light jogging near the end of the session." Phil Thomas adds in the Currant Bun: "The good news was England finished yesterday's training session practising penalties. The bad news was they weren't very successful at it!"
Matt Barlow in the Daily Mail highlights an Italian TV interview given by Fabio Capello yesterday. "For those starting to wonder if Fabio Capello's loyalty to the flag of St George might be tested by Inter Milan's millions, there came comforting signs yesterday. From England's retreat in the Austrian mountains, Capello spoke with a rare depth of feeling about the players under his control and his passion for the job."
The always excellent Simon Barnes assesses England's chances in South Africa. "England need many things at the World Cup finals: things such as a holding midfield player, a dominant goalkeeper, cover in all positions, Plan B, all those matters that are susceptible to analysis. But if England are to win the World Cup, they will also need many things that are beyond analysis. Here, then, I present you with a team of Intangibles: 11 phantoms without which England cannot hope to win."
Harry Redknapp compares Wayne Rooney to Gazza. "Gascoigne was an equally enthusiastic character but our 21st Century Gazza is far more stable and much better equipped to handle stardom. Both are fabulous players but Rooney is much more in control. He has a settled family life with a baby and a wife. He is ready to take it all on his shoulders and instead of crumbling will ignore the hype and get on with his game. Rooney is already up in the same bracket as Lionel Messi, Cristiano Ronaldo and Fernando Torres."
Steven Howard explains why Fabio Capello will be patient with Gareth Barry. "We just do not appear to have anywhere near sufficient numbers in a position that relies on one trait that seems to be beyond most Englishmen. Discipline. The discipline to stick to a plan and a specific area of the field without any rush of blood to the head. In essence, the ability to perform the sort of measured job Mascherano does so astutely for Liverpool and Argentina. The importance of Barry in providing England with a natural balance – his left foot the perfect foil to Frank Lampard's right – is such that he will be given until World Cup deadline day to reclaim fitness." 
Andy Cole explains why Stevie G is the key man for the Three Lions. "If you break down what they bring to a team individually then Gerrard is versatile in terms of position, dynamic in terms of making his team tick (at club level with Liverpool at least), and when allowed to roam, playing just off a lethal central striker (Fernando Torres at Anfield), then the danger he presents is frightening for opponents."
Kevin McCarra charts the rise of Rob Green from England's number six to potentially first choice. "The immediate challenge is for Green or James each to try and take a tight grip on the goalkeeping duties with England. There may be more doubt about Capello's verdict there than in any other decision. This seemingly banal friendly with Japan could well seem like a key moment in Green's life."
Ian Herbert assesses England's Group C opponents. USA: "Publicly, the England camp is reading little into the 4-2 defeat of an under-strength United States by the Czech Republic on Tuesday evening. Privately, they have been mildly encouraged. Close observers of the US national team have been worried for some time about whether defender Oguchi Onyewu would be fit for South Africa after seven months out with damage to knee ligaments, and his performance against a side that did not even qualify for the finals pretty much confirmed it."
World Cup: John Duerden in The Guardian interviews Manchester United's Ji-Sung Park who hopes the World Cup can unite Korea. " Park: "Everyone expects that North Korea can't go to the second round but they can make something different in their group because I think that they will not lose three games. Maybe they can get a point or some points and make the other teams struggle to get to the second round."
World Cup nostalgia: The consistently sideways looking Harry Pearson laments the lack of "grumpy bastards" in the game today. "When it came to wild-eyed fury between the sticks even Chilavert struggled to match Oliver Kahn, a sulphurous net-minder who spent so much time yelling it seemed that at some point he would turn himself inside out. In 2000 I caught on TV the final moments of Bayern Munich winning the Bundesliga title, a scene that culminated with Kahn bounding toward the camera bellowing: "Ja! Ja! Ja!" As I watched his contorted face and gaping gob, the thought that popped into my head – and God I wish it hadn't – was: 'Jeez, this must be what he's like when he's having sex.' Ten years later and I still have to drink a large scotch to get to sleep at night."
Nike's Write the Future ad: Jim White in The Telegraph laments Ronaldinho's exclusion from the Brazil World Cup squad. "Called Write the Future, this epic postulates what might happen in the aftermath of various World Cup possibilities. The plot beautifully locates national stereotypes: there's the bad temper and bad tabloid puns of England, the terrible television chat shows of Italy and the samba dance obsession of Brazil. It is all splendid stuff. Except in this one small detail. One of the movie's principal stars, seen tying several defenders' legs in knots with his complicated feints and shimmies, is Ronaldinho. Has anyone dared reveal to Nike that, following his exclusion from the national squad, the only World Cup future the Brazilian will be writing is on the back of a postcard from his beach holiday?"
---