Manchester City ban the press, Venables forgets about McClaren, David Villa want to come to England & Liverpool target Heskey, Toni, Van Nistelrooy & Huseklepp
Comment & analysis round-up
Quote of the day: "Obviously we need players. If we can bring quality players it should be really positive for us, but I think the situation is really difficult because I think we don't have money to bring in the best players. It's a difficult situation but every top team in the world goes sometimes through a bad situation like Liverpool now. Like every top team in the world, Liverpool will get over the situation. I have confidence in myself and my team. I know we are good enough. We were playing really well last season with the same team. We have to just recover the mentality and the confidence in ourselves and everything will be different." – Fernando Torres.
Runner-up: "I suppose it is a microcosm of our game. Manchester City have lost fewer games than anyone else in the league, they are in the semi-finals of the Carling Cup and seemingly this decision was taken three or four weeks ago. As a manager, it doesn't inspire you with great confidence. Unfortunately, it happens in the game and that's the nature of it. It's a sad indictment. It's crazy. In any other industry, you would be given the time to do the job, you really would. But football is not like any other industry and more so than ever before. I must admit that very little surprises you but I was half-surprised about this, due to Hughes's record and the fact he has lost fewer games than anyone else." – Martin O'Neill.
Today's overview: The portrait of Manchester City's chief executive Garry Cook as some type of Machiavellian puppeteer who undermined Mark Hughes' tenure at Eastlands, gathers pace this Tuesday as we learn that the Citizens were scoping out new managers for months now.
Daniel Taylor delivers the skinny, announcing "City's increasingly beleaguered chief executive, Garry Cook, has risked further damaging the club's credibility by admitting he started sounding out possible replacements for Mark Hughes as long ago as last summer." This latest admission left Ian Herbert dumbfounded, commenting "Cook believes that what passes for good business planning in any other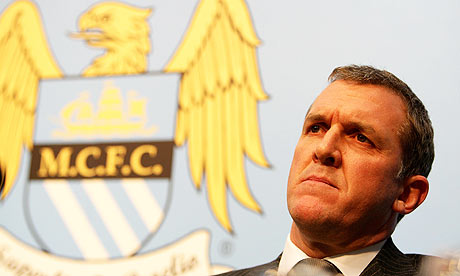 organisation should also apply to the world of football – though his decision to reveal as much in such detail is extraordinary."
In a separate article, Ian Herbert details Cook's mistakes over the past couple of days. "Cook made two errors at Eastlands on Monday evening. He kept those little London lunch details out of his pre-prepared speech and, more significantly, he stayed in the building to reap the whirlwind. Cook first tried to respond to an error of his own making with some levity. Then he banged the table a bit. And still things slid. The more he spoke the worse it got because Cook just cannot do group communication."
Mark Ogden, though, explains how the Arab owners have also been shamed by Hughes' dismissal. "Having so far failed to visit Manchester on club business during his 15 months as owner, it is particularly damning that the sheikh's first known trip to this country on City duties was to meet his new manager before the incumbent had even been dismissed."
So how have Manchester City responded to all this criticism? As revealed by the Telegraph, by banning the press from Eastlands. "The club believe the players may be unsettled by the coverage in the national media and have decided not to allow newspapers into the venue."
Staying at Eastlands, James Ducker explains how new boss Mancini has wasted little time in cracking the whip. "Roberto Mancini has imposed a strict disciplinarian regime at Manchester City with some players fearful of burnout after being ordered to do nine hours of training in the new manager's first two days in charge."
Plotting the next move for Sparky, James Ducker encourages the Welshman to search for employment overseas. "Hughes's interests may be best served by a stint coaching abroad. It has certainly served Steve McClaren, the former England manager, well so far. McClaren's Twente are top of the Dutch league. With his experience of managing Wales and of playing abroad for Bayern Munich and Barcelona, it is hard to think there would not be a big club on the Continent willing to give him a go."
Scaremongering, and also forgetting that Steve McClaren is currently at FC Twente, Terry Venables claims that the top Premier League jobs are unattainable for Englishmen. "Young Brit managers will have to be content with turning around clubs in trouble and getting their chance to manage in the Premier League by taking those teams up. It seems as if it is one-way traffic – with all roads leading to the Premier League.  But how many British managers go abroad and take over top foreign clubs? You have to go back to the 80s and 90s to the likes of Bobby Robson, John Toshack and Terry Venables to find our bosses having some success abroad."
Stuart James turns attention to Birmingham to assess how the Midlanders have over-achieved so far this season. "On the pitch McLeish has also discovered the right formula. Dann and Roger Johnson have been a revelation together in central defence, the midfield is replete with experience and up front Christian Benítez and Cameron Jerome provide a mix of pace and power. With that in mind it is not surprising McLeish is concerned about the potential to disrupt things when he enters the transfer market next month with up to £40m in his pocket." Staying with the Blues, James Nursey links Sporting Gijon's midfielder Michel with a £2.5m move to St. Andrews.
All of a sudden the African Cup of Nations is just around the corner, and Matt Hughes investigates how Chelsea plan to cope with the loss of several squad members. "The Chelsea manager plans to use Nicolas Anelka as a lone striker, with Joe Cole and Deco providing support from the flanks and Frank Lampard spearheading a three-man midfield."
By contrast to the embarrassment of riches at the Bridge, Mikey Stafford looks at how the competition is set to significantly hamstring Portsmouth. "Even if Ali al-Faraj, Portsmouth's third owner in five months, could afford replacements for the four players leaving the club for Angola and January's African Cup of Nations he would be hamstrung by the transfer embargo imposed by the Premier League. Plus players may be wary of joining a club where the timely payment of wages is no longer taken for granted."
Several days have passed since the News of the World allegedly exposed John Terry taking cash in exchange for tours of Chelsea's premises, and Matthew Syed today lets rip. "They spin him as Mr Chelsea and as Mr England, a footballer of rare moral depth and fibre. They tout him as a man imbued with indestructible loyalty to club and country. The reality, however, is that Terry's principal loyalty is reserved for one thing and one thing only: his wallet."
As we head into the season of goodwill and hope, the FA's chief executive Ian Watmore has attempted to spell out a rosier future for football association, however we wait to see how many of the promises will be kept.
Like a modern day Santa, Owen Gibson traces the pledges of Ian Watmore. "After a protracted period of financial uncertainty sparked by the collapse of Setanta, Watmore said the FA was ready to move forward in the new year with redrawn plans for the long-delayed National Football Centre at Burton, a new push on youth development and an overhaul of its commercial strategy."
In a supplementary article, Owen Gibson explains the character of Ian Watmore. "If some of his predecessors have been guilty of becoming distracted by the stardust of the England set-up or been undone by private indiscretions that became very public, it is hard to imagine Watmore doing either. If anything, he positively revels in the detail of some of the less glamorous parts of the job – expressing as much enthusiasm for the launch of the new women's super league or a drive to boost grassroots participation as Capello's World Cup prospects."
Staying with England, Sam Wallace claims "Sunderland teenager Jordan Henderson is the latest young player to catch the eye of Fabio Capello's scouting team and is on a long list of players who might yet get a chance in the 3 March friendly against Egypt."
Onto the transfers.
Guillem Balague drops a bomb in The Times, tweezing an admission out of Valencia forward David Villa that the forward could soon move to the Premier League. "After flirting with several English clubs in the past, David Villa is eyeing up a move to the Barclays Premier League. The Valencia striker has had a change of heart after failing to secure a transfer to Barcelona or Real Madrid last summer and is finally ready to leave Spain, a message that will be received with interest in the boardrooms of Chelsea, Manchester United and Manchester City."
Making sure everyone understands the significant of Villa's availability, Gabriele Marcotti talks numbers. "The Spaniard is already in a league of his own among forwards in top European leagues. It's not just that he has scored 182 goals in 336 league appearances. It's the fact that he has recorded at least 15 goals in a season every year since breaking into the first team at Sporting Gijón at the age of 19."
The Guardian's Andy Hunter reports "Rafael Benítez has placed Emile Heskey top of his wish list for January despite facing a monumental task to persuade Aston Villa to grant the striker a return to Liverpool." Tony Barrett is quick to pull the carpet out the deal announcing "Liverpool's hopes of re-signing Emile Heskey appeared dead in the water yesterday as Fernando Torres confirmed the worst fears of fans by admitting that his club do not have the money to bring in quality reinforcements."
With Heskey seemingly out of reach for the Reds, the Telegraph looks at alternative striking options. "Bayern Munich are reported to be keen to offload Luca Toni, and Liverpool may try to to persuade the Italian to join them rather than Benfica or Dynamo Moscow. Real Madrid's Ruud van Nistelrooy is another option, possibly in a loan deal, in a move sure to antagonise Manchester United fans."
Geoff Sweet though claims Liverpool already have an alternative striker in sight. "Liverpool have entered the race to sign Norwegian player of the year Erik Huseklepp. The Brann Bergen striker, 25, made his Norway debut against Scotland earlier this season and is available for £2m. There is also interest in Huseklepp from Wigan and Hull."
Simon Bird reports that "Sir Alex Ferguson has kicked off the January transfer-window action by bidding for Benfica winger Angel Di Maria.  Ferguson has reacted to Manchester United's stuttering defence of their title by offering £9million plus Nani for the 21-year-old Argentina international."
Spurs are once again said to be ready to wheel and deal, with Darren Lewis reporting that Michael Dawson will head to Sunderland while Brazilian Sandro will move into White Hart Lane. Moving across town, John Cross has the nerve to write the word EXCLUSIVE above his article farting "Wenger is keen to bring in a striker and has got West Ham's Carlton Cole, Bordeaux's Marouane Chamakh and Toulouse's Andre-Pierre Gignac on his hit-list."
Elsewhere, the Daily Mail print "Premier League strugglers West Ham are set to make a New Year move for Rangers striker Nacho Novo," Simon Cass claims "Chelsea star Branislav Ivanovic is turning heads at Real Madrid," while the Daily Mail also report "Everton are weighing up a loan move for Atletico Madrid's Jose Antonio Reyes."
Finally, The Sun's Alex Peake publishes the smutty EXCLUSIVE that "a Premier League manager spent more than an hour in the company of hookers in a "Thai" vice den, The Sun can reveal. And when confronted by our reporters as he left, the married boss smiled and shamelessly admitted he knew it was a brothel. We watched as the football chief was driven to the "massage parlour" last week. He was still dressed in branded soccer training gear."
---
GAMBLING CAN BE ADDICTIVE, PLEASE PLAY RESPONSIBLY