Man United v Liverpool billed as RVP v Suarez, Pep wants to manage City & Wenger says Fabregas will return to Arsenal
Comment & analysis round-up
Quote of the day: "I honestly never thought about Liverpool being 21 points behind us until it was mentioned on television. "I don't really look at them. I only look at Roberto Mancini's mob who are right ­behind us. I look at Man City's programme all the time. I want to know who they've got next. I haven't even looked at where Liverpool are. Last year, we were 30 points ahead of Arsenal – and I'd never have thought that would happen in a million years given the rivalry we've had with them over the last 20 years. Liverpool is still a big ­rivalry. I know City have become a new challenge over the past five years, but Liverpool have always been the one for us – and nothing will change that." – Sir Alex Ferguson.
Runner-up: "I'm not convinced that he won't come back here one day. He is really an Arsenal man. He loves Arsenal and watches every game of Arsenal. But of course Barcelona was his home town where he grew up and you have to accept that will come into it, especially with them having the best team in the world. [Fábregas would not come back] in the next two, three years, certainly not, because he is linked with Barcelona. But maybe later." – Arsene Wenger on Cesc Fabregas returning to the Emirates.
Manchester United v Liverpool
Ferguson: I couldn't tell you where Liverpool are in the table… But I know where the other mob are – don't you worry about that (Rob Draper, Mail on Sunday) Even as recently as 2009, the clubs battled for domestic supremacy but on Sunday, when they kick off at Old Trafford, United will stand 21 points clear of their opponents. And Ferguson's response to that fact gives the most telling insight into how far Liverpool have fallen. 'I never even thought about that until it was mentioned on TV,' he says, appearing unconcerned. 'I don't really look at that.' And then, almost mid-sentence, his tone and stance changed, like an animal suddenly alerted to a nearby predator. 'I look at that mob that's behind us, don't worry. I look at my immediate opponents all the time. I look at their programme, who they've got next, who we've got next. I do that all the time.' Never have Manchester City been so complimented by Ferguson. Off the cuff and instinctive, he is compelling. It is rare to see him in that mood.
Robin van Persie and Luis Suárez prepare for a battle of striking wits (Paul Wilson, Observer) The season's two outstanding performers have been dominating the headlines from day one, almost writing their own scripts. Suárez has carried a limping Liverpool into a position where they could bring in another striker in the January window. Asked a little unreasonably to be a one-man attacking force, he has responded with 19 goals where others might have sulked or agitated for a move, and many of his goals and assists have involved the sort of jaw-dropping brilliance that few other players could supply. Exactly the same could be said of Van Persie's 20-goal tally and in addition to the sublime skill that saved Manchester United late on in the Cup at West Ham last weekend, the Dutch striker has rescued his side from so many unpromising situations that even Roberto Mancini recently admitted he is likely to make the difference between United and City this season.
Manchester United warned of Luis Suarez backlash (Steve Tongue, Independent on Sunday) The abuse that Manchester United fans will rain down on Liverpool's Luis Suarez at Old Trafford today could rebound on them, according to his team-mate Lucas Leiva. Suarez, who attracts controversy like a magnet, was forced to apologise after his last visit to the ground, when he refused to shake the hand of United's Patrice Evra, having earlier been banned for eight matches for racially abusing him. On that occasion Sir Alex Ferguson labelled Suarez "a disgrace" and said he should never play for Liverpool again. The incident set the tone for the game, which the home team won 2-1, and there were reports of clashes in the tunnel at half-time. When the sides met at Anfield in September the two players did shake hands and this weekend Ferguson, for one, was more relaxed, joking that he hopes Suarez plays at right-back – "as far from goal as possible".
Robin van Persie v Luis Suarez – Alan Smith assesses the danger men (Sunday Telegraph) Finishing. Robin van Persie Over the last couple of seasons it has proved almost flawless. From any angle or distance he can usually come up with the answer thanks to a marvellous technique on either foot. With confidence sky high he rarely looks like missing. 9 Luis Suárez Last season he was a little wasteful. For the opportunities that came his way, Suárez should have scored more than 17 goals. This term, though, he has become much more efficient, not to say responsible for some breathtaking goals. 9
Jamie Carragher takes the long view of Anfield destiny ahead of Old Trafford trip (Jason Burt, Sunday Telegraph) For Carragher, who grew up an Evertonian, the Merseyside derby will always be "the biggest" but he recognises that the clash along the East Lancs Road with United has "traditionally been the biggest" for the Premier League. "At the moment people might sneer at that comment," he adds, mindful of Liverpool's decline. "I guess some fans at other clubs will say 'you are talking about a different era now'," Carragher says. "For now, also, the Manchester derby might be a bigger game in terms of winning trophies but history, fan-base, trophies still dictate this match."
Gary Neville on Luis Suarez
Suarez is a nasty little player to be up against but you'd still want him in your team (Gary Neville, Mail on Sunday) Your character isn't formed by your bank balance. It is developed over 20 years of growing up through different experiences — some good, some bad — through parenting and upbringing. And a £4million-a-year contract won't change that overnight. And as I've watched the debate on Luis Suarez gather momentum, I detect a rush to judge a footballer, to castigate him without any thought to how different his life experiences are.  Though Suarez is 25, he has been in England for only two years. He's still adjusting. This is a kid who grew up playing football on the streets in Uruguay, who has experiences and a background completely different from anyone reading this newspaper. Those are the years in which character is formed. Then you're thrust into a global game with expectations of behaviour and certain rules and  regulations which maybe didn't exist when you were learning your football.
Suarez: Abuse inspires me (Geoff Sweet, Sunday Sun) Luis Suarez insists he is not fazed by being Public Enemy No 1. Liverpool's Uruguayan striker, blasted for his handball goal at Mansfield last week, faces race-row rival Patrice Evra again at Manchester United today. Suarez said: "I warn you, I do not feel under any pressure. I am only focused on the present. "I prefer not to comment on the controversy generated by my goal in the FA Cup and the controversy with Evra is in the past. This is not Evra v Suarez but Manchester United v Liverpool because there will be 22 footballers on the pitch. Nor am I pre-occupied by the reception I may get at Old Trafford. It's normal that I receive criticism because Liverpool is a big rival for United. I am Uruguayan and accustomed to playing in stadiums with crowd pressure. The atmosphere inside Old Trafford will be charged but I never fear these situations. Normally I always produce my highest level of performance in these type of matches. And I am content with the praise I have received this season. I always wanted people only to judge me by my work on the pitch and not by other questions."
Pep Guardiola wants to manage Manchester City
Come and get me, Man City (Rob Beasley, Sunday Sun) Pep Guardiola will decide to become Manchester City manager in the summer. Guardiola has opted for City as he is convinced they can become a force to rival his former club Barcelona. The hottest property in world football will snub interest from Manchester United, Chelsea, Bayern Munich and AC Milan to replace Roberto Mancini at Eastlands at the end of the season. Only last week Guardiola confirmed he is ready to return to coaching this summer after a year-long sabbatical, although he was coy about where.
Mario Balotelli's departure from Manchester City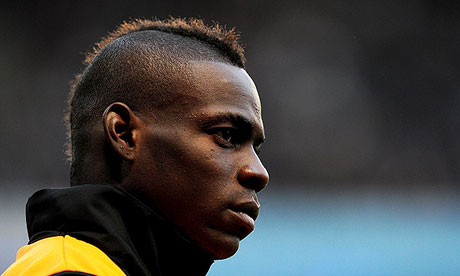 Manchester City are right to call time on the Mario Balotelli pantomime (Daniel Taylor, Observer) It is a sorry sequence of events, as it always is, when an uncommon talent has strayed dangerously close to the point of wastage. Maddening, too, when attempting to quantify the amount of time and energy Mancini has personally devoted into trying to rewire Balotelli from a full-time problem into the perfectly assembled footballer. Mancini can be as clinical as they come – "the hardest bastard you will ever meet," to revisit a quote from one associate – but it must have been difficult for him to reach this point. Even on Thursday, over lunch at San Carlo Cicchetti, his favourite Manchester restaurant, the journalists in his company were struck by his affection for the player. It is not a decision City have made lightly.
Liverpool in for Sneijder
Turk that! Liverpool make late bid to hijack Wesley Sneijder's move to Galatasaray (Steve Bates, Sunday People) Liverpool have made a sensational bid to ­hijack Wesley Sneijder's move from Inter Milan to Galatasaray, writes the Sunday People. Kop boss Brendan Rodgers thinks he has a good chance of luring the 28-year-old Holland star to the Premier League – even though Inter have already ­accepted an £8.2million deal from the Turkish side. Sneijder, who has fallen out with Inter bosses, is stalling on the Gala deal because he would prefer to play in England – and Liverpool are ready to offer him the chance. Wages are a problem – Sneijder is on £160,000 a week at the San Siro. Club president Massimo Moratti wanted him to take a pay cut but Sneijder refused and that's why the Italians are ready to let him go in a cut-price deal.
Wilfried Zaha heading to Manchester United
Wil he, won't he? Man United will have to pay £15m AND loan back Zaha to sign wonderkid (Simon Mullock, Sunday Mirror) Manchester United will have to pay ­£15million including add-ons AND allow ­Wilfried Zaha to stay at Selhurst Park for the rest of the season to sign the Crystal Palace whizz-kid. Sir Alex Ferguson has been making his own checks on Zaha (above) and his personal ­intervention in the process suggests that United are ready to increase their initial bid of £10m. The United boss has spoken to a number of people who know the 20-year-old winger both professionally and personally. And the message back was that Zaha has the mental attitude as well as the technical aptitude to be a success at Old Trafford.
Wenger says Fabregas will return to Arsenal one day
Arsène Wenger tips Cesc Fábregas to return to Arsenal one day (Amy Lawrence, Observer) Arsène Wenger predicts that Cesc Fábregas will return to play for Arsenal in the future. Although no move is imminent for the duration of the midfielder's current deal with Barcelona, the Arsenal manager envisages a time when Fábregas will retread the path that originally took him from the Camp Nou to north London as a teenager. "I'm not convinced that he won't come back here one day," Wenger says. "He is really an Arsenal man. He loves Arsenal and watches every game of Arsenal. But of course Barcelona was his home town where he grew up and you have to accept that will come into it, especially with them having the best team in the world. [Fábregas would not come back] in the next two, three years, certainly not, because he is linked with Barcelona. But maybe later."
Newcastle close in on Remy
Newcastle poised to replace Ba with £10m Marseille striker Remy (Mark Ryan, Mail on Sunday) Newcastle have had a bid accepted for Marseille striker Loic Remy. Boss Alan Pardew said: 'It isn't just one deal that appears to be hotting up — there are three or four and we need that.'
Lambert on the brink at Villa
Lambert on brink (Sunday Sun) Paul Lambert's future was on a knife-edge last night. His Aston Villa side plunged into the drop zone after losing 1-0 to Southampton. The Villa boss said: "We're in the bottom three but we can't panic. I couldn't fault the second-half effort, the chances we had and the way they went about it. "There's a long, long way to go. There will be loads of twists and turns in this whole thing."
---
GAMBLING CAN BE ADDICTIVE, PLEASE PLAY RESPONSIBLY