Man United make £60m move for Gareth Bale & Chelsea prepare new £30m offer for Rooney
Paper round-up
Quote of the day: "We have not bid for anyone else," he said. "And we won't. It is Rooney or bust. I think that this situation now is clear, because nothing is a secret any more. Chelsea is interested in the player. Chelsea made an official bid. What we did, we did officially, between our club and Man United, and we have nothing more to say about it. We can say nothing else. There is nothing else to say. We want the player. We are interested in the player. We made the bid." – Jose Mourinho.
Runner-up: "He is a wonderful player. And he is still very much a Liverpool player. No matter who the player is, nobody is bigger than Liverpool Football Club. Luis is a very important member of this squad and I am looking forward to working with him again this season. There has been lots of speculation about Luis moving to another club but, as I said, he is very much a Liverpool player. We had an offer that was nowhere near what we value him at. Of course he wants to work and play at the top level. But unless something drastic happens, he will be staying here. He has got three years left on his contract." – Brendan Rodgers.
United move for Bale
Manchester United launch £60m Gareth Bale transfer raid on Tottenham (Oliver Holt, Daily Mirror)Manchester United are making a massive £60million bid for Gareth Bale. Premier League champions United want Tottenham star Bale to be the first major signing of new manager David Moyes' reign. The move for the Welshman is thought to be one of the reasons why United's vice chairman Ed Woodward is returning early from their pre-season tour of the Far East and Australia. Spurs are desperate not to lose Bale, last year's Footballer of the Year, and have so far resisted United's approach. But the Old Trafford giants are keen to put the damaging publicity surrounding the future of Wayne Rooney behind them. They know that buying Bale – who has been linked with Real Madrid throughout the off-season – would give Moyes, his players and the United supporters a huge boost.
Chelsea to up their bid for Rooney
It's Rooney or bust! Mourinho prepares £30m bid to land striker… as Wenger says England striker's wages are not a problem for Gunners (Matt Barlow & Ian Ladyman, Daily Mail) Jose Mourinho declared Wayne Rooney his only major transfer target of the summer as a row erupted spectacularly between Manchester United and Chelsea. Less than 24 hours after sources close to Rooney revealed the 'angry and confused' striker was ready to submit a written transfer request because manager David Moyes had suggested the 27-year-old would not be his first-choice forward, Chelsea put in an official offer of around £22million. It was rejected by United but Chelsea will now return with an improved bid of £25m — plus £3m in add-ons — and may even go as high as £30m to get their man. The opening offer was revealed by MailOnline and, while Chelsea denied it was a cash-plus-player deal with the makeweights being Juan Mata or David Luiz, they did confirm a bid had been lodged.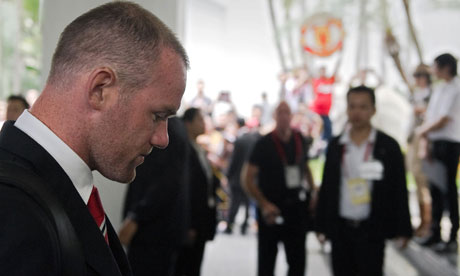 Arsenal join Chelsea in battle for Manchester United's Wayne Rooney (Guardian) José Mourinho has stated that Wayne Rooney is Chelsea's only remaining summer transfer target, with the club having no contingency plans should Manchester United resist selling the striker. Chelsea have had a £20m straight cash offer rejected for the 27-year-old, who is also of interest to Arsenal. Arsène Wenger, who is keeping his options open on Liverpool's Luis Suárez and Gonzalo Higuaín of Real Madrid, said that Arsenal could afford to pay Rooney, despite him earning £250,000 a week. Wenger also indicated that United might be disappointed in their attempt to sign the former Arsenal captain Cesc Fábregas from Barcelona. United have had a £26m bid turned down and Wenger, who has a good relationship with Fábregas, said that he believed the midfielder would stay at the Camp Nou for another year.
David Moyes needs some thinking time before he decides whether to sell Wayne Rooney or keep him at Manchester United (Mark Ogden, Daily Telegraph) David Moyes was in a good mood on Tuesday evening as he strolled through the lobby of Sydney's Park Hyatt Hotel, joking to the assembled English media that he was contemplating a briefing on top of the city's iconic Harbour Bridge in order to test the nerve of the Manchester United press corps. Twelve hours later, the Scot's demeanour was less jocular, having woken to the news that Wayne Rooney, for the second time in his United career, had issued little short of a declaration of war against the club and its manager. Rather than use Sydney Harbour Bridge as an impromptu press room, Moyes may have considered a more brutal act involving Rooney had the 27-year-old still been around to be thrown into the water below. Three years ago, Rooney took on United and Sir Alex Ferguson during a five-day stand-off which ultimately resulted in the player rejecting a king's ransom to move to Manchester City in order to sign a £250,000-a-week five-year contract to remain at Old Trafford.
Where is Ed Woodward?
Manchester United chief flies back from tour braced for Wayne Rooney bid (Jamie Jackson, Guardian) Ed Woodward, Manchester United's executive vice-chairman, flew out of the pre-season tour in Australia on Wednesday evening to attend urgent transfer business, with the club braced for Wayne Rooney to lodge an official transfer request. With Woodward bound for Europe, high on his agenda will also be the pursuit of Cesc Fàbregas after Barcelona turned down United's £26m initial bid for David Moyes's prime target. Having done so, Barcelona are yet to make any public statement confirming that Fàbregas is not for sale. Other players interesting the Scot and who Woodward may address are Everton's Marouane Fellaini and Leighton Baines, and Chelsea's David Luíz. Rooney believes it may be difficult to work with Moyes following his fury at the manager's comments that he is now second choice to Robin van Persie as striker. Rooney had long-standing issues with Sir Alex Ferguson before his retirement and is dismayed at the comments from Moyes and his fall in status at the club. With United maintaining he is not for sale, Rooney will have to force through any move away by making an official request.
John Terry lifts a trophy
JT lifts trophy (Sun) John Terry holds aloft an impressive trophy after another Chelsea triumph — but this time he DID actually play in the match. The defender was ridiculed after the Europa League final when he changed from a suit into playing kit to celebrate despite watching from the stands — a year after doing the same after the Champions League final. But last night he was in action as the Blues beat the Singha All-Stars 1-0 to win the Singha 80th Anniversary Cup in Bangkok. It was the first trophy of boss Jose Mourinho's second stint at the club. He said: "Defensively we were very strong. We moved the ball quite well, but we didn't create many chances.
Benteke becomes a Villa outcast
Villa Ben the bomb (Graeme Bryce, Sun) Christian Benteke is heading for an explosive showdown with Aston Villa boss Paul Lambert today. Villa's £25million-rated wantaway striker, 22, is a Tottenham target after slapping in a transfer request last week. But the Belgian could be sentenced to join a growing group of Villa outcasts — dubbed the BOMB SQUAD.
Why you need a VPN?
Cut chords:
Watch everything (Netflix, BBC iPlayer, Hulu) online using a VPN.
Unlock geoblocking:
A VPN gives you access to the best content from anywhere in the world.
Privacy & security:
A VPN keeps your information private, activity encrypted & data anonymous.
Just $6.67 a month + 3 months free!
Best football betting tips & free bet offers
Click here for more Premier League betting tips
---