Man United eye £1 billion new Nike deal, Shakhtar slay Chelsea & Celtic universally hailed as "Brave"
Comment & analysis round-up
Quote of the day: "We need to win our remaining home games, for sure. The consolation was the draw in Copenhagen. It shows it's a difficult competition but certainly we have to win our home game against Shakhtar. We have to improve our performance and be more compact. I'm confident it will be a different game at home. We are very hard to beat at home." – Roberto Di Matteo.
Runner-up: "He [Javier Hernandez] trains magnificently, he's improving all the time and he's got such great enthusiasm for the game – he's got me thinking, with him, (Robin) Van Persie, (Wayne) Rooney, (Danny) Welbeck… I don't know what you do with them, to be honest. It's been the story of our season at home – starting badly and conceding goals. But we've rescued games. It's the front players who are doing that for us, some of our football was terrific and we were creating a lot of chances, but it is a worry that we're losing those goals. I can't get to the bottom of it, I am afraid. If you analyse the goals we are losing, they have come from throw-ins, crosses, cut-backs, all sorts, and they are finding players free in the box. It is difficult to put your finger on it, and it is a concern because it is making it difficult for us." – Sir Alex Ferguson.
Hernandez shoots down Braga
Don't you forget about Pea: Out-of-favour Hernandez scores twice as Man United com from behind against Braga (David Maddock, Daily Mirror) It is saying something when even the title of comeback kings barely does justice to Manchester United's astonishing powers of recovery. Yet the forced smile on the face of their manager Sir Alex Ferguson at the end of another pulsating night of lost causes rescued, suggested he is growing tired of the need to produce these remarkable feats. Two second half goals and a quite brilliant display after the interval gave them the victory over Braga that, according to Fergie, already almost assures qualification for the knock out stage of the Champions' League. Yet their third straight win in the group came only after they had gifted two criminally sloppy early goals to the talented Portuguese team – amazingly, the eighth time in 12 games this season when they have conceded a lead.
Sir Alex Ferguson still has plenty to mull over despite Manchester United's comeback victory over Braga (Paul Wilson, Guardian Sir Alex Ferguson talked beforehand about Manchester United's tradition of playing with wide players, then selected the narrowest midfield diamond possible without any recognised wingers. Tom Cleverley, as England discovered in Poland, is only a notional wing presence who prefers to come inside, while Shinji Kagawa would normally occupy one of the diamond's inner points. United recovered, though Wayne Rooney's role in the diamond formation possibly needs refining, yet Ferguson could hardly fail to be struck by the irony that Braga's two goals in the opening 20 minutes both came from crosses from out wide. Kagawa and Cleverley did supply the crosses for Javier Hernández's well-taken goals, in fairness, though Cleverley still seems unsure of where his best position might be. When Nani came on for the second half he moved inside, with Rooney going wide left. Diamonds are evidently not forever.
Manchester United manager Sir Alex Ferguson stumped by dire defending (Chris Bascombe, Daily Telegraph) Javier Hernàndez, the Mexican who was in danger of becoming United's spare-part striker, issued a timely reminder of his lethal finishing skills to spare his defenders' embarrassment in the 3-2 win over Braga. Ferguson said Hernàndez's performance had given him a "nice problem" ahead of the weekend Premier League meeting with Chelsea. But the worries continue at the back, as Johnny Evans and makeshift centre-half Michael Carrick were ­culpable for United's conceding of two early goals.
Manchester United eye £1bn new Nike deal
Man United line up whopping £1bn Nike extension to boost the coffers (Charles Sale, Daily Mail) Manchester United will be looking to negotiate sports merchandising giants Nike's biggest-ever sponsorship deal when they begin renewal talks over Old Trafford kit supply in February. The 13-year Nike agreement with United that expires in 2015 is worth £303million, plus a profit share on retail sales. And United chief of staff Ed Woodward, who presides over the club's extraordinary commercial operation, is looking for a 'major increase' from Nike.
Chelsea slayed by Shakhtar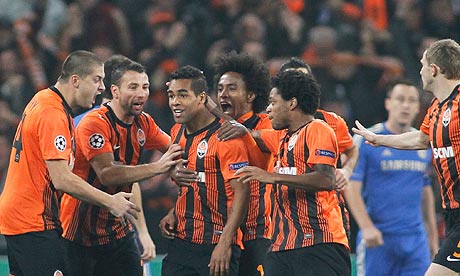 Shakhtar Donetsk's slick double puts a dent in Chelsea's hopes (David Hytner, Guardian) The return of John Terry to the Chelsea team and captaincy had been steeped in controversy, coming as it did while he served his four-match domestic suspension for the racial abuse of Anton Ferdinand. As this vital Champions League tie emphatically got away from him and the defending champions, it seemed almost appropriate that a Shakhtar Donetsk player called Fernandinho should not only star but conjure up the decisive blow. There had been bitter irony at the outset when Terry saw the ball rear up against the captain's armband, which was embroidered with an anti-racism slogan, to drop for Alex Teixeira to score Shakhtar's opening goal. Terry played well, making characteristically brave interventions, but his team were second best in all areas and once Fernandinho had punished the substitute Eden Hazard to score their second it appeared to be a question only of the victory margin.
Chelsea's hopes of defending Champions League title suffer huge blow after defeat to Shakhtar Donetsk (John Percy, Daily Telegraph) Chelsea owner Roman Abramovich will celebrate his 46th birthday with the very real prospect of Chelsea becoming the first ever Champions League holders to be dumped out at the group stage, after a chastening experience near the Russian border. The challenge of breaching Shakhtar's Donbass Arena fortress proved a bridge too far for Chelsea and a returning John Terry, and despite their effervescent start to the season manager Roberto Di Matteo is now facing a crucial three games in his bid to defend the trophy.
Brave Celtic
Gallant Celtic go down to last-minute winner in Barcelona (Ewan Murray, Guardian) The Scottish side stunned Camp Nou by taking the lead, the seventh time already this season that Barcelona have lost the first goal in a match. Later, Celtic were to suffer the cruelty of defeat when only seconds remained. The La Liga club recovered from their early setback as Jordi Alba stole in at the back post to secure victory. Barcelona merited that on the balance of play, but they should still afford Celtic quiet respect. "It is a sore one to take, I thought the team was magnificent," said the Parkhead manager, Neil Lennon.
Oh Nou (Robert Grieve, Sun) Barcelona broke brave Celtic's hearts with the winner FOUR minutes into added time. The Bhoys were on the brink of a stunning Champions League result by forcing a draw at the Nou Camp home of the Spanish giants. But Adriano's cross from the right found Jordi Alba at the back post. Celtic centre-back Kevin Wilson admitted: "Gutted is the word. We defended with our lives all game and it looked like we'd done it. "But it's never over until the final whistle with Barca and they proved it. It's the last minute of the game and you try to see it out. "We'll learn from the mistakes and hope next time we can complete it."
Arsenal v Schalke
Wenger is anxious for Arsenal to qualify quickly as his annual shareholder grilling looms (Jack Pitt-Brooke, Independent) Arsène Wenger will hope for some good news in a difficult week when Arsenal host Schalke in the Champions League tonight. After losing at Norwich last Saturday, his side are 10 points off the lead in the Premier League and at tomorrow's Annual General Meeting their seven-year trophy drought is bound to be an issue. Given the importance of the league, Wenger said yesterday he was very keen to beat Schalke to allow him to rotate his team "as quickly as possible". The manager admitted that he now has a "very limited" margin of error in the Premier League after their mixed start. Their position relative to Chelsea may also increase the pressure at the AGM. While Wenger insisted that the club was "in a very strong position", he acknowledged that there would be some discontent at 11.30am tomorrow.
Ajax v Manchester City
If we don't get out of Group of Death we'll be back in it next year (Martin Blackburn, Sun) Manchester City manager Roberto Mancini has told his players it is time to wise up in Europe. The Premier League champions have taken just one point from their opening two matches and face Ajax in Amsterdam tonight. There have been 57 shots against City, 22 of them on target, in the games against Real Madrid and Borussia Dortmund — a Champions League record so far this season. And the Italian fears City could face another 'Group of Death' next year unless they reach the knockout stages this time around and improve their ranking.
The Kick It Out row
The bananas have gone, but that doesn't mean the fight is won (Jason Roberts, Daily Mail) When I said last week that I wouldn't wear a Kick It Out T-shirt I wasn't trying to lead a protest. I was speaking for myself. But what happened over the weekend has, I believe, underlined the depth of the issues I was trying to draw attention to. I have not been involved in any discussions about creating a black players' union, although I heard human rights barrister Peter Herbert saying on Tuesday that talks had taken place.
Martin Samuel wades into Jen Chang v Duncan Jenkins
Amid his Twitter row, Liverpool's Chang should know using the supporters as muscle is a dangerous abuse of power(Martin Samuel, Daily Mail) Wherever Jen Chang is presently residing, it is to be hoped he was watching the match between Sheffield Wednesday and Leeds United on Friday night. There, in microcosm, was the reason so many are taking his spat with a man who doesn't exist seriously. Duncan Jenkins may be a fictional character but the man who created him on Twitter, Sean Cummins, says the threats he received from Chang, head of communications at Liverpool, were very real. It is the word of one man against another, so we should tread carefully but, if true, it is the manner of Chang's ultimatums that disturb. Chang is accused of threatening to unleash the Liverpool supporters on Cummins, as if they were his personal heavy mob. This is outrageous, if correct. Football supporters are the biggest gang in town. And those with a direct line to their emotions need to exercise that power wisely indeed.
Goal-line technology
The Premier League closes on goal-line technology (Martin Hardy, Independent) The Premier League is pressing ahead with its £6m drive towards the full installation of goal-line technology for the start of next season. The companies that have developed the Hawk-Eye and GoalRef systems were yesterday granted licences by Fifa to install them worldwide, and the Premier League is eager to introduce the technology for the 2013-14 campaign. It is believed to cost around £300,000 per ground to install a system and all 20 Premier League clubs will have to have the facility operational by next August. However, there are still issues to be clarified before English football takes that final step. First, the Premier League is seeking guarantees as to how the licensing agreement will work. As yet there has been no indication of the length of the licence granted by Fifa, and the Premier League, understandably, is seeking reassurances before making such a major investment.
---
GAMBLING CAN BE ADDICTIVE, PLEASE PLAY RESPONSIBLY