Man United, City, Arsenal & Chelsea plot £25m Cesc bids, Liverpool's Suarez wanted by Atletico & Real Madrid, Monaco eye £20m Nani
Comment & analysis round-up
Quote of the day: "England do not win titles. The mentality of winning a tournament is not there and that is difficult. The problem is they do not win anything. I have watched them in previous tournaments and things have not always gone well for them. But, I actually think England are a good side. Neymar said some things, but he has been playing in Brazil and is now going to Barcelona. I'm not sure Neymar actually knows much about English football or whether he knows any of the players. Why should he? His comments don't surprise me. I really like England's philosophy these days. English football is different to the past. The team now pass the ball and pass it well. I don't believe they kick it in the air all the time, which they used to." – David Luiz.
Runner-up: "I would like Luis Suarez to stay but if he is not happy and doesn't want to then he's got to go. I always tell fans to fall in love with the club not with individual players. Players come and go. Fernando Torres decided to move on from Liverpool, Wayne Rooney could leave Manchester United and Robin van Persie left Arsenal last summer. Yes, I want Luis Suarez to stay. I think he's a great ­player. Forget what he does off the field – I'm not judging him by that – but if he wants to go, then he should go and fans should accept that." – John Barnes.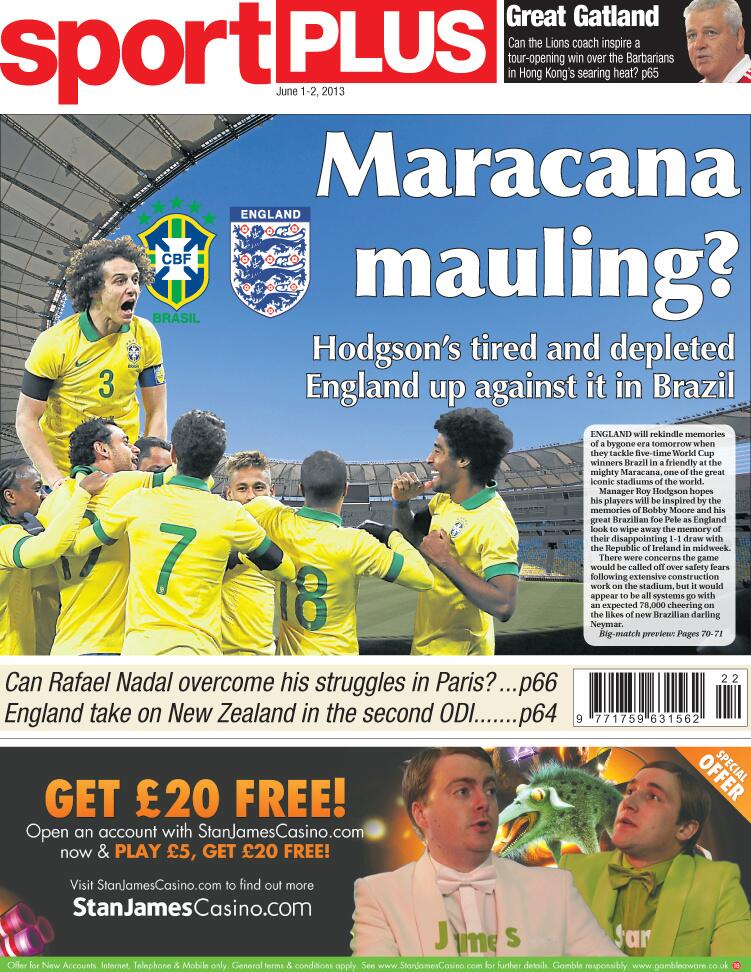 Brazil v England 
Roy Hodgson launches stats attack before England take Brazil test (Daniel Taylor, Observer) This is certainly a good time to be playing Brazil bearing in mind Scolari's side have looked so ordinary they have been periodically booed by the team's own fans. The same could be said about England bearing in mind their depleted numbers and the first admission from Hodgson that they are falling short. "No, we're not," he replied when it was put to him that England, despite being a difficult side to beat, were not winning enough matches.
Brazil and England on shifting sands (Michael Calvin, Independent) There are parallels between Roy Hodgson's squad and the stadium regarded as the spiritual home of what we are contractually obliged to refer to as "the beautiful game". Each has connotations of splendour, a status soothed by nostalgia. They are storied institutions with subsidence problems. There is a sense of stagnation, a depressingly familiar perception of drift and decay. When book- makers report unprecedented levels of disinterest in this England team, negativity has reached epidemic proportions. This has gone beyond disaffection at palsied recent performances, even if the abject midweek friendly against Ireland prompted Gary Lineker to defy BBC statutes by clambering off the fence and expressing a cogent opinion about the descent into the "dark ages".
What If England Don't Make The World Cup
Failure to qualify for the World Cup would leave English football facing losses of up to £50million (Alex Miller, Mail) English football faces losses of up to £50million if England fail to qualify for next summer's World Cup finals. Such is the economic importance of making it to Brazil — where England play a friendly in Rio de Janeiro's Maracana Stadium tonight — that the FA have been warned of a commercial 'disaster' if Roy Hodgson's stuttering side become the first England team in 20 years to fail to qualify for a World Cup. The lost income would be made up of forfeited prize-money (up to £25m for winning the event, but more realistically around £15m if they survive the group phase), low shirt and merchandise sales and damaging declines in sponsorship cash.
While we poured £750m into new Wembley, the Germans invested in players. Now they're tipped for next year's World Cup … and England face a battle just to get there (Rob Draper, Mail) In 2000 [Germany] overhauled their youth development players and placed an increased emphasis on the national team. They chose a sporting option because they understood that football, ultimately, is about endless hours of grassroots development. The English FA took a different route. They signed off on a £750million national stadium at Wembley and delayed the building of a national academy. Then they ran off to recruit the most fashionable coach of the moment in Sven Goran Eriksson and sat back as the  Premier League took over control of the game; or rather the business, for maximising capital became the goal of English football.
Dortmund Want Podolski
Dor opens for Podolski (Charlie Wyett, Sun) Lukas Podolski is a summer transfer target for Borussia Dortmund. Arsenal face a battle to keep the striker who scored after just nine seconds of Germany's 4-2 win over Ecuador last week. SunSport revealed in April that Atletico Madrid are also interested in Podolski… Podolski is understood to be happy in London but a big offer could tempt Arsenal's resolve.
Let's Talk About Cesc
Fabregas set for crunch talks with Tito over Neymar arrival as United, City, Arsenal and Chelsea prepare £25m bids (Rob Draper, Mail) Cesc Fabregas will meet Barcelona manager Tito Vilanova this week for talks about his future, with Manchester United, Manchester City, Arsenal and Chelsea all interested in signing him. Fabregas would prefer to stay at the Nou Camp but he will seek reassurances about his role. Barca are unlikely to sanction a move unless they can recoup the £25million that they paid Arsenal for Fabregas two years ago. The Gunners do have a buy-back clause at around £25m allowing them first refusal on Fabregas's next move, but first they would have to convince him to return to the Emirates.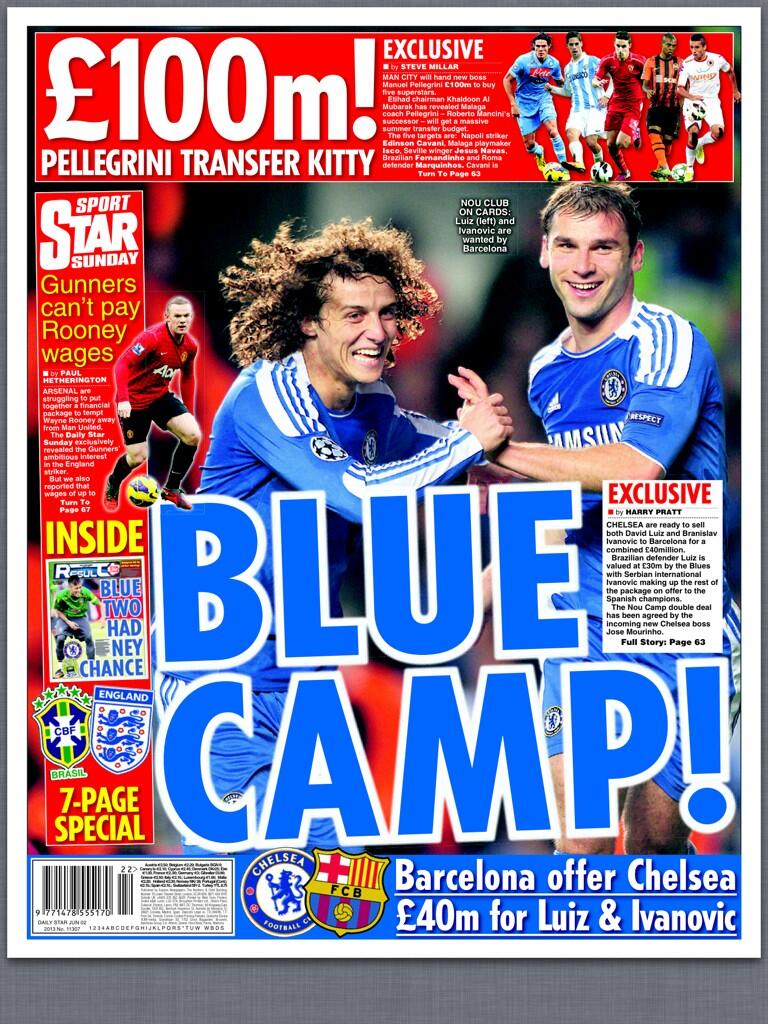 Barcelona Gets The Blues
Barcelona target Blues pair (Harry Pratt, Star) Chelsea are ready to sell David Luiz and Branislav Ivanovic to Barcelona for a combined £40million. Brazilian defender Luiz is valued at £30m by the Blues, with Serb Ivanovic rated at £10m… Porto defender Eliaquim Mangala, 22, is a top transfer target and the Frenchman is regarded as a direct replacement for Luiz. Roma midfielder Daniele De Rossi – available for £10m – is also on the Chelsea radar, along with £30m-rated Napoli hitman Edinson Cavani.
Where Is Suarez Going
Atletico look to hijack Suarez from Real's grasp… but striker's destination will depend on City's move for Cavani (Rob Draper, Mail) Luis Suarez is destined for Madrid — but it could be Atletico rather than Real who sign him. The Liverpool striker has resolved to leave England and knows Atletico Madrid are ready to use the money from the £50million sale of Radamel Falcao to Monaco to take him to La Liga. Suarez is aware of Real's interest and would prefer a move to the Bernabeu, though Real do not want to pay Liverpool's £40m asking price. But Florentino Perez, who will be declared Real Madrid president tomorrow for another four years, knows he must unveil a big signing this month.
Liverpool and Spurs left to sweat as Real Madrid set sights on Luis Suarez and Gareth Bale (Steve Tongue, Independent) The Madrid president, Florentino Perez, is up for re-election, which is always a dangerous time for clubs whose players he wishes Real to be linked with. Marca, the Spanish sports paper often regarded as the unofficial mouthpiece of the club, has already claimed that a four-year deal has been agreed in principle with Suarez, despite no approach being made to Liverpool, who continue to insist that the controversial striker is not for sale.
Bleating Luis Suarez has a pop at the Prime Minister as Liverpool get set to sell for £40m (Alex Nixon, Mirror) Kop chiefs have said enough is enough with Real Madrid or Bayern Munich set to land the Uruguayan for £40million. Boss Brendan Rodgers will use the funds to bring in Shakhtar Donetsk's Henrik Mkhitarian and Christian Benteke from Aston Villa. Suarez, 26, moaned: "David Cameron said I wasn't an example for the kids or something like that. Why don't you worry about English citizens? I have lived bad moments, and I'm a human being, you know. I have feelings. I'm angry with the English media, as they have never valued me as a footballer. The paparazzi followed me in the streets and I couldn't carry my daughter to the kindergarten, or I couldn't go to the supermarket. I tried to do my job in England. I cannot apologise to the people in England any more."
Brendan Rodgers prepares £6.5m bid to bring Sunderland stopper Simon Mignolet to Liverpool (Tom Hopkinson, People) Liverpool boss Brendan Rodgers is to launch a £6.5million bid for Sunderland goalkeeper Simon Mignolet. Rodgers is on the lookout for a new stopper to replace Pepe Reina, who is set to leave Anfield this summer. Stoke's Asmir Begovic has been on the radar but Black Cats No.1, Belgian star Mignolet, has now emerged as the man they want.
Monaco Look At Nani
Big-spending Monaco poised to make £20m bid for Man United winger Nani (Steve Bates, People) Nani is poised to quit Manchester United and join big-spending Monaco in a £20million deal… If Nani leave Moyes will have close to £80m to splash on new signings before the new campaign begins.
PSG Call For Cab
PSG set to launch £15m bid for Newcastle's Yohan Cabaye (Harry Pratt, Star) PSG are poised to launch a ­£15million swoop for Newcastle star Yohan Cabaye. The Magpies midfielder, 27, is at the top of the mega-rich French champions' summer shopping list following two impressive seasons in the Premier League.
---