Man United chase Cesc (Thiago the back up), Napoli join race for Suarez & Arsenal won't pay £10m for Williams
Comment & analysis round-up
Quote of the day: "It's not easy for any club when Real Madrid want one of your players and it's a difficult situation for the club, but if Luis went, it would be top money. The thing about keeping unhappy players is an issue because we had that experience with Torres; keeping him wasn't the right thing to do. Torres wasn't the same player for about 18 months and downed tools and that's certainly what you don't want. But with a character like Luis Suarez, I don't think that would be an issue. If the club were to keep him, I'm sure he would be as committed as ever. He has shown that already –not only on a weekly basis, but on a daily basis. I do believe Suarez is a slightly different character to Torres. I don't think Liverpool would ever have the problem (with Suarez) that we had with Torres. If (Suarez) was to be sold, it would be up to the club to make sure the money was spent in the right way, after maybe not doing that after Torres went." – Jamie Carragher.
Runner-up: "Where do we start? What I do know is that right now people are laughing at the football club I support. And that sickens me. I promised myself years ago never to be surprised by what happens in football — particularly when it comes to Newcastle. But this situation really is stretching it a bit. While other clubs are all plotting and planning for next season, Newcastle have a manager who has just been totally undermined. Alan Pardew has said he will carry on but I am sure it will be a difficult situation. I ask one question of Joe Kinnear: Would you stand for it, if you were manager?" – Alan Shearer.
Manchester United chase Cesc, Thiago their back up
United to move for Alcantara if Cesc bid fails… and thanks to Barca's miscalculations they can get him for £15m instead of £77m! (Graeme Yorke, Daily Mail) Manchester United are leading the race to sign Barcelona midfielder Thiago Alcantara, should they fail to convince Cesc Fabreags to return to the Premier League. New manager David Moyes is keen to add some creativity into his midfield as he begins shaping the sqaud in his mould. The former Arsenal captain is top of his summer wishlist, though there a number of barriers to get over should any deal be pushed through.
Napoli want Luis Suarez
Liverpool's Luis Suarez is a transfer target for Kop legend Rafa Benitez and Napoli (John Cross, Daily Mirror) Former Liverpool boss Rafa Benitez has set his sights on Luis Suarez as a replacement for Edinson Cavani, writes John Cross. New Napoli coach Benitez – still a hero at the Anfield giants after leading the club to European Cup glory in 2005 – sees controversial Kop striker Suarez as the perfect replacement for hot property Cavani. Benitez is resigned to losing Cavani, wanted by Real Madrid, Manchester City and Chelsea, but is expected to receive around £50million for the Uruguayan – and that will give him the spending power to go for Suarez, his national-team strike-partner. However, Suarez appears to have set his sights on a move to Real Madrid himself, after making it clear he is in the mood to quit Liverpool this summer.
Arsenal close in on Higuain
Arsenal close to signing Gonzalo Higuain for £22 million (John Percy, Daily Telegraph) Higuain is understood to have agreed personal terms of around £130,000 a week and is on the verge of leaving Real Madrid to become the first high-profile recruit of the summer at the Emirates Stadium. Wenger has been notoriously cautious in recent years but is determined to strengthen his squad after clinching a place in next season's Champions League and is ready to revise Arsenal's wage structure in a bid to attract the world's elite players. Arsenal's board have made £70 million available for the Frenchman to spend and the fee for Higuain will smash the club's previous transfer record of £15 million for Andrey Arshavin in 2009. The Argentina international, who was a target for Manchester City last year, has met with Wenger and is now waiting for Arsenal to conclude negotiations with Madrid before his new club fly out to the Far East for a pre-season tour next month.
Arsenal refuse to pay 10 million pounds for Ashley Williams
Wenger bid hits Ash cloud (Andrew Dillon, Sun) Arsenal's hopes of signing Ashley Williams have stalled over his £10million price tag. Swansea will not take less for their skipper. Everton and the Gunners are locked in a two-horse race for the centre-half. Arsenal boss Arsene Wenger has long admired Williams, 28, and asked about his availability in January. But the massive fee may now deter the cost-cautious Frenchman — especially as defender Laurent Koscielny is set to snub Barcelona and stay in North London. Williams is also being tracked by ex-Swansea boss Roberto Martinez at Everton, who fears predecessor David Moyes wants Phil Jagielka at Manchester United.
Joe Kinnear pulls plug on Newcastle move for Douglas
Newcastle's Derek Llambias quit after Joe Kinnear pulled the plug on Douglas transfer (John Cross, Daily Mirror) Newcastle managing director Derek Llambias quit in a row over a player to become the first victim of Joe Kinnear's controversial reign. The Mirror can reveal Llambias resigned just hours after being forced to pull the plug on signing FC Twente defender Douglas. Kinnear, appointed as director of football on Tuesday, claimed he had never heard of the Brazilian player. Now, the Magpies' highly-respected chief scout Graham Carr could be the next to go. It is believed Carr is considering his future after being told he must report to Kinnear. Llambias is understood to have spent months lining up a Bosman-style free transfer for 25-year-old centre-half Douglas, who was linked with Newcastle as far back as last summer, and a deal was in place.
Capello rejects PSG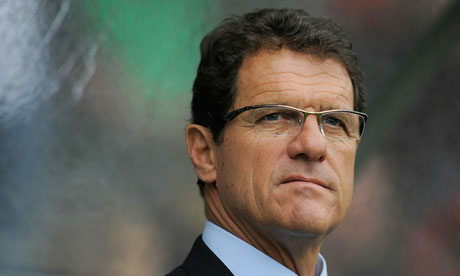 Fabio Capello follows André Villas-Boas in rejecting PSG's overtures (Dom Fifield, Guardian) Paris Saint-Germain's increasingly desperate search for a new manager endured yet another setback on Wednesday after Fabio Capello, the latest candidate to whom the French champions have turned, rejected the chance to move to Parc des Princes and indicated he intends instead to remain as head coach of Russia. Capello's son, the lawyer Pierfilippo Capello who acts as his agent, spent the morning in talks with the PSG president, Nasser al Khelaifi, and the sporting director, Leonardo, after flying to Paris apparently to finalise a move after Tottenham Hotspur's André Villas-Boas decided against leaving Spurs. PSG had already agreed to pay the £2.6m release fee in the 67-year-old former England manager's contract, having previously been just as willing to meet the £10m clause in Villas-Boas's deal at White Hart Lane.
Premier League protests
Premier League fans descend on London to protest about ticket prices (Owen Gibson, Guardian) Organisers said the level of co-operation on show represented a turning point, with anger exacerbated by the new £5.5bn TV deal. "With the TV deal, no football club should have increased ticket prices. They've been able to get away with it because there was no challenge. The challenge starts now," said Stephen Martin of Spirit of Shankly. "We're all here for the common cause. When we play them, the rivalry will always be there. But we can all see the bigger picture. There must be 40 different club tops here today." As well as concern over the specifics of ticket pricing, there was a more general feeling of dislocation among the fans who marched in the sun from Regent's Park to Gloucester Place. They insisted they are aware of the realities of the modern game and do not want to turn the clock back, but say they feel intense frustration that clubs are not prepared to listen to them.
Roy Hodgson is angry
Roy Hodgson frets after Premier League's fixture snub for England World Cup qualifiers (Ben Rumsby, Daily Telegraph) The England manager was part of a Football Association delegation who lobbied the League to ensure the third weekend of next season's top-flight fixtures on Aug 31-Sept 2 contained games unlikely to be selected by Sky Sports for broadcast on the Sunday or Monday night. The Premier League agreed to consider the request – which it also does when clubs make representations over fixtures – but the FA's pleas had little or no effect on the list published on Wednesday morning. That weekend contains two of the biggest fixtures in the calendar, with Liverpool hosting Manchester United on top of the first north London derby of the season, both bitterly contested games involving a large number of England players. It is highly likely at least one of those matches will be chosen by Sky for broadcast on the Sunday or Monday night as part of its new £2.2 billion television deal.
---
GAMBLING CAN BE ADDICTIVE, PLEASE PLAY RESPONSIBLY