Man United are confident of landing Cesc & Fabregas will leave Barcelona if they don't want him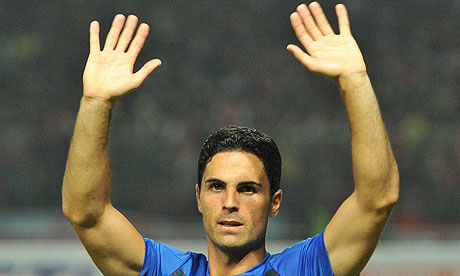 Paper round-up
Quote of the day: "The club have said they are going to be very ambitious in the market and have got the financial resources to get big players," Arteta said. "I think it's about time. When you compare us to the other top English clubs and the money they have paid, we are very far apart. The value of this club is the class and what it means is very difficult to match. Now, financially, they are very strong so maybe we will be more aggressive in the transfer market. There has never been a tradition at Arsenal to pay crazy, crazy money. I am excited. They made it public that they are going to go big and the sort of players they have been linked with makes me happy. It creates a good atmosphere and we need to do something because the other teams are doing it, and I think we will. I believe we can be contenders again but it also creates a genuine atmosphere for the fans and they need that because we haven't won trophies in the last years. They need something back. I believe in what we have but if we can strengthen a bit, then we are going to make the gap with the other teams much closer. That's what we're looking for." – Mikel Arteta.
Runner-up: "We (Lukaku and Mourinho) spoke and I want to keep it private because when you have confidential talks with the manager, it has to stay between you and him. We had a good talk and now it's up to me. You never know in football but my mind is in Chelsea now and I have come back to do well in pre-season and if I do a good pre-season, I think I will have a place in the squad and hopefully in the starting 11. Last year I had a great season at West Brom and I think have the qualities to do it here, but it is up to me. If I don't do well here, then loan again." – Romelu Lukaku.
Fabregas would join United, if Barcelona don't want him
Cesc eyes Utd if Barcelona want him out (Neil Custis, Sun) Cesc Fabregas fancies Manchester United — if Barcelona want to sell him. United tabled a £26million offer for the former Arsenal skipper yesterday and Fabregas, 26, would relish the switch. A Spanish source said: "Cesc would only go if Barcelona agreed to sell him. "The Barca midfield is already looking very crowded for next season and you wonder how many games Cesc will start. "He wants to play in the World Cup next summer and needs to be playing regularly. "Arsenal have first refusal on him but he'd prefer a switch to United." New United boss David Moyes is confident of landing his man after missing out on Thiago Alcantara, who chose Bayern Munich over United when moving from Barca.
Manchester United target Cesc Fábregas and Marouane Fellaini (Jamie Jackson, Guardian) David Moyes has made a €30m (£26m) bid for Cesc Fábregas and could pair the Barcelona player with Everton's Marouane Fellaini to form the heart of his Manchester United midfield next season. Moyes has identified the need for two midfielders, at least one of whom must be able to contribute goals, which Fábregas has proved he can do in the Premier League when at his former club, Arsenal. Fellaini also has an eye for goal; he scored 12 times for Everton last season. Moyes considered Real Madrid's Luka Modric before deciding on lodging an official offer for the former Arsenal captain. The deal hinges on whether Barcelona – who purchased the player from Arsenal for €29m (£25m) in 2011 – are willing to sell. Arsenal have a first-option clause on Fábregas should Barcelona make him available but this depends on him wanting to return there, which is unlikely.
Manchester United confident of landing Cesc Fabregas from Barcelona after lodging £26 million bid (Mark Ogden, Daily Telegraph)  Manchester United are confident of capturing Barcelona midfielder Cesc Fabregas after lodging a €30 million (£26 million) bid for the former Arsenal captain. United manager David Moyes has made the strengthening of his midfield options the top priority of his summer recruitment plans and the Scot has moved for Fabregas after previously considering the credentials of the Spain Under-21 captain Thiago Alcantara and Real Madrid's Luka Modric. Moyes is also considering a move for Everton midfielder Marouane Fellaini, having chosen to pursue both a creative and attacking midfielder, but the Belgian is a fall back option should an unknown target prove beyond United's reach.
Real Madrid to step up Luis Suarez chase
Luis Suarez transfer race poised to speed up with Liverpool expecting Real Madrid's first official bid (David Maddock, Daily Mirror) Liverpool are bracing themselves for Real Madrid to launch a move this week for Luis Suarez. Spanish giants Real have been linked with Uruguay striker Suarez for most of the summer. Now, the Reds are prepared to finally receive the formal bid they know is coming – the indications in Spain are that it will finally arrive in the next few days. Sources close to Real are hinting the Bernabeu outfit are ready to offer striker Gonzalo Higuain – who, not co-incidentally is a long-term target for Arsenal, who are also being linked with Suarez – plus around £10million in cash. Liverpool, who have no serious interest in Argentina international Higuain, will turn such a proposal down flat and immediately insist Suarez is not for sale unless a) any interested clubs activate the £40m exit clause in his contract, and b) the player submits an official transfer request.
City close in on Jovetic
City ready to confirm £28m deal for Fiorentina star Jovetic after hitting the buffers in pursuit of Sevilla hotshot Negredo (Chris Wheeler, Daily Mail) Manchester City are on the verge of sealing the £28million signing of Fiorentina star Stevan Jovetic. However, City suffered a setback in their pursuit of Alvaro Negredo after Sevilla president Jose Maria del Nido warned there is now only a 'one per cent' chance of a deal going through. New boss Manuel Pellegrini is anxious to sign the two strikers to fill the gaps left by the recent departures of Carlos Tevez and Mario Balotelli.
Benteke eager for Spurs move
Tottenham transfer target Christian Benteke hopes he can avoid Aston Villa return (James Nursey, Daily Mirror) Christian Benteke wants Spurs to step up their pursuit of him – because he doesn't want to go back to Aston Villa this week. Belgium striker Benteke, who smashed 23 goals to save Villa from relegation last term in his debut season of English football, slapped in a transfer request last week. And the marksman is determined to move to the White Hart Lane club – where he has been promised a regular start by the Europa League-bound Londoners in a World Cup year. Benteke is due back at Villa on Thursday after being omitted from their pre-season tour to Germany following crunch talks with boss Paul Lambert. The forward is currently back home in Belgium and is anxious for Tottenham to table an offer soon.
David Beckham to reveal MLS plans
He's Beck in business (Sun) David Beckham last night revealed he is on the brink of announcing details about his plans to own an MLS team. Becks, 38, has been exploring his options since retirement and looked at a franchise based in Florida. He visited potential stadiums with Bolivian-born billionaire Marcelo Claure
Why you need a VPN?
Cut chords:
Watch everything (Netflix, BBC iPlayer, Hulu) online using a VPN.
Unlock geoblocking:
A VPN gives you access to the best content from anywhere in the world.
Privacy & security:
A VPN keeps your information private, activity encrypted & data anonymous.
Just $6.67 a month + 3 months free!
Best football betting tips & free bet offers
Click here for more Premier League betting tips
---