Man City line up £140m swoop for Liverpool's Torres & Gerrard, Man United consolidate, Real Madrid want Jose, lights out on Pompey, where are the goalies, and Nigeria caught in age lies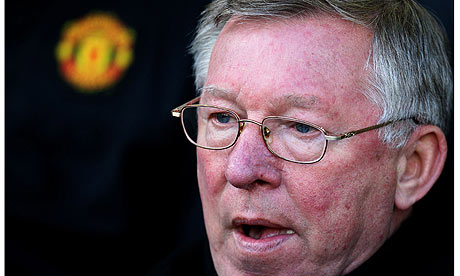 Comment & analysis round-up
Quote of the day: "[Manchester City] is a club with so much wealth they could buy every player in the world, but can they buy a team, can they buy a Manchester United spirit? I don't expect City to be bigger than us, I really don't, even with all that money. The problem with having all that money is that you buy indiscriminately. Sunderland, in the 1950s, the Bank of England team – relegated. I wouldn't wish ­relegation on City… I'm never against protest. I've been brought up in protest all my life. I was involved in the [Govan shipyards] apprentices' strike of 1961… It's everyone's right, there's no doubt about that. My problem with it, being manager of Manchester United, is that I've got owners who have never caused me any bother. Any time I've asked for money they've given it to us … The debt has concerned a lot of people. David Gill [the club's chief executive] has had a lot of chats with the staff to settle them down, to assure them everything's fine. As far as I'm concerned, I bought [Chris] Smalling for big money [£10m for the Fulham centre-back]. So for me, life goes on. As I say, the Glazers have been fine with me, I've never had any problem." – Sir Alex Ferguson.
Runner-up: "I'm annoyed. Somebody said, 'Well done' and I said, 'B******ks'. We got beat and we shouldn't have. We had the game by the scruff of the neck when they got their second goal. It was just a bad piece of defending." – Mick McCarthy.
Today's overview: It's Sunday, which only means one thing. Time for the tabloids to release the latest installment of smut concerning unfaithful footballers and this weekend the front pages belong solely to Chelsea's Ashley Cole.
Dishing the dirt is the NOTW's Carole Aye Maung, as it now looks like Cashley has lost his wife Cheryl for the last time. "Snivelling love rat Ashley Cole sobbed down the phone to his American one-night stand as he suddenly realised their secret fling was in danger of being exposed. Desperate to hide the affair from long-suffering wife Cheryl he rang lover Ann Corbitt in a panic again and again, begging her to stay quiet about their wild four hours of sex in a Seattle hotel room."
Plunging into deeper depths of nonsense, The Star's James Ingham delivers the pathetic story that "Cheryl Cole's marriage to love-cheat husband Ashley could be decided by a lie detector." While Ian Gallagher tells his readers "the Mail on Sunday understands that the Coles' marriage was over before Christmas, even though the couple attempted to quash rumours with a number of staged appearances."
Moving on with the sensational headlines, and the Mail on Sunday's Rob Draper preaches big problems for Roberto Mancini at Eastlands. "Roberto Mancini looks unlikely to survive at Manchester City beyond the summer after growing dissent in the dressing room over the Italian's training regime and managerial style. Mancini, who took over at City from Mark Hughes just nine weeks ago, knows that only clinging to his team's current fourth place in the Premier League – a finish that would earn a lucrative place at Europe's top table next season – can save him from the axe."
From the smut to the downright stupid, as the NOTW go into overdrive with a list of transfers lies that seem totally out of place considering its months before teams can start doing business again.
Starting with the absurd, we are spoon-fed the guff that Manchester City are preparing a £140m double swoop for Liverpool's Fernando Torres and Steven Gerrard. Rob Shepherd claims "It's not even a secret within the City corridors of power that the hierarchy are plotting a £140million double swoop for both Torres and Gerrard this summer. City officials are already planning how they can pull off what would be one of the most audacious transfer coups of all time."
In a fresh piece of gossip, Neil Ashton farts "David Villa is ready to change his mind and quit Valencia for Chelsea this summer." With Villa set to cost more than £30million, the Pensioners are reported to be happy to splash another £36million on securing the services of Benfica's Angel di Maria as David Harrison spews "the Blues sent Peter Kenyon to Lisbon this week to step up their negotiations for the Argentina star."
In an article barely worth the paper its written on, Aiden McGee farts "Manchester City are tracking Valencia midfielder Ever Banega." Similarly pie-in-the-sky, Neil Ashton spreads the gossip that "Manchester City are trying to scupper Chelsea in a £12million move for Belgian strike sensation Romelu Lukaku."
Balancing out the incomings at Eastlands, Neil Ashton bleats "Stephen Ireland is so disillusioned with life at Manchester City that he's hoping Arsenal step up their interest this summer." While its left open-ended as to whether the Gunners would be interested in the playmaker, Aidan McGee trumpets the news that "Arsenal are ready to break their contract structure for older players by offering William Gallas a two-year deal." But the most sensational news surrounding the north Londoners is served by Rod Shepherd who trumpets "Gael Clichy is set to leave Arsenal at the end of the season with both AC Milan and Real Madrid ready to pounce… Last summer, Real Madrid were reportedly prepared to pay £16 million for Clichy."
After news broke at the end of last week that Manchester United were looking to sign Paul Scholes on a one-year contract extension, the policy of consolidation (or is it lack of funds due to their debt problem?) continues.
Neil Ashton reports that "Edwin Van der Sar has agreed a new one-year contract to stay at Manchester United… [although] Van der Sar is likely to come under threat next season if United complete their proposed deal for Schalke 04 keeper Manuel Neuer." In a separate article Neil Ashton continues, barking "Nani is to hold talks with Manchester United over a new four-year deal after his form improved on the field."
Wrapping up the rest of the NOTW's transfer guff, Everton are reported to want to sign US striker Landon Donovan permanently while the Toffees are also said to be ready to listen to offers Joseph Yobo.
On the Donovan story, The Sunday Times' Jonathan Northcroft pulls the the plug. "Landon Donovan was Everton's other standout [against Manchester United on Saturday] and there is anguish at Goodison that the American, although he would probably stay until May if he could, will almost certainly return to LA Galaxy next month because of the terms of his loan from the MLS team."
Obviously though, the NOTW are not the only tabloid to spout transfer lies this Sunday, and next to join in on the act is the Mirror on Sunday.
Brilliantly avoiding naming any club with any conviction whatsoever, Steve Sammers claims that "Porto's Ruben Micael is set for a place in the Premier League next season… He cost only £2.75million, but Porto are so impressed by his potential that they have put a £25m release clause in Micael's contract… Manchester United scouts have been alerted to his highly impressive displays in his short career. Also watching are Chelsea and Manchester City."
From the unlikely to the never-gonna-happen, as Steve Goodman bleats "Manchester United are lining up a summer move for Sporting Lisbon ­midfielder Miguel Veloso." Next, Alex Shaw details the fresh news that Theirry Henry could be transfer listed by Barcelona at the end of the season with the New York Red Bulls and Manchester City circling the Frenchman. And in two slightly more believable pieces, Wolves are said to still be after Crystal Palace defender Nathaniel Clyne, while Newcastle and ­Sunderland are set to be chasing West Brom midfielder Graham Dorrans.
Over in the Mail on Sunday, Rob Draper spins the rumour that "Arsenal boss Arsene Wenger will be on Real Madrid's radar if Jose Mourinho turns down Spanish giants." And the Sunday Times' Ian Hawkey adds fuel to the fire, noting "Real Madrid would have to pay up to €7.5m (£6.5m) to hire Jose Mourinho as their head coach for next season." And staying with the managerilal-merry-go-round, The People claim "Celtic are considering turning to Mark Hughes as a replacement for manager Tony Mowbray who is on the brink of being dumped."
From the starry-eyed to harsh reality, and is this the week that Portsmouth go out of business?
Seemingly interchanging winding up with going into administration, Paul Smith delivers a confused warning in the Mirror on Sunday announcing "Portsmouth have less than 48 hours to save themselves from top-flight oblivion. A rescue package by a South African consortium is being hastily put together in a bid to stop Pompey becoming the first Premier League club to fall into administration." Fleshing out the facts to something more coherent, Ian Winrow detailed how "latest reports suggest Portsmouth need to find more than £20m of additional revenue to keep going to the end of the season, or around £14m if the club opts to go into administration."
Piers Morgan, who only weeks ago chimed loudly that Pompey are financially secure, today finds himself eating a large helping of humble pie. "I confidently told [Pompey fans] a few months ago not to worry because their new owner, and casual acquaintance of mine, Dubai tycoon Sulaiman Al Fahim, was absolutely loaded. I've been watching carefully as events have unfurled down on the south coast and it's now absolutely clear to me now that I was talking out of my over-fed, gullible, showbiz derriere. Fahim didn't have the cash I thought he had or the cash he promised he had. Because if he did, he would have spent it. So I humbly, and sincerely, apologise to all Portsmouth supporters for falsely reassuring you."
From the financially ruined to the cash-strapped, as Tom Evans splashes in The People with news of belt-tightening at Aston Villa. "Martin O'neill is facing a fight for transfer funds with American owner Randy Lerner – despite Aston Villa's best season for years. O'Neill wants cash to turn Villa into genuine Champions League contenders but Lerner is demanding cutbacks… Indeed Lerner's budget demands are so severe that O'Neill could even be forced to sell some of his first-team regulars – or at least a handful of fringe players – if he wants a transfer kitty."
Wheree have all the goalies gone? Rod Liddle investigates.
"Three European goalkeepers have been regarded as exceptional in recent years; Gianluigi Buffon at Juventus, Iker Casillas at Real Madrid and Petr Cech at Chelsea. I am not remotely convinced by Cech, certainly not since his injury. Casillas is very good but extraordinarily well-served by an impermeable defence both at club and country. Only Buffon really matches up to the goalkeepers of the past; better than Dino Zoff in his prime, perhaps on a par with Banks and only a whisker behind the likes of Lev Yashin. Victor Valdes, at Barcelona? Maybe, maybe. In the Premier League, Pepe Reina, Brad Friedl, Edwin Van der Sar, Shay Given and Cech stand out — but even these fine players are prone to the sorts of errors which you would not expect from the very best goalkeepers in the world. Perhaps this is simply a matter of perception, occasioned by the much greater scrutiny afforded by television and endless slow-motion replays, but I am not so sure. It seems that while the technical abilities of outfield players has advanced exponentially over the last 20 or so years, the goalkeepers have, if anything, moved backwards."
The Observer today blow the lid on the age-scandal breaking in Nigeria. "Nwankwo Kanu's official age is 33 but his real age is 42. Obafemi Martins is not 25 but 32. Jay-Jay Okocha was 10 years older than his "official" age throughout his career. And Taribo West, whose playing career ended only two years ago, is in his late fifties. Who says so? A stream of bloggers on some of Nigeria's most popular websites, in response to comments made after the country's timid effort in last month's Africa Cup of Nations."
Finally we end with a review of Everton's brilliant victory over Manchester United.
The Mail on Sunday's Rob Draper falsely calls Jack Rodwell the "new Wayne Rooney" before turning his attention to picking apart Fergie's charges. "Rooney was unusually subdued on his return to the club who nurtured him and Dimitar Berbatov was his usual enigmatic self. But perhaps most worrying of all, Jonny Evans and Wes Brown looked an accident waiting to happen." As is copying over his fellow hack's shoulder, Phil Shaw repeated the criticisms on United's centre-halves at Goodison scribbling "there were signs of uncertainty in central defence, where Evans and Wes Brown each resembled a mistake waiting to happen."
---
GAMBLING CAN BE ADDICTIVE, PLEASE PLAY RESPONSIBLY