Madrid may axe Mou if they lose at Man United, Ronaldo's hang-time lauded, Newcastle's Tiote is nicked & City want £52m Cavani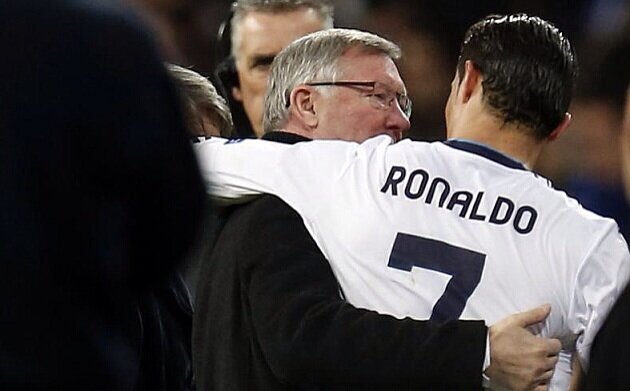 Comment & analysis round-up
Quote of the day: "We can score goals at Old Trafford. Many teams have done so this season. But no other team with the same attacking potential that we have has played there. I am confident still, I am 100 per cent sure we can do this. We played against a team who sat back playing their own game. I shouldn't criticise what they did. They came here to defend well and not concede spaces and goals. They didn't play to win but even then it could have been 3-1 to them because they had two big chances late on." – Jose Mourinho.
Runner-up:  "Of course we tried to win it. We had four attacking players in the team. But we sat a bit too deep in the first half and allowed them space. But counter-attack is part of the game in Europe. Jose is right in that we weren't as good in possession as we normally are, but that is a credit to Real, too. I think it is [50-50]. It could go either way now. It really depends on who scores first goal. The team that scores first will have a good chance." – Sir Alex Ferguson.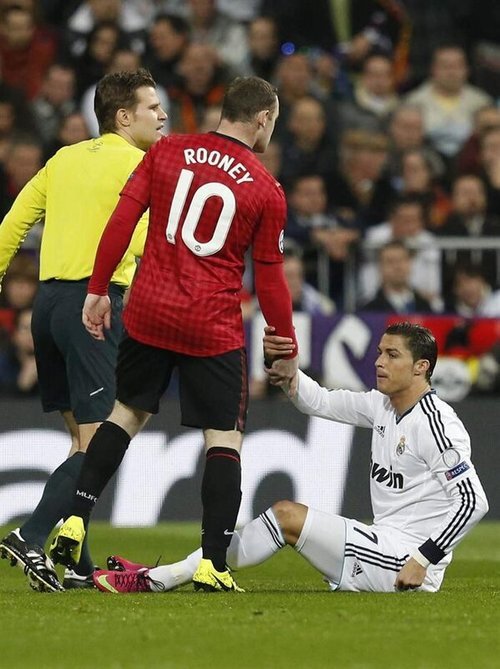 Real Madrid 1 – Manchester United 1
The guv'nor from Govan tames cheeky upstart (Steven Howard, Sun) Manchester United fans sang at the end: "Jose Mourinho, he's s****ing himself." The Special One has come up with the answers in the past — Porto eliminating United on that famous, dash along the touchline night at Old Trafford before Inter Milan saw off both Chelsea and, staggeringly, Barcelona at the semi-final stage in 2010. So it's not beyond him. But you just feel it's not going to be Jose's year.
Manchester United pull out old fighting qualities so typical of Alex Ferguson (James Lawton, Independent) Less resolute spirits might have buckled but there is not a whole lot of surrender in the DNA of Ferguson teams and nor was there now. Indeed, Danny Welbeck's opener on 20 minutes was a fine example of United's ability to absorb some biting pressure and then strike back with the most serious intent. His header was a beautifully controlled response to Wayne Rooney's perfectly judged corner. Unfortunately that of Ronaldo to Angel di Maria's cross 10 minutes later came from an entirely different dimension.
Rafael plays on roller skates, Jones is like a stunt man and Ronaldo hung in the air as if he was wearing a jet pack (Martin Keown, Mail) Rafael is a much improved player but he struggled on Wednesday night. The Brazilian plays on the edge – he gives away silly free-kicks – and he needs to learn that you can't win every ball. Sometimes you have to stay on your feet but at times he looks as if he is on roller-skates. Rio Ferdinand had a real job on his hands trying to keep the right-back calm. Ronaldo enjoyed running at him.
Ronaldo scores but heroic De Gea ensures Man United draw in Madrid (David McDonnell, Mirror) United may have been outplayed for much of the night, but the spirit, character and endeavour their boss talked proudly of on the eve of the game saw them earn a deserved draw at the Bernabeu.
The Mourinho Angle
After Fergie won the Bernabeu battle Jose must win the war at Old Trafford to survive (Ollie Holt, Mirror) The subtext was unavoidable: this is a tie that could bring an ignominious end to Mourinho's fractious reign in Madrid. The burden of that knowledge and the kind of frailty his side showed last night as they wilted against United is weighing heavily upon him. Mourinho is used to leaving clubs on his own terms, or at least having met or exceeded expectations. But he knows that if he does not win the Champions League with Madrid, he will find himself in the unfamiliar position of being branded a failure.
Mourinho in another tight spot as Jose fights to keep Real's European dream alive (Ian Ladyman, Mail) Mourinho wants to leave Spain with the Big One — the European Cup — when he waves farewell in the summer. He's almost done here, but the motivation to create history in this competition is the only thing left before he reaches the finish line. It has become a personal crusade, with his ambition to become the first coach  in history to win three European  Cups with three different teams the driving force.
The Ronaldo Angle
It just had to be him! Ronaldo's leaping leveller leaves last 16 clash hanging in the balance (Martin Samuel, Mail) He scored; of course, he scored. And he celebrated; of course, he celebrated. Nothing too showy, nothing to spoil his return to Old Trafford on March 5, but Cristiano Ronaldo has too much love for his new club to overplay the respect for his old. Ronaldo kept Madrid in this tie, make no mistake of that. Ronaldo, and an uncommon profligacy in the second half that Robin van Persie may come to regret… For if ever a player can spark regrets of opportunity lost it is Ronaldo. This was not his best game, but his influence was inescapable and his goal so important.
Cristiano Ronaldo rises to big occasion with impeccable timing (Sid Lowe, Guardian) It could be his next poster campaign, photographed before a green backdrop and plastered life-size across the walls of the Santiago Bernabéu metro station. There was something cartoonish, machine-like, about it. Almost too perfect, a computer game. The leap, high; the back, straight. The timing, pause included, impeccable. Real Madrid had started well and so had he, but they were trailing 1-0. It wasn't looking good. And then Cristiano Ronaldo did what he does. What he always seems to do.
Wayne Rooney left to labour in wake of Cristiano Ronaldo's rare class (Jamie Jackson, Guardian) Rooney's display was another drawn from his all-action mode as he was stuck out on the right by Ferguson, from where he was asked to aid the still erratic Rafael da Silva shackle Ronaldo and also help launch United's attacks.
Brilliant Cristiano Ronaldo leaves Wayne Rooney to toil in his shadow (Paul Hayward, Telegraph) Ronaldo was the gleaming aristocrat of this game and Rooney laboured in his shadow. But United went home happier.
Ronaldo shackled by Manchester United's unflinching resolution (Sam Wallace, Independent) In the first half, Ronaldo was a key threat and on the occasion when United got it wrong, he out-jumped Patrice Evra to head in the equaliser. After the break, United managed to keep him much quieter and, if anything, it was Angel di Maria, on the opposite wing who looked the more dangerous.
Manchester United's focus on Ronaldo opened up gaps for Real Madrid (Michael Cox, Guardian) Devoting such attention to Ronaldo meant leaving gaps for Real's two other pacy wide players, the left-back Fábio Coentrão and the right-winger Angel Di María. The latter often ducked inside to shoot from the edge of the box as Patrice Evra lacked the protection Jones gave to Rafael da Silva.
The Strawman: Zenit's Racism
Liverpool head to Zenit St Petersburg fearing racism may rear its head (Howard Amos, Guardian) Many argue that racist incidents have been blown out of all proportion and that Liverpool and other visitors have nothing to fear.
Zenit racists don't intimidate Rodgers despite warnings before Europa League tie (Dominic King, Mail) Brendan Rodgers will have no fear starting Liverpool's black players against Zenit St Petersburg as he insisted his squad will find strength in adversity.
St Petersburg's a feast for the eyes but racist Zenit fans turn the stomach (David Maddock, Mirror) [St Petersburg is] the home of some vicious right-wing political groups whose sole aim is to generate nationalist fervour, and – apparently – white supremacy. That racial hatred is no more apparent than at the home of their football team, Zenit, where the fans issued an open letter to the club, insisting they not sign any more black players, and started a pitched battle at the last visit of their great rivals Anzhi, who have pursued an aggressive policy of foreign signings to boost their status.
Tiote In Police Trouble
Nicked Tiote to play on (Nick Brenner, Sun) Cheick Tiote is set to play for Newcastle tonight — despite being arrested on suspicion of fraud. The Ivory Coast ace was stopped by cops on Tuesday near Toon's Benton HQ and had his flash £75,000 Chevrolet Camaro seized. But Tiote still trained yesterday ahead of the Europa League clash with Ukraine outfit Metalist Kharkiv.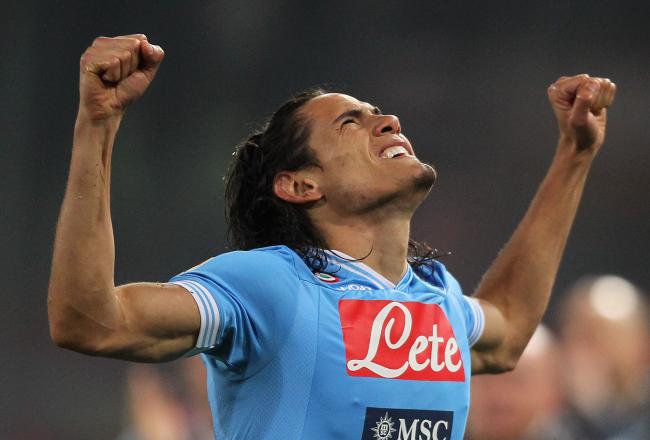 Transfer Lies
£52m Ed boy! City to break record for Napoli ace Cavani and also eye Bhoys star Wanyama (Mail) Manchester City are ready to begin a £60million-plus overhaul of their squad with summer moves for Napoli's Edinson Cavani and Celtic's Victor Wanyama.
Liverpool join City and Spurs in the race for Sampdoria striker Icardi (Mail) Liverpool have enquired about Sampdoria striker Mauro Icardi. The Argentine has also been watched by Tottenham and Manchester City but looks poised to join Inter Milan.
---
GAMBLING CAN BE ADDICTIVE, PLEASE PLAY RESPONSIBLY