Luiz smiled at the mocking Manchester United fans, Chelsea sign Schurrle & all eyes on AVB for Bridge return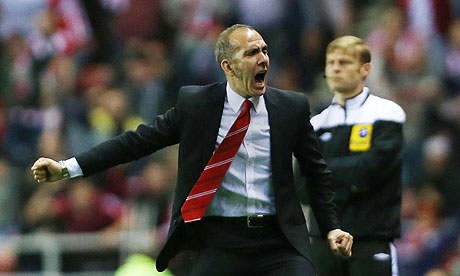 Comment & analysis round-up
Quote of the day: "It's a massive point for us. The way it came wasn't easy. I had feared I was at a masochist club in the first half. We conceded a goal from Stoke's first corner even though we had worked on dealing with them all week and then Craig Gardner got sent off for a bad challenge. But we came back, we organised well and there was only one team in it in the second half. I thought we deserved the point, maybe more. That point could be vital at the end of the season, I think it will be crucial for our destiny. We are going to have to do everything to win against Southampton because I think we will stay up with 41 points. It has put more pressure on the Southamp­ton game at the weekend, but there was always going to be pressure and imagine if we had lost this game." – Paolo Di Canio.
Runner-up: "If we win our next two games it will be enough because either Chelsea or Spurs will drop points because they play each other. If you look at Chelsea's fixtures, they have Tottenham and Everton left and they won't be easy games. And Tottenham do not have enough quality, so there you go." – Wojciech Szczesny.
Sunderland 1 – Stoke 1
Paolo Di Canio: Southampton match is Sunderland's Champions League final (Louise Taylor, Guardian) Paolo Di Canio believes Sunderland are one win away from securing Premier League survival and has dubbed Sunday's home game with Southampton "our Champions League final". Sunderland's manager saw his side recover from going a goal down to Stoke City and having Craig Gardner sent off for a foul on Charlie Adam to force a draw courtesy of a splendid second-half display capped by John O'Shea's equaliser. "Southampton is absolutely, absolutely, a big game," said Di Canio, whose side have 38 points, three more than Wigan who have a game in hand and are at home to Swansea on Tuesday night. "It's our Champions League final, it's crucial for our destiny. It's hard to say, and it depends on what happens with Wigan tomorrow, but I think that, if we win against Southampton, with our goal difference, we should be OK."
Stop this red rage… or face going down! Di Canio orders Sunderland players to curb aggression after Gardner's horror red card (Sam Cunningham, Daily Mail) Paolo Di Canio told Sunderland's players they have to learn to control their passion as they face a clash with Southampton he called their 'Champions League final'. The volatile Italian watched his team suffer the second red card in a row as Craig Gardner was sent off for a horrible lunge on Stoke's Charlie Adam. It means the Black Cats must fight for survival in the last two games of the season with all three of their leading scorers missing because Steven Fletcher is injured and Stephane Sessegnon suspended following his dismissal in the 6-1 thrashing at Aston Villa.
David Luiz on that smile
Chelsea's David Luiz: I was smiling at jeering Manchester United fans, not Rafael's red card (Jeremy Wilson, Daily Telegraph) David Luiz has told friends that his smile after going down under Rafael da Silva's challenge on Sunday was because Manchester United fans were mocking him. Sir Alex Ferguson reacted with anger at Luiz's part in Rafael's sending-off, accusing the Chelsea defender of rolling "like a dying swan" and then pointing out that he was grinning. "That is bad," Ferguson said. "What kind of professional is that?" Ferguson also complained that Rafael had been provoked by Luiz's use of the elbow prior to kicking out. Although Luiz has not disputed that he was smiling after falling to the ground, he has pointed that it was in front of a baying collection of United fans. Luiz's flamboyant style and flowing curly hair has prompted the moniker 'Sideshow Bob' after the character from The Simpsons and he could apparently hear that nickname, as well as some expletives, from a group of Manchester United fans.
Go easy on Luiz, he has an intelligent and sensitive side… and he's captaincy material (Lee Clayton, Daily Mail) On the pitch, we see a cocktail of volatile South American emotion and swaggering Brazilian skill. Away from the floodlights and flailing arms, there is another side to David Luiz. They go together to make him box office. Great Ormond Street Hospital is a place where amazing people do remarkable things to save the lives of children. They're used to celebrities dropping by: Sir Elton John, Maria Sharapova, Lewis Hamilton, Leona Lewis, Sir Paul McCartney, Jack Dee, Johnny Depp and Kylie Minogue are among those who have all supported the fundraising and awareness drive. Last month, Luiz, 26, added his name to the cast, but this wasn't just a footballer turning up to do his bit and then disappearing back to his penthouse (and Luiz does have a beautiful penthouse overlooking the Thames). He stayed longer than expected, rolled up his sleeves and got stuck in.
Chelsea sign Schurrle
Schurr as can be (Tony Little, Sun) Chelsea finally look to have landed Bayer Leverkusen striker Andre Schurrle. The German club's general manager Wolfgang Holzhauser yesterday admitted the 22-year-old may have already agreed to sign for the Blues. Holzhauser said: "Schurrle has probably signed a pre-contract deal with Chelsea. It all depends on whether we let him go. We have received a concrete offer for a fee which we are considering. "But the price alone is not decisive. We must also have alternatives." Meanwhile, Bayer are plotting a bid for Chelsea midfielder Kevin de Bruyne.
Mourinho will bring Steve Kean to Chelsea
No way Jose! Mourinho wants Blackburn flop Steve Kean to join him if he returns to Chelsea (James Nursey, Daily Mirror)
Jose Mourinho is lining up a shock move to take Steve Kean with him if he returns to Chelsea. Boss Mourinho, 50, is set to leave Real Madrid this summer after their Champions League exit. The 'Special One' has already started planning for a tantalising second spell at Stamford Bridge. And MirrorSport understands Mourinho is interested in bringing in ex-Blackburn boss Kean to boost his coaching set-up. Mourinho has his own loyal backroom staff but likes to have an assistant manager from the country he is working in. He previously had Steve Clarke under him at the Blues but the Scot is now content as West Brom manager. Kean, 45, is available after quitting relegated Rovers last September saying he was "forced to resign" despite the Championship club being third.
Chelsea v Spurs, 1 day to go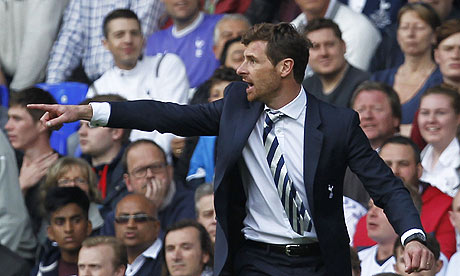 Andre Villa-Boas will be a success even if Spurs fail this year (Ian Wright, Sun) But even if Tottenham miss out on the top four, I think real progress has still been made under AVB. Appointing him was a brave move by chairman Daniel Levy after the sacking of Harry Redknapp. AVB was under a lot of pressure and the knives were out early on. But after getting his feet under the table, he has proved incredibly popular with the players, who have played some great football. People go on about Tottenham being a one-man team with Gareth Bale and I think that is unfair. AVB has made some good signings. Jan Vertonghen, Mousa Dembele and Hugo Lloris are excellent players. Equally, Bale was doing some really good stuff under Redknapp last season. But under AVB he is doing some truly great stuff and surely the manager must take some of the credit for this. Bale's game is now at another level and he deserves the plaudits.
Tottenham's André Villas-Boas in search of historic triumph at Chelsea (Dom Fifield, Guardian) Now, though, he must oversee a victory that would buck a long-established trend. It is more than 23 years since Gary Lineker, in between centre-halves at the far post from Nayim's delivery, nodded an 88th-minute winner past Dave Beasant to secure Spurs' last victory at Stamford Bridge. To put that into some context, that was the weekend when Buster Douglas beat Mike Tyson and, more pertinently, Nelson Mandela walked free from Victor Verster prison. They have secured nine draws from the 25 visits in all competitions since. A win would feel historic. That is what the manager is targeting, hopeful perhaps that Gareth Bale has saved one last flash of jaw-dropping quality for the biggest game yet of this campaign game. The optimist in Villas-Boas will stress that, if Chelsea, Stoke and Sunderland are beaten, Champions League football will be assured. He will place equal importance on each of those fixtures. And yet Wednesday is the contest with the subplot. He may be uncomfortable in the spotlight, but this is the Portuguese's moment.
Manchester United eye Claudio Marchisio
Eye, Claudio: Manchester United want to use Nani as part of deal to land Juventus playmaker Marchisio (Neil McLeman, Daily Mirror) Nani could hold the key to Manchester United's summer bid for Italy star Claudio Marchisio. Red Devils boss Sir Alex Ferguson wants the Juventus playmaker to add creativity to his midfield next season and is preparing a £20m bid. The new Serie A champions have strength in depth in the middle of the park with Andrea Pirlo, Arturo Vidal and Paul Pogba. But coach Antonio Conte is seeking to reinforce other departments, with a new forward and a winger at the top of his wishlist.
Southampton & Liverpool after Wanyama
Top Bhoy: Southampton join Liverpool in chase for £10m Celtic enforcer Victor Wanyama (Daily Mirror) Southampton have joined Liverpool in trying to lure Celtic star Victor Wanyama to the Premier League. Saints boss Mauricio Pochettino sent his scouts to watch Wanyama play against Motherwell last weekend and is readying a £10 million bid. The Kenyan defender is also attracting the interest of Manchester United and Arsenal after starring for The Bhoys in their Champions League run this season.
Man City chase (Oliver) Torres
Torres on Manchester City's target list (18-year-old £8m-rated Oliver that is…) (Simon Jones, Daily Mail) Manchester City have added Atletico Madrid midfield starlet Oliver Torres to their list of summer targets. Club scout David Fernandez watched the 18-year-old come on as a 72nd minute substitute in Atletico's 0-0 draw with Deportivo La Coruna. Torres, a Spain U21 international, is rated at around £8m and Manchester United, Chelsea and Liverpool have also watched him.
Click here for more Premier League betting tips
---