Liverpool's Suarez admits cheating, Pep's Bayern choice shows Chelsea's money limitations, Milan eye Mou & Arsenal scout Mo
Comment & analysis round-up
Quote of the day: "Pep Guardiola is one of the most successful coaches in the world. We are sure that he can make not just Bayern but all of German football shine. We are very pleased that we have managed to convince someone who was coveted and contacted by many top clubs to come to Bayern." – Bayern chief executive, Karl-Heinz Rummenigge.
Runner-up: "The one difference between Rafael's handball and Spence's was that Jordan plays for West Ham away against Manchester United and Rafael plays at home at Old Trafford. It's got to be that simple. Phil Dowd was in the perfect position. Rafael pushes the ball away with his left arm. No penalty. Go to the other end and the ball hits Jordan's hand. If you give one you have to give both, simple as that. I've looked at the referee's position for the Rafael one and it is perfect — straight in line and right in front of it. He had a worse position for Jordan's." – Sam Allardyce.
Luis Suarez: Coming Clean On Cheating
Yes, I cheated – but not against Mansfield: Liverpool's Luis Suarez fights his corner (David Anderson, Mirror) Luis Suarez is at the centre of a new 'cheat' storm after admitting he took a dive against Stoke. The controversial Liverpool striker confessed he tried to dupe the officials during the Reds' goalless draw with Stoke at Anfield on October 7. Suarez was criticised by Potters manager Tony Pulis after he wasn't even booked for diving following the incident, and the Uruguayan now admits he did take a tumble. In an interview with Fox Sports Argentina, Suarez said: "I don't listen to all the nonsense some people say about me. I'm accused of cheating here. People say I throw myself all the time inside the box. Let's see, they said that when we played against Stoke, for instance, and in that case they were right. I invented a foul because we were drawing against Stoke and I wanted to win."
Suarez: I invented a foul against Stoke because I wanted to win… but I was unfairly treated over Mansfield handball (Tom Bellwood, Mail) In the interview in Argentina, aired today, he claims the reason he is targeted is because Manchester United hold sway over the English media. The Liverpool striker also believes the media is helping Sir Alex Ferguson's side in their quest to regain the Barclays Premier League title. It had seemed the race row and handball controversies involving Suarez had been put to one side following the drama-free North West derby on Sunday. He also slammed the media for treating him and his fellow South Americans differently to British players.
Chelsea 2 – Southampton 2
Who can Pep up Blues? Not Rafa, say angry fans after draw (Matt Barlow, Mail) As if to remind Abramovich of their thoughts on this matter, they booed the team off the pitch and burst into a chorus of: 'F*** off, Benitez, we don't want you here'.
He's Rafa Boo-nitez (Sun) The fans were furious when hero Frank Lampard was subbed for Fernando Torres 11 minutes from time and they again vented their anger at the final whistle. It was only the third time in Chelsea's Premier League history they had failed to win after leading by two goals at half-time.
Rafa Benítez subjected to more boos as Chelsea draw with Southampton (Guardian) Chelsea have won only one of Benítez's six home games in domestic competition, albeit that was an 8-0 thrashing of Aston Villa, and are a distant 13 points off Manchester United at the top of the Premier League. Perhaps more pertinently, they are five points clear of fifth-placed Everton.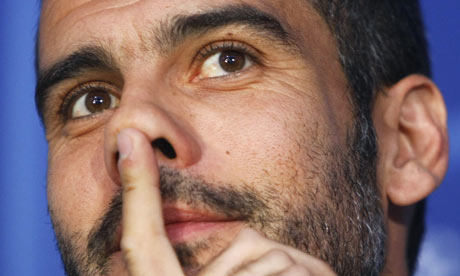 After All The Guff Guardiola Snubs England
How Bayern Munich pulled off the coup of the season and landed Pep Guardiola (Raphael Honigstein, Guardian) While some might decry his decision as a very safe one – Bayern's star-studded squad virtually guarantees trophies, at least as far as domestic ones are concerned – it also serves to protect the Pep "brand". A spell in Munich won't preclude a move to the Premier League a few years down the line either, at a time when even more interesting positions (Arsenal, Manchester United) might be available.
Sorry, Roman, but not everyone has his price. Ask Pep (James Lawton, Independent) It is a verdict that might just provide Chelsea, especially, with some perspective on the challenge of making a football club with some long-term coherence. Waiting for Guardiola has proved a futile business but then who can be truly surprised? Guardiola built his career with a flawless understanding of all his advantages at Barcelona. Why, indeed, would he have put it all at risk in the shooting gallery down on Fulham Road?
Pep Guardiola's snub for Roman Abramovich reveals the fatal flaw at the heart of his Chelsea Empire (Paul Hayward, Telegraph) Guess what. Money has found its limits. Some people cannot be bought. Other things come into play: stability, order, principles. Guardiola was not selling himself to the highest bidder. Bayern, a haven of good sense and stability, struck him as much better way to return to the stress of top-level management, which he obviously finds taxing, as his sabbatical attests.
Pep Guardiola snubs Chelsea by opting for Bayern Munich (Guardian) The Catalan will become the highest-earning manager in the club's history – it has been mooted that he struck a separate sponsorship deal with Adidas, Bayern's kit supplier – at around €10m (£8.3m) a year, a figure he might have eclipsed at any of his other suitors, with Chelsea having made their admiration clear last March and in the summer.
Pep Guardiola's decision: winners and losers (Rob Smyth, Guardian) LOSERS: Roman Abramovich His chosen one has chosen another, which means the Russian will have to draw up yet another plan if he decides to get rid of Benítez. Manchester City If Mourinho also goes elsewhere, they will have to look to the B-list should they want a new manager. Jupp Heynckes The current Bayern coach was expected to retire at the end of the season anyway, but his final months – which should include a Bundesliga title – will now be overshadowed. The Premier League The prospect of Guardiola and Mourinho resuming their rivalry in England has gone for now. The Premier League had no players in Fifa's World XI; now it has failed to attract one of the world's best managers.
Pep Guardiola has been seduced by Bayern Munich's class and vision (Sid Lowe, Guardian) It is striking that Guardiola has signed a three–year deal – longer than he ever signed at Barcelona… The idea of taking a German club and adapting them to his own philosophy is an attractive one.
Auf Wiedersehen, Pep! Chelsea given huge snub as Guardiola agrees to return to football as Bayern boss (Mail) Sportsmail exclusively revealed on December 8 that Chelsea had begun drawing up a list of second-choice managerial candidates — including Borussia Dortmund's Jurgen Klopp — after Guardiola's advisers expressed serious doubts about their man working under Abramovich. The Russian has gone through eight managers in nine-and-a-half years, something that did not sit well with Guardiola, who craves long-term stability. Furthermore, Guardiola wanted total control of the footballing operation, something that has not always been permitted at Chelsea in the Abramovich era.
Russian cash no match for German class for Chelsea target Guardiola (Matt Lawton, Mail) Bayern Munich. Decent enough money but, compared to Chelsea, an awful lot more class. A club run superbly on the financial as well as football side with a number of illustrious former players safeguarding their future. At Chelsea you get Tenenbaum and Gourlay. In Munich you get Karl- Heinz Rummenigge and Uli Hoeness.
Pep's Bayern deal catches Chelsea and City off Guard (Anthony Kastrinakis, Sun) The German giants proved a bigger attraction than Manchester City or Chelsea, whose owner Roman Abramovich had pursued Guardiola for some time.
Arsenal 1 – Swansea 0
Jack Wilshere drives Arsenal to late victory over Swansea City (Amy Lawrence, Guardian) It seemed crazy for Arsène Wenger to keep playing Jack Wilshere, the kid who spent 17 months out injured, the boy who has not stopped chasing and coaxing and creating since he stepped back on to the pitch in October. Rest Wilshere? Who has started nine games in a row? No chance. He has become the heartbeat of Arsenal – the conductor, the driving force, the de facto leader.
Gunners saved late in the day by cracker from Jack (Laura Willamson, Mail) They huffed, puffed and wasted chance after chance but, eventually, it was an Englishman who blew the house down. Wilshere was sensational. Arsenal's No 10 played as a No 10, pushed forward behind Olivier Giroud with Francis Coquelin and Abou Diaby left to anchor the midfield in the absence of Mikel Arteta, who will miss at least three weeks with a calf strain.
Transfer Lies
Jose may boss AC Mour-lan (Sun) AC Milan are plotting to hijack Jose Mourinho's summer return to the Premier League.
QPR hope to complete M'Vila swoop in coming days as Everton show late interest in Rennes star (Mail) Moyes is considering a loan move for M'Vila, with a view to a permanent switch in the summer. Rennes are hoping for a total of £10million for the defensive midfielder.
Are you Gunner go for Mo? Arsenal scouts watch West Ham midfielder at Old Trafford (Mail) Arsenal scouts watched West Ham midfielder Momo Diame, 25, against Manchester United last night…. Arsenal boss Arsene Wenger has long been an admirer and Rafa Benitez also likes the 25-year-old.
Flo can go for a free (Sun) Chelsea are yet to receive a single enquiry about misfit Florent Malouda even though he has no future at the club. Blues would even consider letting him leave for nothing if the right deal comes along to get his £75,000 a week wages of the payroll.
Big Sam ramps up efforts with £3.5m bid to land Rovers defender (Mail) West Ham have made an improved £3.5million offer for Blackburn defender Martin Olsson.
Blackpool no longer taking Liverpool's calls about Tom Ince (Mirror) Tom Ince has seen his dream return to Liverpool put on hold – because Blackpool are refusing to take Brendan Rodgers' calls… Meanwhile, Lazio defender Modibo Diakite has turned down a final offer of a new contract – in the hope Liverpool will come in for him.
Jones in, Graham out? Swansea step up bid to sign Stoke striker Kenwyne (Mail) Swansea are stepping up their bid to sign Stoke striker Kenwyne Jones who will be allowed to leave for around £6million.
Fulham step-up their pursuit of Dutch goalkeeper Stekelenburg (Mail) Stekelenburg was due to play for Roma in last night's Coppa Italia quarter final with Fiorentina however he picked up a stomach bug and had to return home.
Aston Villa poised to challenge Fulham for Ghana international Derek Boateng (Mirror) The 29-year-old defensive midfielder, a Ghana international, is available to leave FC Dnipro in Ukraine this month.
---