Liverpool's "guarantee is close to its expiry date," Waddle slams Arsenal's Walcott again, England undermined by bugger & Arsenal look to shop in the juniors
Comment & analysis round-up
Quote of the day: "We didn't show the right attitude and even though we worked harder in the second half, we played without game intelligence… It is difficult to explain because we prepared for the game properly. We knew Wigan would play in this way but there were too many things from us that I cannot understand. We have to keep going for fourth place. That is all we can do. You can have good and bad times but we had to do better tonight on what was a crucial moment." – Rafa Benitez.
Runner-up: "It will be amazing if we get through [against Porto in the Champions League]. It is true that at the start of the season you would want Fabregas, Van Persie and Gallas to be the spine of the team. But without them, we can show that we are still strong enough to do it. There is always something new in our game and we have a good opportunity to change history… We have scored away from home, which is still a massive advantage, and that's why we're confident we can do it." – Arsene Wenger.
Today's overview: Have Liverpool blown their Champions League hopes? For the umpteenth time this season Scousers will be waking up with sore heads this Tuesday after a horrible performance and defeat at lowly Wigan.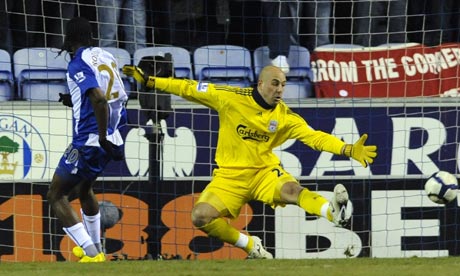 Picking up on Rafa Benitez's promise that Liverpool will make the top four from earlier in the season, Andy Hunter mocked "the guarantee is close to its expiry date… The Champions League is moving out of reach and on the evidence of this lacklustre defeat to a relegation-haunted side, it is beyond their capabilities… This was as crestfallen as the Liverpool manager has ever appeared after a defeat."
Next in the queue to bash Liverpool was Tony Barrett, who rolls in with a damning stat. "No wonder Benitez, the Liverpool manager, does not like Mondays: Liverpool have yet to win on that night during the Spaniard's reign. There could be no excuses for their latest failure. Their performance was so poor that it is hard to imagine how they could embellish the Champions League, even in the increasingly unlikely event that they should qualify."
Adding insult to injury, Rory Smith continued the dressing-down of Liverpool's poor performance. "For all the disappointment Anfield and its travelling branch have endured this season, they will not have seen a performance as error-strewn as this. Benítez asked his players to be flawless. They responded by showing him every single flaw they possess… Perhaps the problem, then, is psychological. Liverpool's troubles this season have drawn Benítez's side into their shells. Passes are sideways or backwards, defending is deep and in numbers. There is no desire to take risks."
Handing Liverpool even more problems to worry about, annoying self-appointed protectors of decency – the Daily Mail – roll out John Edwards to hype up the fury surrounding Stevie G's two-finger salute (see picture above). "Steven Gerrard could face an FA investigation after appearing to aim this abusive gesture at referee Andre Marriner… While it appeared to escape Marriner's attention, Gerrard could be in trouble if the FA look into it and decide it warrants disciplinary action. It was yet another brush with authority for an England captain."
Looking ahead to tonight's Champions League action, and Matt Scott opens the discussion of Arsenal's meeting with Porto but looking at the financial outlook should the Gunners, without Fabregas, be knocked out.
Scott: "If, in the absence of their inspirational captain, Wenger's side are knocked out of the Champions League, it will have an eight-figure impact on their net matchday income, as against the previous season… On top of the estimated £13m they would miss out on in lost matchday revenues from this season, there would be a future impact of £5m on season-ticket fees received in May, when the matches lost are discounted from fans' renewal price."
After his "no football brain" comments following England's friendly with Egypt, Chris Waddle once again goes public with his criticism of Theo Walcott today. "I have watched Walcott for a number of years and there are no doubts he has strengths to his game. Well, he has one strength in particular: his terrific pace. But why does he not use it more? Why does he not get more of the ball? You can only look at his movement and conclude it is not good enough. He proved he can cross and deliver a ball against Burnley at the weekend. But why does he not do that consistently? I stand by my assessment that he doesn't yet have a football brain."
Taking a much broader view of the Premier League's standing in world football at present, Matt Hughes, with the aid of his abacus, makes the case that English football's standards are falling. "There has already been a distinct drop-off in results for English clubs in the Champions League — seven defeats in 27 matches against overseas opponents, which is more than in the whole of either of the past two seasons — but far more striking is how beatable the elite have looked in the Premier League. The "big four" lost a combined total of 17 league matches last season (Liverpool two, United four, Chelsea five, Arsenal six). Already this season, with a third of the campaign to play, it stands at 25 (Chelsea five, Arsenal and United six each, Liverpool eight)."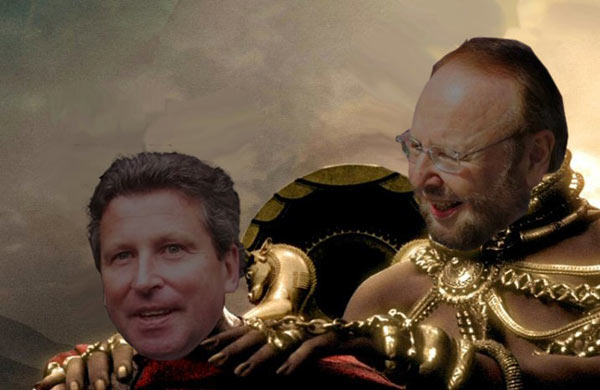 Henry Winter wastes his time today discussing why SAF should be left out the discussion of the ownership of Manchester United. "Two campaigns are being waged at Old Trafford off the pitch and on it. Ferguson can concentrate only on the leagues. He cannot afford to take his eye off the ball, becoming distracted by politics, however much the fans crave a sign. Owners can come and go, and all right-minded people hope the Glazers go soon, but what matters most is that Ferguson stays. And stays focused. It would be a disaster for United if the Scot walked away this summer."
Keeping focus on whole Red Knights issue, James Lawton wishes Manchester United could emulate Barcelona's ownership structure. "Barcelona's 150,000 members elect a president every four years. They are a co-operative about which United fans can only dream. They are so far away from the regime the Glazer family have created at United – one that would have recorded a loss last season had Cristiano Ronaldo not been sold and replaced, with a fragment of the fee, by the admirable but scarcely iconic Antonio Valencia – that Barcelona might be operating not beyond the Pyrenees but on an entirely different planet."
With the World Cup just over 90 days away, once again England fans wake up to sad news this morning as news of yet another scandal emerges from the Three Lions camp with news of a security breach. It's all a bit John Grisham!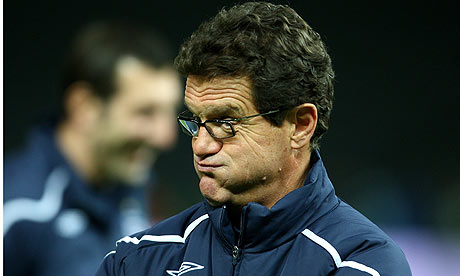 Oliver Kay delivers the skinny. "Confidential discussions involving the England manager and his squad are believed to have been recorded, with informed speculation suggesting that, in addition to tactics, the items under discussion included bonuses to be paid to the players if they are victorious this summer. Although no newspaper had taken up the offer of publishing the tape's contents, which have been described as'"dynamite,' it is the latest in a series of setbacks for Capello."
Fleshing out the story, Nick Harris voices the belief that smut was at the heart of bug-gate. "It has been suggested that the bugging exercise might lead to the betrayal of crucial tactical nuggets to England's World Cup opponents. But the likeliest scenario is that someone was hoping to capture salacious gossip and sell it for cash to the tabloids. The Independent understands the contents of the tapes were offered for sale to Sunday newspapers late last week, and subsequently to other newspapers."
Onto the transfer gossip, and we start we Arsenal's policy of consolidation.
David Hytner details how "Gallas is out of contract in the summer and Wenger will meet his agent this week for further talks about an extension. Wenger's policy is to offer only one-year deals to players over 30 but he would be prepared to give Gallas two, as the player wants, if he would agree to drop his wage demands." Staying with Gallas, Matt Hughes wonders whether the Frenchman will accept Arsenal's contract offer. "Gallas may prefer to take his chances elsewhere because he has attracted interest from Roma, Marseilles and Paris Saint-Germain, even though none of them are likely to improve on Arsenal's offer."
Ian Herbert delivers exciting news for Evertonians, scribbling that "Landon Donovan, arguably the most effective Premier League loan signing of the season, believes he could – if permitted by LA Galaxy – fit in up to five games more for Everton before returning to California for the start of the new MLS season."
Onto the woollier articles, with the Daily Mail found peddling the rubbish story that "Lokomotiv Moscow will again try to sign Roman Pavlyuchenko in the summer." Flipping to their north London rivals, The Sun fart "Arsenal are hot on the trail of £9million-rated Uruguayan sensation Abel Hernandez. The 19-year-old striker has been a revelation since moving to Serie A side Palermo from homeland club Penarol this season, scoring four goals in 16 appearances." Lastly, rumour-monger Alan Nixon claims "Birmingham boss Alex McLeish wants to sign Frederic Piquionne."
---
GAMBLING CAN BE ADDICTIVE, PLEASE PLAY RESPONSIBLY