Liverpool's CL dreams crash after WBA's win, Celtic v Juve previews, can Man United stop Ronaldo & an Ajax star linked to EPL
Comment & analysis round-up
Quote of the day: "He will not be the successor. I don't think the club would be happy with everything Mourinho brings with him. He's a great candidate for his qualities as a manager but the club doesn't want all the things that come with him. Chelsea, Inter and now Real Madrid — he doesn't last more than three years." –  Peter Schmeichel.
Runner-up: "Maybe it sounds stupid but my dream is to manage United. But I am not saying it is going to happen. I worked with Alex Ferguson for 15 seasons as a player and then as reserve team coach. His methodology has influenced my philosophy. Almost everything I know I learnt from Sir Alex. Both of us believe in ourselves, we always want to win and we put our faith in youngsters and work hard." – Ole Gunnar Solskjaer.
Liverpool 0 – West Brom 2
West Brom put two past Liverpool after Gerrard penalty failure (Andy Hunter, Guardian) Liverpool required no reminder of what life was like before they spent £12m on Daniel Sturridge. West Bromwich Albion inflicted a quick recap nevertheless. A dominant display with no cutting edge, the opposition goalkeeper in commanding form and doubts creeping into Brendan Rodgers' team before succumbing to a late blow from a set piece: it was the return of the tale Anfield had tried to forget.
Big hand for Foster after Albion smash and grab raid (Dominic King, Mail) Any hopes Liverpool had of qualifying for the Champions League were demolished as West Bromwich staged a classic smash-and-grab raid masterminded by a man well versed in Anfield traditions.
Liverpool's 'big week' fails at the first hurdle, while West Brom's Foster reveals the secret to his crucial save from Gerrard's penalty (John Edwards, Mail) Brendan Rodgers saw the start of Liverpool's 'big week' blow up in his face on Monday night. Two goals in the last 10 minutes from Gareth McAuley and Romelu Lukaku — after Ben Foster had saved a Steven Gerrard penalty — doomed his side to their first home defeat since mid-December. The loss leaves the Anfield club in ninth place — 12 points away from the Champions League places, six points behind Everton in sixth place, and in danger of their worst finish in Premier League history.
Frustrating night for Liverpool as Steven Gerrard fails on the spot against West Bromwich Albion (Simon Hart, Independent) One point in six League matches, a third-round FA Cup exit, and then the whole sorry Peter Odemwingie saga. Since winning at Queen's Park Rangers on Boxing Day, life has been pretty grim for West Bromwich Albion but last night that all changed. With Ben Foster showing the ability that made him an England goalkeeper and making a pivotal penalty save from Steven Gerrard after 77 minutes, Steve Clarke's side went on to stage a smash-and grab raid as late goals from Gareth McAuley and Romelu Lukaku brought the visitors a first victory of the year.
Liverpool: Getting Soxed
Henry insists Liverpool are no distraction despite poor Boston Red Sox results (Dominic King, Mail) John W Henry insists owning Liverpool is no distraction but admits there are concerns in America about his involvement at Anfield…Speaking in Florida on Monday, Henry said: 'Everything affects you but the things that have been said, repeated over and over again, are fairly ludicrous. The last time I was in Liverpool I think was in May of last year. I don't know where this fraction comes from. You can say every major league owner is distracted if you want to try and make a case for it because they all have other businesses, other endeavors. I think they all do. The major thing is the perception.'
Celtic v Juventus
Celtic Park crowd could be Neil Lennon's best asset against Juventus (Ewan Murray, Guardian) Ominously for Juventus, Celtic have not lost at home to Serie A opponents since March 1969, when Milan departed with a 1-0 victory. If Thompson's thoughts are correct, the Italians cannot count even on the backdrop being punctured by a Celtic setback during the first 90 minutes of this last-16 tie.
Massimo Donati tips noisy Celtic to beat Juventus (Niall Hickman, Express) Donati, now at Palermo, expects a Celtic first-leg win in front of a raucous sell-out Glasgow crowd. "I think they will win in Scotland," said Donati, 31. "That would not surprise me at all. You have to remember they have the loudest and biggest crowds in the whole of Europe, a crowd that gives them a goal start every time they step on to the pitch for one of these big European nights. The Juventus players will be used to big atmospheres, they get it all the time in Italian football, but there is still something very special about a Celtic crowd on a European occasion. I genuinely think Celtic will beat Juventus in the first leg, but whether that means they will go through I could not be so sure, because Juventus in Italy are a very formidable side."
Neil Lennon urges Celtic to seize the moment against Juventus (Ewan Murray, Guardian) "To qualify was the best thing I've done in a managerial sense – to get out of the group with 10 points," Lennon said. "We might never get this opportunity again. I don't want people thinking this is going to be an annual thing, because it's a very difficult thing to do. So we have to maximise our opportunities. We might never get here again. Gordon Strachan did it two years in a row here, Alex McLeish did it [with Rangers] the year before that. So it was almost as if it was going to be a foregone conclusion every year. But it's such a difficult ride to get here. We have to make the most of it now."
Man City, Making Changes
Has the Premier League title ever been surrendered so pathetically? (James Lawton, Independent) Mancini was recently pictured with his hands reaching for Balotelli's throat. There is another study of him linking hands with Tevez. He is, no doubt, an engaging football man with some notable achievements as both a player and a coach, but this doesn't mean so much now when he has to prove that there is really enough money in the world to make a great football team. Meanwhile, Sir Alex Ferguson tells us that he sharply strengthened his planned team for the winning game against Everton after watching the City debacle. His reward was a 12-point lead – and the latest evidence that his once dangerous rivals surely have to think again.
Roberto Mancini to make Manchester City changes for Leeds FA Cup tie (Jamie Jackson, Guardian) Roberto Mancini is ready to drop a number of his underperforming frontline players for Manchester City's FA Cup tie against Leeds United on Sunday, conscious that his position as manager will be severely weakened if his team go out of the competition.
Mancini to wield axe (Sun) Roberto Mancini will wield the axe for Sunday's FA Cup tie with Leeds — after his side's horror show at Southampton…Vincent Kompany and Matija Nastasic are likely to return for the fifth-round clash along with Carlos Tevez, who was missing for compassionate reasons. And that leaves Gareth Barry, Samir Nasri, Javi Garcia, Joleon Lescott and Edin Dzeko all sweating on their places.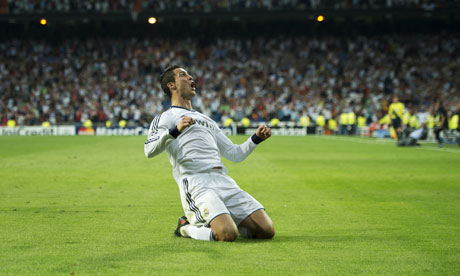 Previews: Man United v Real Madrid
Can Manchester United keep a leash on Real Madrid's Cristiano Ronaldo? (Daniel Taylor, Guardian) So how do you stop him? That is what Sir Alex Ferguson has to ask himself as he boards the flight to Madrid. After all the niceties, the spying missions and almost forensic background work, Manchester United now face the serious business of trying to keep a leash on Cristiano Ronaldo, superstar. On the basis that we are talking about someone who has rattled in 20 hat-tricks on the way to 182 goals for Real Madrid in 179 appearances, the problem for United is that this is about the closest thing there is in football to asking how to nail a jelly to the wall. Ronaldo, one suspects, will cherish the opportunity to remind English football what it is missing and, before we even look at the possible tactics that United may employ, one thing is very clear: Rafael da Silva, on the right side of defence, may have to play the game of his life. He may have to do it twice, in fact.
European fixture with a history of beauty and brutality (Henry Winter, Telegraph) It is the historic fixture of Alfredo Di Stéfano's backheeled passing to Raymond Kopa, of Bill Foulkes silencing the Bernabéu, of Fernando Redondo bemusing Henning Berg, of David Beckham's unstoppable free-kick past a frozen Iker Casillas and a hat-trick from the Brazilian Ronaldo. On Wednesday, it is the turn of the Portuguese Ronaldo to try to add to this fixture's rich tradition. "It is the match the world is waiting for,'' said Jose Mourinho with typical understatement.
Why Jose is in Real trouble: Mourinho is facing mutiny as stars, press and club president turn against the Special One (Ian Ladyman, Mail) Discord in a football dressing room is commonplace, of course. It's part of life. Here in Madrid, though, Mourinho has found himself on the wrong side of players who are national heroes after three major tournament wins. To the Madridistas, the likes of Casillas, Ramos and even Alvaro Arbeloa will always mean more to them than a cocksure Portuguese coach.
Managerial Merry-Go-Round
Gus Poyet in the frame to succeed Sam Allardyce as West Ham boss (Mirror) Gus Poyet is the shock name in the frame if West Ham do not renew Sam Allardyce's contract at the end of the season… Swindon's fiery Paolo di Canio would be a popular choice among the fans but West Ham will look closely at other bright young managers should the job become available. Watford's Gianfranco Zola would be another contender.
Players With Contract Problems
Why Chelsea must now settle Frank Lampard's contract situation once and for all (Martin Lipton, Mirror) Surely, now, is the time for Chelsea to tell the fans exactly what is going on. If there is going to be a deal on the table – and if not, that is the definition of cutting the nose to spite the face – then confirm it. Any contract offer, even one which Lampard feels he cannot accept, would at least put the ball in the player's court, demanding a response. After all, it has been suggested that Lampard simply wants to stay, that it is not about the money – even if there are potentially more lucrative deals out there from Los Angeles Galaxy and PSG to name just two.
Ireland's deserted (Sun) Stephen Ireland's Aston Villa days look numbered after being frozen out by manager Paul Lambert. The former Manchester City midfielder, 26, is training with Villa's kids and was left out of the squad for Sunday's 2-1 win over West Ham.
Schwar games! (Sun) Mark Schwarzer has threatened to quit Fulham at the end of the season — to save his World Cup dream. Schwarzer, 40, has opened talks over extending his five-year stay at Craven Cottage but wants assurances he will remain the first-choice keeper.
Transfer Lies
English clubs on red alert after Ajax reveal Eriksen could be set for summer exit (Mail) England's biggest clubs have been alerted to the news that Ajax midfielder Christian Eriksen does not wish to sign a new contract at the club. The talented playmaker – among the continent's finest emerging talents – has interested Liverpool and Manchester United in the past and remains a target for Manchester City and Tottenham.
---