Liverpool want £50m from Arsenal for Luis Suarez & has Gareth Bale's head been turned?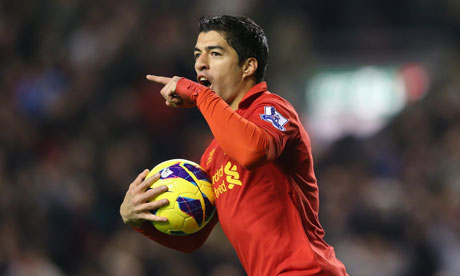 Paper round-up
Quote of the day: "If Arsenal want the player, then they have to produce the value for the player. There was an offer two weeks ago of £35m. Two weeks later it is now £40m and £1 – I don't think it is anywhere near what he is worth. But it is two-fold, really. A player may want to go but then somebody has to pay the value of that player. It is not something we want to run on too long. It is something that can't run on too long and [the end of] that period will come soon." – Brendan Rodgers.
Runner-up: "Yes, I think so, it's very strong. I know Negredo very well from the Spanish league, so it was not a surprise for me the way he played. I think we have very good strikers with Dzeko as well. They can play together or we can play one of them with Jovetic or Aguero. We have four very good strikers and that's what you need if you play in the Premier League and Champions League as a competitive team. We are not just preparing a team, it's important to prepare the whole squad and then we will see who plays. We must be ready from the start of the first match against Newcastle and the team must play as we want. I'm sure we will arrive at the first match the way I want." – Manuel Pellegrini.
Liverpool want £50m for Suarez
Liverpool admit Luis Suarez is for sale but Arsenal hopes hit by £50million price tag (John Cross, Daily Mirror) iverpool admitted for the first time they will sell Luis Suarez, after the player told them he wants to talk to Arsenal. However, Anfield boss Brendan Rodgers has put a £50million price on the head of his Uruguay striker. Arsenal triggered a clause in Suarez's contract with a stunning £40,000,0001 bid this week, although Liverpool rejected the offer and their American owner John W Henry tweeted: 'I don't know what they are smoking at the Emirates.' But the first signs Arsenal's strategy is working came when Suarez was told he can to speak to the Gunners as Liverpool finally admitted they are prepared to sell him. Arsenal are ready to raise their bid slightly plus add-ons and bonuses but they are unlikely to go to £50m.
Let me talk to Arsenal: Suarez is ready to tell Liverpool he wants to leave for London (Dominic King & Sami Mokbel, Daily Mail) Arsenal expect Luis Suarez to tell Liverpool on Thursday that he wants to leave for London. It would be the latest twist in an increasingly bitter saga that escalated on Wednesday when Liverpool owner John W Henry reacted to Arsenal's latest bid of £40,000,001 by tweeting: 'What are they smoking at the Emirates Stadium?' That offer, which triggered a clause in Suarez's contract, was rejected and although Arsenal remain in touch with Liverpool, Anfield manager Brendan Rodgers on Wednesday reiterated the club's determination to retain their Uruguay striker.
Why are Arsenal trying to sign Luis Suárez? Because, finally, they can (David Hytner, Guardian) Wenger's move for Suárez is sensational, not only because Arsenal have never paid a fee of more than the £15m they spent to take Andrey Arshavin from Zenit St Petersburg in 2009. Suárez is the best player at a rival Premier League club; Liverpool have, unsurprisingly, blocked his sale and, as such, the situation has become strained. Arsenal know what it is like to lose their best player to a domestic rival, having been powerless to prevent Robin van Persie's transfer to Manchester United last summer. They intend to lace the boot to the other foot and do the kicking. It is, though, the divisiveness which Suárez inspires that has spiced the tale. Some Arsenal fans see a player whose on-field indiscretions read like a crime sheet and conclude that a club of their varnished-oak dignity ought to have nothing to do with him. But others prefer to focus on the talent that has put the 26-year-old in the world-class bracket; the touch, the balance, the vision, the goals. Watching Suárez live, when his off-the-ball movement can be fully appreciated, is one of the game's true pleasures.
Has Gareth Bale's head been turned?
Tottenham worry that Gareth Bale is becoming unsettled by Real Madrid's efforts to lure him to Spain (Darren Lewis, Daily Mirror) Spurs fear Gareth Bale's head has been turned by Real Madrid. And that could spark a huge bidding war between the Spanish giants and Manchester United who are also desperate to land the £85million-rated winger. Tottenham last night refused to confirm that Real have finally made a straight cash bid for the 24-year-old Welshman. The north Londoners have steadfastly maintained that Bale is not for sale and continue to do so. But they are concerned that the four-time Player of the Year appears to have been unsettled by Real's sustained campaign to land him. Last season Spurs boss Andre Villas Boas maintained he had been told by the club's board that Bale would not be leaving the club this summer.
Spurs offer Bale massive pay deal to keep £80m winger out of clutches of Real Madrid (Neil Ashton, Daily Mail) Daniel Levy will break Tottenham Hotspur's famous pay ceiling to keep their poster-boy forward Gareth Bale from the clutches of Real Madrid. The Spurs chairman will justify their new contract offer, in excess of £150,000 a week, by saying that it is based on Bale's huge commercial value to the club. Bale, 24, appears on virtually every promotional item at Spurs and Levy recognises that he is now the face of the club. Levy is refusing to sell Bale this summer, but he does recognise the allure of the Bernabeu and the offer of a £200,000-a-week salary with the Spanish giants.
Gervinho close to Roma
Roma close on £6m Gervinho as Arsenal eye Cesar (Geoff Sweet, Sun) Gervinho is on the verge of joining Roma. The Italians' sporting chief Walter Sabatini met Arsenal officials last night to iron out a £6million deal for the striker. Gervinho, 26, cost Gunners £10.8m from Lille in 2011. But the Ivory Coast star is likely to be a fringe player at the Emirates this season and is ready to move on. There has also been interest from Russia and Turkey but Gervinho prefers a switch to Serie A.
David Moyes, the dinosaur coach
Robin van Persie's pre-season injury niggle is down to 'dinosaur coaching' methods, says Dutch fitness expert (Daily Telegraph) David Moyes's pre-season handling of Robin van Persie has been called into question by a Dutch fitness specialist who has worked with several leading clubs and was assistant to the late Wales manager Gary Speed. Van Persie was withdrawn at half-time during United's friendly in Japan on Tuesday because he had experienced tightness in a thigh. Moyes said the substitution was pre­cautionary and that he expected the striker to be fine, but the new Manchester United manager was still subjected to stinging criticism from Raymond Verheijen, who has worked with Barcelona, Chelsea and Manchester City among others and has a reputation for being outspoken. Writing on his Twitter account, Verheijin noted that Moyes had previously said United had 'overtrained' Van Persie at the start of pre-season.
Mou on Lamps
Chelsea manager Jose Mourinho earmarks key role for 35-year-old Frank Lampard (Jeremy Wilson, Daily Telegraph) Jose Mourinho has admitted that he no longer regards Frank Lampard as physically capable of playing 60 matches a season but is adamant that the quality of the England midfielder's performances have not dipped over the past six years. At 35, Lampard is Mourinho's oldest outfield player and, in assessing the way the manager may need to rotate his vice-captain next season, he drew comparison with how he managed Claude Makélelé during his first spell at Chelsea between 2004 and 2007. Mourinho, though, also stressed that he would not try to curb Lampard's attacking instincts and assign him more of a Makélelé role.
Why you need a VPN?
Cut chords:
Watch everything (Netflix, BBC iPlayer, Hulu) online using a VPN.
Unlock geoblocking:
A VPN gives you access to the best content from anywhere in the world.
Privacy & security:
A VPN keeps your information private, activity encrypted & data anonymous.
Just $6.67 a month + 3 months free!
Best football betting tips & free bet offers
Click here for more Premier League betting tips
---