Liverpool snubbed by Sunderland in Babel-Jones swap, why the Glazers are good for English football & Senderos to quit Arsenal for Celtic
Comment & analysis round-up
Quote of the day: "We know we're in quite an interesting position that nobody expected us to be in. We have a belief. When the season started not everyone in the squad was convinced we would be where we are. Now they are. It will mean something to the players to go top. We're a big club, and when you're a big club the biggest difficulty is to know in October that you cannot challenge for the title, as happened last season. Now we know we can win it, so we have to go for it." – Arsene Wenger.
Runner-up: "I was talking with Ryan one week ago and I explained the situation very clearly to him. After the meeting everything was fine. He was working and he was on the bench and he played against Reading. After this game I decided he would not be on the bench and that is it. If Ryan trains hard and is ready to play he will be available. If not, he won't be available." – Rafa Benitez.
Today's overview: Arsenal's title challenge is in full flow this Monday, and with it their Spanish captain is showered with praise.
Matt Hughes waxed lyrical over captain Cesc, chomping "Arsenal are not quite a one-man team, as they have shown by winning two of the three games played in his absence, but represent a different proposition with Fabregas pulling the strings in midfield, spraying balls all over the pitch, making
late runs into the penalty area and increasingly scoring goals."
The Telegraph joined in the Fabrages love-in, barking "Fabregas is the ultimate example of the Wenger philosophy; a player who was recruited with meticulous care as a teenager from Barcelona before being nurtured on the Arsenal training ground and then in the first-team… If this is the start for Fabregas, the end product will be quite frightening."
Could Sir Alex Ferguson quit Manchester United earlier than expected?
The Manchester United Supporters' Trust are contemplating cutting their nose to spite their face, with Daniel Taylor detailing how the fan group are looking to fight back against the Glazers. "Manchester United supporters fighting the Glazer family's ownership of the club are contemplating asking Sir Alex ­Ferguson to make the ultimate sacrifice and resign in protest… [MUST] are also exploring the possibility of asking Eric Cantona to act as their figurehead, and plans are being put in place for a protest march before the Champions League tie against Milan on 10 March."
Staying with United, Alan Hansen walks the tightrope predicting that City could win the Manchester derby this week in the Carling Cup. "Sir Alex will know that United will end up with nothing this season if they continue to perform so poorly and that's why he has a dilemma going into the City game. Does he go with the kids or does he field his best team to try to spark a return to their best form? Whichever way he goes, there is no guarantee that it will be the right solution."
Martin Samuel will no-doubt infuriated many United fans this Monday, spluttering that the Red Devils latest off-field problems is great news for everyone else. "If the Glazer ownership presents a genuine challenge to the supremacy of Manchester United then what is a catastrophe at Old Trafford is, for the rest, a good thing. Here was a club set fair to win an unprecedented fourth consecutive League title in English football, and now it may not. Yes, it would be preferable if any downfall was for football, rather than financial, reasons, but both elements need expert management to produce success."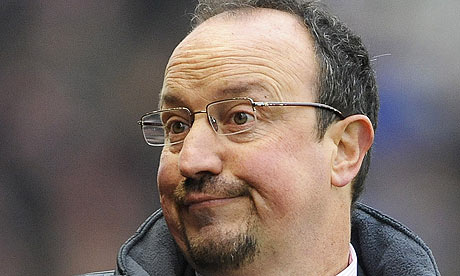 Could Rafa Benitez be forced out of Liverpool earlier than expected?
Richard Williams sure hopes so, arguing that Liverpool are in free-fall with the wrong men in charge. "There can be little doubt that the wrong people are in charge at Anfield, which makes it hard to be optimistic that the right decisions will be taken. Somebody, however, has to do something about what is going on in the name of the club of Shankly, Paisley and Dalglish, where Benítez's haphazard recruitment policy and cut-and-paste method of selection seem inadequate to meet the challenge presented by the prospect of a barren season."
Shifting to the on-field issues at Anfield, Tony Barrett reports "Torres is expected to be out of action for up to six weeks, which has prompted Rafael Benítez to try to sign Kenwyne Jones, the Sunderland forward, on a temporary basis. One option that was explored was a swap in which Ryan Babel would move to Sunderland in a loan exchange deal. Steve Bruce, the Sunderland manager, was not keen on that idea, though."
Taking two outcasts of Old Trafford and Anfield together, Oliver Kay spits some home truths to moaning twosome Nani and Ryan Babel. "It is legitimate to question how Nani or Babel might have fared under the tuition of Arsène Wenger, always protective of young talent, but, ultimately, it comes down to application. Cristiano Ronaldo struggled in his first couple of seasons at United, but his attitude, at least in terms of self-improvement and making the best of his own ability, meant he was destined for great things. If Nani and Babel are looking for someone to blame for their struggles, they could do worse than take a long, hard look in the mirror."
Before we arrive to the transfer lies, Ian Whittell gives the sad news for Fulham fans that "Clint Dempsey suffered a knee injury during yesterday's 2-0 defeat away to Blackburn Rovers that could end his season. The suspected cruciate knee ligament injury — which could be confirmed by tests this morning — would rule the United States forward out of the World Cup. The US are in the same group as England." Russell Kempson notes how Chelsea are also sweating over Michael Essien who was taken to hospital with knee injury while on international duty.
Onto the transfer nonsense.
George Caulkin kicks off day 18 of the inactive window reporting how yet another spring chicken (see Vieira & Campbell for references) could be returning to English football. "Nolberto Solano hopes to secure a sentimental return to Newcastle United after spending the past few days training with his former club, who suffered disappointment in the transfer market yesterday when Jermaine Beckford committed his immediate future to Leeds United."
According to James Mariner, "Manchester City have joined Spurs in the chase for Chelsea midfielder Joe Cole, with the North Londoners also monitoring Palermo defender Simon Kjaer." Staying with the Lilywhites, Darren Lewis claims "Tottenham boss Harry Redknapp is making a new and final move to sign David James this week – and save hard-up Portsmouth some money."
Darren Lewis continues to table rumours, farting "Philippe Senderos is set to end his Arsenal nightmare by moving to Celtic on loan today, Mirror Football understands." And, perhaps the unlikeliest story of them all, sees Alan Nixon shout "Arsenal boss Arsene Wenger is ready to splash out on Fulham's England under-21 giant centre half Chris Smalling – in a stunning £7million deal."
Lastly, shifting focus onto managers on the move, Ashley Gray splashes with the unsubstantiated headline "Guus Hiddink seeks to resolve Russia future as Liverpool door creaks open."
---