Liverpool missing the irreplacable Xabi Alonso, United's Berbatov-Rooney don't work & Sam Wallace details things to hate about Chelsea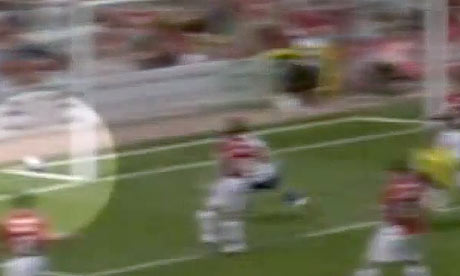 Comment & analysis round-up
Quote of the day: "You would like to think the match officials, the three of them, would have spotted the ball had crossed the line. It is disappointing. I have spoken to Neil Warnock this morning and apologised to him on behalf of the match officials and, of course, the PGMOB, and I make a public apology to the players and also the spectators of Palace. I decide ultimately if they [officials] are taken off a game with [the Football League referees manager] David Allison. There is a match assessor at the game and I am sure he will ultimately mark him [referee Shoebridge] down and that also has an influence in terms of his ongoing games. But he was scheduled to do a game in midweek. He won't be doing that. We have been working on that this morning. The ref has been spoken to." – Keith Hackett, the Professional Game Match Officials Board's general manager.
Runner-up: "I think everyone could see that it was a penalty on Voronin. It was so clear. The other one you can excuse by saying that it was ball to hand, that could be. But the other one was so clear that it was unbelievable… With this referee [Phil Dowd] I knew that it was impossible. We had a meeting the other day where we were told that we could not talk about the referee as a person and his decisions but I think everyone could see today. The fourth official [Stuart Attwell] is a young referee and maybe he needs to calm down a little bit. I don't know why Sammy was sent off. The fourth official was too young. I don't know how old he is, but I think he is too young." – Rafa Benitez.
Today's overview: If Liverpool fans weren't already aware of how poorly their team played at White Hart Lane on Sunday, the scribes are queuing up to hammer home the point this Monday.
David Hytner begins the analysis barking "[Benitez should] look closer to home and consider how and why his team created so little. Rarely can Torres have had such a disappointing 90 minutes. The three players in support of him, including Gerrard, offered little more; Ryan Babel was particularly peripheral and one of the damning indictments on Liverpool was that Gomes barely had a save to make."
Sticking the knife into the Reds, Matt Hughes attacks Liverpool's weak spot to shout "Alonso is already being missed, and on this evidence may be impossible to replace… The confusion at the heart of Liverpool's defence, a lack of width and limited options on the bench were contributing factors, but the paucity of the visiting team's passing without Alonso looked more fundamental." However a more considered approach was delivered by Sam Wallace writing "it would be inaccurate to put a defeat like this down to the absence of Xabi Alonso alone but his departure has undoubtedly made Liverpool weaker."
Flipping the focus on its head, David Pleat salutes Tottenham's tactics against the Reds. "The discipline offered by Lennon and Modric ensured Liverpool's full-backs were largely subdued, while Spurs were close enough to each other in midfield to stop Gerrard dictating."
Despite having beaten Birmingham, Manchester United's opening day victory failed to get the fourth estate excited.
Downbeat, Oliver Kay spout "with Antonio Valencia making little headway and Dimitar Berbatov showing few signs that he is ready to raise his game, it was just as well for Sir Alex Ferguson that Rooney hit the ground running yesterday." More criticism of the Bulgarian was delivered by Ian Hebert, scribbling "the anticipation [Owen] showed to react to Rooney's cushioned chest pass and race through on goal in second-half injury time shows that he has an understanding with Rooney which Berbatov – despite his markedly better workrate – does not."
Patrick Barclay uses his weekly Monday column in The Times to explain why he is beginning to like Chelsea  and why "if I were Dermot Desmond, the Celtic chairman, I'd think seriously about taking a gamble and applying for membership of the Football League, or even the Blue Square, with the aim of rising to the Barclays Premier League gradually on merit."
Balancing out Barclay's love for Chelsea is Sam Wallace's report into things to hate about the Blues. "[Is it] the big, bronze-coloured academy that never produces any players? Or the man inside the academy, Frank Arnesen, who buys lots of kids who aren't good enough to play for Chelsea? Or is it the mural at Stamford Bridge which had Luiz Felipe Scolari in it? Then, every now and again, you get the reminder. It's Andrei Shevchenko. The £30m waste of money who is still hanging around the club three years on, the man who reappeared this summer on Chelsea's American tour looking even more out of place than Claudio Pizarro."
After a summer long fixation with nonsense talk of strikers joining the Premier League, the transfer talk this Monday centres around defenders.
A new week, a new Manchester City bid for Joleon Lescott, with Tom Dart reporting that Sparky is set to "make a fresh bid in excess of £20 million." And like their blue neighbours, with news that Rio Ferdinand is out for several weeks Oliver Kay writes that United may be in the market for new defensive cover. "[Fergie] has identified Ryan Shawcross, the Stoke City defender, as a possible solution… Stoke would be reluctant to sell Shawcross, whose value to them has increased with the number of goals he has scored from set-pieces, but United insisted on a buy-back clause in the deal that took him to the Britannia Stadium."
There's a bitch-fight in the Daily Mail as two hacks reveal contradictory EXCLUSIVES regarding Stoke and defenders.
With Stoke set to lose their centre-half Showcross, John Edwards reveals EXCLUSIVELY that Tony Pulis is lining up Robert Huth while Simon Jones EXCLUSIVELY farts that "West Ham are preparing to sell central defender James Collins to Stoke for £5million."
George Caulkin and Gary Jacob join forces to report that Sunderland are to complete the season-long loan signing of John Mensah from Lyons, Sol Campbell hopes to secure a one-year contract at Newcastle United and that "Fabricio Coloccini is expected to leave St James' Park before the closure of the transfer window."
And there are more defenders on the move as a faceless article in the Daily Mail coughs "Liverpool have been quoted a price of £7million for Dynamo Kiev central defender Pape Diakhate," while Shaun Custis counters with news that "Liverpool were in Bilbao last night to run the rule over their £10million-rated central defender Fernando Amorebieta."
Away from the transfer toss and heading to South America, Gabriele Marcotti exposes "what a messy state of affairs Argentine football is in." "The country's national league is poised effectively to be nationalised, after a proposed deal between the Argentine football association (AFA) and the Government… As we wait for details to emerge, there is one other ugly elephant in the room that will not go away. Fifa rules clearly forbid any kind of government interference in football. And this, frankly, smacks of just that."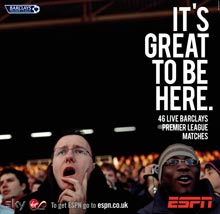 Finally, how did ESPN do on it's first weekend of broadcasting the Premier League? Answer – not so well.
Martin Kelner negatively concludes, "aside from the action, the show did not look very handsome, although one was distracted from the garish red and black set, and mirrored desk, by pundit Peter Reid's patchy grey mutton-chop sideburns, which make him look either like a Dickens character or someone pitching to be the new face of Special Brew." Robin Scott-Elliot was also far from enamoured noting "with that line-up they'd only gone to Goodison for one thing, to do a job, get a result. At the end of the day that's all you can ask. And that's what Stubbsy, Reidy, Royley and Wrighty did on Saturday. ESPN's debut was as ordinary as it had promised to be since they unveiled their line-up."
Best football betting tips & free bet offers
Click here for more Premier League betting tips
---