Liverpool match 'targeted by fixers', Ashley Cole hailed as a true great & Ronaldinho's 1 regret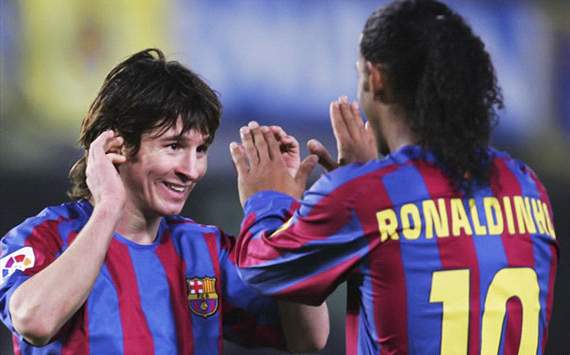 Comment & analysis round-up
Quote of the day: "The only regret is not playing more seasons with Lionel Messi. "He is my good friend. I could see even at a young age he was going to be the best. It was exciting to see this kid who could do things most players can only dream of." – Ronaldinho on his only regret.
Runner-up: "I believe things will go well. In my opinion Real Madrid have a better team, although we have to show that on the pitch because United are a very united team and always have been in recent years. I have wanted to face United for some time because I have great memories of my time there. Sir Alex taught me the basis of football. I arrived in Manchester when I was only 18.  He managed my career in the best possible way, and for me he is one of the most important people in football. I still have an excellent relationship with him and it will be nice to see him again. It will be a match in which I will feel a lot. I was there for six years and I have a lot of friends. It will be a match with a lot of emotion." – Cristiano Ronaldo.
The Match Fixing revelations
Europol's match-fixing bombshell leaves football authorities in the dark (David Conn, Guardian) There was just a hint of irritation from the Football Association, Uefa and Fifa in their response to Europol, the EU's intelligence-sharing agency, after it announced a massive alleged match-fixing conspiracy without substantially sharing the details with the football authorities. Of Europol's bombshell that a Champions League tie played in England "three or four years ago" is under suspicion, an FA spokesman said: "The FA [is] not aware of any credible reports into suspicious Champions League fixtures in England, nor has any information been shared with us." Rob Wainwright, Europol's director, said the agency will shortly be informing Michel Platini of its investigations, and Uefa's response confirmed the organisation is awaiting details.
'Where's there's money there will always be cheating': Former banned England star not surprised by match-fixing scandal (Daily Mirror) Peter Swan is convinced football is firmly in the grip of match-fixing and insists: "Where there's money there will always be cheating." The former England centre-half hears the news of worldwide evidence of corruption in the game without batting the proverbial eyelid, writes Alan Biggs. Six Premier League clubs are under suspicion after police revealed that a Champions League tie in England was fixed. Swan, one of three top players jailed amid the most notorious betting scandal in English football history, believes it has always gone on – and always will.
We'll bet millions on Real/Utd …and more will be spent in Asia as crime gangs prey (Dan King, Sun) Asian betting markets have allowed criminal gangs of match-fixers to cast a shadow of corruption all the way to England. A gambling industry insider, speaking on condition of anonymity for fear of reprisals, has lifted the lid on the sinister influence of the billions of pounds staked in the Far East every year. As football reels from allegations that 380 matches in Europe were targeted by fixers — including Liverpool's Champions League clash with Hungarian side Debrecen in 2009 — the betting expert revealed: "Match-fixers target referees and officials because they're cheaper than players." So much money is bet on legal and illegal markets in the Far East, corruption goes unnoticed. British bookmakers use state-of-the-art software to track price movements in the Far East and change their odds accordingly.
Match-fixing virus must be stopped now before English football is dragged under (Henry Winter, Daily Telegraph) When a Premier League striker misses a sitter, fans fill the air with laughter or invective but few seriously believe he is trying to keep the score down because betting mobsters were on the phone that morning. When an assistant referee fails to spot a ball crossing the line, supporters react with anger or amusement but few genuinely think the man with the flag is actually on the take. One of the many selling points of the Premier League in the global rights market is its reputation for honesty, for a perception that any mistakes made by players or officials stem from incompetence rather than illegality. It is this image of sporting integrity that helps keeps the broadcasting billions rolling in.
The Liverpool match under suspicion
Fix scandal keeper played in Euro clash against Liverpool (Dan King, Sun)  Liverpool played a Champions League game unaware the opposing goalkeeper was caught up in a match-fixing plot. While there is absolutely no suggestion of any wrong-doing by the Mersey giants, The Sun can reveal their clash against Debrecen is being investigated for match-fixing. We can also reveal Vukasin Poleksic, the Hungarian side's keeper that night, was banned for two years after failing to report a criminal group had approached him before Debrecen's game against Fiorentina — another club in Liverpool's Champions League group that year. Kop fans will be stunned to learn Poleksic played at Anfield on September 16, 2009 — a game Liverpool won 1-0 thanks to a Dirk Kuyt goal.
 Under suspicion: Liverpool match 'targeted by fixers' (Robin Scott-Elliott, Independent) The head of Europol has urged football authorities in Britain not to be "naïve" or "complacent" enough to believe the problem of match-fixing does not extend to games in this country as a Liverpool match was last night alleged to have involved an attempted fix. Yesterday Europol revealed the outcome of a concentrated 18-month investigation into match-fixing in Europe that has thrown up nearly 700 games around the world that have aroused suspicions of fixing, including one Champions League fixture played in England "three or four years ago."
Ashley Cole set for 100 caps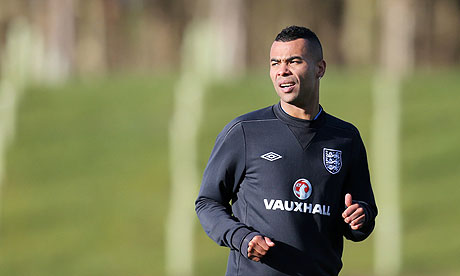 England's Ashley Cole claims 100th cap but will stay a Wembley paradox (Dominic Fifield, Guardian) Ashley Cole is supposed to be misunderstood though, judging by the testimonies offered up as a landmark beckons, he is actually anything but the enigma he can appear from the outside looking in. Glen Johnson described him as "one of the nicest guys you could ever meet", Martin Keown as "a lovely fella and a special player" while Stuart Pearce gushed he was the best left-back to have played for England "by a country mile", which means plenty coming from him.
Ashley Cole will richly deserve his 100th cap – he is the perfect player at both end of the pitch (Alan Hansen, Daily Telegraph)If you win one international cap, it does not necessarily mean you are a great player. If you win 10, the jury might still be out. There are even those who have played over 20 times for their country who you could look at and say they are no more than decent. Once you have reached 100, there is no argument. Ashley Cole will deservedly enter the ranks of the true England greats when he reaches his milestone against Brazil this week. Cole is the definition of the perfect full-back, and in many ways he is something of a footballing freak – a complete player. Full-backs tend to be easily separated into two categories, very good at one end of the pitch but a bit suspect at the other.
Phil Jones has shingles
Utd star Phil has shingles (Paul Jiggins, Sun) Phil Jones is a serious doubt for Manchester United's Euro showdown with Real Madrid — after getting SHINGLES. The infection, known as the 'adult chickenpox', can take FOUR WEEKS to clear. That puts the defender in danger of missing United's last-16 Champions League clash at the Bernabeu next Wednesday — AND the return at Old Trafford on March 5. Jones pulled out of tonight's England Under-21 friendly with Sweden.
Courtois set for longer Atletico stay
Promising Chelsea keeper Courtois set to be offered long-term deal by Atletico (John Edwards, Daily Mail) Chelsea are facing a battle to hang on to goalkeeper Thibaut Courtois after Atletico Madrid made it clear they want him for at least another season and are ready to offer him a permanent move in the summer. After snapping him up from Genk as a teenager 18 months ago, Chelsea have been presented with a dilemma by on-loan Courtois' rapid development into a cult figure at Atletico. Sportsmail can reveal that anxious Chelsea bosses despatched goal-keeping coach Christophe Lollichon to Madrid over the weekend to monitor the Belgian's form against Real Betis and talk over his future plans.
Andre Santos turned down move to Galatasaray
He's no Turkey! Andre Santos turned down a move to Galatasaray (John Cross, Daily Mirror) Arsenal misfit Andre Santos turned down a move to Galatasaray – but the Turkish giants are likely come back in the summer. Brazilian left back Santos, 29, has endured a torrid time at Arsenal this season and Galatasaray offered him an escape route.
Gazza heads to US for rehab
Celebrity pals get Gazza into US rehab centre (Sun) Alcoholic Paul Gascoigne has jetted to the US and admitted to a clinic after star friends led by DJ Chris Evans teamed up to pay for emergency rehab. Evans, ex-Three Lions team-mate Gary Lineker, Britain's Got Talent judge Piers Morgan and former England cricketer Ronnie Irani pledged a small fortune — as fans sent messages of support. Old drinking pal Evans said: "It's his only chance." The friends fear time is running out for the frail football legend. Radio 2 star Evans was among pals shocked by Gazza's grim appearance and increasingly bizarre behaviour. Former Newcastle, Spurs and Lazio ace Gazza, 45, was taped sobbing, slurring and swearing at a charity appearance.
---
GAMBLING CAN BE ADDICTIVE, PLEASE PLAY RESPONSIBLY