Liverpool linked with Didier Drogba, Man City bring in Txiki Begiristain & Chelsea-Manchester United previews
Comment & analysis round-up
Quote of the day: "I wouldn't say this is the strongest Chelsea team. If you go back a few years to that period of [Didier] Drogba they were really formidable, difficult to play against. [John] Terry was younger, [Frank] Lampard got 30 goals from midfield one year, we'll never see that again. They were a really powerful team and hard to beat and ruthless. When I first saw them playing Oscar, Mata and Hazard in the same team I thought that was a risk. If you can contain the three in the middle of the park then you've got a chance. But, attacking-wise, he's got great alternatives of playing and they give real problems for defenders, because they're all flexible players. So far their record is unblemished in the league and you have to give credit for that. Roberto Di Matteo has been bold enough to do it. It's very positive." – Sir Alex Ferguson.
Runner-up: "We did well to get back in the game and win against Braga but against the best teams it will be more difficult to get those goals. We certainly don't want to be going one or two down against Chelsea. I know we went three down last season and still drew but we can't afford to do that again. They have started brilliantly and they have brought in some fantastic players. I think this season they have a lot more pace about them and it's clear that having won the Champions League has given them a lot more confidence. Mata is a great player, Hazard has settled in really well and those two, along with Fernando Torres, are the biggest threats. Torres will always be a threat. I don't think he gets the credit he deserves because he works hard for the team and always puts a shift in. Sometimes the goals go in for him, other times they don't but he's always trying." – Wayne Rooney.
Are Liverpool closing in on loan deal for Didier Drogba?
Liverpool set to be thwarted in attempt to bring Drogba back to England on loan (Rob Draper, Mail on Sunday) Liverpool have explored the possibility of bringing Didier Drogba to Anfield on a two-month loan when the Chinese season ends next month in a bid to solve their striking crisis – but look like being defeated by red tape. Drogba finishes his season with Shanghai Shenhua next month and will return to England for two months of training before heading off the African Cup of Nations with the Ivory Coast in January. Drogba will train with a Premier League club to keep in shape in November and December – but would need permission from his Chinese club to play and would need additional permission from the Premier League Board to join a club outside the transfer window.
Unleash the Drog! Liverpool bid to bring Drogba back on short-term loan (Dave Kidd, People) Liverpool boss Brendan Rodgers will make an extraordinary SOS call to Didier Drogba in a bid to sign the former Chelsea striker on a short-term deal, writes The People. Drogba, 34, could be available to join a club in Europe as soon as the Chinese season ends next week. His club Shanghai Shenhua are believed to be willing to rip up his contract, making Drogba a free agent and releasing him for a move back to the Premier League, on the understanding that he is welcome back in China for their new season. If all goes well Drogba also has an option to sign a longer-term agreement at Anfield.
Manchester City sign Txiki Begiristain
Manchester City's set to announce new director of football – former Barcelona technical director Txiki Begiristain (Mark Ogden, Daily Telegraph) Txiki Begiristain will begin work as Manchester City's new director of football within the next fortnight after the former Barcelona technical director agreed to head the Premier League champions' first-team recruitment operation. Brian Marwood, currently operating as Manchester City's football administrator, will move to a new role as managing director of the City Football Academy as the club attempts to create a production line of home-grown talent at the Etihad Stadium. The capture of Begiristain, targeted by Chelsea in recent seasons, is regarded a s major coup by City and the club's new chief executive, Ferran Soriano, who worked with Begiristain during his time as a senior administrator at the Nou Camp.
Is Roberto Mancini under pressure at Manchester City?
Back me or sack me! Mancini wants talks with City owners as player power struggle spirals (Simon Mullock, Sunday Mirror) Roberto Mancini will tell his bosses: Back me or sack me. The Manchester City ­manager is ­determined to root out the dressing-room dissenters who are undermining his position at the Etihad with their ­reluctance and inability to ­follow his tactics. Mancini now wants talks with chairman Khaldoon Al Mubarak and new chief executive Ferran Soriano to establish whether he retains their full support as he looks to reassert his authority. The champions were booed off at half-time yesterday as they struggled to beat a well-organised Swansea at the Etihad.
Micah hell (Ian Whittell, Sunday Sun) Micah Richards faces a lengthy lay-off as his injury jinx struck again yesterday. Richards was carried off in agony after twisting his knee near the end of Manchester City's 1-0 win over Swansea. Worried boss Roberto Mancini admitted: "It is probably bad." Swansea keeper Michel Vorm also needed oxygen after injuring his groin as he dived to try and stop Carlos Tevez's winner. He also left the Etihad pitch on a stretcher. Richards' injury leaves Mancini facing a defensive crisis with THREE right-backs now sidelined. Maicon and Pablo Zabaleta are already crocked.
Jack Wilshere's first team return & Arsenal's malaise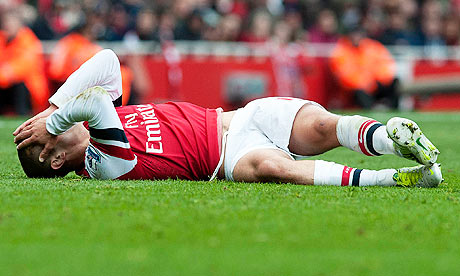 Wilshere is back in action – the miracles will follow (Patrick Collins, Mail on Sunday) The romantics had written the story long before a ball was kicked. Arsenal were on the ropes; the team had suffered successive home defeats, the shareholders had staged their annual strop, confidence was a stranger, unrest abounded. Enter Jack Wilshere; bright, brilliant and physically restored after 17 months of arduous recuperation. Just the lad to rejuvenate his club before going on to perform similar wonders for his country. According to the romantics. Well, it didn't happen quite like that. Arsenal won a thoroughly unmemorable match, and for 67 minutes Wilshere played an effective part.
Why Arsenal are becoming a speck in their rivals' wing-mirrors (Daniel Taylor, Observer) The men in power in Abu Dhabi have spent not far off £1bn, yet still find the team coming up short in Europe. Carlos Tevez cost £47m, not the £32m that was mooted at the time. So goodness knows how much they would have paid Manchester United for Wayne Rooney when he was agitating for a move two years ago. Rooney stayed and City's information now is that his salary was bumped up to – no kidding – £300,000 a week, rather than the £180,000 that was reported at the time. On the same theme, Wenger told one shareholder after Thursday's AGM that City had offered Robin van Persie a £300,000 weekly salary to try to dissuade him from joining United. Arsenal must feel they are operating on a different planet sometimes.
Chelsea v Manchester United
Why both Chelsea and Manchester United would accept a 1-0 win at the Bridge (Gary Neville, Mail on Sunday) I know what both Sir Alex Ferguson and Roberto Di Matteo would like most from this top-of-the table fixture: a 1-0 win. In my years as a Manchester United player, people would talk to me about the epic 5-3 or 8-2 victories. But the truth is, exhilarating as those games were, it is those 1-0 wins that mean the most. That's when the whole team come off the pitch feeling as though they've done their job. The defenders are happy they kept a clean sheet; the strikers are happy because someone has scored; and the team are happy because the points are secured. One-nil wins are the sign of a title-winning side, like when Arsenal came to Old Trafford in 1998 and won the title or when Manchester United went to Newcastle in 1996. Get as many of those little 1-0 boys in the bag as you can and you'll have a decent chance come April and May. But the truth is, I'm not expecting that. In fact, I would be amazed if there weren't goals, given the way both teams are playing.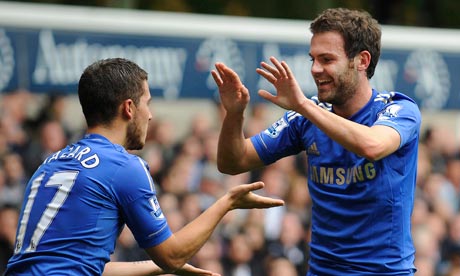 Chelsea's bold new approach leaves them vulnerable to counterattacks (Michael Cox, Observer) The trio are similarly creative but distinct enough to provide a varied attacking threat: Hazard is primarily a dribbler; Mata a passer; and Oscar offers an unusual blend of clever positioning and a burst of pace. The Brazilian acts as a decoy – the most permanently central player, yet the humblest creative threat – he occupies opposition midfielders, allowing Hazard and Mata to drift inside unchecked. The performance at White Hart Lane last Saturday showed the potential of this combination, particularly on the break. For Mata's first goal, his one-two with Hazard ripped through the centre of the Tottenham side, beautifully outlining the point of this system – those two are currently the Premier League's most prolific creators, with five assists each.
JT's plea for unity (Cliff Hayes, Sunday Sun) This is the public plea for racial harmony that John Terry makes in today's Chelsea programme. The Blues skipper is serving a four-match ban for racially abusing QPR star Anton Ferdinand. But in his captain's column ahead of the clash with title rivals Manchester United he backs the Kick It Out campaign. He writes: "This is our dedicated match for the Kick It Out One Game, One Community campaign. "We continue to be committed to eradicating all forms of discrimination from our game and creating a great atmosphere around the stadium. "I want to thank you, on behalf of all the players, for your support in recent games."
Everton v Liverpool
Brendan Rodgers set to axe fit-again Pepe Reina and stick with Brad Jones (Jason Burt, Daily Telegraph) Liverpool manager Brendan Rodgers is ready to stick with Australian Brad Jones for the Merseyside derby, despite Spaniard Pepe Reina's recovery from a hamstring injury he picked up while on international duty. That would be a shock to Reina, who has been a permanent fixture since joining from Villarreal in 2005. Failure to dislodge Jones would ignite speculation about Reina's long-term Liverpool future. Rodgers is hoping to accelerate his overhaul of the squad by agreeing deals to sign Lewis Holtby and Theo Walcott in the transfer window, exploiting the fact that both players are in the final year of their contracts at their present clubs.
It's now or never for Neville as Everton reach peak of their power (Steve Tongue, Independent on Sunday) As the evocative old Z Cars theme echoes round Goodison Park just before 1.30pm this afternoon, Everton's players walking up the tunnel should be doing so with a rare spring in their step. For once they are fancied to win the Mersey derby, 6-4 favourites with Ladbrokes, for only the second time since 2004. Everton have only been favourites for three of the past 24 League meetings, but now they are peering down from on high at the old enemy. And yet, and yet; in the accompanying roar from the stands just a hint of apprehension may still be detected. Time after time since Liverpool reunited the teams by winning promotion half a century ago, they have acted as a red nemesis, winning twice as many meetings in that period, including two FA Cup finals, three semi-finals and one League Cup final. Last season was one of the worst in that respect: defeats by 2-0 and 3-0 in the league, then a Wembley Cup semi-final in which Everton led at half-time through Nikica Jelavic only to lose the game to Luis Suarez and Andy Carroll.
He did well to get out of here. Raheem Sterling's untold story (David Facey, Sunday Sun) Raheem STERLING'S first goal for Liverpool sparked celebrations in the streets of the tough area of Kingston where he was born. And, for the locals, that made a welcome change from the grim scenes they normally see on the crime-riddled streets of Maverley. Sterling, 17, was given a reminder of how dangerous his birthplace was when he returned to Jamaica to attend his grandad's funeral earlier this year. Pictures of his homecoming — which saw him juggle a ball in the streets with some of his childhood pals — jostled for space in the local newspapers with news of a double murder a few blocks from the family home in Reapers Road. The Kop winger is held up as a role model and an inspiration for the local kids, someone who escaped the poverty trap and made it big.
Ashley Cole heading to PSG
Bon voyage: Chelsea boss admits he can't stop Ashley Cole joining PSG (Matt Law, Sunday Mirror) Roberto Di Matteo admits he is powerless to stop Paris Saint-Germain target Ashley Cole ­quitting Chelsea. And the Chelsea boss has questioned the policy of owner Roman Abramovich to only offer players over the age of 30 one-year rolling contracts that could force Cole out. PSG will make a pre-contract offer in January for Cole to join them on a free transfer at the end of the season. Real Madrid and Chelsea's opponents today, ­Manchester United, have also shown an interest.
Real Madrid linked with Gareth Bale again
Jose's Fab Bale deal (Sunday Sun) Real Madrid could offer Portuguese left-back Fabio Coentrao to Tottenham in a £50million deal for Gareth Bale. Boss Jose Mourinho has made the Welsh wizard his top January target. Andre Villas-Boas tried to sign Coentrao, 24, for Chelsea last year and also wanted to include him in the deal that took Luka Modric to the Bernabeu. Coentrao has made only two appearances for Real so far this season.
---
GAMBLING CAN BE ADDICTIVE, PLEASE PLAY RESPONSIBLY