Liverpool linked with Benteke & Mignolet, Spurs move for Rodrigo + will England make it back to Brazil?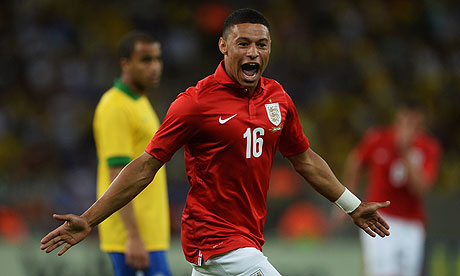 Quote of the day: "It doesn't surprise me that he [his dad] fell asleep. He'll probably be the last person to get in touch! It was fantastic to come here and score a goal like that, I didn't expect it but it was something I'll never forget." – Alex Oxlade Chamberlain.
Runner-up: "We started the second half much better. In the first half we were far too cautious. It was understandable because it was a different pitch to the type we're used to. It was a big pitch and hot, versus an exceptional team, but I was disappointed we didn't move the ball quicker and play the football we can do." – Roy Hodgson.
Brazil 2 – England 2
Only believers in the Loch Ness monster could work out what Roy Hodgson was going on about before the game, but somehow England conjured a result. Now will they be in Rio next summer? (Martin Samuel, Daily Mail) Another draw. This one, however, felt slightly different. Not because England were unlucky. On the contrary, they were entirely outplayed for at least an hour, maybe more. Not because the spoils were deservedly shared, either – Brazil will not know how they did not win, and nor will many neutrals. Not even because manager Roy Hodgson found a game-plan that will inspire great confidence when the important round of World Cup qualifying games begin at the start of next season. This was all very familiar, particularly the awkward parts. Yet in mining a draw so completely against the run of play in the Maracana Stadium, England's players showed a little of the resilience that will be vital if they are to return to these parts when the main event takes place next summer. England might not be a match for Brazil in technique or imagination, but they showed penalty of bottle. And if they are not going to play their way to the World Cup finals, they might just scrap a path through like that.
Alex Oxlade-Chamberlain's energy injects impetus Roy Hodgson craves (Michael Cox, Guardian) Oxlade-Chamberlain's impact was instant, underlined by his equaliser – but in terms of England's strategy, Rooney's goal was the more promising moment. Collecting possession on the edge of their own penalty box, England's attack flowed through four players – Walcott, Oxlade-Chamberlain, Milner and finally Rooney – all of whom are comfortable powering towards goal on the break. There is little chance Hodgson will convert England to a possession-based side. Instead the players must attack quickly when the ball is won and Rooney's goal demonstrated that concept perfectly.
It's time to show Roy some love (Terry Venables, Sun) Roy's  been around long enough to know he's going to get stick when we have disappointing results like the draw with Ireland. You don't take the England job to be loved. You do it to try to make a difference, and Roy will ultimately be judged on whether he takes us back to Brazil next year and how well we do if we make it. Even if he isn't looking for it, Roy deserves a bit of love. Getting a draw in Brazil, and very nearly pulling off a remarkable win, is something we shouldn't underestimate. Let's enjoy it and give praise where it's due.
Alex Oxlade-Chamberlain allowed Wayne Rooney the chance to shine again for this country (Jason Burt, Daily Telegraph) Maybe the criticism had an effect. Maybe Roy Hodgson finally went on the offensive. Unprompted, the England manager had reeled off a host of statistics on the eve of this momentous encounter to defend himself and defend his team, thrown by the sharp accusation that the football was functional and a return to what Gary Lineker had cuttingly termed "the Dark Ages". But it was not until Hodgson took the bold step of withdrawing a defender, Glen Johnson, and introducing attacker Alex Oxlade-Chamberlain that a light went on last night. England finally, belatedly, were on the front foot. Hodgson had not used the flat 4-4-2 system; instead it was 4-5-1 and never 4-3-3. But by bringing on the 19-year-old, playing him in central midfield instead of Phil Jones, he was positive. Would he have done it had he not been pilloried? That was the question.
Mourinho's imminent Chelsea return
I will be Chelsea manager by the end of the week! Jose heads to Chelsea with parting shot for Ronaldo as Madrid's dressing-room war is exposed at bitter end (Pete Jenson, Daily Mail) Jose Mourinho has confirmed that he will take charge of Chelsea later this week.'I'm going to London on Monday and at the end of the week I will be the manager of Chelsea,' he said to leading Spanish TV football show Punto Pelota. 'I feel the people there love me and in life you have to look for that. 'Life is beautiful and short and you must look for what you think is best for you.' Never have the words 'the bitter end' been more apt as Jose Mourinho took charge of his last game at Real Madrid before returning to Chelsea.
Liverpool to move for Benteke to replace Suarez
Liverpool plot swoop for in-demand Villa striker Benteke if Suarez is lured to Madrid (Simon Jones, Daily Mail) Liverpool will consider bidding for Aston Villa striker Christian Benteke should Luis Suarez force through his move to either Real Madrid or Atletico. Benteke, 22, is set for further talks over his future once he returns from international duty with Belgium. Atletico, Tottenham, Arsenal, Manchester City and Borussia Dortmund are also interested but Villa want him to sign a new deal. Meanwhile, Villa remain in the hunt for Crewe's Luke Murphy and Max Clayton and are waiting on a decision from Lech Poznan winger Aleksandar Tonev over his proposed £3.5million move.
Rodgers also wants Mignolet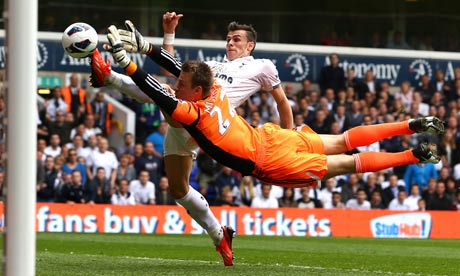 Liverpool target Simon Mignolet and fret over Daniel Sturridge (Andy Hunter, Guardian) Liverpool want Simon Mignolet to replace Pepe Reina, should their Spanish goalkeeper depart this summer, and they face further uncertainty in attack with Daniel Sturridge likely to miss the start of next season with an ankle injury. Reina had been expected to join Barcelona for about £10m until Víctor Valdés reconsidered his intention to leave the Spanish champions with 12 months remaining on his contract. Valdés's U-turn on Friday has thrown the Liverpool goalkeeper's immediate future into doubt, though not killed the deal entirely or the prospect of the 30-year-old moving elsewhere, and Brendan Rodgers is continuing with his search to sign a replacement before the new campaign.
Sturridge out for 4 months
Liverpool manager Brendan Rodgers could face a striker crisis if Daniel Sturridge is out injured for four months (Chris Bascombe, Daily Telegraph) Liverpool are already facing a striker crisis at the start of next season as Daniel Sturridge is unlikely to recover from injury in time for the August kick-off. Sturridge suffered serious ankle ligament damage in the international friendly with the Republic of Ireland last week, and the diagnosis is not promising. The 23-year-old has undergone further tests since returning to Merseyside, and Liverpool now expect him to sit out pre-season training and be unavailable for the start of the Premier League campaign. The worst case scenario is a four-month absence, keeping Sturridge out until late September or early October.
Man City close in on Navas
£25m sat Nav set for Etihad (Sun) Jesus Navas has edged closer to joining Manchester City, with his club Sevilla accepting he will move this summer. Manuel Pellegrini wants to make the £25million-rated star one of his first signings at the Etihad.
Spurs move for Rodrigo
Tottenham boss Andre Villas-Boas sizing up move for £10m-rated Benfica and Spain striker Rodrigo (John Cross, Daily Mirror)
Tottenham boss Andre Villas-Boas is eyeing a deal for Benfica striker Rodrigo. Spain under-21 striker Rodrigo, 22, is valued around £10m, with Spurs desperate to sign at least two strikers this summer. Villas-Boas has had his scouts watching Rodrigo and believes he has got potential so Spurs are keeping close tabs. Rodrigo was born in Brazil but moved to Spain as a youngster and now has a Spanish passport. He began his career at Real Madrid but also had a spell on loan at Bolton.
---