Liverpool lack the killer instinct while Wenger "bleats like a man in denial"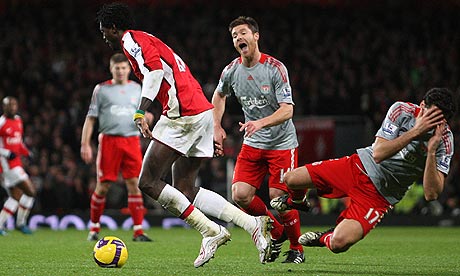 Comment & analysis round-up
Quote of the day: "It was a very soft sending-off and cost us two points. Every week I sit in front of you when we play away from home and you say, 'People get in your faces and you cannot cope with it.' Have you seen anybody sent off? Do you want me to show you our players after the game? It's a joke. I would love to have sendings-off like that away from home, when we get kicked off the park." – Arsene Wenger.
Runner-up: "The defender [Alvaro Arbeloa] threw himself on the floor as if I put a knife in him. Of course I'm annoyed. We are all here to play and if you win or lose, you have to do it with 11. I cannot say he cheated, but what he did wasn't fair play at all." – Emmanuel Adebayor.
Today's overview: Christmas is most definitely coming, as the commentary across the backpages is downsized as journalists up and down England all seemingly did their last-minute shopping over the weekend. But of those that wrote, Liverpool and Arsenal have both been portrayed as losers for their parts in the draw at the Emirates yesterday.
Liverpool's point at the Emirates was seen as a case of two points dropped for David Pleat who charged the Reds with lacking ambition. Matt Hughes also saw Liverpool's glass as half full, writing that they "failed to make their advantage tell" and although "as a result of slip-ups elsewhere, [they] have managed to maintain their lead despite drawing four of their past five matches, but such luck is unlikely to last." And the same sentiment was echoed by Sam Wallace who wrote "Liverpool showed none of the ruthlessness required."
Swimming against the tide Sachin Nakrani credited Liverpool with "stick[ing] to the script" in Rafa Benitez's absense in an "organised, dogged, resilient" fashion. And Alan Hansen also gave Liverpool a friendly analysis arguing "you would have to admit that the half-term report would say they have done brilliantly" although accepting that "the real winners with the way things stand at the moment are Alex Ferguson and Manchester United… [who] lie seven points behind Liverpool, but with two games in hand."
Arsenal are also not immune from criticism. Calling Wenger's rant "the aimless bleat of a man in denial," Kevin Garside argued that "the bridge that spans his talented youth team and the blood and gore of contests like this does not exist otherwise Jack Wilshire and Aaron Ramsay would have been under the feet of Steven Gerrard and Xabi Alonso."
Following Leeds' dismissal of Gary McAllister, there is a slight difference of opinion about who will step into the breach. Sandy Macaskill says "Gus Poyet seen as the favourite," Michael Walker links Adrian Boothroyd to the job, Jeremy Cross adds that "Billy Davies and Gary Speed are also under consideration," while Simon Cass throws in Darren Ferguson's name as a potential candidate for the job.
Looking for reasons as to why the San Siro was only half full at David Beckham's unveiling, Matt Barlow wrote "perhaps snooty Milan is immune to the Becks appeal, or cynical of the reasons behind his move from the United States, or impatient for the game against Udinese to start." Antony Kastrinakis was far more brutal in his summary of the events, commenting "it looked like a PR disaster and Milan turned up the music on the loudspeakers to drown out the near-deafening silence."
Focusing on the FA's disciplinary system in light of the outcome from the Battle of the Bridge, Sam Wallace criticises the system not the individuals. "The flaw in the FA disciplinary system is not the people who administrate it… rather it is the rigidity of a system that is the problem, a system which cannot distinguish between a tackle that might end a career and a silly fight where the worst thing that happens is someone ends up with a sore ear."
And in his final editorial for the The Times before he heads off to join the Daily Mail, Martin Samuel opts to lament some of those wealthy, but unsuccessful, owners in the Premier League. "It is not football's bubble that has burst, it is the ownership bubble; the belief that all this new money came from men with infallible business brains, foolproof judges of financial markets. The money that is being demanded by Gudmundsson, by Mike Ashley at Newcastle United and by the American owners of Liverpool suggests only one thing: these guys were not as smart as they thought they were."
---
GAMBLING CAN BE ADDICTIVE, PLEASE PLAY RESPONSIBLY