Liverpool furious with Suarez, Real Madrid make offer for Bale & Barcelona's last ditch talks with Thiago
Comment & analysis round-up
Quote of the day: "Carlo's a great coach and a great person and in a way Real Madrid have recovered the values they always had. I have a good relationship with Carlo, since the time when we faced each other in England and from the Champions League final between Liverpool and Milan. He's a correct person, polite, a good professional, he knows his work and does it well. He wins titles. In football you know a lot of things you cannot say. But that Mourinho was going to come to Chelsea was clear to me. It was clear to you and to the players themselves." – Rafa Benitez.
Liverpool furious with Suarez
Liverpool furious over reports claiming Luis Suárez has agreed terms with Real Madrid (Luke Edwards, Daily Telegraph) Liverpool will seek urgent talks with striker Luis Suárez to assess whether he is in breach of contract following claims from Spain he has agreed personal terms with Real Madrid. Suárez was still on international duty for Uruguay against Brazil in the semi-final of the Confederations Cup on Wednesday night, but Liverpool have been alarmed by a report in Spanish newspaper Marca which declared the player had been secretly negotiating with Real Madrid. Liverpool have still not received a transfer request from Suárez, who has three years remaining on his contract, or a bid and remain adamant he is not for sale. But they have been forced to take the suggestion he has been talking to Real officials seriously as Marca has a close relationship with the Spanish club.
Real Madrid make an offer for Gareth Bale
Real Madrid make official bid for Tottenham's Gareth Bale now their new boss Ancelotti is on board (Darren Lewis, Daily Mirror) Real Madrid have offered cash AND players to Spurs in a bid to deliver Gareth Bale for newly-appointed boss boss Carlo Ancelotti. Argentina winger Angel Di Maria is among several stars that the Spanish giants are willing to hand over to the White Hart Lane club with in order to land the Premier League's Player of the Year. However, Tottenham are continuing to reject all interest in the 23-year-old out of hand. Ancelotti was confirmed as Jose Mourinho's successor, on a three-year deal, on Wednesday and, after months of phony war, Real have officially opened the bidding for a player they started courting publicly in April.
Barcelona's last ditch talks with Thiago
Barca hold crisis talks with Thiago as United agree £5.5m-a-year deal for Spanish star (Chris Wheeler, Daily Mail) Barcelona will hold last-ditch talks with Thiago Alcantara to try and persuade the Spain midfielder to turn down a move to Manchester United. The Premier League champions have agreed personal terms of £5.5million-a-year with Thiago and his father, former Brazil World Cup winner Mazinho, and are confident of wrapping up a £17m transfer. Barca still hope to persuade the 22-year-old that he will be a 'leader' at the club for years to come but he remains unconvinced after struggling to secure a first-team place.
Manchester City eye Lewandowski
Manchester City eyeing Robert Lewandowski transfer again as Carlos Tevez says goodbye (David Anderson, Daily Mirror) Manchester City are ready to renew their interest in Robert Lewandowski as they begin shopping for a new striker. City put out feelers a few weeks ago, they were told that Borussia Dortmund star Lewandowski's preferred destination is Bundesliga rivals Bayern Munich. However, Dortmund are adamant they will not grant Lewandowski his wish to join the club to whom they finished as runners-up in the Bundesliga and European Cup last season. So a move to the deposed Premier League champions would be a way out of this impasse between the German club and the player. With Carlos Tevez moving to Juventus on Wednesday, leaving only Sergio Aguero and Edin Dzeko as senior strikers in the squad, City are in the market for a goal-scorer. Dortmund would bank £25million for Lewandowski, rather than lose him on a free – presumably to Bayern – next summer.
 Tottenham set for talks with David Villa
Tottenham set for crunch talks with Villa as AVB looks to close deal for Barca star (Simon Jones, Daily Mail) Tottenham's Technical director Franco Baldini will hold talks with David Villa before the end of the week as the Premier League club intensify their move for the Barcelona forward. Villa is currently in Brazil helping Spain's bid for the Confederations Cup as they prepare to face Italy in Thursday's semi-final, while the Spurs target netted a hat-trick against minnows Tahiti. The striker had a mixed season last term as he struggled to return to full fitness after the broken leg which kept him out for the entire 2011-12 season, but still managed to net 16 goals in all competitions as Barca romped to the La Liga title.
Carlo Ancelotti brings in Zinedine Zidane as assistant at Real Madrid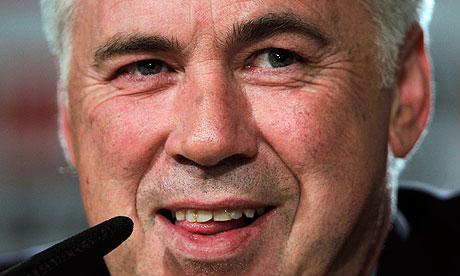 Carlo Ancelotti vows to bring 'most spectacular football' to Real Madrid (Sid Lowe, Guardian) Thirty-seven days after Real Madrid announced that José Mourinho was leaving, the Peacemaker arrived. Carlo Ancelotti was presented as the new coach at the Santiago Bernabéu, where he confirmed that his assistant will be Zinedine Zidane. A new era has begun and the overall impression left by the Italian was that he represents a break from the last three seasons. "I respect Mourinho a lot but we are different," he said. "He has his character, mine is different. Our situations cannot be compared." Ancelotti, who has signed a three-year deal until the summer of 2016, insisted that he has not yet had time to talk to Madrid about potential signings, which include Edinson Cavani and Isco, who are also wanted by teams in the Premier League. Arsenal are pursuing the striker Gonzalo Higuaín, whom Ancelotti included in a list of the "fabulous" strikers at his disposal. But Ancelotti did say that he wanted to see Kaká train before he took a decision on his future and said that he planned to help the Brazilian become a better player "for Real Madrid".
I will fight to keep Ronaldo (Antony Kastrinakis, Sun) Despite Real president Florentino Perez insisting Ronaldo will sign a new deal, reports in Spain claimed the Portugal ace is due to meet United directors to discuss a possible switch this week. But speaking at his unveiling as the new Bernabeu boss Ancelotti was adamant that Ronaldo is very much central in his plans to win Madrid's 10th Champions League. The Italian boss said: "My opinion is easy. Ronaldo's a fantastic, marvellous player. "It's an honour to coach a player like Ronaldo like it was to coach Zidane. "Ronaldo was not on the list of players like Brazilian Ronaldo, Zidane and Ronaldinho that I coached.
Tevez leaves English football
Carlos Tevez proved more trouble than he was worth to Manchester City (Jamie Jackson, Guardian) To trace a path through Carlos Tevez's time in English football is to encounter a star performer whose capers exposed the fault lines of the cocooned, modern-day player as well as the domestic game. Carlito's Way appears finally over on these shores. For the £7.6m transfer fee accepted from Juventus, Tevez (if he agrees terms) is waved off by a relieved Manchester City, and the bemused cognoscenti who admire a rare talent but balk at the complications that plagued his seven seasons here. Tevez has been the one-man soap opera whose memorable episodes include a lead role in third-party ownership, that "Welcome to Manchester" poster, fallouts with Gary Neville and Roberto Mancini, receiving 250 hours of community service for driving offences, plus the glut of spirited displays that helped him to a Champions League, three Premier Leagues and the FA Cup.
Carlos Tévez faces community service hitch following £12m transfer from Manchester City to Juventus (Luke Edwards, Daily Telegraph) Carlos Tévez brought an end to a largely successful seven years in the Premier League by joining Juventus on Wednesday, but the Argentina international will still have to return to England to complete 250 hours of community service. Tévez was sentenced to community service for driving offences earlier this year and has not completed his time. He stayed out of prison back in March after he pleaded guilty to a charge of driving while disqualified by accepting the terms of the community service sentence and a £1,000 fine. That could mean the striker is ordered back to Manchester to complete the punishment, even though he will be living in Italy. Tévez was pictured potting plants in a high-visibility jacket in April after it had been claimed in court on his behalf that he would "welcome the chance to put something back into the community" in the form of "unpaid work".
Why you need a VPN?
Cut chords:
Watch everything (Netflix, BBC iPlayer, Hulu) online using a VPN.
Unlock geoblocking:
A VPN gives you access to the best content from anywhere in the world.
Privacy & security:
A VPN keeps your information private, activity encrypted & data anonymous.
Just $6.67 a month + 3 months free!
Best football betting tips & free bet offers
Click here for more Premier League betting tips
---