Liverpool fight to stop Mascherano moving to Barca, as Chelsea prepare a £78m swoop Torres & Alonso, plus £25m apiece for Arsenal's Adebayor & Carlos Tevez
Comment & analysis round-up
Quote of the day: "If it was, say, Wayne Rooney's contract finishing, or Cristiano Ronaldo's, would they have offered a better deal to them at the end or would they have tried to secure their services a bit sooner? Because of that he has a little feeling that maybe he wasn't the most wanted person at United. Rightly or wrongly, that's how he feels. When United made their offer about 10 days ago, it was the first offer in two years. And I want to make it very clear that we never at any time asked them for more money. I think Carlos just felt over the last two years they hadn't made the effort to sign him and he needed a little bit of time. When it did come, United's offer was a very good one but Carlos needed time. We asked for more time and if they could not give that we would have to walk away. I think United were under a time constraint." – Kia Joorabchian.
Runner-up: "Of course we footballers think about it [tax issues]; we are not stupid, we keep an eye on it. When you see your contract down by 30 per cent you cannot be happy. I cannot do anything – it must be Gordon Brown or David Cameron. I think the weakness of the sterling is not helping the Premiership because for those competing and fighting against the European teams it is a big weak point. Hopefully over the next few months and years it will get back to what it was not so long ago." – Xabi Alonso.
Today's overview: As the Lions valiantly lost in South Africa, Wimbeldon just moments away from kicking into gear, and with Formula 1 on the brink of collapse ahead of the British Grand Prix, football is very much on the backburner this Sunday.
As Spain continue to break records at the Confederations Cup Amy Lawrence turns the focus onto Vicente del Bosque, "one of the most under-rated coaches now at work… Because he lacks that air of greatness, because he is neither a sparkling orator nor a leader who could silence you with a glance, because he fails to hide a hangdog expression behind his dense, droopy moustache, he is sometimes overlooked when it comes to the debate about football management's highest achievers."
The fallout from Carlos Tevez's refusal to stay at Old Trafford is reviewed by Ian Hawkey in the Sunday Times. "For a team whose third consecutive Premier League title was widely credited to their having a more profound and varied squad than either Liverpool or Chelsea, United now look sparse up front." And United's striking options could get slimmer still, Paul Chant claiming in The People that "Alex Ferguson faces a summer battle with Jose Mourinho over the future of teenage star Federico Macheda."
Ian Herbert notes that United did make a valiant attempt to keep Tevez with a financially attractive offer, which was ultimately rebuffed. "United's desperation to tie up the deal, which they had agreed to in principle a year ago but allowed to slip, was apparent in the revelation that Gill had offered Tevez and Joorabchian the £25m transfer plus a £110,000-a-week salary that would, in a five-year deal, put him alongside Rio Ferdinand among the club's highest paid players."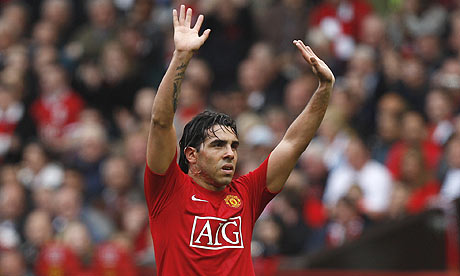 Sitting on the fence Duncan Castles looks to the Argentine's potential future suitors. "As to where Tevez would play next season, Joorabchian ruled out a move to Liverpool 'out of respect' for the United fans and suggested his choice was likely to be between Manchester City and Chelsea."
Arrogantly, Steve Millar is left in no doubt as to where Tevez will be next season barking "City will land Carlos Tevez for £30million and leave bitter rivals United fuming after wrecking their summer spending spree." Yet, similarly arrogant in The People, Steve Bates barfs "Manchester United chiefs fear Carlos Tevez has quit Old Trafford to join title rivals Chelsea – NOT Manchester City."
It doesn't take long for the hacks to list replacements to the United front-line, Mark Ogden scrawling "United are now set to make a £25m move for Lyon forward Karim Benzema, as well as closing a £17m deal for Wigan's Antonio Valencia." Over in The Star Steve Millar trumpets a different target reporting "Sir Alex Ferguson and his former striker Mark Hughes will slug it out in a £20million battle to sign Barcelona star Samuel Eto'o." But the Eto'o story is doused in cold water by Scott Piecha reporting "United's bid to land Samuel Eto'o could fall apart with the player demanding a staggering £12.5million signing-on fee." Lastly, the most unlikely transfer target for United is offered in The People, Steve Bates peddling the rumour that "Manchester United are targeting Everton and England Under-21 star Jack Rodwell."
Yet, it will be Liverpool fans who will be feeling the heat this weekend after Duncan Castles confessed that the Reds may lose Mascherano, Torres and Alonso this summer. "Benitez is close to conceding defeat in his attempts to keep Javier Mascherano after Real Madrid moved for the combative midfielder. He also fears that Fernando Torres could be lost to Chelsea in a £60m heist… Spain midfielder Xabi Alonso has given Benitez a further problem. Alonso has antagonised his manager by discussing personal terms with Madrid without official permission."
After being linked with Torres, Chelsea are then mooted as making a play for Xabi Alonso. According to Steve Stammers, "the Blues will go head-to-head with Real Madrid in an £18million battle for the Liverpool star." And Chelsea's pickpocketing of their Big Four rivals does not stop there, Harry Pratt putting the cat amongst the pigeons announcing "Chelsea are poised to launch a £25million bid for Arsenal hitman Emmanuel Adebayor… with Wenger needing money to fund a number of moves, Chelsea are optimistic of landing their man."
Chelsea's potential spending does not end their, The Sun boasting late on Saturday night that "Chelsea have been alerted after Brazil star Maicon revealed he could leave Inter Milan."
Newcastle fans are also suffering this summer more than most, as Simon Turbull explains how a bad situation manages to continually worsen. "Watching their Titanic of a football club sink from the Premier League was bad enough but that seeing them drift into midsummer without so much as a rubber ring in sight – let alone a rudder – has been too much to bear." Keeping with the Magpies, Martin Hardy writes "Hull want to rescue Michael Owen from his nightmare at Newcastle… [offering] a basic £40,000-a-week deal… another £20,000 for every game he plays… [and] £10,000 for every goal he scores."
We finish up with the remainder of the transfer lies this Sunday.
The Black Cats are said to be in the market for a new striker. Tony Stenson claims that "Sunderland are interested in signing Portsmouth striker Peter Crouch," as the NOTW link Lomana LuaLua with a transfer to the Stadium of Light. Elsewhere, Dave Kidd blubbers "Sunderland want to sign Tottenham midfielder Didier Zokora and his team-mate Darren Bent."
Staying with forwards, the NOTW print that "Fulham have joined Hull and Celtic in the chase for Marc-Antoine Fortune," while Alan Nixon over-hypes a boring story by writing "Sam Allardyce is ready to spark outrage at his old club Bolton Wanderers with a controversial swoop for Kevin Davies."
Moving to the Midlands, Birmingham have looked to sure up their defense as Martin Hardy reports "Joe Hart has a agreed a year-long loan deal with Birmingham to boost his dream of squeezing into Fabio Capello's World Cup squad for South Africa." Aston Villa could be set to bolster their ranks too, Martin Hardy announcing "Villa are keen to sign emerging Spanish star Jurado as they prepare for an overhaul of their midfield. Villa chief Martin O'Neill is willing to pay Atletico Madrid £7million for the 22-year-old."
---