Liverpool eye Rodallega as Ngog heads for the Anfield exit, Arteta wants out of Everton, & Arsenal target Mata and Cazorla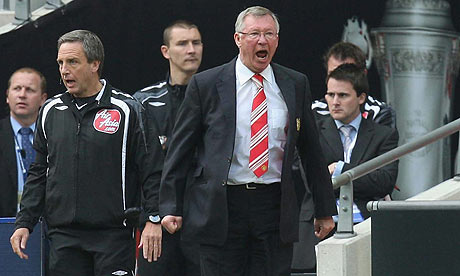 Comment & analysis round-up
Quote of the day: "There is a possible resentment about the club because of our success since the Premier League began… It will always be there and I think we know that. I don't really know whether it's about me or the club. That's a difficult one. They have certainly always found a way to treat us differently. It has been happening for a while now and they always seem to find a way to do us when, with others, it's seemingly forgotten… It doesn't bother me one bit. I defend my club and that's my job. Part of the problem is that when I make comments, the media are on to the FA right away. Then they feel forced to do something and they are afraid of what might happen if they don't. There is no consistency in the disciplinary situation. We all know that." – Sir Alex Ferguson.
Runner-up: "It is pre-season and it's to get players fit and get rid of their mistakes, but I certainly think we've got a few mistakes to get rid of after today. Obviously we're disappointed at losing. It doesn't matter whether it was a pre-season friendly or not, but the fact it is pre-season gives us a bit of solace. We trained yesterday as if it was a game. Everybody ran about nine or 10 thousand metres, which is equivalent to what you do in a game, so it's like playing a game and a half in two days. We also travelled over this morning and it's not ideal, but I would have expected a bit better than that." – Kenny Dalglish after the Reds were beaten 3-nil by Hull.
Today's overview: Few stories manage to break through to the backpages except transfer guff this Sunday.
Of those topics that did succeed, Duncan White and Jonathan Wilson celebrate Uruguay's successes at the Copa America, Paul Kelso argues that Fifa are unable to judge corruption cases, Nick Harris looks at whether alcohol will return to football stands in England, and Rob Smyth gushes over Subbuteo.
The People go transfer crazy linking Liverpool to a Wigan striker while suggesting the Anfielders will off-load a forward on Bolton, as well as spreading rumours that an Evertonian may force a move out of the club.
The Star also wade into the silly season with reports of Chelsea's new tactic to sign Luka Modric, and finally the Mail on Sunday say Arsenal may splash £20m apiece on two Spanish-based stars.
Suarez Shines: Looking ahead to the Copa America final, Duncan White showers Liverpool's Luis Suarez with praise. "It has been Suárez who has been the tournament's outstanding forward. He scored Uruguay's opening goal of the competition, the equaliser in the 1-1 draw with Peru, set up their opening goal in the 1-1 draw with Chile and scored both goals in the 2-0 semi-final defeat of Peru. Yet arguably his most impressive performance was against hosts Argentina in the quarter-finals… Liverpool are looking to get Suárez and Andy Carroll working as a partnership but his performances for Uruguay show that he does not necessarily thrive with a powerful fulcrum striker but, with Forlan, likes riffing off someone with equally fluent movement."
Jonathan Wilson shines a light on Uruguay coach Oscar Tabarez. "Tabarez has also sought to change the attitude to Uruguay's proud football history, which at times came almost to seem a burden because of the impossibility of living up to a past that included two World Cups and two Olympic golds. The aggression and cynicism of the sides of the 80s was surely in part motivated by a frustration that the triumphs of the first half of the 20th century were not being repeated… He, and Uruguay, are also living through an unanticipated golden period. It is not like the 1920s and early 30s when they were the best team in the world, but it's as good as it's going to get in the modern world. To a large degree that is down to the genius of Tabárez. His redemption is here."
Fifa's Corruption Scandal: Paul Kelso highlights the tarnished reputation of Fifa to challenge the assumption that th ebody can fairly judge corruption cases. "The life ban handed down to Mohamed Bin Hammam allows Fifa to claim that it has acted decisively when handed evidence of corruption. Never mind that the case against the Qatari was circumstantial, or that Jack Warner evaded sanction by the simple act of handing in the Fifa blazer he had worn for 30 years. And never mind that Bin Hammam's prosecution was hugely politically expedient to Blatter, removing his rival for the presidency on the eve of the election… The flaws in Fifa's governance are everywhere and only root-and-branch reform will address them. Blatter is fond of saying that Fifa's problems are the result of the executive committee members sent to him by the confederations, but he has indulged them for too long for that excuse to wash."
Bring Back Booze: Alcohol may be set to return to the stands in England. Nick Harris reports "Drinking alcohol within sight of the pitch has been against the law since 1985, when it was banned in a bid to curb drink-fuelled hooliganism. Now football industry magazine, FC Business, has launched a campaign to scrap the booze ban on the basis that no similar laws apply to cricket, rugby or at any other major British sports events… Far from being a campaign based solely on self-interested support — a key component of the campaign is to increase a source of income for clubs in hard times — the move is also likely to get a sympathetic hearing from Parliament's All Party Football Group."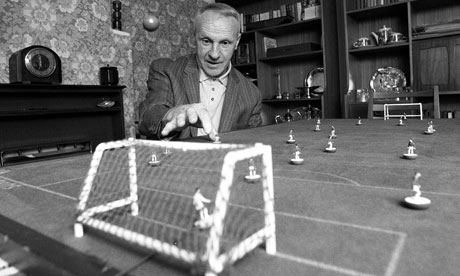 Loving Subbuteo: Off-beat, Rob Smyth celebrates one of the greatest football games ever. "Everyone has their particular memory of the game. For some, it was the last day of term at primary school, when the atmosphere was so unusually relaxed you could wear what you wanted, the boys and girls actually spoke to each other, and, best of all, you could play Subbuteo all day. In the summer of 1987, there was one clown who reached the final of our class cup competition by boring his way to the final with a series of 1-0s and 0-0s. Okay, that clown was me. Argentina haven't formally admitted this was the inspiration for their path to the Italia 90 final, but it's a hell of a coincidence."
The People, The Poppycock: With the News of the World's demise still heavily felt this Sunday, the People have the lay of the land as they spread their transfer lies.
Rattling through the almost-endless guff, Sergio Aguero set to join Manchester City in next 48 hours, Liverpool want Wigan's cant score/won't score striker Hugo Rodallega but will have to pay £9m for the pleasure, Chelsea are linked with Rennes midfielder Yann MVila after agreeing terms with Oriol Romeu, Spurs are hoping to sign Diego Forlan on a free as well as Mirko Vucinic, and Owen Hargreaves may move to West Ham.
And there is more.
Bolton are willing to spend £9m on David Ngog, Matthew Upson and James McFadden are targets for Aston Villa, QPR want Peter Crouch on loan, Newcastle will spend £6.5m on Mevlut Erdinc, Man United are linked to teenager Adryan, while Mikel Arteta is touted to want a Spanish return with either Sevilla, Valencia or Villarreal.
The Star's Silly Season: The Star on Sunday also get knee-deep in the transfer muck with a series of unlikely-to-happen stories.
Chelsea aim to test Spurs' resolve to keep Luka Modric by offering them £27million and Daniel Sturridge, Arsenal have Athletic Bilbao midfielder Javier Martinez on their radar, PSG are preparing a move for Arsenal striker Marouane Chamakh, and the Gunners need to spend closer to £20 to snare Phil Jagielka from Everton.
The Mirror Make-Believe: The headline article in the Mirror is that Manchester City appear ready to cut their nose to spit their face regarding Carlos Tevez. "Manchester City have warned Carlos Tevez that there will be no cut-price deal with a European club. Inter Milan, Real Madrid and Juventus are all back in the hunt for the ­Argentina striker after his ­proposed £40million move to ­Brazilian club ­Corinthians collapsed… If [Tevez] wants to remain in Europe, any interested club will have to find boss Roberto Mancini's ­original £50m asking price."
Elsewhere Chelsea are competing with Manchester City and Roma for the signature of Argentine playmaker Javier Pastore, Arsenal are set to hijack Chelsea's move for giant Belgian Romelu Lukaku, Nicklas Bendtner is wanted by Bundesliga clubs Borussia Dortmund and Hamburg, and Blackburn are closing on Inaki Aguirre from Atletico Madrid.
More Transfer Muck In The Mail: Arsenal are ready to break their transfer record with £20million moves for Valencia's Juan Mata and Villarreal's Santi Cazorla, while Emmanuel Eboue is close to a move to Galatasaray this week after the Turkish club tabled a £4million bid.
---