"Liverpool didn't miss their plastic idol [Fernando Torres] on Wednesday and they won't miss him in the future" – Brian Reade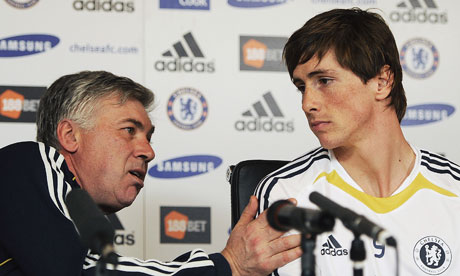 Comment & analysis round-up
Quote of the day: "I never kissed the Liverpool badge. I see some players do that one week after they join a club but the romance in football has gone. It's different now. People come and leave. When you join a club you want to do the best for yourself and for that club. That's all. Some people like to kiss the badge. I only want to score goals, do my job and achieve all the targets the team has. We share the same targets… I really wanted to leave Liverpool, so I told them straight. Everything was clear. It's about being fair and honest with everyone… I'm sure players like Jamie Carragher understand my decision. When I was at Liverpool, it was a big disappointment for me when [Xabi] Alonso and [Javier] Mascherano left… To call me a 'traitor' makes no sense. I played three very good seasons there, and left them with massive money, scored lots of goals and put in good performances. I helped the sale process as well. But I have to think about my career, and this is a step forward." – Fernando Torres.
Runner-up: "I was not surprised about what happened with Fernando,. When I left Liverpool, it looked as if I killed someone. It is sad that the people who did something important with the club have to leave by the back door. It is sad that the press and the club try to convince people that it is all the player's fault when the reality is that Liverpool didn't show the interest in keeping us in the club. The most important players didn't leave the club well. I spoke with Fernando and I said to him that he doesn't have to be worried because he did his best for the club. Even though he didn't win any trophies, he was a very important player and helped this club all the time." – Javier Mascherano.
Zing of the day: "There is nothing wrong with the front of the shirt but it's just the name on the back. With what's happened this week, it's a shirt that not only myself but many Liverpool fans would rather not wear just yet. He [Torres] didn't leave the club in great hands or great shape but thankfully they managed to go out and buy a couple of decent players." – Robbie Fowler.
Today's overview: Following Fernando Torres' Friday press conference as a Chelsea forward, and with Chelsea taking on Liverpool on Sunday, El Nino comes under the spotlight this Saturday.
Dominic Fifield says the Spaniard "will never be forgiven for abandoning Liverpool," Brian Reade labels the strike a "plastic idol," while it's left to Des Kelly to defend Torres' move in search of silverware.
The Guardian keep on the Liverpool theme with David Conn's superb interview with John W Henry, while Chelsea also receive added attention as Terry Venables, Alan Smith and Lee Dixon all show their cards on how they think the Pensioners will adapt their formation to include El Nino.
There are several individual topics touched on across the paper-divide. Mark Lawrenson hammers Newcastle for selling Andy Carroll, the Guardian's Secret Footballer defends high wages in the beautiful game, while Shaun Walker investigates the money flooding Russian football.
The Express attempt to steal attention with a never-gonna-happen tabloid transfer scoop, while their are a couple of smutty/gossip stories surrounding David Beckham, Nicklas Bentner and their partners.
The Torres Transfer Aftermath: Dominic Fifield rewrites history regarding Torres' transfer to the Bridge. "The Spaniard will never be forgiven for abandoning Liverpool on transfer deadline day but he had departed a club entrenched in a long-term rebuilding programme and embroiled in a hopeless game of catch‑up to return to the Champions League… He is hurt that he has been portrayed as the guilty party in an ugly divorce, a player who had left Liverpool with no option but to over-pay for a raw replacement, but he will live with the abuse he receives from those he left behind."
A bitter Brian Reade then tears into Torres in the Mirror. "Liverpool didn't miss their plastic idol on Wednesday and they won't miss him in the future. Others will come along to join the real heroes like Steven Gerrard, Jamie Carragher and Dirk Kuyt. Men who are often damned with faint praise by being patronised as a 'great servant.'
Looking to defend Torres was Des Kelly. "All Torres was greedy for was a trophy. He did not leave Liverpool for better wages. He left because he is chasing honours and he knows full well Roman Abramovich has the clout to buy them. After three and a half years, Torres had enough of Liverpool spinning him a line about how it would all be magically better one day and seized the opportunity to move when it presented itself. Besides, I'm sure Liverpool fans feel about as aggrieved as the Spanish legions were when Torres quit Atletico Madrid in 2007."
The John W Henry Interview: The Guardian's David Conn scores a scoop by interviewing Liverpool new owner. And it's fiery stuff from the Yank. "Liverpool's American owner, John Henry, has criticised Chelsea for their extravagant transfer window spending, questioning the commitment of Roman Abramovich's club to Uefa's financial fair-play rules… Henry explained how Carroll, even at £35m, fits into FSG's philosophy… Henry lavished praise on Dalglish, although he declined to say whether Dalglish is likely to be offered the job permanently."
Also attacking Chelsea's spending policy was Ben Hunt in The Sun. "Chelsea's wage bill has hit a mind-blowing £172million – and that does not even include the salaries of deadline-day signings Fernando Torres and David Luiz. The annual total is almost £20m more than the previous year and dwarfs Manchester City's payout by £39m. The astonishing figure was revealed in Chelsea's full annual accounts for 2010."
Chelsea vs Liverpool: What about Sunday's match itself? Any thoughts?
Terry Venables reveals his thoughts on how Chelsea will line-up against the Reds. "I do not think just one player will be left out to accommodate Torres – I reckon there will be THREE. The unfortunate Salomon Kalou, John Obi Mikel and Florent Malouda will form the first and most unwanted hat-trick of his Chelsea career. It is tough on those three casualties, who have served the club with nothing other than distinction. And they will not be the only ones to be affected by El Nino's inclusion. Didier Drogba must get used to no longer being the centre-piece of the club's strike-force. That is now bestowed upon Torres."
Lee Dixon was next to guess at Carlo Ancelotti's starting eleven against the Scousers. "Accommodating [Torres] in the Chelsea team may not be all that easy… The best tactic tomorrow is for Ancelotti to play as he did at Sunderland, with Anelka behind Torres and Drogba. If it comes off, it could be spectacular. It is a bit hard on whoever has to make way, but that player has to make sure that when he gets his chance he plays so well it is not him who gets left out next time."
Also hazarding a guess at Chelsea's formation this Sunday was Alan Smith. "In a 4-2 win at Sunderland that looked suspiciously like a dry run for Sunday's clash with Liverpool, Ancelotti played Nicolas Anelka behind Didier Drogba and Salomon Kalou… It would be reasonable to assume Torres comes in for Kalou. Potentially, the result is a fearsome attack bristling with power, pace and plenty of goals… In theory, Drogba and Torres have the respective games to link up very well. Because while the big Ivorian will often show for the ball with his back to goal, the Spaniard is happier going the other way, lurking on shoulders, waiting for the killer pass."
Seizing on statistics, Ian Herbert points out how much Liverpool will miss Torres at Chelsea on Sunday. "The squad Dalglish has inherited is also a long way from the supremacy of 1984 and after this heady week at Anfield, there are some brutal statistical realities heading into tomorrow's encounter in west London. Torres has scored seven goals in eight games against Chelsea – the same number that Liverpool have managed to muster in 18 league visits to Stamford Bridge, where they have won only twice in 20 matches."
Painting Chelsea as non-gentlemen, Andy Hunter reports "Liverpool are understood to have sought a gentleman's agreement with Chelsea that Torres would not make his debut for the champions at Stamford Bridge. The request was rejected shortly before the 26-year-old completed a British record transfer, yet Dalglish claims Liverpool are not preoccupied with their former idol and are relishing an opportunity to ruin his debut."
In an eye-popping article in the Daily Mail, Matt Barlow claims that "Carlo Ancelotti will consider using Brazilian centre half David Luiz as a holding midfielder as he starts to construct his new-look Chelsea team."
Toon Trouble: Mark Lawrenson rants at Newcastle for selling Andy Carroll. "Throughout the window, Pardew has said Carroll is not for sale. And yet on the last day, he's sold for £35m. Did Newcastle have anything lined up? A Plan B? No. That just goes to show that Newcastle don't even plan on a weekly basis let alone long term… Newcastle are in danger of going into free fall.

Wages In Football: The Guardian's excellent Secret Footballer delivers a razor-sharp analysis against those who label footballers as overpaid good-for-nothings. "Football club owners, as much as players, drive wages. After all, a player can ask for as many zeros on the end of his salary as he wants but the only way he will get that money is if an owner is willing to pay it. And, by the same token, none of those players sold on deadline day would have left their clubs, no matter how much they wanted to get away, without a chairman signing a huge cheque at the other end… [But] before I stand accused of portraying all footballers as the good guys, let me share a few things. Between you, me and the rest of the world, there are some players out there moving clubs every year to earn contract pay-offs and signing-on fees. Some players see football purely in financial terms, exactly like people do in other professions. They play the game simply because it's a well-paid job."
Money, Money, Russia: The Independent's Shaun Walker serves an excellent op-ed into the former Soviet republics who are now awash with money to invest in football. "The unexpected appointment of Gullit as Terek manager last month is testament both to the extraordinary rebuilding of Grozny under the ruthless rule of President Ramzan Kadyrov in the past few years and to the lengths some football people will go for a hefty pay cheque. But it also speaks volumes for the growing financial clout of the Russian Premier League, with even mid-table clubs like Terek able to offer juicy contracts to managers and players who five years ago would never have considered a move there… What has changed recently is that teams outside Moscow and St Petersburg have started attracting wealthy backers as well. The lucrative contract with which Terek tempted Gullit is just one example of the cash being spent in unexpected places. Anzhi Makhachkala, a club based in neighbouring Dagestan, which these days is even more chaotic than Chechnya with explosions and shoot-outs almost daily, have also just received a major financial boost after being taken over by a local businessman, Suleyman Kerimov – only a few rungs below Roman Abramovich on the billionaires' ladder."
Video Evidence: The Daily Mail announce "FIFA will next week launch tests into 10 companies' goal-line technology systems which if successful should lead to the principle being adopted at a meeting of the game's law-makers in March."
The Pundits: Slightly late in the day, Des Lynam has chosen to give his thoughts on the whole Andy Gray/Richard Keys sackings from Sky. "Sports presenters are not the stars of their shows, however famous they may become by familiarity. They are there merely to introduce, underline and point the viewer towards the main event, that is the sport… We watch football and other sports on television for the games themselves, not because of the presenter or commentator but often despite them. We all have our favourites and pet hates but even if a match we want to see were introduced by Vlad the Impaler and commentated on by 'pedant of the year', we would still tune in."
The Transfers: The Express steal the spotlight shouting "Newcastle have made a stunning bid to sign three-time Footballer of the Year Thierry Henry… Newcastle's hierarchy immediately targeted Henry in much the way Tottenham tried to sign David Beckham… Last night that seemed doomed to failure, with Henry committed to the Red Bulls' pre-season schedule in Mexico ahead of their kick-off against Seattle on March 19."
The Guardian report that Liverpool tried to sign Athletic Bilbao forward Fernando Llorente for £30m after Torres had moved to Chelsea. Staying with the Woulda Coulda Shouldas, Harry Redknapp is quoted as saying he made a mistake not signing Mark van Bommel in the winter transfer window.
Alan Pardew is reported to want to sing Rennes' Sylvain Marveaux in the summer, Nicolas Anelka is linked to the New York Red Bulls, while Atletico Madrid are said to be circling Anderson.
The Smut: Sadly, with all the rioting in Egypt and other major global-political news going on this weekend, The Sun feel that the story their readers most want to see on their front page is that "Victoria Beckham was 'over the moon' last night after being told she will give birth to her very own Baby Spice. The pregnant star, who shot to fame as SPICE GIRL singer Posh, wept tears of joy after her doctor said a hospital scan indicated she was expecting a girl."
The Sun also have a second smutty story, reporting "Nicklas Bendtner has split from his baroness fiancée – seven weeks after their baby's birth. The Arsenal striker's 'fairytale' romance with Danish royal Caroline Luel-Brockdorff, worth £400million and 13 years his senior, ended this week."
Click here for more Premier League betting tips
---