Little Mickey Owen to Manchester United: "History has made fools of many of those who have laid wagers against Ferguson" (George Caulkin) & "He will never be as quick as he once was… but he is still a supreme poacher" (Rory Smith)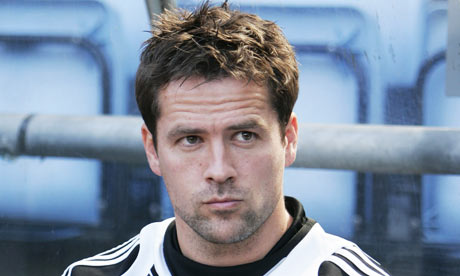 Comment & analysis round-up
Quote of the day: "United have definitely made a move, it is a bold move. It could put them at risk of the fans mocking them because they've missed out on Benzema and Ribery. Owen will have a lot to do make sure that he overcomes the natural hatred between Manchester United and Liverpool, although he has been at Newcastle for some time. Our story on Friday will be saying that Owen has had his medical and that it is up now to the player and that he is obviously going to choose Manchester United ahead of others. United manager Sir Alex Ferguson has a record of older players doing well at United and if Owen has got anything like the pace he had before then he should be a hit. Who's to argue with Sir Alex Ferguson?" – Pete Spencer, sports editor of the Manchester Evening News.
Runner-up: "It was made clear, for the second time, that we would not entertain any conversation on the subject [of selling John Terry to Manchester City],we would like to make it clear, and we will not do so again, that John is not for sale." – Chelsea statement.
Today's overview: One story dominates the back pages this morning and it isn't Andy Murray's semi-final clash with Andy Roddick at Wimbledon today. Michael Owen's shock move to Premier League champions Manchester United has a number of columnists yanked from their holiday spots on the beach to discuss what it means for all parties.
Matt Dickinson lays out what the move could mean for Owen. "The move would represent an astonishing turnaround in fortunes for the striker, who was relegated with Newcastle United only six weeks ago. On top of the prospect of winning medals with the Barclays Premier League champions, the chance to pair up with Wayne Rooney will give Owen hope that he can revive his England career. He has been exiled by Fabio Capello, but England are short of proven strikers with the World Cup finals less than 12 months away and Owen could force his way back into the reckoning if he succeeds at United."
George Caulkin also wonders whether Owen can resurrect his career at Old Trafford. "History has made fools of many of those who have laid wagers against Ferguson and perhaps he will reignite Owen. Newcastle is renowned for making mincemeat of footballers and Owen would not be the first to rediscover himself elsewhere, but nobody could have expected it to be at the home of the English champions. That is, nobody aside from him."
Rory Smith in the Telegraph is positive about Owen's move to Old Trafford. "He will never be as quick as he once was – the knee trouble has seen to that – but he is still a supreme poacher, a man capable of shouldering some of the goalscoring burden placed on Berbatov and Rooney, as well as Federico Macheda and Danny Welbeck, by Ronaldo's departure. He is an expensive luxury, as Sam Allardyce observed. Perhaps, then, Old Trafford is the only place for him, because United can certainly afford one."
Tony Cascarino attempts to grapple with the signing in an article titled "Owen is one of Ferguson's strangest signings." "My biggest doubt is how much football you will get out of him. It's so unlike Fergie to take on a player with Michael's injury record. Fergie has only done that once before, with Owen Hargreaves, who was known within the game to have questions over his fitness.  There will be a lot of chances going in an attacking team like United's, and Owen will take them. He will probably have a one-in-two ratio of goals to openings, and I wouldn't be surprised if he gets 15 goals. But I would be surprised if he plays more than 25 games."
Typically, Sam Wallace brings a little historical perspective to the transfer. "It was 13 years ago that Michael Owen met Sir Alex Ferguson for the first time. "I will always remember him looking me straight in the eye and asking, 'So, do you want to play for Manchester United?'" Owen recalled years later in his autobiography. The answer then was that Owen had, in his own words, "no raging desire" to play for United. Instead then, as now, the Owen camp had an eye for an opportunity. He was no Robbie Fowler who would never contemplate playing for United, rather he was the most sought-after player of his generation and happy to tout himself around."
Louise Taylor also weighs up the pros and cons in The Guardian. "The paradox of Michael Owen's prolific career is that he has been required to spend so much of it confounding his many doubters. This contradiction first surfaced back in the halcyon days of France 98. Forget 'that goal' against Argentina though, Glenn Hoddle, the then England coach was strangely eager to confide to journalists that he did not think 'Michael is really a natural goal-scorer'… Not for the first time, though, Owen seems poised to enjoy the last laugh with a move to Manchester United. It will, however, be intriguing to see whether Sir Alex Ferguson sees him as a striker or midfielder."
Neil Custis also attempts to explain the transfer through Fergie's known love of a flutter. "Alex Ferguson has always liked a flutter. But now he is taking one of the biggest transfer gambles of his career… There was a time when United would just snap their fingers and a player would come running. That time seems to be in the past. Now they seem to be banking on a veteran striker to lift the gloom."
On the financials of the deal, The Sun claim Owen will take a "50 per cent pay cut for a shock last chance to rescue his injury-plagued career. United boss Alex Ferguson contacted Owen, 29, on Tuesday and offered him £50,000 a week to join the champions – plus huge bonuses depending on appearances and goals." Typically, the Daily Mirror come out of left field with a rumour that was in the Spanish press yesterday, that Luis Fabiano is set for Old Trafford.
The other main thread of transfer gossip today is that Chelsea have rejected a £30 million offer for John Terry from Manchester City. According to Gary Jacob in The Times, "City made an approach for the England captain last season, but returned with a formal offer during recent talks between Garry Cook and Peter Kenyon, the two chief executives."
Daniel Taylor refuses to rule out a possible move for Terry to Eastlands. "Chelsea are particularly unimpressed at what they consider, by City's standards, to be a paltry bid given Terry's standing in the game. City had initially considered offering Robinho in part-exchange when they started talking about how to persuade Chelsea to enter into negotiations last season, but that idea has been scrapped and for any deal to happen now depends on how determined Sheikh Mansour and his associates in Abu Dhabi are to get their man and, equally, how intent Chelsea's owner, Roman Abramovich, is to keep them at bay."
The Cesc Fabregas to Barcelona story refuses to go away. Antony Kastrinakis highlights quotes from Barca president Joan Laporta: "As I've said many times, Cesc has Barcelona in his DNA and I think that one day he should play for Barca. We all like him very much — he's always been in our thoughts." Also on Arsenal, Dominic Fifield reports that "The Arsenal board of directors are to spend more time scrutinising a proposed rights issue put forward and underwritten by the Russian oligarch Alisher Usmanov."
The Sun also report that Xabi Alonso's move to Real Madrid is on hold for a month, David Wheater will snub Aston Villa, who will instead turn to Sol Campbell. The Independent also claim Fulham are set to bid £15 million for Peter Crouch, but face competition from AC Milan.
The Daily Mail refuse to be left out of stirring the transfer rumour pot, claiming Hull have offered Dietmar Hammann a top-flight lifeline and that "Tottenham will have to pay around £12m to sign Lille's Brazilian midfielder Michel Bastos." Also refusing to be left out of the spurious rumours game, The Daily Star claim Aston Villa are interested in Marcus Berg.
Finally, in the only comment piece not on Owen's move to Manchester United, Steven Howard lays into Stuart Pearce. "There is one silver lining to England's 4-0 thrashing by Germany in the European Under-21 Championships final. The growing call for Stuart Pearce to replace Fabio Capello has been rendered mute. The thought of the former England full-back one day taking control of the senior team was as terrifying as one of his tackles."
---
GAMBLING CAN BE ADDICTIVE, PLEASE PLAY RESPONSIBLY