"Like the Tories, the Red Knights are very good at imagining how they would ride to the rescue but they should explain how that works in reality before they are granted the endorsement of the fans" – Sam Wallace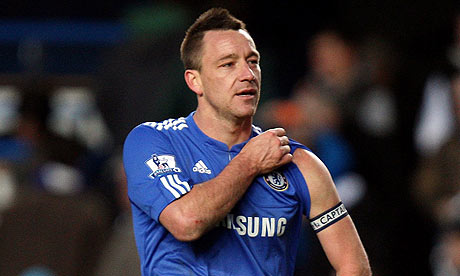 Comment & analysis round-up
Quote of the day: "I would like to think it's [booing of John Terry] over. It's served its course. But it's happening and John's just getting on with the situation. I'm obviously not too happy about it but there's nothing whatsoever I can do about it, unfortunately. I think he's dealing with the situation in the only way he possibly can: getting on with his football and committing himself to the cause. That was another superb performance from him." – Ray Wilkins.
Runner-up: "Our fans are brilliant, different class. John will have to accept he'll take stick." – Tony Pulis.
Today's overview: Predictably, Chelsea's victory over Stoke in the FA Cup and John Terry crucial second goal in the match focuses attentions this Monday.
Kevin McCarra stopped just short of saying that Chelsea's name is on the cup. "Chelsea entered the semi-finals of the FA Cup with a purposefulness that almost suggested the defence of the trophy was their priority. The victors were probably more intent on recovering confidence after consecutive defeats in other competitions. It was, in a sense, to their advantage that Stoke City should demand the best of them."
Also lauding the Pensioners performance was Jason Burt. "This was a big result for Chelsea. Shorn of five — possibly six – definite first-team starters through injury and suspension, but with Joe Cole still confined to the bench by an increasingly unimpressed Carlo Ancelotti, they produced a display that had the feeling of getting back on track. Regaining their footing; digging in for the run-in."
What of John Terry and his dramatic goal celebration?
Sam Wallace noted that "some of them were quite witty, most of them were plain abusive but none of the chants that Stoke City's supporters aimed at John Terry yesterday appeared to have the desired effect of unsettling the performance of the former England captain… Say what you like about Terry, but the abuse just seems to bounce off him… The worse the abuse gets from the rest, the more they love him at Stamford Bridge."
Making sure not to over-hype John Terry's performance, Dominic Fifield scribbled "his display for England in midweek was made to look more assured by his central defensive partner Matthew Upson's slip for the Egyptian goal, but he was more ruggedly impressive here… Terry offered reassurance in the circumstances."
Others though opt to use their questionable psychology to look at John Terry's behaviour against Stoke to make the case that Mr. Chelsea is bitter about losing the England captaincy.
As noted by Matt Hughes, "Terry may stew on his loss of status for the rest of his life. The Chelsea captain clearly remains bitter about being demoted from a position craved since childhood, as is shown in his eagerness to assert his authority whenever possible. Chelsea are willing to indulge their captain's sense of theatre because he remains an outstanding leader for them in every sense, although Fabio Capello is unlikely to be impressed by such deliberately dramatic shows of defiance."
Staying with the FA Cup, Matt Hughes explains how Portsmouth are playing for pride without any financial gains. "It is understood that the FA is preparing to withhold the £600,000 prize money and broadcast fees that Portsmouth have accrued from reaching the last four because they owe £3 million in transfer fees to their rivals. The FA is unlikely to pay Portsmouth's various football creditors directly, but will withhold prize money until they have settled their debts."
Continuing the gloomy outlook over the south coast is Nick Szczepanik. "Unfortunately for Portsmouth, all the spirit in the world will not help them with problems off the field. Even the reward of a return to Wembley in April for a semi-final will be a reminder that their 2008 FA Cup Final victory there helped to bankrupt them because of excessive bonuses."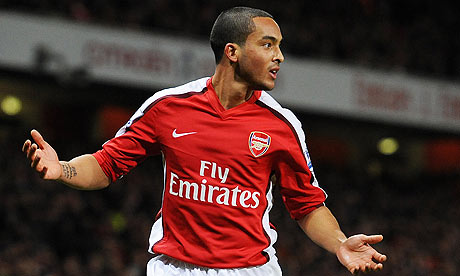 Flipping over to Arsenal, and Alan Hansen will have made few friends in north London after the talking-head promoted the belief that Theo Walcott lacks a football brain. "If Theo Walcott had that ability to see the picture opening up, that football brain, he would be a world-beater, but he has a long way to go and we still don't know how he will ultimately turn out. He can certainly improve on his deficiencies, but the areas that he has to sharpen up just happen to be the most difficult qualities to fine tune."
Following Jamie Carragher's admission in the Sundays that he could walk out on the Merseysiders in order to continue playing, Oliver Kay tries to convince the parties to reach a compromise. "In an ideal world, they compromise. Carragher is a part of the furniture at Anfield. And Rafael Benítez, who loves a good furniture analogy ("I wanted a sofa and they bought me a lamp"), should recognise that, even if he has seen better times, the defender brings much-needed character, as well as functionality, to what can at times look a pretty bland dressing room."
What of the Red Knights?
Positioning himself as the voice of uncertainty, Sam Wallace challenges the notion that the Red Knights are a perfect solution for Manchester United. "We have heard so much about the so-called Red Knights' impeccable financial acumen and their genius for tapping the emerging markets. What we have not been told is how they plan to unite this disparate group of investors; a job that sounds
about as challenging as shepherding the mid-1980s United team out of the pub at closing time… Like the Tories, the Red Knights are very good at imagining how they would ride to the rescue but they should explain how that works in reality before they are granted the endorsement of the fans."
Martin Samuel also doubts whether the Red Knights make any sense. "There were 40 Red Knights at the last count, or maybe it was 60. The list seems to be growing all the time, because fantasies do… The more Knights, the more potential for conflict if the dream is realised: people with different goals, different expectations, different concepts of how the club should operate, different personal circumstances, different hopes of a return… There is no guarantee that within months, this unwieldy collective will not have descended into a squabbling circus, as egos and personal pressures come to the fore."
Turning to the football side of things at Old Trafford, John Cross reported that "Anderson has been told he will be out for another six months after undergoing knee surgery," while Simon Jones announced "Wes Brown fears his World Cup dream is over after breaking a bone in his left foot and leaving England and Manchester United lurching into a defensive crisis. The defender went for scans yesterday amid concerns he has broken the fifth metatarsal and expects to find out on Monday whether he will be out for as long as three months."
Over the weekend Fifa decided to throw out the idea of video technology in football, and today Patrick Barclay vents. "Fifa refused to restore the balance in favour of the referee and linesmen, indeed kept them at a disadvantage to a growing majority of spectators. It is illogical and unfair. If match officials were allowed the assistance of a peer with a monitor — discreet, surreptitious, with no member of either side having any part in the process — revolutionaries and traditionalists alike could approve. And it could be done now, in time for the World Cup. I refer Fifa to my honourable friend: just do it."
Also angry with Fifa is James Lawton. "As long as Fifa goes on ignoring the need for technology we can be certain of only one thing. It is that the ludicrousness of its policy will continue to be exposed by the consequences of refusing to face a whole list of realities."
Never one to dodge controversial topics, Stan Collymore takes questionable stance this Monday as he argues that Frank Lampard should be dropped in the England midfield for Michael Carrick. "And having watched England at Wembley last week in their friendly against Egypt, I think the time has come to drop Lampard from midfield."
Turning to Spain, Gabriele Marcotti attempts to change peoples opinion of Madrid coach Manuel Pellegrini. "With Barcelona held to a 2-2 draw away to Almeria, the two Spanish giants are level at the top of the table. Yet, in the eyes of some, Pep Guardiola, the Barcelona coach, is a genius, whereas Pellegrini is some kind of Forrest Gump, freeloading a ride on the back of Pérez's spending. In fact, if Real haven't been this good since before construction started on the Berlin Wall, at least some of the credit must go to the coach. Whose job, by the way, is far from over."
As standard, we end with the unlikely-to-happen transfer gossip.
The Daily Mail bravely deliver a no-name article farting "Wigan are weighing up a move for Egypt's marauding right back Ahmed Al Muhammadi after he impressed last week against England." Over in the Mirror, Alan Nixon bleats "Tottenham and Fulham are battling for Rochdale's £1 million-rated centre half Craig Dawson – after sending their top spies to watch him in action."
---
GAMBLING CAN BE ADDICTIVE, PLEASE PLAY RESPONSIBLY