"Last year, Benitez was battling with Sir Alex Ferguson. Now he's squabbling over matters of style with Blackburn's Sam Allardyce, which is indicative of how far he has fallen" – Des Kelly
Comment & analysis round-up
Quote of the day: "If you are not involved in professional football, it is easy to say it is crazy that we get paid so much for just kicking a ball around a pitch. But I say to the critics, 'Put on some boots, take a shot and show us something.' If you think it is easy, come and have a go. It is not our fault we earn big money. We should not be made to feel like criminals. If the clubs pay us, it is because they know that they will earn more money because we are there. Sometimes I get it in the neck from other sportsmen. You know, an Olympic champion skier will complain that he is earning half as much as a footballer who is only rated 30th in the world. But what can we do? Football is the best and most competitive sport in the world. Sometimes it is better to be the tenth best player in the biggest sport than the very best in a smaller sport. Football pays well because everyone is interested in our game." – Andrei Arshavin in an interview with The Times.
Runner-up: "It is not fair on my friends and family. They are looking for blood letting and I'm the one there to take all the stick. I cannot take it any more taking all the stick on my own, so I have decided to quit as chief executive, but agreed to stay on as a consultant to help the club for the FA Cup semi-final. It is best that I walk away for the sake of the club as well as my family and friends. Despite working non-stop to try to keep this club alive for the last 14 months, they need someone to blame, and there is nobody left to blame but me. I really hope Portsmouth survive, and they will do if the South African group I brought to the club take it over. They have now produced proof of funds so I see no reason why they shouldn't go ahead with a takeover, the club need it." – Peter Storrie.
Today's overview: The backpages offer a mixed bag today with not so much substance for football fans to sink their teeth into.
Let's begin though with some potential critical injury news concerning Chelsea, as Matt Hughes announces that "Chelsea have been hit by a goalkeeping crisis before their Champions League round of 16, second leg against Inter Milan on Tuesday. Ross Turnbull will make his first Premier League appearance for the club against West Ham United today and is likely to keep his place for José Mourinho's eagerly awaited return to Stamford Bridge next week because Petr Cech and Hilário are struggling with respective calf and groin injuries."
Flipping to Chelsea's opponents this weekend, West Ham, Henry Winter examines how the Hammers plan to beat the drop. "Zola has certainly had the calculator and fixture list out, working out that West Ham probably require 10 points from 10 games for safety. Given their poor away record, having collected only two points from their last seven trips, visits to Chelsea, Arsenal, Everton, Liverpool and Fulham may not yield too much. That leaves West Ham utterly reliant on home games with Wolves, Stoke, Sunderland, Wigan and Manchester City to reach what Zola believes will be the magical mark of 37 points."
The Red Knights storm back into life this weekend as they go public with calls for fans to boycott Manchester United. Daniel Taylor details how "the consortium of businessmen putting together a takeover bid for Manchester United has guaranteed the club's season-ticket holders that they will get their seats back if a mass boycott pressurises the Glazer family to relinquish their ownership."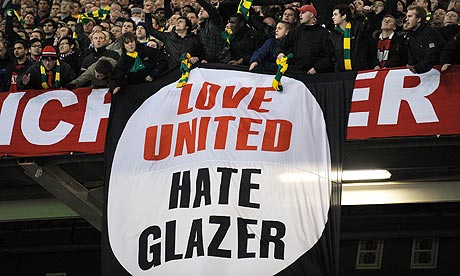 Following on, James Lawton is still hung up on how David Beckham stole the show in the Champions League this week. "While firmly denying that he would take any part in the struggle, he managed to please just about everybody. He gave the Manchester United Supporters' Trust campaigning group a massive whiff of oxygen, he paid his respects to the sovereignty of the club, he praised Rooney for being 'one of the best players in the world' and then he left as the man who, according to many observers, had stolen the night."
Staying with reaction from this week's Champions League matches, Des Kelly adopts the power of deduction to argue why Jose Mourinho should take over at Real Madrid. "Last year, Benitez was battling with Sir Alex Ferguson. Now he's squabbling over matters of style with Blackburn's Sam Allardyce, which is indicative of how far he has fallen. Perhaps it was some wishful thinking put about by mischievous Liverpool fans keen to see him move on. But with Arsene Wenger refusing to entertain any Madrid talk, and Ferguson and Barca's Pep Guardiola complete nonstarters on the job front, there is only one man left in the frame – Jose Mourinho."
A salary cap is that little bit closer to reality this Saturday.
Sunderland Chairman Nigel Quinn has popped his head above the parapet to boldly announce that the Black Cats cannot continue to spend so much money on players' wages. David Conn explains that "Quinn said all the clubs should agree before the start of every season to spend an agreed, reasonable proportion of their income on wages, and that the Premier League centrally should have the power to impose sanctions, including points deductions and even expulsion, on clubs that serially overspend."
In other financially based football stories, Matt Scott reveals how the Football League's incoming chairman, Greg Clarke, intends to implement an ambitious transparency drive in the lower leagues, while in a separate article Scott gives the skinny on how Peter Storrie has finally left Portsmouth after his failed tenure as chief executive of the club.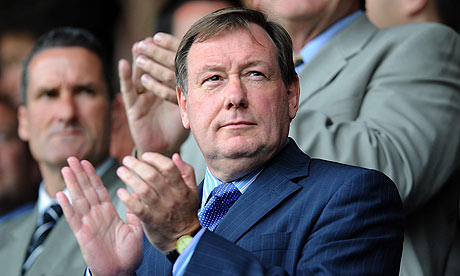 While Storrie's departure from Pompey makes all the backpages, Rob Beasley injects the controversy announcing "The Sun today publishes an explosive e-mail which will send alarm bells ringing at the highest levels of English football. The e-mail was sent by Portsmouth chief executive Peter Storrie, who was axed yesterday by the administrators handling the crisis club. In it, Storrie urges a firm of solicitors to guarantee a payment of more than £86,000 to a leading agent."
In the transfer gossip, we begin with news that Manchester United are set to give a couple of their old-timers one more season. Daniel Taylor reports that "Ferguson was so impressed by the performances of Paul Scholes and Gary Neville on Wednesday he indicated they could both follow Giggs and Edwin Van der Sar by signing one-year contract extensions."
Following suit, The Sun report that Everton are set for a policy of consolidation this summer. "Dvid Moyes aims to test Jack Rodwell's Everton ambitions by offering him a new deal this summer… The Scot is also set to offer new deals to Leighton Baines, Steven Pienaar and Tim Cahill."
Scooping up the tabloid lies, the Mirror fart that "Manchester City are tracking Benfica's Paraguayan free-kick expert Oscar Cardozo," while James Nursey claims that Liverpool are tracking Alex McLeish as a potential new manager. "Brum boss Big 'Eck is in their contingency plans should Benitez quit or the season end in complete disaster."
Lastly, all the papers report how Hull's Jimmy Bullard and Nick Barmby was caught fighting in full view of the public this wee during training. Colin Young scribbled "Phil Brown has apologised to the Women's Institute after admitting Jimmy Bullard and Nick Barmby were involved in an 'unsavoury' bust-up in front of their members earlier this week. The two City midfielders had to be pulled apart by team-mates in a park near the Humber Bridge during a squad warm-down 24 hours after their 5-1 defeat at Everton. The confrontation was witnessed by a large party from the Women's Institute, who were taking part in a walk across the bridge on Monday."
Click here for more Premier League betting tips
---