Lampard & Wilshere are lauded after England beat Brazil, Chelsea eye Neilton & Man United linked to a defender & striker
Comment & analysis round-up
Quote of the day: "England played well but we will see how they do [at the Maracanã] in June." – Felipe Scolari.
Runner-up: "I hope we'll keep Frank in England. It's not for me to discuss his future with his current club, that's for him and his club. I know he'll have a lot of offers if Chelsea do decide they're prepared to let him go. I'm rather hoping we'll still see him if not in England then Europe which will make my task easier. If he goes further afield and follows David, it complicates matters but it doesn't mean your career is over with England. But the further afield you go, the more problematic it gets for the media and the England manager to follow you." – Roy Hodgson.
England 2 – Brazil 1 
Lampard scores belter as Rooney and Wilshere outshine mighty Brazil (no wonder they're 18th in the world!) (Martin Samuel, Mail) It's that man again. A Brazilian team crammed with Chelsea's finest, and who arrived to score England's winning goal? Altogether now: super, super Frank… Oh, you've got to love him. It must be driving his employer mad now, the way Frank Lampard contrives to embarrass the haters, doubters and non-contract-offerers at every turn. But it is too late now. After so much inexplicable stubbornness it would look ridiculous if Chelsea's management recanted and signed him up for another year. England manager Roy Hodgson will not be so foolhardy. As was demonstrated on Wednesday night, he recognises that Lampard is worth his place in the squad even if he does not start. If his role is to be England's impact substitute, then it could still prove a fitting finale.
Neymar's Roo taunt came back to bite him (Harry Redknapp, Sun) There is still a long way to go until the finals and we haven't even qualified yet, so let's not get too carried away. Having said that, beating Brazil is always going to give you a huge psychological boost — just as we enter the climax of the qualifying campaign with England second in their group at present. I also watched Spain v Uruguay while England were playing and, let's be honest, there's some frighteningly good players out there at the moment. We also have to go to South America next summer to play against the best in the world. Let's just get there first, hey?
England's success against Brazil requires both rejoicing and reflection (Dominic Fifield, Guardian) This being England, a reality check of sorts was provided at the back. In Gary Cahill and Chris Smalling, England employed a fifth different central defensive partnership in six matches and it said much that, by the end, it was still hard to fathom the footballing reasons why Rio Ferdinand cannot force his way back into contention with this team. If the Manchester United defender is not under consideration because he would constitute a Rolls Royce of a substitute, then why does that policy not apply to Lampard? Yet, while that remains something for the management to ponder, this was a night to be positive. Wilshere clearly belongs.
Roy shows us exciting way ahead (Steven Howard, Sun) Last night we saw the way ahead as England recorded their first victory over the five-time world champions in 23 years. And it's a midfield of Steven Gerrard behind Jack Wilshere and Tom Cleverley. The king of the jungle supporting his two young lions. It's the oldest recipe in the book — the combining of wisdom and experience with youthful exuberance and swagger. Old heads and young legs. Plus the turbo-charged Theo Walcott, the nearest thing to a footballing Maserati, enjoying his best match since his hat-trick against Croatia in Zagreb. And to think Brazilian starlet Neymar wrote England off as a one-man team.
Cahill's slip against Brazil shows Hodgson needs Ferdinand at the heart of England's defence (Neil Ashton, Mail) Rio Ferdinand is itching to play for England again, tweeting in advance of Brazil's visit that he was on his way to north-west London. Ferdinand will never give up hope, and Gary Cahill's elementary mistake at the start of the second half is the reason why. This is the scenario unfolding for England's head coach Roy Hodgson as he continues to hide behind the 'footballing reasons' for Ferdinand's continued exclusion. Cahill is a good defender, but not good enough at the very highest level.
We just like beating Brazil! (Martin Lipton, Mirror) As Theo Walcott had Adriano on toast, giving arguably an even better all-round performance than when he destroyed Croatia in Zagreb five years ago, this was one to remember. We have waited a long time to see England unpick a proper team. That wait ended as Hodgson's composed, balanced side proved they can hurt top-class opponents.
Centurion Ashley Cole plays a minor role as Steven Gerrard steals spotlight (Paul Kelso, Telegraph) OK! Magazine once paid Ashley Cole £1 million to appear on the cover. On Wednesday night, on the occasion of his 100th appearance for England, he could not even get on the front of the programme.
Jack Wilshere
New generation suggest they can match the best in Wembley victory (Paul Hayward, Telegraph) One thing we know: there is even less room for doubt now about Jack Wilshere's ability to bring the vital qualities of vision, movement and incisive passing to a team who have traditionally been too mechanical and wasteful in possession to get anywhere near Spain. For the hundredth time: Wilshere is the one young English midfielder who would look comfortable in the same paragraph (and perhaps eventually the same sentence) as Spain's Xavi.
Jack's like a Brazilian (Martin Keown, Mail) Jack Wilshere was the best player on the pitch. He looked so full of confidence and carried the game at times. Wilshere always wants to receive the ball, even if he's under pressure and he is then technically gifted enough to use it in an intelligent way. Since returning from injury, there was no doubting his ability but he is now fit enough to have the energy to match his technical prowess. The way he has come back from that lay-off to perform at such a level is impressive. We should cherish him.
Wilshere has everything he needs to be England's next midfield genius (Jamie Redknapp, Mail) Jack Wilshere wore Paul Gascoigne's old No 8 shirt and showed signs he could be England's next midfield genius. He is the one-two wizard and he took his Arsenal form on to the international stage.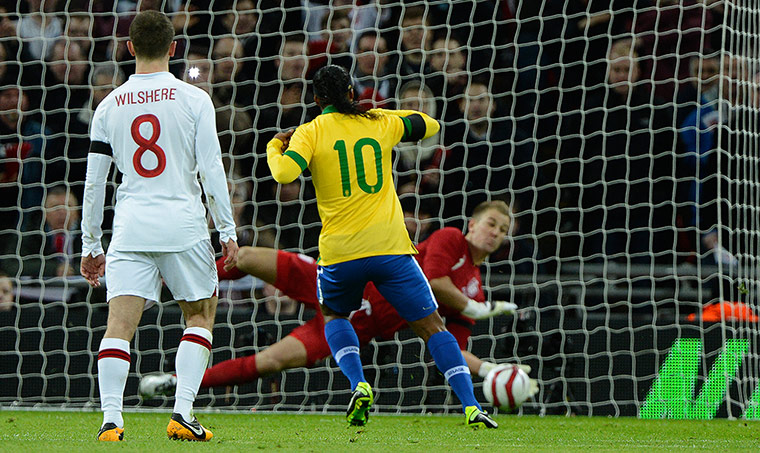 Other England-Brazil Commentary
Ronaldinho and Neymar miss their cue to unite the old and new Brazil (Barney Ronay, Guardian) Wembley on a cold Wednesday night may not linger long in the memory and Neymar and co will no doubt return in more robust physical shape. "England played well but we will see how they do [at the Maracanã] in June," Scolari said afterwards. At which point Brazil will expect a little more from their next and last generation superstars.
Scolari's side are still some way behind Spain on evidence of Wembley showing (Ollie Holt, Mirror) On this evidence, sadly, the idea Brazil might reach the heights of 1970 or even 2002 again seemed utterly fanciful. Yes, it was their first match under a new manager, the great pragmatist Luiz Felipe Scolari, the architect of their 2002 World Cup win. Yes, it would be absurd to think that they will not improve on this very quickly. And yes, they will be a different proposition when England play them in Rio de Janeiro in June. But the heirs of Ronaldo? They looked more like the heirs of Garry Birtles.
Shameful, callous and ignorant fans broke minute's silence for Moore, Munich and Santa Maria (Adam Crafton, Mail) It is barely comprehensible that football supporters can be so callous and show such ignorance when asked to stand and observe in such circumstances. These are the lives of people's children, parents and friends that they are disrespecting. What on earth is going through the minds of those who shout over and jeer through a moment of remembrance for such sensitive issues? A quick laugh? Something to tell the mates about in school or work tomorrow? Well, it's not a quick laugh. It is idiotic and disgraceful.
Young Lions v Old Lions
A battle of Wills (Paul Jiggins, Sun) Stuart Pearce is set for a tug-of-war with Roy Hodgson AND Arsene Wenger over Jack Wilshere this summer… Pearce will ask Hodgson to let him have Wilshere AND fellow Arsenal starlet Alex Oxlade-Chamberlain, 19, for the summer finals.
Stuart Pearce seeks showdown with Roy Hodgson over England Under-21s (Daniel Taylor, Guardian) Stuart Pearce has said he wants "more support" from Roy Hodgson and made it clear he wants the England manager to change his mind and let him take Jack Wilshere and Alex Oxlade-Chamberlain to this summer's European Under-21 Championship… Hodgson has already stated that he will not free up Wilshere to play for the Under-21s in Israel – "You have to give Wilshere the credit that he has established himself as a bona-fide first-team player," he explained – but sanctioned the selections of Wilfried Zaha, Raheem Sterling and Jonjo Shelvey. Hodgson also wants to keep Oxlade-Chamberlain with the seniors and, for Pearce, that represents a potentially serious setback. "I've always said the same thing," he said. "Unless you take your strongest squad you can't be competitive."
Football Finance
Salary cap on agenda as Premier League clubs seek solution to financial mess (Jack Pit-Brooke, Independent) The 20 chairmen of the Premier League clubs will meet to decide on their own proposals for financial fair play. The details of the proposals for the meeting are still up for negotiation, but could include one similar to Uefa's break-even rules, and one focused on putting a cap on how much club wage bills can increase each year, although it is not known whether the cap will be by a percentage or by an absolute sum of money.
Crisis Villa
Lambert in crunch talks (Graham Hill, Sun) Aston Villa boss Paul Lambert called a crunch meeting with his squad in a bid to boost their survival mission. Lambert got his players together and told them: We have to start winning ugly.
Transfer Lies
Chelsea line up "new Neymar" Neilton.. who even LOOKS like Brazil ace (Mirror) The Blues are watching Santos sensation Neilton, who made headlines by scoring a hat-trick against Palmeiras in the semi-finals of the Copa Sao Paulo Under-19s' tournament. It is believed there is a £5million buy-out clause in the 19-year-old's contract, and Santos are now trying to renegotiate the deal to stop him escaping on the cheap.
Baggies outcast Odemwingie set to join Palace after aborted move to QPR (Mail) Peter Odemwingie is in line for a move to Crystal Palace when the emergency loan window opens on Thursday… Palace will have to pay an initial fee to West Brom for Odemwingie and then a further sum for his services if the south Londoners are promoted to the Premier League.
Manchester United face battle with Pep Guardiola over Borussia Dortmund striker Robert Lewandowski (Telegraph) The 24-year-old has made it clear to Dortmund that he will not sign an extension to his contract this summer, forcing the club to decide whether to sell or allow him to leave as a free agent in 2014.
United going over Benfica defender Ezequiel with fine-tooth comb (Mirror) Sir Alex Ferguson has his eye on Benfica's Ezequiel Garay to become Manchester United's next big-money centre-half… The 26-year-old will be watched on an intensive basis over the next few months as United weigh up whether to move in for the Argentina international this summer.
Atletico plotting ambitious loan swoop for De Gea if Chelsea recall loan star Courtois (Mail) Atletico Madrid will make a bold request to take David de Gea on loan from Manchester United next season as they fear Thibaut Courtois will return to Chelsea.
Skrtel linked with £13m return to Zenit with Russian transfer window still open (Mail) Zenit St Petersburg remain keen on Liverpool defender Martin Skrtel. The Russian transfer window does not close until February 24 and the Slovakian could join his former club for around £13million.
---
GAMBLING CAN BE ADDICTIVE, PLEASE PLAY RESPONSIBLY