King Kenny tipped to stay on at Liverpool & the Chelsea clearout
Comment & analysis round-up
Quote of the day:Â "When I left Liverpool, it looked as if I killed someone. It is sad the people who did something important with the club have to leave by the back door. The club try to convince people it is all the player's fault when the reality is that Liverpool didn't show the interest in keeping us. The most important players didn't leave the club well. I spoke with Fernando and I said to him he doesn't have to be worried because he did his best for the club." – Javier Mascherano.
Runner-up:Â "I believe it is wrong for Moyes to come out on what he pretends to have heard in the tunnel. If I come out with what I have heard in the tunnel in the last 10 years, you would be amazed. There is a rule in our job to never come out with what is said in the heat of the moment. That is usually respected by everybody. Look at the facts. On what kind of accusation do you go against Cesc? The officials say nothing happened. I say nothing happened, and I was next to the referee, and just because a statement comes out [from Moyes] which doesn't even say what Cesc is supposed to have said, you have to create a whole fuss about that…Â I'm always surprised that we do not pick up on people who run behind him and just kick him, they get away with it and he is accused of something, and that cannot be right if you love football. He gets a rough ride in every single game. When Cesc is on the pitch, he tries to play football. I cannot say everybody who plays against him tries to do that. Some people reproach him for not exchanging shirts with a player after the game but I hope he will not exchange shirts with players who try to kick him for 90 minutes and then come to say 'Please can I get your shirt'. I think that is a normal and natural reaction." – Arsene Wenger.
The Neviller on retirement: "I want to have 12 months to gather my thoughts. I don't want to rush into another relationship quickly. I want to ease off a little bit and just relax. I need to chill out… After that game on New Year's Day I felt I had reached the end," he said. "It fact, it wasn't after that game, it was during. I had been thinking about it for a month or so before that. You don't just give up after one bad game. I had enough of them over the last 20 years to know that can happen. But the way I felt at the start of the season, when I started picking up injuries, there is only so many times you can come back. Your mentality is such at this club that you are always willing to go again. But sometimes you get a feeling in your mind that you just can't go again and that time had come for me. In the previous two seasons I had played 25-30 games and there was always a period where I felt I was contributing. Once you have lost that and you know it was not quite right, you don't want to be a passenger."
Today's overview: The main new news of the day, although it will come as no surprise, is from Matt Lawton in the Daily Mail who says Kenny Dalglish will stay on at Liverpool at the end of the season. Harry Redknapp adds to the Dalglish love-in and Rory Smith wonders how the Merseyside giants will play when Luis Suarez and Andy Carroll are fit.
The main story in The Sun, by Rob Beasley, claims Chelsea are preparing a major summer clearout. Steven Howard analyses the Fernando Torres deal from the perspective of Roman Abramovich and David Conn has a fine piece on where the David Luiz money went.
There is plenty of chat about Gary Neville following his announcement to retire. Paul Hayward, Oliver Holt and Matthew Norman all write fine pieces but Robbie Savage has the article of the day with an excellent article on the now famous Manchester United youth team.
Finally, there is reaction to the EU ruling that forbidding pubs from buying in cheap football coverage from overseas operators was incompatible with European law and there are also pieces on Juventus (Paolo Bandini) and Pedro (Pete Jenson).
King Kenny set to stay on at Liverpool: Matt Lawton suggests "Liverpool's board are moving closer to giving Kenny Dalglish the manager's job on a permanent basis. Following a revival in fortunes at Anfield since he was appointed in temporary charge last month, the 59-year-old Scot is set to be handed a long-term deal by owner John W Henry. Dalglish has impressed the Liverpool hierarchy by lifting the mood around the club with a week of successful transfer activity and genuine improvement on the pitch. Sources at Liverpool have also revealed to Sportsmail that the atmosphere around the training ground is far more relaxed and positive than it was under previous boss Roy Hodgson. Dalglish has the full support of the dressing room, including influential internationals at the club."
Matt Lawton also met new Liverpool striker Andy Carroll. "Is he daunted by the prospect of making his Liverpool debut as the most expensive English footballer in history while wearing the No 9 shirt worn by names like Rush, Fowler, Hunt and, of course, Torres? Well no, not really. 'It is a lot of money to spend,' he said respectfully. 'And I have only really had half a season in the Premier League. But that is the confidence the manager has in me and that is what I am here to repay. It is a big shock because everything happened on the last day of the transfer window. But I am here now and I am ready to get fit and then play.' Fear, it would seem, is alien to him. After all, it was not Chris Hughton's idea to make him Newcastle's own iconic No 9 at the start of the season. 'Watching Alan Shearer when I had a season ticket, that was the shirt I wanted when I was growing up,' said Carroll. 'I knew I'd done well the season before in the Championship and I thought I'd go in and ask for it. 'I know I can play football, I know I can score goals, so I can handle the spotlight. I have been in the headlines for the wrong reasons and when I've been travelling to Sunday games, I've read the papers on the way and looked at all those headlines. But then I've scored the winner against Arsenal, so it shouldn't really bother me because I have proved I can score goals."
In The Sun, Harry Redknapp uses his column to praise Kenny Dalglish. "The king is back and set for a long reign at Anfield.  I always said Liverpool would respond to having Kenny Dalglish in charge again and he's the right man for the right job at the right time. If he does well, and he will, then there's no way on earth Dalglish will not get the job on a permanent basis. There would be uproar – from the fans and the footballers. As an outside bet you still can't write Liverpool off finishing in the top four this season. You have the favourites – Manchester United, Arsenal, Chelsea and Manchester City – then my Tottenham team. But outside of that group, Liverpool are the next best to make a charge."
Tim Rich profiles the new strike force at Livepool. "Footballers no longer pose for photographs the way they once did. Whenever Liverpool were due to play Spanish opposition someone would persuade Terry McDermott or Graeme Souness to slip on a sombrero – they supplied their own moustaches. John Toshack and Kevin Keegan dressed up as Batman and Robin in support of headlines that proclaimed them Anfield's 'Dynamic Duo' with the inference that the Welshman was the senior partner. Were this still 1976, someone in the stadium's Trophy Room would have asked Andy Carroll and Luis Suarez to don a miner's helmet and a poncho to show they came from Newcastle and Uruguay. Instead, they walk in wearing tracksuits, which for young men is rather more likely leisurewear, whether on the banks of the Tyne or the Plate. Between them they form a remarkable statement of intent in a January transfer window that for once has exceeded even the hyperbole of Sky Sports. After an electric turn and sprint, finished off with his debut goal in Wednesday night's 2-0 win over Stoke, Suarez had little need of words to justify the £23m Liverpool had paid Ajax."
Rory Smith analyses how Liverpool will play with Carroll and Suarez. "Option 1: 4-4-2 Kuyt, Gerrard, Meireles, Maxi, Carroll, Suarez Much of the focus on Liverpool's deadline day signings has been on how they will dovetail as a partnership. Suarez certainly seems to feel he can work well with a player of Carroll's type, and a traditional 4-4-2 would provide a platform for the two to forge a little-and-large partnership. It may, though, cause trouble in midfield, where Liverpool possess no natural wingers – Dirk Kuyt is a converted striker, while neither Maxi Rodriguez nor Joe Cole are left-sided – while a central two of Raul Meireles and Steven Gerrard do not provide much defensive cover. One would most likely have to miss out to allow Dalglish to include the more defensively steady Lucas."
The Chelsea clearout: The lead in The Sun, by Rob Beasley, claims "Chelsea are planning a summer clearout to help pay for £75million new-boys Fernando Torres and David Luiz. Didier Drogba, Florent Malouda, John Obi Mikel, Jose Bosingwa and Yuri Zhirkov will all be under intense scrutiny until the end of the season. The Blues will act to balance the books after their record-breaking spree."
Steven Howard analyses what the Fernando Torres deal means for Chelsea. "So much for Plan B (and saving money). Instead, Abramovich went back to Plan A, throwing more millions around with Luiz quickly identified as the man to play alongside Terry. At the same time – and with Chelsea in free-fall – Abramovich wanted to know how much it would cost if they missed out on Champions League qualification. When told, allegedly as late as mid-January, that it could be as much as £40m, he hit the panic button. The order went out to get Torres, especially with the Luiz deal foundering at the time. Unlike Luiz, Torres WAS available for the Champions League, Abramovich's Holy Grail and the trophy now once again the No 1 target with Chelsea so far behind Manchester United in the Premier League. In comparison with what it cost Abramovich to get virtually nothing out of his academy, £50m could prove to be quite cheap."
David Conn looks a bit deeper into the David Luiz deal. "A quarter of the £21m Chelsea paid to Benfica for the Brazil defender David Luiz was banked not by the Lisbon club but by the investors in a fund to which Benfica sold 25% of David Luiz's 'economic rights' for €4.5m (£3.8m) 18 months ago. Luiz was one of 12 Benfica players whose rights were partly sold immediately after the Benfica Stars Fund, run by Banco Espirito Santo, Portugal's biggest bank, raised €40m and began in business in September 2009. When Chelsea paid £21m for the Brazil centre-back in the frenzy of transfer deadline day, the fund became entitled to a quarter, £5.25m (€6.11m), a profit of €1.61m (£1.38m) made in 14 months since its investment in David Luiz. The fund – whose manager, João Caino, said the investors are a mix of companies and wealthy individuals but do not include football agents – still owns economic rights in 18 Benfica players, ranging from 20% stakes to the 50% bought in the Brazilian striker Alan Kardec for €3m last June."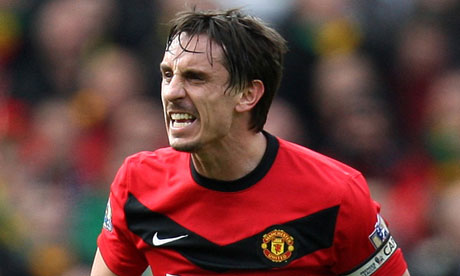 Gary Neville: Paul Hayward pays tribute to the former Manchester United full back. "His devotion to the United cult was sincere and unbending but more complicated than it is for, say, Giggs or Scholes. Match winners will always be constructed differently to match savers. Neville spent his career on the ramparts, refining his siege mentality. But hard was not the full story of his efforts along United's right flank, where he contributed mightily to David Beckham's development. Neville was Beckham's triangle and overlap man: his legs, in many games. Unable to skin opposing full-backs himself, Beckham would construct angled passing movements with his good pal Gary, who was as averse to fame as Beckham was addicted. In his prime, Neville was not only a resolute defender but a relentless attacking full-back for club and country. His fine crossing, on the run, was first utilised by England under Terry Venables at Euro 96 and brought thrust to United's wide play for more than a decade."
Martin Keown and Jamie Redknapp also look back on the career of G Neville. "Was he the best right back you played with? MARTIN KEOWN: Lee Dixon just shades it for me. His positional sense was perfect, he knew exactly when to push up and when to drop off. When I played with Gary, which of course was less often, I didn't feel as comfortable as I did with Lee and there were times when he would play people onside. But Gary was a marginally better player going forward. At Manchester United the culture is always to attack and at times Gary was like a second winger on the right. JAMIE REDKNAPP: Yes. His desire and will to win is like nothing I have ever seen. With England, you would look around the dressing room before a game and feel safe knowing he was playing. He had a ferocious obsession with defending his position and doing his job. He would be one of those players who didn't like to lose at anything."
Robbie Savage writes of the Manchester United youth team he played in. "As I look to my own retirement, I've got to say that was the best side I ever played on. Giggsy, Becks, Scholesy, the Nevilles, Nicky Butt, Keith Gillespie and me. We destroyed teams, week after week. Looking back, we were obviously players on the verge of doing something in the game. That we didn't realise it at the time is yet another credit to our coach Eric Harrison, who was a manager, mentor, teacher and father all in one. If you made a mistake on one of the training pitches at The Cliff, you'd freeze as you heard a banging coming from the window of Eric's office inside. Then you'd watching in terror as he marched outside to give you a bollocking. No-one was exempt. So instead of becoming spoiled – a few people would say that happened to me later – we had our feet nailed to the ground and they were carefree times."
Oliver Holt also pays tribute to Gary Neville. "One man cannot redeem an entire sport, but Neville's news was at least a reminder that, amid the fecklessness, there is still a noble side to our beautiful game. Because, in the 19 years he played for Manchester United, Neville stood for all that is good about the game in this country. He stood for loyalty. Loyalty to his team and his team-mates. He only ever played for United. He only ever wanted to play for United. He did not have an agent. He never sought offers from other clubs to try to get more money out of his club. Wayne Rooney threatened to leave United earlier this season and it worked. He got a new contract and more money. The price he paid was that United fans will never love him now like they love Neville. They will never think quite the same of him again. When Neville kissed the club badge on his shirt, he meant it. He loved the club. And it was not the kind of love that only lasted until a better offer came along."
Matthew Norman pinpoints the one-club legacy of G Nev. "The timing of his announcement, with the flames of revolt fanning out across the Arab world, seems anything but coincidence, and he may intend to transfer his bespoke brand of rebellion to the global stage. But if not – even if he means to continue the struggle on the lavish payroll of Sky Sports, as successor to the lamented Andy Gray – his reputation is forever assured. He brought the essential flavour of the Gdansk shipyard to the England dressing room, and if that isn't the noblest epitaph to any sporting career in memory, I can't begin to imagine what is."
James Lawton hails Sir Alex Ferguson after attending a lunch yesterday in honour of his 2,000th game as manager. "Almost all of them were there, the great and the good and the unemployed of English football, in the big old hotel on London's Park Lane yesterday and for one day at least there was not a single eddy of dissension or grief. Fabio Capello, Carlo Ancelotti, who was sitting with his former English 'Man Friday' Ray Wilkins, Martin O'Neill, Avram Grant, Sam Allardyce, Alex McLeish and Alan Pardew, and some gnarled old figures of the past who were lightly described by the guest of honour as the 'coffin dodgers', all raised their glasses to the life and the continuing times of Sir Alex Ferguson. The tribute cut through all the often acrid divisions of the game and if it was ostensibly to celebrate Ferguson's latest milestone – the managing of more than 2,000 professional games – there was a rock-hard consensus about the real meaning of the event staged by a League Managers Association, currently campaigning to improve and dignify the status of the men who operate in the trenches of a game which, at its highest level, has never been richer – or more desperate to eke out a little success."
Antony Kastrinakis reveals "Patrice Evra is set to be offered a new lifetime deal at Manchester United. The left-back is a target for Real Madrid and Inter Milan but Alex Ferguson wants to hand him a bumper contract now. Evra, 29, has 18 months left on his current £70,000-a-week deal and United will offer him another to keep him at Old Trafford until at least 2014. Preliminary talks have already taken place and the main detail involves the length of the new deal which it is understood will give Evra a slight pay rise."
Transfer gossip: The Daily Mail claims that Nicolas Anelka will join Thierry Henry at New York Red Bulls and that Newcastle want Sylvain Marveux. The Daily Mirror suggest Spurs are ready to sign David Beckham in November.
Pub landlady takes 1-0 lead v Premier League: Owen Gibson and Mark Sweney team up to tell us: "A south coast pub landlady has gone 1-0 up in her longrunning battle against the multibillion-pound English Premier League, after the EU's highest court was advised to rule in her favour. The case, which began with Karen Murphy defending her right to show English Premier League matches beamed in from Greece to a handful of drinkers at the Red, White and Blue pub in Portsmouth, could have far-reaching ramifications for sport, broadcasting and consumers. In a decision that could change the way sports rights are sold across the continent, the European court of justice was advised that forbidding pubs from buying in cheap football coverage from overseas operators was incompatible with European law. If the advice is followed, it will affect everyone from armchair football fans to pub landlords and well remunerated players and potentially undermine a model that has fuelled the Premier League boom years."
In a seperate article, Owen Gibson adds "The Premier League will be fighting on a number of fronts in the coming months and years to protect the model that has served it so well for 20 years. The ever-worsening problem of online piracy and the possibility that regulators will once again open up the question of the way it sells its rights will remain live threats and figure prominently in the in-tray of the incoming general secretary, Nic Coward. In the meantime, Murphy's law will continue to breed unease and uncertainty at a time when the Premier League is gearing up for its next lucrative rights auction."
Paul Kelso adds "If the court agrees with Kokott and the decision is upheld in the British courts it could lead to cheaper subscription fees for consumers, but the reduction in revenue to broadcasters – analysts predicted Sky could lose as much as £70 million annually – would almost certainly cause the value of rights to fall. This would lead to a dramatic reduction in the wages paid to players, the primary beneficiaries of the boom in television rights over the last two decades, but investment into other areas of the game would also be expected to fall."
Trouble at Juventus: Paolo Bandini writes about the Old Lady. "There has been naivety on the part of both fans and directors about the ease with which a return to the top of Italian football could be achieved. After storming back up from Serie B in the wake of their Calciopoli punishment the club made it into the Champions League places at the first attempt. But that success was the product of both momentum and the fact that they had retained a core group of players from their glory years. In that first season back in Serie A, Del Piero finished as the league's top scorer, with his team-mate David Trezeguet in second place. Two years on, Trezeguet is gone and Del Piero, while remaining an important player, is no longer able to play at such a level every week. Others, such as Pavel Nedved and Mauro Camoranesi, have retired or moved on. In goal Gigi Buffon is only just back from a lengthy injury. These are not simple players to replace, even with the club boasting – as Gazzetta dello Sport highlighted a few weeks ago – the highest net spend in the league over the past four years (€129.8m, before the signing of Matri)."
Pete Jenson profiles Pedro in the Daily Mail. "He has hit eight goals in his last six games scoring in each of those matches and if he nets against Atletico Madrid on Saturday night he will equal the great Johan Cruyff by scoring in seven straight games. Only Mariano Martin with nine and the Brazilian Ronaldo with 10 will be able to boast better scoring runs. Only Messi has scored more goals for Barcelona since Pep Guardiola took over two-and-a-half seasons ago. Pedro is now ahead of Thierry Henry and Samuel Eto'o, stars of Barcelona's first 'Pep-season' when the team hit 105 goals. If they can top that mark by three this season then they will beat Real Madrid's all-time record of 107 goals in a season from the 1989-90 campaign. Pedro has even crept into the Golden Boot top-25, level with Villarreal's Giuseppe Rossi and Athletic Bilbao's Fernando Llorente – who as Spurs found out during the transfer window are both rated in excess of £30million."
Best football betting tips & free bet offers
Click here for more Premier League betting tips
---