"Keys has had a ringside seat over the years, watching various figures in English football hang themselves with their word… it did not stop him repeating the same mistakes." (Sam Wallace)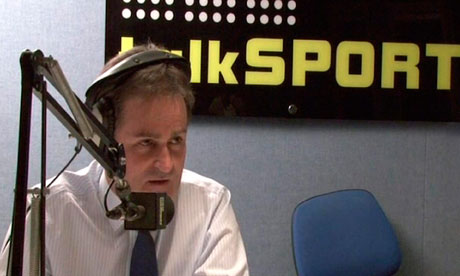 Comment & analysis round-up
Quote of the day: "I am deeply sorry for my remarks and the offence they have caused; it was wrong and should not have happened. I have thought long and hard and reached the decision that it is time to move on." – Richard Keys.
Runner-up:Â "I have been lucky enough to be in a lot of cup finals in my career in Scotland. But I've always wanted, with the big chip on our shoulder as Scots, to prove we can live with you guys down here. It was a real exciting moment for me when I heard the final whistle and realised what this team and my staff have achieved for this club… I'm not invulnerable, we're in the results business and tonight I've got a good one. Getting to Wembley might just keep me in a job for a few more days." – Alex McLeish.
Kenny Dalglish:Â "That is one of the games I have seen where we have had a little bit of luck. We are delighted to be up to seventh. The players have had a tough four or five games on the spin so we can be very satisfied with another three points. But I think we are better than that. We will not get carried away – we want to be further up there than this. To be honest, Fulham will be feeling a little hard done by and thinking they deserved something from the game. But there have been many games where we thought we deserved more than we got. We showed a great amount of effort and a determination not to give up. That is a great credit to the players."
Today's overview: The back pages continue to almost ignore the major football matches that have taken place last night, with only one story in town: Richard Keys' resignation from Sky Sports.
Yesterday's hour long interview on TalkSport is flagged up by every pundit with Matt Lawton probably describing it best: "career suicide on live radio." Charles Sale brings Karren Brady's version of events, Sam Wallace also chews over the interview and James Lawton says Gray and Keys have only themselves to blame.
Looking ahead, Jim White calls for Helen Chamberlain to be given the chance to replace Keys and there is also some chat on Andy Gray, with the Daily Mail claiming Gary Neville is first in line to replace the former Scotland striker. The Daily Mirror also chime in that Andy Gray is launching legal proceedings against Sky.
Incredibly, there is only one article suggesting this whole affair has been blown out of proportion and for that reason is a must read. Stephen Glover questions whether the BBC would have acted in the same way as Sky and brings some interesting points.
On the actual football, there is praise for Birmingham's fine comeback to reach the Carling Cup final and criticism of Avram Grant. Liverpool are labelled "lucky" whilst the Dalglish effect is also pointed out again.
Transfer gossip is thin on the ground, Jonathan Wilson has a fine piece on tactical trends in European football and there is news of why the Stevenage player Scott Laird was punched in the aftermath of the FA Cup giant killing over Newcastle.
Keys quits: The lead in The Sun details Richard Keys' decision to quit Sky Sports. "Sky insiders said Keys effectively signed his own P45 by 'assassinating his own personality on radio' – and suggesting lots more damning examples of his boorish behaviour were likely to be found. His resignation came after the most shocking evidence yet of his sexist streak surfaced on YouTube. He used the word 'smash' – a vile expression for having sex – and called a girl 'it'."
Owen Gibson also highlights the failed TalkSport interview. "Richard Keys was tonight forced to resign as a Sky Sports anchor after an attempt to apologise for his role in the broadcaster's sexism scandal appeared to backfire, when he made a live radio appearance. After his long-standing colleague Andy Gray was fired by the broadcaster yesterday for 'unacceptable behaviour', Keys's position had appeared untenable since the emergence of new evidence of his own sexist behaviour later the same night."
Charles Sale in the Daily Mail reveals Karren Brady's reaction to the sorry affair. "Karren Brady launched a scathing attack on disgraced Sky presenter Richard Keys last night as he resigned amid the furore over his sexist slurs. West Ham's influential vice-chairman was among the initial victims of distasteful remarks by Keys and Andy Gray, and during another attack on Brady yesterday during a bizarre radio interview, Keys criticised her for failing to return his calls and texts. Brady said: 'Perhaps Richard thought I was too busy making the tea and washing up to take his call but a cursory glance at the weekend's newspapers or television would have made him well aware that I was heavily occupied with the West Ham and Newham Council Olympic Stadium bid. 'West Ham's future in the Olympic Stadium is of far more importance to me than his future. 'It is most unfortunate that he has chosen to add insult to injury by suggesting that he has done me a favour by getting West Ham out of the Press, as after all I did not ask to be part of his sexist tirade. 'This is not about an apology to me, but about an apology to all women. Richard represents views that myself and those who work in the business of football find totally dinosaur.'"
Comment on Keys: Richard Williams chews over that interview. "Nothing made that more plain than the most breathtaking declaration of a remarkable 60 minutes. 'I'm not proud of what happened at the weekend,' he said, 'but with success comes envy.' And there we had it. The true feelings of a man who, his sense of his own importance distorted by 20 years of fronting football matches on satellite TV, has lost touch with reality. And who by that logic no doubt imagines himself to be not the author of his own downfall but the victim of a witch-hunt. Well, Keys is certainly important now. Genuinely important, for the first time in his life. Quite inadvertently, he and Gray have altered for ever the standing of women in the often inhospitable world of professional football. And for that, they will never be forgotten."
Matt Lawton describes it as "career suicide on live radio." "An hour into what could be a new career on the radio and Richard Keys was comparing himself to Jonathan Ross. And he would, because he would consider himself to be on much the same level as a broadcaster. But during an excruciating interview on talkSPORT that amounted to career suicide, Keys actually came across as someone rather less appealing."
Sam Wallace also blames the radio interview as the final nail in the coffin. "Keys has always been the most cautious of presenters, never becoming embroiled in any public rows beyond the odd unguarded comment recorded on a microphone. His personality has never been a feature of his presenting. Not until now when, finally let off the leash, he has let rip on 20 years' worth of conspiracy theories and animosities. Keys has had a ringside seat over the years, watching various figures in English football hang themselves with their words, none more famous than Kevin Keegan's rant in 1996 about Sir Alex Ferguson broadcast live on Sky Sports. But it did not stop him repeating the same mistakes."
James Lawton says Gray and Keys have only themselves to blame. "Times, and values, change of course and Gray and Keys have enough problems without inflicting impossible comparisons. However, when Keys yesterday defended his position in a long and somewhat rambling radio interview, he talked of the envy of colleagues and dark forces at his place of work. But then as dark forces go, prejudice and inequality are not to be discounted. Well, it was nice to think so before they came dressed up as the merest banter."
Jim White calls for Helen Chamberlain to be given the chance to replace Keys. "So here's an idea that would send out the right signals about its intent to change: move the excellent Helen Chamberlain from the Soccer AM couch to the swivel chair formerly occupied by Richard Keys in the Super Sunday studio. She knows her stuff and is enormously experienced in the demands of live television. And she could keep whichever superannuated ex-pro they wheel out to analyse the game easily in check. Then the company might convince us that it is truly addressing a significant proportion of its football-loving audience in a somewhat less patronising manner than its biggest names managed."
Stephen Glover finds himself almost alone, arguing that this whole affair has been blown out of proportion. "A more plausible theory, it seems to me, is that Sky Sports and BSkyB were anxious to appear whiter-than-white in the eyes of Leftists and the politically correct brigade. Mr Murdoch is trying to acquire the 61 per cent of BSkyB he does not own. The last thing he wants at the moment is to be tainted in the eyes of his critics by charges of sexual bigotry and chauvinism. No doubt, senior executives at Sky Sports were genuinely, and rightly, shocked by what Mr Gray and Mr Keys said. Maybe they really were unnerved, as many modern-day companies would be, by the prospect of charges of ­sexism. All the same, they seem to have lost their sense of ­balance. I wonder whether even the politically correct BBC would have acted so precipitately."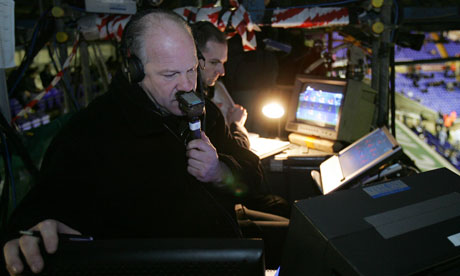 Replacing Andy Gray: The Daily Mail claim an exclusive. Charles Sale: "Gary Neville has been lined up by Sky Sports to be the big-name pundit to fill the void created by the sacking of Andy Gray. Manchester United's former England defender Neville, who is due to retire from a glittering playing career at the end of this season, was already on the television network's radar before the 'Linogate' scandal erupted this week. It is understood that the 35-year-old will not be a like-for-like replacement for Gray. Neville is viewed by Sky as another front-line pundit to work alongside or alternate with Jamie Redknapp, both having the experience of a modern football dressing room."
Matt Scott asks "Who wants to give Andy Gray a job now?" "The effect of Gray's off-air indiscretions may also have crept over into the virtual world. Gray has been the voice of EA Sports' Fifa franchise of football games for a number of years without interruption. A spokesman for the software manufacturer said: 'EA Sports has not made any announcements about our in-game commentators for Fifa for 2011. Those announcements will be made later this year.' That is far from a ringing endorsement for an organisation that has previously used Gray's services as a matter of routine."
Mark Jeffries reports "Dumped football pundit Andy Gray has launched legal proceedings against Sky Sports over his sacking – and wants a £3million payout. The 55-year-old, who was sacked on Tuesday following his sexist comments and actions on leaked videos, spent yesterday with his lawyers discussing plans to try to sue Sky for unfair dismissal. Sources close to Gray also revealed yesterday that he found out he was being sacked 'just minutes' before the news was released to the media. The former Everton striker is said to want £3million for the remainder of his contract with Sky, which is worth £1.7million-a-year."
Birmingham reach the Carling Cup final: Kevin McCarra details a crazy night at St Andrews. "Let no one say that the Carling Cup is a lesser honour. Birmingham City, 3-1 down on aggregate in the semi-final after conceding the opener here, rallied to score twice and take the match to extra time. The splendid Craig Gardner then scored from distance in the 94th minute, at last beating West Ham goalkeeper Robert Green, who had denied him earlier. Arsenal await Birmingham, who have not been to the final of this tournament since losing to Liverpool in Cardiff ten years ago. The prospect of Wembley glamour could have bordered on a distraction for these clubs, considering that the true objective is to remain in the top flight. Nonetheless, the prospect of a trophy can never be ignored. It was the visitors who were the more obviously inspired by the notion of glory. They had an intent that was oddly lacking in a Birmingham side that should have enjoyed the rarity of a full house at their ground."
Mike Walters somewhat predictably blames Avram Grant for the West Ham defeat. "West Ham should have been waltzing down Wembley Way next month in a haze of bubbles, jellied eels and cor blimey, such was their superiority for an hour. The Hammers looked home and hosed when Carlton Cole, once from Birmingham's neighbouring claret-and-blue parish of St Lucifer, scored the marvellous goal which gave them a two-goal cushion on aggregate. But when the Blues threw on Nikola Zigic, 6ft 9in of scaffolding, and launched high balls into the box more in hope than desperation, Grant's defence simply couldn't cope. Matthew Upson, once a bluenose on the Midlands shop floor, went from the heartbeat of West Ham's unswerving resistance to the invisible man. Robert Green, the lion of Rustenberg, left his worst nightmares on the African Veld and caught everything that moved until he ushered Craig Gardner's extra-time winner inside his right-hand post. What a shame David Sullivan and David Gold, those two lions of the adult entertainment industry, did not see fit to take up their former club's invitation to tea and Ferrero Rochers in the boardroom."
Lucky Liverpool: John Edwards: "There would have been little cause for celebration in Kenny Dalglish's playing days, or first spell as manager, for that matter, but a scrambled own goal was enough to light up Anfield with its favourite son's trademark beaming smile. Nothing less than the title would do in Dalglish's time as player and rookie boss, but times have changed. Back in the hot seat, and surely detecting a perceptible rise in the temperature, one of the most revered names in the club's history is charged with reviving fortunes that have faltered alarmingly over the past 18 months."
Rory Smith pinpoints the importance of Kenny Dalglish. "With Liverpool's lead a slender, lucky one, their play lacklustre and their goal under siege, a roar washed down the Kop, as it has so many times in this most underwhelming of seasons. This time, though, it was a guttural expression of support, rather than frustration. Such is the impact of the return of the King. Should there be any doubt as to how much has changed in the 18 days since Kenny Dalglish confirmed Roy Hodgson's place as a footnote in Anfield history, it could be measured in how this ground responded to seeing its heroes defending desperately against foes ordinarily little more than cannon fodder. When Hodgson's sides struggled to keep lesser sides at bay, Anfield howled in derision, a sense that justice should be meted out to those betraying Liverpool's traditions, eroding even the oldest of loyalties. Last night, as Dalglish's team did it, their every breath dedicated to keeping Fulham out and holding on to a lead gifted to them by John Pantsil's misfortune, all 40,466 in attendance manned the battlements. After two years of division, this is a club united behind its ultimate standard bearer."
Charlie Adam's transfer: The lead story in The Sun reveals "Ian Holloway will receive a slice of any transfer fee for Charlie Adam. The Blackpool boss has admitted he stands to pick up a share of any profit made on the midfielder, although he will not reveal how much. But Holloway says he is not doing anything wrong and insists the bonus is not the reason he is demanding £12million for his star player. Ollie said: 'I do get rewarded with anybody I coach and make a profit on. My chairman looked at my record of producing players and helping players and selling them on and he wanted that at Blackpool. That's not what I'm doing it for. I'm on a far bigger bonus to keep us in the Premier League and Charlie Adam can help me do that."
Transfer gossip: Rob Beasley reports in The Sun "Chelsea's move for Benfica defender David Luiz was on the brink of collapse last night. The Blues made an improved £23million offer and included Serbian midfielder Nemanja Matic, 22, in the deal. But once again the Portuguese club rebuffed Chelsea's interest in their Brazilian defender. Benfica are asking for £30m but Chelsea will not go that far so fear the deal is dead." Mark Fleming in The Independent chimes in with the news that David Luiz has been granted a work permit.
The Daily Mail serve up a smattering of transfer gossip. Werder Bremen have offered two million pounds for Niko Kranjcar, Arsenal sent scouts to run the rule over Rangers duo Madjid Bougherra and Allan McGregor last night and Ajax manager Frank de Boer has told Liverpool they have until January 29 to force through a deal to sign Luis Suarez, but warned the value of the striker is increasing by up to £5million a day.
The Daily Mirror add that West Ham will sign Robbie Keane on loan, Paul Scholes may be playing his last season, Liverpool have called off their bids for Suarez and Adam, Fulham are trying to re-sign Paul Konchesky and Monaco want to sign Christian Poulsen.
Jonathan Wilson: The tactical guru looks at some tactical trends in European football. "The Professional Football Players Observatory was established in 2005 to monitor demographic trends in European football. It has just released its demographic study for 2011. This time the study has been extended to cover the top-flight of 36 national associations – all members of Uefa – covering over 13,000 players. It is, by some distance, the most detailed study of its kind. Some of the data is interesting largely for curiosity value. The study shows for instance that the average European club squad comprises 24.5 players of whom 5.2 are aged 21 or under, 8.1 are over 1.85cm tall, and 8.2 are expatriates (1.1 of whom are Brazilian). Internazionale have the oldest first-team squad in Europe (29.61 years) and Olimps Riga of Latvia the youngest (19.02 years). SV Mattersburg of Austria and the Ukrainian side Volyn Lutsk have the tallest squads (186.68cm) and Barcelona the shortest (177.38cm). English clubs have the largest squads (27.4 players) and Czech clubs the smallest (22.1). English clubs have the highest percentage of internationals in their squads (61.1%) with Germany second on 49.6%, the Irish league has the fewest internationals, only 2%, and is the only one of the 36 leagues surveyed not to feature any Brazilians."
Smut: Where you still wondering who is the mother of Cristiano Ronaldo's son? No, us neither. The Sun are still concerned though. "The mystery mother of Cristiano Ronaldo's baby is DEAD, the striker's sister has bizarrely claimed. Katia Aveiro, 33, spoke out as she denied stories about the woman's identity – but did not explain when or how she had died. She said in an interview: 'There is no woman calling him. There is no mother, no telephone calls, nothing. His mother died. The baby doesn't have a mother.'"
That Stevenage punch: The Press Association report "The football fan who punched the Stevenage player Scott Laird in the immediate aftermath of the club's FA Cup victory over Newcastle did so because Laird had had a relationship with his girlfriend and had 'not treated her correctly', a court heard today. Robert Fitzgerald, 24, admitted invading the pitch after Stevenage's 3-1 win against Newcastle in the FA Cup third round on 8 January. He also admitted punching Laird as crowds of fans celebrated the win on the pitch. The altercation was captured by television cameras and a clip was shown at Stevenage magistrates' court this morning. Phillip Mansefield, prosecuting, said Fitzgerald had been seen hurling abuse as well as throwing a drink and a hamburger at Laird during the game."
---