Juventus want Benitez as Liverpool line up Hiddink, Rooney stays at United but Anderson could be off & doubts over whether Robinho will accept a pay-cut to join Santos
Comment & analysis round-up
Quote of the day: "Benitez to Juventus? In football you never know. I don't know what will happen in four to five months. In football everything changes quickly. The basic principal is that Rafa still has a four-year contract with Liverpool. At this precise moment the idea is not correct, because he is a very important figure to the Liverpool fans – the idols of the fans are Gerrard, Torres, and Benitez. But you never know what will happen." – Benitez's agent, Manuel Garcia Quilon.
Runner-up: "It's all on the right track. Santos are looking at the duration of my loan. Santos want a year, but City want just six months. It's 90 per cent certain. In two or three days it should be sealed." – Robinho.
Today's overview: Onlookers who believe Rafa Benitez's time should be up at Anfield get their wish this Tuesday as speculation is rife that the Spanish waiter could be on his way to Italy.
The Sun report that "Juventus want to lure Rafa Benitez away from Liverpool. He is the Italian giants' No 1 choice to succeed Ciro Ferrara, who will be sacked this week following the 2-1 home defeat to Roma last weekend." David Maddock then wades into debate, pouring cold water on the story saying "this is not the first time the Spaniard has been linked to a big foreign team when he has come under pressure at Anfield, with his agent playing up the connection. The belief is that Benitez will try to tough it out at Liverpool and attempt to strengthen the undoubted support he enjoys amongst the fans."
Tony Barrett reveals the package being prepared to bring Benitez to Italy's Old Lady. "John Elkann, the club's vice-president and heir to the Fiat empire, believes an offer of €3 million net per year could tempt the 49-year-old, who is subject to a 50 per cent tax rate in the UK. The Juventus hierarchy hopes it will be able to take advantage of Benitez's disenchantment with the spending restrictions placed on him by Liverpool as they seek to balance the books and attract much-needed investment."
Should Benitez turn to Turin, who would step into the breach at Anfield?
According to Andy Hunter, "several Italian newspapers are reporting that, should Benitez accept the ­Juventus offer, Hiddink would replace the Spaniard at Anfield. They include La Stampa, which is owned by the Exor investment company and whose chairman, John Elkann, is also vice-chairman of Juventus and the grandson of the club's late former owner, Gianni Agnelli. Last week Liverpool officials rejected claims by Hiddink's agent that they had made an approach for the Dutchman."
Over the past few days the gutter press have been talking up the possibility of Wayne Rooney walking out on Old Trafford for pastures new.
Against that background, The Sun's Neil Custis claims "Rooney last night pledged his future to Manchester United… [Rooney:] 'I am a United player and I am very happy at Old Trafford.' That signals there will be no repeat of Cristiano Ronaldo's £80million exit to Madrid."
While Rooney maybe staying, £18million flop Anderson could be on his way out the club according to Neil Custis. "Anderson's long-term future at Manchester United is in doubt. The Brazilian midfielder, 21, did not appear at training yesterday. He is reeling after feeling the full force of boss Alex Ferguson's hairdryer and being dumped from the squad against Hull."
Ian Wright wastes his time explaining why it would be bad for United to sell Rooney, before ending off with the following prophecy. "United, of course, have superhuman Rooney, but I think he might be powerless to stop City from getting to Wembley. We are witnessing the start of a revolution at Eastlands and a shift in power in Manchester and English, possibly even European, football. City are getting ready to turn the corner and I have no doubt they will be Premier League champions within a few years. That makes it even more important for United to keep hold of Rooney."
Have you heard the one about the Israeli and the the son of Libyan dictator?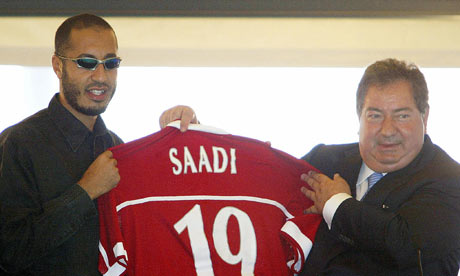 No, it's not a joke, but rather Alex Cook's announcement that "crisis-club Portsmouth are lining up an unlikely saviour to stop them going bust – the son of Libyan dictator Colonel Gaddafi… Pompey boss Avram Grant is set to move quickly for new players as the club expect to have their transfer ban lifted by the Premier League today. Egyptian World Cup striker Emad Moteab is likely to top Grant's list of targets and a loan deal is likely to be set up with his club Al Ahly in the next few days. Grant may also bid to bring back Tottenham's Jamie O'Hara on loan, but Algerian star Nadir Belhadj could go to Benfica in a £3m deal."
Once again, the daily spin of transfer gossip/rumours/lies is frantic as the transfer window enters its last week.
On the apparent done-deals, The Sun scribble "Giovanni Dos Santos is ending his Tottenham nightmare by joining Galatasaray. The Turks are taking the Mexican striker, 20, on loan with a view to a permanent £8m switch in the summer." Staying with Spurs, and slightly less assured, James Nursey scrawls "Birmingham are set to step up their interest in Tottenham outcast Roman Pavlyuchenko."
Doubts a creeping into the proposed Robinho-Santos deal, as Neil Custis announces "Robinho must accept a 50 per cent wage cut if he wants to return to his first club Santos."
Hurling more spanners in the works, David McDonnell crashes in with news that "City have told disillusioned striker Robinho he will only be allowed to leave on THEIR terms – not his… City, despite being willing to offload the £32.5million flop, are not prepared to contribute to Robinho's £160,000-a-week wages as part of any loan deal… Robinho is likely to have to accept a wage cut of more than £100,000-a-week if he wants to go there."
Chris Wheeler softens the blow slightly, adding "Robinho will have to take a pay cut of around £80,000-a-week to end his misery at Manchester City, who are refusing to fund his escape route to Brazil… Mancini is ready to bring in a major new signing from Italy if City let Robinho to go. AC Milan striker Filippo Inzaghi, Amauri of Juventus and Sampdoria's Antonio Cassano are all being considered." Throwing more names into the mix, Sam Wallace bleats "with Robinho expected to leave, Roberto Mancini would like to sign the midfielder Thiago Motta on loan."
Veering away from the transfer speculation briefly, Rory Smith makes time to hurl abuse at Robinho's time in England. "The player who cost more than Cristiano Ronaldo and Fernando Torres combined, the most expensive footballer in British history, will slink away from the Premier League through the back door… By any normal reckoning, Robinho must rank as the standard-bearer for the worst excesses of the Premier League, for the perils of reckless spending. He has been deemed surplus to requirements by two managers, one representing British grit, the other continental flair… City will write off at least £40 million, all told, from the Robinho experiment. Even Manchester United recouped £10 million on Juan Sebastian Veron."
Also on the rocks, The Sun print that "Roberto Mancini has had a £12million bid for Real Madrid midfielder Fernando Gago turned down." That rumour is quashed by Graham Chase in The Times, spluttering "City officials are adamant that they have not made an offer for Fernando Gago, the Real Madrid midfield player, and have played down talk that Benjani Mwaruwari, the striker, could be allowed to leave this month."
David Maddock reviews the current transfer moves at Liverpool. "Benitez will continue his search for a striker and defender to bring in on loan before the transfer window closes, and he revealed that talks are ongoing with Sunderland over Kenwyne Jones. But it is more likely he will save his cash for the summer, with the prospect of striker Marouane Chamakh of Bordeaux, and Standard Liege's Milan Jovanovic both signing big-money pre-contract agreements this week to join Liverpool on free transfers at the end of the season."
In a never-gonna-happen tale, Sami Mokbel farts "Arsenal will revive their interest in Holland striker Klass Jan-Huntelaar this week – but only if the price is right." And similarly difficult to swallow, Sam Wallace reveals that Arsenal are now fighting it out with Manchester United for the £7m capture of Fulham defender Chris Smalling.
The Times' Window Watch again sweeps up a host of transfer tales including that Benni McCarthy is edging closer to Upton Park, Everton are interested in signing Klaas-Jan Huntelaar and Lokomotiv Moscow want Spurs' Pavlyuchenko"
In other shorts, Everton are set to turn up the heat on Leeds with £2m bid for Jermaine Beckford, Fulham are trying to resurrect a loan deal for Roma striker Stefano Okaka, Yildiray Basturk is heading to Blackburn for talks, and Sunderland are reported to have made a "£10m move for Portsmouth defender Younes Kaboul."
Lastly, all the papers carry the story of Sunderland target, and Paraguayan striker Salvador Cabanas, has been shot in the head in a Mexico City bar. Jeremy Butler reports "he is now in a critical condition in intensive care following surgery to remove a bullet from his skull."
---
GAMBLING CAN BE ADDICTIVE, PLEASE PLAY RESPONSIBLY