Juve continue to flirt with Benitez, Arsenal try to gazump United for a defender, Pompey can sign & West Ham pick up strikers
Comment & analysis round-up
Quote of the day: "I prefer to talk about the game. Is the speculation a distraction? I was really focused on trying to do the right things and to try and win this game. Is being linked with Juventus flattering? I prefer to concentrate on the game." – Rafa Benitez.
Runner-up: "You [Sky TV] try to promote yourself – just leave the football to us, OK?. You come out with some nonsense [i.e. producing evidence that lead to Ferdinand's ban]. I don't pay any attention to a lot of that. The players' behaviour has always been perfect. They play within the rules of the game. We've never had any issues with big games." – Sir Alex Ferguson.
Today's overview: Have Juventus and Rafa Benite z fallen for each other?
Speculation is rife this Wednesday that the Liverpool boss is set to jump ship to Turin, with Stuart James outlining how both parties are assessing the merits of the union. "Rafael Benitez last night declined the chance to commit his future to Liverpool after it emerged Juventus are drawing up an official contract document for the Spaniard in an attempt to demonstrate the seriousness of their interest."
Rocking back in his chair, Patrick Barclay admits the holes in his argument as he paint's Benitez's time at Anfield through the prism of Xabi Alonso. "It would be an exaggeration to say that the purchase of Alonso from Real Sociedad made Benitez's Liverpool, or that his sale to Real Madrid last summer will prove a regime-breaker. But how they miss Alonso's composure; neither Javier Mascherano nor Lucas Leiva can see the passes he used to make."
While some appear
to be falling in love in Liverpool, Sir Alex Ferguson has moved to end a serious relationship with the media after Rio Ferdinand has been slapped with a three match ban for his assault on Hull's Craig Fagan last weekend – which will begin tonight in the Manchester derby unless Rio appeals.
According to Daniel Taylor, "Ferguson has banned Sky's cameras from his press conferences at the club's training ground after he learned that the television company – at the Football Association's request – ­produced the pictures that have led to Ferdinand being charged."
Revealing the confusion in the fourth estate as to why Sky have been banned by United, James Ducker scribbled "Ferguson has banned Sky Television from United's Carrington training ground, seemingly after taking exception to the repeated screening of footage of Neville's one-fingered gesture. Although Sky will be allowed to conduct interviews before and after the match tonight, the broadcaster will not be allowed to attend Ferguson's press conference on Friday to preview the match against Arsenal."
Looking towards tonight's United-City derby in the Carling Cup, Martin Samuel, after showing his gangland experience by spluttering "we hear so much about respect these days that football is in danger of turning into south central Los Angeles. Blue versus red; Crips against Bloods" goes on to place a positive spin on his conclusion that "modern Manchester City do not have class and they do not have respect; that is what is so appealing about them… City's job is to get on everybody's wick, precisely because they do not have respect and refuse to apologise for their parvenu presence. Good for them. In the circumstances, however, to expect consideration in return is absurd."
Turning to Tuesday night's action in the Premier League, and Tom Dart is only to happy to announce the end of one of the best stats relating to Tottenham fullback Gareth Bale. "Gareth Bale started in the Barclays Premier League and enjoyed the winning feeling for the first time, at the 23rd attempt — and David Bentley scored. Remember him? Used to play for England and was touted as the new David Beckham before Fabio Capello decided that the old David Beckham still had his uses. That Bentley even played was noteworthy. Out in the cold? His situation was more like going for a Siberian stroll in T-shirt and shorts."
With just days left before the transfer window slams shut, the papers are beside themselves with transfer gossip.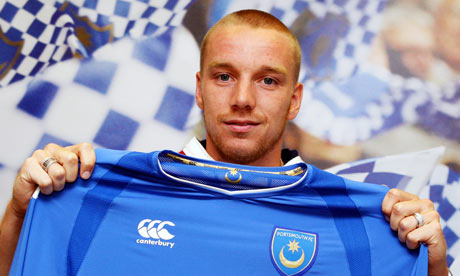 Portsmouth are finally smiling after their transfer embargo was temporarily lifted for loan deals and free transfers only, and Jamie Jackson is quick to spew out names on the south coasters' radar. "Grant's top priority is to revive the loan of Jamie O'Hara from Tottenham… Grant's other targets are the Al-Ahly and Egypt striker Emad Meteab… There is also said to be an interest in Manucho, the former Manchester United and Angola striker, who now plays in La Liga for Vallodolid."
Unsurprisingly, more names are linked to Fratton Park, as The Independent links Colombia goalkeeper Robinson Zapata and Romanian midfielder Razvan Cocis as other likely signings for Pompey, while the Daily Mail claim "former Arsenal and Birmingham forward Quincy Owusu-Abeyie is an option."
The Times' Window Watch typically spreads their net wide, detailing that Birmingham are after Roman Pavlyuchenko and Kenwyne Jones, that Sunderland are interested in Habib Beye, Younes Kaboul and Maynor Figueroa, that Fulham are monitoring Mohamed Nagy Gedo, and finally that Benni McCarthy signed a 2½-year deal with West Ham late last night. Staying with the Eastenders, Jamie Jackson claims West Ham will beat Spurs to the loan signature of Eidur Gudjohnsen, while the scribe also noted that the Hammers "are also keen on Tottenham's David Bentley."
Swimming against the tide and actually injecting some thought into the transfer guff, Gabriele Marcotti belittles West Ham's pursuit of McCarthy and Gudjohnsen. "Guillermo Franco… is by no means a superstar but nevertheless has scored three times as many goals as McCarthy… But, of course, he was signed by the previous regime so he must be rubbish. Best to go for McCarthy, the guy who can't win a spot in the starting XI at Blackburn. Gudjohnsen's problem is that, simply put, he's not a striker… You just need to consider the fact that he has scored a grand total of ten league goals in 81 appearances over three-and-a-half seasons since leaving the Premier League. Or that, this season, he has scored a total of ZERO goals in 11 league appearances for Monaco. He's 31 and he's had his share of injuries which may explain why he has lasted 90 minutes just once this season."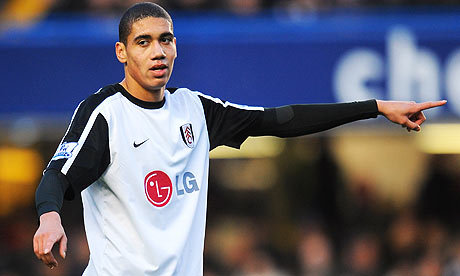 There is movement behind the scenes at Old Trafford, as Daniel Taylor reports that "United yesterday announced a £10m deal to sign the 20-year-old Fulham centre-half Chris Smalling at the end of the season… [while] Zoran Tosic is close to agreeing a loan deal with FC Cologne." Elsewhere, while The Times claim Smalling actually cost £12m, Mark Ogden coughs "United have paved the way for Real Madrid to complete a £20 million summer move for Nemanja Vidic by agreeing a £7 million deal, which could rise to £10 million, to sign Fulham defender Chris Smalling… And with Sir Alex Ferguson also leading the race to sign Palermo defender Simon Kjaer, Vidic could become expendable."
The Sun though refuse to accept that the Smalling deal is done, barking "Arsene Wenger last night launched an 11th-hour bid to gazump Manchester United… Wily Wenger trumped the Old Trafford side before when he got Aaron Ramsey after United thought the deal was done."
Onto Manchester City, where James Ducker quotes Roberto Mancini as keeping the long-term door open for Robinho at Eastlands. "Roberto Mancini has told Robinho he could still have a future at Manchester City even if the Brazil forward leaves the club on loan."
In arguably the best bit of business this winter, Ben Bradley crashes in with news that "Bolton Wanderers have completed the signing of Stuart Holden, the United States midfielder, on a free transfer from Houston Dynamo." And there is more good news for the Trotters as Matt Barlow chugs in with news that "Jack Wilshere looks set to spend the rest of the season on loan at Bolton despite last week's dispute between Owen Coyle and Arsene Wenger."
All the papers today cover how Crystal Palace have been forced into administration, and with money tight in south London Neil Gardner snorts that "Palace face a ten-point deduction and may be forced to sell star players such as Victor Moses and Darren Ambrose." Over in the Independent, Palace boss Neil Warnock writes a column to express his disbelief at the Eagles' plight. "I knew, like everyone else, that cash has been tight at Selhurst Park but I could not believe the news that we'd been forced into administration. The timing just astonishes me. There's still a week to go in the transfer window and we are about to sell Victor Moses for millions. I'm devastated, shocked and hugely disappointed."
Ian McGarry, though, believes Palace will come back from their current financial woes. "Thankfully, it's likely Palace will survive in some shape or form. There are two potential investors already interested in speaking to the administrator. And it's no coincidence the club's largest creditor – Agilo finance – filed for the procedure before the close of the transfer window. The sale of Victor Moses – the enigmatic but talented striker – should be enough to clear the debts. Everton, Celtic and Bolton all look ready to pay the £3m Palace could ask."
Palace are not the only club on the brink, as Henry Winter details the desperate plight of Chester City. "The integrity of the Conference is being threatened by events at Chester. Running out of players, Chester fielded four kids against Mansfield Town on Saturday and were predictably thrashed 4-0, the lack of organisation particularly pertinent at corners. What does it do for the credibility of the Blue Square Conference if one of its clubs goes out of business, which is likely if a buyer does not step forward? Chester's plight affects the Conference and football generally. Chester City may not be one of the game's bigger names but the Football Association should still be examining why they have lurched to the brink of oblivion."
---