"John Terry succumbed to the 'we can win it' hype… Don't they learn? Most footballers think hubris is a type of eco-car" – Henry Winter
Comment & analysis round-up
Quote of the day: "If we play the way we have been, we can't rule out England winning the World Cup. But we must continue to improve. We probably learned more in losing to Spain [last February] than we would have done going there and beating them, and there's no mental issue any more against the best sides. We've played some good sides under Fabio and beaten them. The Dutch are very good technically and pose a big threat going forward. Defensively, too, they're solid so it'll be a good test. But, where in the past players would have been lying if they said there wasn't any fear coming into big games with England, now that's been wiped away. We've overcome that mental barrier. We had to, and we've done that. We don't come here over-confident, but we just want to get the most out of what is a big game. This is an important time." – John Terry.
Runner-up: "Almunia, for me, is Spanish. He's Spanish and plays for the Arsenal team." – Fabio Capello.
Today's overview: England take on Holland on Wednesday night and, while some members of the fourth estate appear conscience of not over-hyping the Three Lions, sadly the gutter-press fall into the usual traps of promoting England as world-beaters.
Dominic Fifield tries to walk the delicate tightrope of confidently, but not too confidently, backing England. "The visit to Amsterdam could prove just as awkward as those evenings in Paris and Seville though, already, the Capello effect appears to be bolstering confidence within the ranks." Following in kind is Kevin McCarra writing "Capello appears to have implanted both an understanding of the team's defects while also encouraging a faith that they can be overcome by next summer."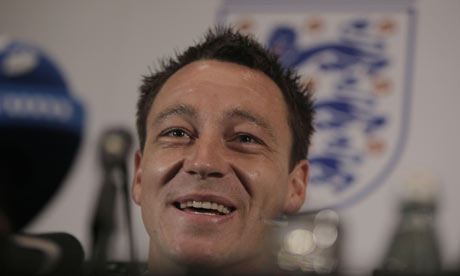 Looking to temper expectations, Henry Winter picked up on JT's England rally call. "England's captain, John Terry, succumbed to the "we can win it" hype, forgetting the promise England players had made to themselves after the humiliation of the last World Cup. Don't they learn? Most footballers think hubris is a type of eco-car."
Unfortunately, and predictably, The Sun's Shaun Custis lets the side down farting the usual claptrap which will leave England fans irritated. "Under Fabio Capello, Terry and his Three Lions team-mates firmly believe they can lift football's biggest prize in South Africa next July… All they have to do now is finish the job!"
As if tripping on magic mushrooms, The Sun's Steven Howard appears to have invented a parallel universe of plots and sub-plots to undermine Chelsea's title challenge. "The nagging doubt is that Carlo Ancelotti will be too intent on showing just how fine and versatile a coach he is. That he will try to outdo his arch-enemy Jose Mourinho. Inside his first 90 minutes at Wembley on Sunday, he gave us three different formations. It was as if he was saying: Look at that, Jose."
Moving onto Premier League matters, David Hytner explains the hold-up in the Pompey takeover. "What has emerged is that Fahim does not want to repay Gaydamak's loans to the banks within the agreed timeframes; in other words, over the coming weeks. This is what is holding up the takeover. Given that Gaydamak also wants £23m from the sale, to cover monies that he has put into the club, Fahim faces the accusation that he does not have the required capital."
As one takeover stalls, another is brewing in the background. Tony Barrett announces "Carson Yeung, the Hong Kong businessman, is reported to be ready to buy Birmingham City for £70 million."
Walking into the lions' den, Patrick Barclay questions Arsene Wenger's eye for a centre-back. "Vermuelen was a gamble at £10 million… If he were especially good, we would have heard more about him. More pointedly, for all his success in signing players, Arsene Wenger has a bad record in his recruitment of centre backs – think Pascal Cygan, Igor Stepanov – so here we should not necessarily simply trust in his judgment."
The Joleon Lescott saga appears to be dead-and-buried, but some refuse to admit that Manchester City's pursuit is over.
For Andy Hunter, "David Moyes is convinced that he has thwarted Manchester City's attempts to lure Joleon Lescott to Eastlands having rejected a written transfer request from the Everton and England defender." Ian Herbert goes one step further claiming "Moyes' determination to keep his side together is likely to make him more willing to have Lescott languishing in the reserves than to grant him the departure he so craves."
But the Citizens have not been discouraged according to Tony Barrett, with Hughes determined "to pair Lescott with Kolo Toure, his recent signing from Arsenal, [and] the likelihood is that a third offer will be made in the coming days… the club's board is willing to sanction an offer for Lescott in the region of £22 million."
The Times' transfer supermo Gary Jacob today spreads a series of transfer rumours including that Spurs are tracking Manchester City's Martin Petrov and that Michael Mancienne is set to return to Wolves on loan from Chelsea.
Staying with the Blues, Giles Moles reports that Bayern Munich are closing in on £15m Jose Bosingwa while, on the incomings, bids of £40m for Franck Ribery and £22m for Daniele De Rossi have been refused, leaving Ancelotti to line up "a £2.5m bid for 24-year-old Norwegian midfielder Erik Huseklepp."
Tim Krul's 45 minute debut last weekend for Newcastle was highly praised, and it now seems that his days on Tyneside may be short-lived. The Independent report "Krul is being monitored by a host of Premier League clubs, including Arsenal, Portsmouth, Wigan, Hull and local rivals Sunderland."
As is standard, the Daily Mail swoop in with their usual collection of faceless and baseless transfer lies.
First we learn that West Ham are planning to hijack Arsenal's targetting of Bordeuax forward Marouane Chamakh, then the tabloid prints that tha Hammers are also plotting to bring in Napoli defender Leandro Rinaudo. The Gunners are said to be on the lookout for defensive cover with a move for Borussia Dortmund centre-back Neven Subotic on their radar, and lastly Aston Villa and Chelsea are reported as battling it out for Wesley Sneijder.
The Sun also carry a couple of transfer tales of their own including news that Spurs "are set to up their offer for French starlet Moussa Sissoko to £15.5million," and that "Blackburn are leading a three-club chase for Rennes winger Olivier Thomert [with] Wigan and Birmingham also in the mix."
We end today with a couple of light-hearted articles from two of the Guardian's scribes.
In an offbeat article, Barry Glendenning explains the world of fantasy football. "Fantasy football is at once life-affirming and grimly depressing, but never boring… unless you don't play it and are marooned in the company of those who do… The fact that it leaves otherwise well-balanced individuals with no more than a bad case of BO and the purchase of an imaginary orc-repelling magic amulet away from social pariah status is conveniently ignored."
Barney Ronay explains the relationship between journalists and football managers. "Trying to engage with a Premier League manager is now a labyrinthine business. First there are people. Then, behind the people, are other people. And somewhere at the centre of this dizzying whirlpool of people lies the manager on his velveteen chaise longue. Also, the people are suspicious, neurotically difficult, tearfully hostile. The suspicion is that you don't simply want to talk to the manager. What you want to do is judo-throw the manager, burgle him, rub baked beans on his new chinos and generally diminish him in some fundamental way."
---