Jamie Carragher leaving Liverpool for… Sky Sports, no new Chelsea offer to Lampard & Arsenal linked with Vieira & Jovetic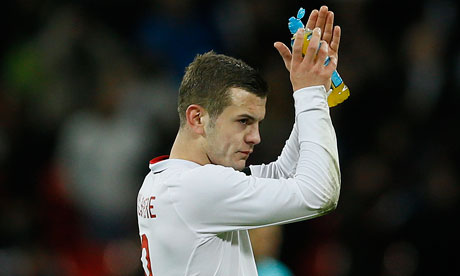 Comment & analysis round-up
Quote of the day: "I don't think one player can ever win a World Cup for a nation. Listen, I've got great players around me. We've got Steven Gerrard, who is still one of the best midfielders in the world, and Lamps who came on as a sub — and we've got good young players as well. When you are playing well and in the national team, there are always going to be high expectations. But you have to deal with that." – Jack Wilshere.
Runner-up: "It depends on what you achieve. I think keeping your best players – or attracting the best players – is intimately related to how you foresee your future, and the objectives that you might get in the season. Hopefully we can do just that with the Champions League. Players performing at this level always get the attention. It doesn't mean that the club doesn't foresee a future with Gareth. He's a player we rate very, very highly." – Andre Villas-Boas.
Jamie Carragher leaving Liverpool for… Sky Sports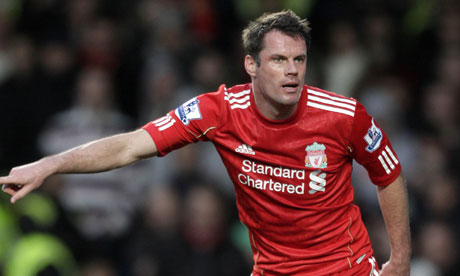 Sky Sports poised to snap up Carragher… but Roy reckons coaching calls (Charles Sale, Daily Mail) Sky Sports look set to win the TV battle for the  services of Jamie Carragher, who has announced he will retire at the end of the season after a career spanning 16 years. All the major networks are keen to employ the Liverpool defender as a pundit but Sky are expected to pull out the stops to land him, with station boss Barney Francis desperate to see off any bid from new rivals BT Sport. Carragher, 35, would strengthen Sky's team of pundits, which includes Jamie Redknapp and Gary Neville. But England manager Roy Hodgson says Carragher, who has a UEFA 'B' licence, is cut out to be a football coach.
Farewell to an Anfield legend: Why Liverpool fans will always dream of a team of Jamie Carraghers (David Maddock, Daily Mirror) Liverpool fans used to dream of a team of Jamie Carraghers. Now they will have to get used to a club without his presence at all. The Anfield legend – and he is a legend in the true sense of the words – is the modern embodiment of Liverpool Football Club, and it is hard to conceive how on earth they will go about replacing him. Some weeks ago, he spoke passionately about his friend and team-mate Steven Gerrard being the greatest ever player to have represented the club, and I argued in this column, he was certainly ONE of them . And so too is Carragher. I would put him up there alongside Kenny Dalglish, Gerrard, Robbie Fowler, Rodger Hunt, Ian Callaghan  and Billy Liddell in the bracket of the true Anfield greats, and that shows just how irreplaceable he will be.
Liverpool will miss Jamie Carragher, a rare breed who defied doubters (Andy Hunter, Guardian) The farewell is typical of Jamie Carragher in so many ways. His obligation to deliver for Liverpool shapes the announcement that an illustrious playing career will cease this summer, and the timing of it. There is no fanfare and no reflections on 16 years that brought two FA Cups, three League Cups, one Uefa Cup and, of course, one unforgettable Champions League triumph. "Now is not the time for that," he states, before dismissing any moping with: "I won't be making any further comment on this decision until the end of the season; all our focus and concentration should be on achieving the best possible finish in the league this season and trying to win the last remaining trophy we are competing in." Cajoling team-mates and giving everything for the cause until the last; it was ever thus. Liverpool's recent history would have been very different without it.
Jamie Carragher, Liverpool's unsung hero, deserves his place among the club's all-time greats (Chris Bascombe, Daily Telegraph) As the tributes multiply ahead of his Anfield farewell this May, several images will linger in the greatest hits package of Jamie Carragher's tackles, blocks and last-ditch interventions. Inevitably, all roads will lead to Istanbul in 2005, when Carragher's cramp-ridden body gave way following another timely lunge. But this most poignant moment was not the result of denying Andrei Shevchenko or Hernan Crespo in extra time of that exhausting evening. It was when Carragher was on the podium alongside Steven Gerrard, the captain's chief lieutenant about to take his rightful place in the iconic picture that would be wired around the world. As Gerrard took the Champions League trophy and the red ticker tape showered the jubilant Liverpool squad, Carragher moved towards a prime position when his body gave way. While he was creased up in agony, the emblematic photograph placed Gerrard alongside Spanish reserve Josemi.
Still no new Chelsea deal for Lampard
Blues won't budge on Lamps (Mark Irwin, Sun) Frank Lampard has not been approached by Chelsea about a new deal. Lampard's representative denied fresh talks have been held — or that new negotiations have been scheduled. Blues have given them no signal that their stance about him leaving this summer has changed. Lamps' agent Steve Kutner said: "Nothing has changed regarding Frank's situation at Chelsea." That news will come as a bitter blow to Blues fans who are desperate to keep the England superstar at Stamford Bridge after his current contract ends in the summer.
Patrick Vieira set for Arsenal return?
Vieira joins Bergkamp on list to replace Brady in youth role at Arsenal (Simon Cass, Daily Mail) Patrick Vieira is in line for a sensational return to Arsenal after Arsene Wenger sounded him out about the job of replacing Liam Brady as head of youth development. Former Arsenal skipper Vieira, who won three Premier League titles and four FA Cups under Wenger, has joined fellow Gunners legend Dennis Bergkamp on a shortlist of potential candidates for the post of nurturing the next generation of stars. Vieira is Manchester City's football development executive, a post he has held since 2011.
And the Gunners want Stevan Jovetic
Buy Jove! Arsenal make Fiorentina striker Stevan Jovetic their number one summer target (John Cross, Daily Mirror) Arsene Wenger is ready to ditch his plans for a Spanish Villa – and go shopping in Italy this summer instead. Wenger has moved Fiorentina forward Stevan Jovetic to the top of his transfer hit-list after missing out on Barcelona's Spain striker David Villa in January. The Gunners tried on several occasions to land Villa, and the 31-year-old was understood to be very keen to move to the Premier League. But Wenger has now decided to move on from Villa, with Arsenal – who have big money to spend in the close-season – keen to look long-term. Montenegro international Jovetic has been on Arsenal's radar for some time.
Real Madrid prepare summer bid for Bale
Real Madrid prepare summer bid to woo Gareth Bale from Tottenham (David Hytner, Guardian) André Villas-Boas has admitted that Tottenham Hotspur must qualify for the Champions League in order to keep Gareth Bale from the clutches of predatory clubs, with Real Madrid preparing an offer for the player in the summer. The Tottenham manager also hopes that a massive price tag could serve as a deterrent for interested parties. Bale is one of the hottest properties in European football and Real are monitoring his – and Tottenham's – situation closely. The Wales winger, who has scored 13 goals for Tottenham this season, plus four more for his country, is on record as stating his admiration for the Spanish champions.
Lionel Messi's new Barcelona deal
Messi's a £102million man (Sun) Lionel Messi will pocket £17million a year to stay at Barcelona until 2019. The Catalans confirmed yesterday their Argentine superstar and four-time Ballon d'Or winner has signed a new six-year deal worth £102m. His buy-out clause remains unchanged at a stonking £210m.
The new Premier League financial regulations
Wages and rich owners targeted in financial crackdown (Robin Scott-Elliot & Sam Wallace, Independent) Premier League clubs have narrowly voted to restrict the amount of income from the huge new television deal they can spend on players' wages, with a possible points deduction awaiting any that breach the limit. The move, which secured the required majority only after League newcomers Reading abstained, is the first step towards the Premier League's own version of financial fair play and will come into effect from next season. At a meeting in central London, the vote of the 20 clubs went in favour of two moves designed to control spending and restrict the amount of losses a club can make over a three-year period. Of the 20, 13 voted for and West Bromwich, Fulham, Swansea City, Manchester City, Southampton and Aston Villa are understood to have opposed the changes for a variety of reasons. With a two-thirds majority required, Reading's abstention proved decisive. The headline effect should be to prevent wealthy new owners being able to turn a club into title contenders in the space of a couple of seasons, as Roman Abramovich did at Chelsea.
---
GAMBLING CAN BE ADDICTIVE, PLEASE PLAY RESPONSIBLY