"It's not bad luck that Manchester City find themselves short of an experienced goalkeeper after Shay Given's injury. It's bad planning. City's squad is so lopsided it's crazy" – Tony Cascarino
Comment & analysis round-up
Quote of the day: "I have no problems with it. If City have injuries and need a goalkeeper, what can you do? It happened to me once at West Ham United [in 1996]. Les Sealey and Ludo Miklosko were injured but the League would not give me permission to bring in a goalkeeper. I had to play Neil Finn, who was 17, against Manchester City. It was his only game for the club." – Harry Redknapp.
Runner-up: "Even playing just one season for Barcelona would make a pinnacle of my whole career. Barca are the best team in the world and I enjoy their style of play so much. But after watching them against Arsenal the enjoyment has quickly turned into sorrow. They are so much better than anybody else at the moment." – Andrei Arshavin.
Today's overview: There is a fair bit to chew over in Tuesday's backpages as Hull try to avoid becoming the next Portsmouth, moneybags Manchester City try to convince the FA that their squad isn't big enough while, as usual, there is a long list of highly dubious transfer guff to trawl through.
Flattened Tigers, Hidden Debts: It's been a tough few days for Hull fans who, after seeing their club all but 100% relegated last weekend now face up to the prospect of financial ruin crippling their season next term too.
Detailing the latest football club to suffer financial meltdown, Louise Taylor reported that "Hull City face a battle to avoid going into administration or entering a creditors' voluntary agreement as they attempt to trade through their financial crisis. Despite being £35m in debt, the east Yorkshire club is frantically renegotiating a series of loans with assorted creditors and hopes to make a formal announcement about a financial restructuring plan at the end of this week. By side-stepping both administration and a CVA, Hull – who, privately, have no intention of reinstating Phil Brown as their manager – would avoid starting life in the Championship burdened with the 10-point deduction automatically imposed by the Football League in such circumstances."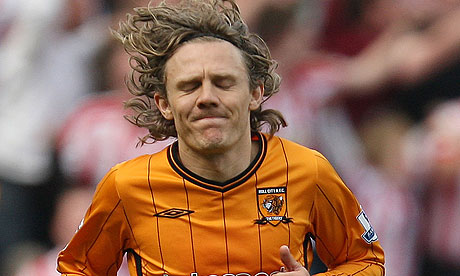 In a supplementary article Louise Taylor breaks down Hull's monetary plight in every day terms. "Hull City serve as a cautionary tale for our times. Football's answer to the status conscious neighbour who kept up appearances by remortgaging the house and taking out multiple loans, they have been well and truly credit-crunched. This time last year Hull were attempting to sign Michael Owen; today they are in broadly the same boat as those who tried to live the dream but ended up seeing their home repossessed, the sports car impounded and the exotic holidays cancelled."
Continuing the bad news for Hull fans, Jeremy Cross announces "Adam Pearson, the Hull City chairman, is understood to be considering his future at the troubled club as they face up to their imminent relegation from the Barclays Premier League. Pearson, who returned to Hull in October to succeed Paul Duffen and attempt to resolve a mess that has proved beyond his worst nightmares, has become disillusioned with the club's inability to move forward and deal with an impending financial meltdown."
Finally on the Tigers, Alan Nixon reports that "crisis club Hull are going to ask their players to take a 40 per cent pay-cut in a desperate bid to save money and avoid administration."
Keeper crisis at City: After Shay Given dislocated his shoulder at Arsenal at the weekend, leaving Manchester City down to the bare bones in the goalie department, the Citizens have since been trying to wangle a deal in which they can be given special dispensation to bring in a new keeper.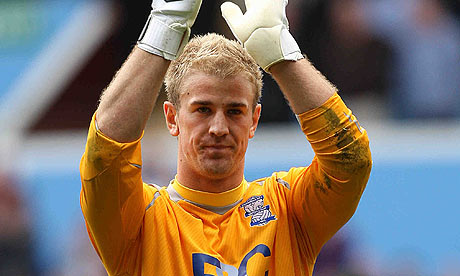 Bringing City fans up to speed with the latest developments, Daniel Taylor announces "Manchester City are trying to persuade Birmingham City to allow Joe Hart to return to Eastlands for the final three games of the season after requesting special permission from the Premier League to help them out of a goalkeeping crisis… Contingency plans have been put in place, with Manchester City's football administrator, Brian Marwood, contacting Sunderland earlier in the day to ask about the availability of the Hungary international Marton Fulop."
But should Manchester City be allowed to bring in a new keeper?
Outlining the issue at hand is Tony Barrett. "Emergency loans are permitted under Premier League rules, even at this stage of the season, as long as the circumstances are deemed to be exceptional. The rule of thumb applied to determine what constitutes "exceptional circumstances" is that the club making the application must have fewer than two available senior goalkeepers, a criterion that City insist they meet… That the club dubbed the richest in world football have had to go cap in hand to the Premier League because of a shortage of players in such a key position will inevitably raise eyebrows, particularly as City are involved in a cut-throat race to finish fourth with Tottenham Hotspur, Aston Villa and Liverpool and to claim the remaining place in next season's Champions League in the process."
An angry Tony Cascarino makes the case for why City should be denied the right to bring in anew keeper. "It's not bad luck that Manchester City find themselves short of an experienced goalkeeper after Shay Given's injury. It's bad planning. Why should the Barclays Premier League bail City out of a mess that is of their own making? After all the millions they have lavished on players' wages, it's daft that City didn't spend a small sum on a veteran who could have served as a solid third choice and done some coaching. In an era when squads are so large and rotation is the norm, City's squad is so lopsided it's crazy."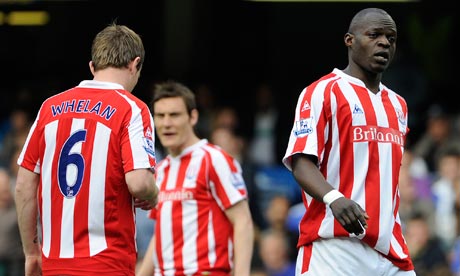 No Stoke without Faye: It's deja vu up at the Britannia this Tuesday as for the second time this season reports have spilled out of a punch-up between teammates.
Circulating the latest installment of 'when teammates attack,' Dominic Fifield gossiped that "Stoke City have been left to deal with the fallout from an ugly dressing-room row after Abdoulaye Faye allegedly punched Glenn Whelan in the face after Sunday's 7-0 thumping at Chelsea… The Irishman [Whelan] reiterated that he had been unimpressed with the Senegalese's attitude before the game and in training, and Faye responded by, in the words of a club source, 'belting him in the face.'"
Wayne watch & the Premier League title race: Contradicting reports from the weekend which claimed that Rooney would miss the rest of the season, Daniel Taylor today gassed that "Wayne Rooney has not given up hope of being involved in Manchester United's potentially season-defining game at Sunderland on Sunday. Rooney, once again, is ahead of schedule in his rehabilitation."
Moving on to look at the Liverpool-Chelsea match this weekend, Matt Dickinson airs the fear of all Mancunians that their Scouse rivals may opt to field a weakened team against the Blues. "Benítez may want his strongest possible team if he is looking over his shoulder at Everton and/or truly believing that fourth place, and qualification to the Champions League, is still achievable. With each Premier League place worth at least £750,000, he might weigh up the income (although it is questionable whether he will be around to spend it). But it is equally plausible that he could wake up on Sunday morning with very little to play for in the domestic campaign — and perhaps with the Europa League final to save his players for."
Staying with the Pensioners, Matt Hughes goes out of his way to argue that Carlo Ancelotti has transformed the Blues into an attractive team. "In less than ten months Ancelotti has given Chelsea the new identity that their owner craved, transforming a group of pragmatic professionals into great entertainers who have thrilled their fans by scoring 60 goals in 18 home matches. More impressively, Ancelotti has achieved this change with the same players as his predecessors — Yuri Zhirkov was his only significant signing last summer — and the Russia full back has barely featured."
The WAGs are back: The headline story in the Independent this Tuesday is that "Fabio Capello has revealed that he is willing to take a softer line with "WAG culture" in the interests of nurturing a team spirit that can help England succeed in the World Cup. The decision came after discussing what it takes to win the tournament with his compatriot and old rival Marcello Lippi, who led Italy to the cup four years ago."
Shaming the Scousers: Richard Williams takes Liverpool apart this Tuesday in his article titled "Liverpool the paradox that shames the Premier League."
Williams: "Here is a giant of English football, the proud winner of 18 league championships, seven FA Cups and five European Cups, flashing its knickers by the kerbside in the hope of persuading someone to meet the imminent repayments on an injudiciously incurred £270m debt. To make it worse, the club's shirt is being worn by a disintegrating team holding out for a sniff of glory only in a competition for Europe's also-rans, and threatened by the loss of the manager and star players this summer. If Rafael Benítez departs, either to Juventus or Real Madrid, then he may be followed out of the door by Fernando Torres and Javier Mascherano, and perhaps even by Steven Gerrard, who would surely exchange the cherished status of a one-club man for a last shot at a league title in the colours of a genuine contender."
On the move: We end off with the transfer gossip, where Tony Barrett announces that cash-strapped Liverpool have been shopping in the teenage department. "Jonjo Shelvey, the 18-year-old midfield player, is set to move to Anfield from Charlton Athletic for a fee in the region of £3 million." Staying in the kids section the Daily Mail spew "Liverpool are looking to sign Swedish teenager Kristoffer Peterson. The 15-year-old, from Savedalens IF, is set to join the Anfield club after impressing in recent trials."
The Daily Mail continue to fart their transfer lies with news that Aston Villa are preparing a set £10m bid for West Ham's Carlton Cole. Next, the DM spew news that Bolton manager Owen Coyle is eyeing moves for Burnley players Chris Eagles and Clarke Carlisle this summer, before we also learn that Manchester City, Aston Villa and Sunderland are tracing former Gunner Alexander Hleb.
And the Daily Mail aren't done there, also claiming that "Wolves are chasing £3m rated Bristol City top-scorer Nicky Maynard," that Newcastle are "considering making a £1million move for out-of-favour Blackburn striker Jason Roberts," while in managerial news it is reported that Belgium want Portsmouth's Avram Grant as their international manager.
On the Grant story, James Nursey throws a spanner in the works in the Mirror claiming "Avram Grant is a shock managerial contender for West Ham as Gianfranco Zola prepares to quit, despite keeping the club up."
Over in The Sun, Andrew Dillon coughs "West Ham have put every player except Scott Parker up for sale." Contrasting that picture that the Irons are cash-strapped, Alan Nixon barks "West Ham have made a stunning £4million bid for West Brom star Graham Dorrans – at the start of a major shake-up."
Opting to focus their attention in-house, John Ley publicises how Spurs are set to renew Gareth Bale's contract. "Bale is currently on around £25,000 a week and a new contract could see one of the Premier League's most improved players double his wages and bring him closer to Spurs' top earners, Ledley King, Jonathan Woodgate and Jermain Defoe." Janine Self then pops up with news that "Robbie Keane is back on the Wolves wanted list now that they have clinched Premier League survival."
Keeping in the Black Country the Daily Mirror shout "Wolves boss Mick McCarthy is lining up a double summer swoop for Reading's Gylfi Sigurdsson and AZ Alkmaar winger Jeremain Lens."
Click here for more Premier League betting tips
---