It's Manchester City vs United for the title, has Arsenal's experiment failed, Zenit eye Nani & Tottenham chase forwards
Comment & analysis round-up
Quote of the day: "Why United? They breathe football. The choice was made very soon in my mind. You look at all the players, the stadium, the manager — it's all here. I think everyone knows me by now, I love football. It's always difficult to find a perfect match but I think this is a perfect match for me." – Robin van Persie.
Runner-up: "We live in the economic reality which other clubs do not. There are some things we cannot afford to do. How much do you want to pay? 250k? 300k? You say we do not live in a realistic world and then reproach us when we say we will not pay 250k a week. We are here to make the players as rich as possible — but as well we must respect our balance sheet. So your question is answered." – Arsene Wenger.
Who'll win the Premier League: City or United?
Manchester United or Manchester City? Either way it's a tale of one city (Daniel Taylor, Guardian) Sir Alex Ferguson and Roberto Mancini may not agree on much but they both believe the title race will be a two-horse race.
Forget Robin van Persie… City will keep hold of their title (Terry Venables, Sun) The red half of Manchester may think the title's in the bag with Robin van Persie's arrival. But I'm backing the Blue half to retain the Premier League crown — thanks to their best 'new' signing of the summer. I do not mean Jack Rodwell, who arrived at Manchester City this week from Everton. No, I am referring to another prized asset… Carlos Tevez.
Why anything less than a successful defence of their Premier League title will constitute a failure (Simon Mullock, Mirror) City are better than they were this time last year despite having virtually the same squad of players. Of course, they will need to be. Winning the league is tough enough. Defending the title is even harder.
Manchester City…still fixated by United? (Ian Herbert, Independent)
Other Premier League Predictions/Previews
Guardian football writers' Premier League predictions (Guardian) Who will win the Premier League, who will win the sack race and who will be playing Championship football next season?
Premier League bootroom and five wishes for the new season (Martin Keown, Mail) BETTER DEFENDING – Too often last season we saw defenders losing their man in the box and making silly errors. They need to get back to basics and remember that their priority is defending, not charging forward all the time. You don't have to lose all creativity but responsibility comes first. The Italians were so good at that at Euro 2012. The midfielders need to play their part, too. Forwards such as Sergio Aguero and Javier Hernandez are as fast as Olympic sprinters over a short distance, so having to handle them one on one is an impossible job. Teams must defend as a group and offer protection to the back four.
Chelsea's Fernando Torres is key to Robert di Matteo surviving difficult second season syndrome (Alan Smith, Telegraph)  Like Didier Drogba before him, the Spaniard must remain the focal point of attack, working the channels, holding up the ball and generally giving those oncoming team-mates something to work off. If Torres goes walkabouts, as he did at times during his troubles last season when he could be seen dawdling on the right wing, the system breaks down.
The lowdown on eight £10m-plus players signed by Premier League clubs (Guardian) Eden Hazard has the talent to succeed at Chelsea while Shinji Kagawa will be a calm operator for Manchester United.
Brendan Rodgers approaches Liverpool challenge with relish but realism (Guardian) The Liverpool manager believes his side can meet expectations this season, but is under no illusions about the task ahead.
New manager Brendan Rodgers is out to carve his own slice of Liverpool history (Telegraph) A spirit of revolution accompanies every managerial shift at Anfield but, as Brendan Rodgers prepares for his first Premier League game in charge of Liverpool, the prevailing theme is one of restoration.
Arsenal Updates
Wenger's experiment failed, but there may yet be a way for his vision to be realised (Glenn Moore, Independent) Wenger's signings in the last 15 months indicate he now recognises his model is broken. Mikel Arteta, Per Mertesacker, Park Chu-young and Andre Santos are all in their late twenties or older (as was loanee Yossi Benayoun) while Lukas Podolski and Santi Cazorla are 27 and Olivier Giroud 25. Like everyone else Wenger has been forced to seek a short-cut to competitiveness.
I had Arsenal down as title challengers.. until they sold Robin van Persie (Kenny Dalglish, Mirror) Just when you thought Arsenal were up for it again, they go and sell Robin van Persie.Not just that, they go and sell him to Manchester United, one of their direct rivals for the title.I don't care how much money they got for him or how much sense it makes from a business point of view. The hard fact is that the move weakens Arsenal and strengthens United. You just can't keep selling your best players in the way Arsenal have been doing for the past few years. Not if you want to win the title. Not if you're truly ambitious.
Tomorrow's world: Wenger bigs up Wilshere and is set to re-sign Walcott (Mirror) The club are hoping to sit down with Walcott and his representatives next week and are optimistic he will sign – even if it isn't until after the summer transfer window shuts.
Arsène Wenger hands crown to Jack Wilshere after the king's exit (Guardian) Wenger is hopeful the newcomers are ready collectively to offset the departure of Van Persie and blend in nicely with the likes of Thomas Vermaelen and Mikel Arteta to give Arsenal a more experienced feel. But he cannot bring himself to let go of the ideal of developing young starlets and it was telling that the No10 shirt has been given to the precocious Jack Wilshere.
Toulouse defender Cheikh M'Bengue has revealed he is the subject of interest from Arsenal (Star)
Premier League Needs Olympic Upgrade
English football's historic drama about to pen vibrant new Premier League chapter to emerge from Olympic shadow (Henry Winter, Telegraph) If the Olympian heights represent Shangri-La, a wonderful land to aspire to, then the extraordinary mix of vibrancy and venality that is English professional football simply reflects life in the real world… But now is also the time for footballers to tone down the swearing and consider occasionally smiling, remembering the game is supposed to be about spreading joy as well as reaping in the glittering silverware and salaries. It promises to be another classic season, brimming with incident.
Football fans should support with passion but ditch the bile (Des Kelly, Mail) On Saturday football shuffles back into its customary position in the limelight, squinting uncomfortably in the reflected glare of a golden summer. Of course, the compelling Premier League is rightly centre stage, with all its undeniable panache and drama. Yet, for now at least, it also seems rightly embarrassed by  the associated hostility, bile and scumbag behaviour that trails along in its wake.
Premier League must not squander feelgood factor but chances look slim (David Lacey, Guardian) After the Olympics it's back to dissent, histrionics and humbug unless players tap into London 2012's generosity of spirit.
It's not as simple as footballers bad, Olympians good… (Independent) To caricature all footballers in coarse brushstrokes is as foolish as to claim that all 10,000 athletes who assembled for the Olympics are paragons of virtue. People have short memories.
Ferguson Hates Twitter
Fergie believes Rio fine is sign of things to come (Sun) Alex Ferguson believes the FA are determined to crack down on how players use Twitter.Manchester United boss Fergie today saw Rio Ferdinand slapped with a £45,000 fine for using the social networking site to respond to a comment from one of his followers claiming that Ashley Cole was a 'choc ice'… Ferguson remains baffled as to why people use Twitter, he is adamant Ferdinand and Co need to think before tweeting.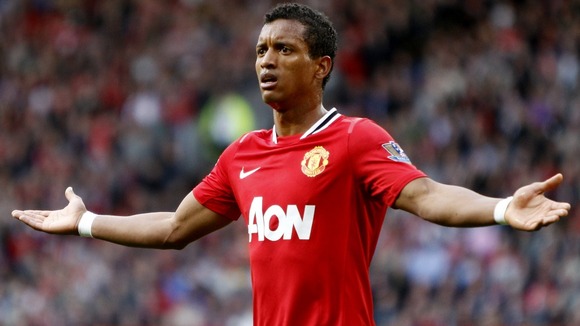 Transfer Gossip
Zenit St Petersburg launch bid for United winger Nani (Mail) 'The news about Nani is true,'  Zenit coach Luciano Spalletti said on Friday.
There can be only one: Tottenham rule out buying Adebayor AND Damiao (Mirror) Tottenham want that man to be Emmanuel Adebayor, and are still locked in negotiations with Manchester City to buy him after last season's successful loan spell at White Hart Lane.
Juventus keen on City striker Dzeko as Bayern also show interest (Mail) The Serie A champions are prepared to offer £75,000 a week after tax, which would still mean a pay cut for the 26-year-old. City may offload defender Dedryck Boyata to FC Twente.
Blue it? Wigan will lose Moses on a free rather than accept Chelsea's offer (Mirror) Roberto Martinez has told Chelsea he would rather lose Victor Moses on a free next summer than let them buy him on the cheap.
Stoke show interest in Liverpool's Adam as Everton also consider swoop (Mail) [Charlie Adam] could be available for as little as £5m.
Saints' £12m Ram raid (Sun) Southampton broke their transfer record for the second time this summer by agreeing a £12million fee with Bologna for Uruguay star Gaston Ramirez. Ramirez, 21, will become the highest-paid player in Saints' history by snubbing Spurs and Liverpool to sign a £50,000-a-week deal at St Mary's.
Fined! Fulham hit wantaway Dempsey where it hurts after he refuses to play against Norwich (Mirror) The American is understood to have refused to play for the west London club as he seeks to secure a move to Liverpool.
Hughes: No Joey deal (Sun) Mark Hughes says Joey Barton should not start making plans for a season-long break in the south of France just yet.
Non starter? Marseille say QPR must buy M'Bia before they borrow Barton (Mirror)
QPR have signed Jose Bosingwa on a three-year deal (Sun)
---