"It would be nice to see Portugal not there because [at our] last two tournaments they've knocked us out" – Wayne Rooney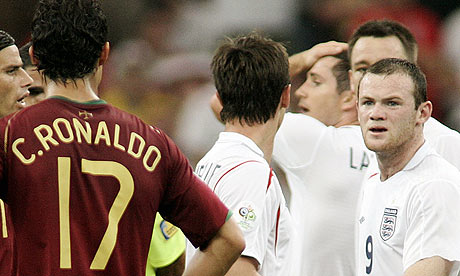 Comment & analysis round-up
Quote of the day: "It would be nice to see Portugal not there because [at our] last two tournaments they've knocked us out." – Wayne Rooney.
Runner-up: "We aren't playing well as a back four and I'm not playing well personally. I need to hit better form and hopefully that will come in the next few games. Over the last five or six years we have been renowned as a team who have kept a lot of clean sheets and for keeping it tight. I think that's why we get a bit more criticism because people don't expect it of Liverpool – and rightly so. We take the plaudits when things are going well so you have to take the criticism when it's not going well. I know I need to improve myself and we also need to improve as a team." – Jamie Carragher.
Today's overview: There is some build-up to England's match in Ukraine and a look forward to the international football this week. The other main topic this Friday morning is takeovers and the owners of football clubs.
Focusing on Wayne Rooney, Kevin McCarra in The Guardian writes that the Manchester United striker "lives on a different timescale from other footballers. By all that is rational, a player who is still a couple of weeks shy of his 24th birthday ought not to have 55 caps and 25 goals for his country. He is one of those prodigies who, barring the odd mishap, has maintained the pace with which he galloped into his career. So far as England is concerned, this may be his best period to date."
Also on England, Steven Howard asks where all the great Three Lions keepers have gone. "Incredibly, last weekend just SIX Premier League clubs had Englishmen in goal. David James (Portsmouth), Robert Green (West Ham), Paul Robinson (Blackburn), Ben Foster (Man United), Chris Kirkland (Wigan) and Joe Hart (Birmingham). Of those six clubs, five are in the bottom nine. The sixth – United – can hardly wait to welcome back Edwin van der Sar after a string of poor displays by Foster. Foster, in fact, could now revert to third choice at Old Trafford behind the Dutch veteran and Tomasz Kuszczak. Take in Chelsea (Petr Cech, Hilario), Arsenal (Manuel Almunia, Vito Mannone) and Liverpool (Pepe Reina, Diego Cavalieri) and the Big Four will ALL have two main foreign keepers. It is an astonishing turn of events. Throw in the fact James is now in his 40th year and there's no disguising just how critical the situation has become for Capello."
Mark Fleming in The Independent pushes Gary Cahill forward for inclusion in Fabio Capello's England side tomorrow. "Should Fabio Capello decide to give Gary Cahill his first England cap against Ukraine tomorrow there is every chance the young Bolton centre-half would take it all in his stride."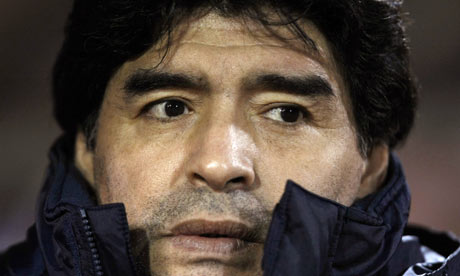 Away from England, Jamie Jackson looks towards Argentina's attempts to qualify for the World Cup. "Catastrophe, disaster, unthinkable. Three words employed by Ossie Ardiles to describe what all of Argentina feels about the prospect of their beloved Diego Maradona failing to lead the country to next summer's World Cup. It is, however, a definite prospect. 'The next two games will decide the fate of Argentina, this is a tough situation. Argentina not in an automatic qualifying place is unthinkable but a possibility,' says Ardiles, a winner of the 1978 World Cup and a former international team-mate of El Diego. Maradona's reign as coach, which began 10 games into the qualifying campaign after Alfio Basile's resignation last November, has been a reflection of the former cocaine addict's volatile life."
John Deurden previews the play-off between Bahrain and New Zealand. "On Saturday New Zealand will get a taste of how competitive life in the Asian confederation would be. Bahrain, led by their wily Czech coach, are, in the words of New Zealand's assistant coach, Brian Turner, 'An Arab team playing like a European team. Very dogged, very organised and technically gifted team and have a real desire to hang in there and tough it out.'"
The Times report that the Premier League is investigating the takeover of Portsmouth, as well as Notts County, Leeds and QPR. "The futures of four English clubs were still in the balance last night while football's governing bodies demanded more information from their owners. The Premier League is investigating Ali al-Faraj, the latest 'saviour' of Portsmouth, and his backers before rubber-stamping the fourth foreign takeover at Fratton Park in 11 years."
Portsmouth may not be the last club to be taken over by Middle Eastern sugar daddys. Simon Cass writes in the Daily Mail: "A further 10 English clubs are being lined up for takeovers by oil-rich Saudi Arabian businessmen, according to one of the Middle East game's most influential figures. Following Portsmouth's purchase by Ali Abdullah Al Faraj, the strength of interest in owning a Premier League or Championship team has been revealed by Dr Hafez Almedlej, chairman of the Saudi Professional League Commission."
Jim White lays into the "circus" at Fratton Park. "Sulaiman Al-Fahim's comical 60-day tenure at Fratton Park ended this week when the Abu Dhabi-based doctor of philosophy handed his 90 per cent stake to a Saudi recluse named Ali al-Faraj. For Portsmouth fans the end of Fahim's ownership could not have come soon enough. He appeared to be little more than a fantasist, using his nationality to blind everyone concerned as to the depth of his wealth and the extent of his contacts. At Portsmouth they were desperate for a seriously well-endowed investor. Instead they got a joke. The problem for followers of the venerable Hampshire outfit is that no one knows anything about the man to whom Fahim has passed the club. And I mean anything. No one knows how much – if any – money changed hands in the transaction. No one knows how much – if anything – Faraj is able to invest in his new toy. No one knows where his money – if he has any – comes from."
Patrick Barclay in The Times dips his toes into the debate over Flavio Briatore's future at QPR. "I know we live in a litigious age, but I cannot see the point of tiptoeing around this fellow. If Formula One can ditch him, so can football. The only 'response' sought from Briatore should be how long it will take to clear his desk. The FIA has told him that he can no longer be even a spectator and football should follow suit. Instead, "due process" is observed. The very phrase reeks of fear, of authority in retreat, the posture of most governing bodies over recent years. Even the new FA, under Lord Triesman, has started bending over backwards to please agents, allowing them to perform 'dual representation' of club and player in transfers when every independent inquiry has deemed it unethical."
The Daily Mail include some interesting interviews. Owen Hargreaves claims his injury hell is over and Roman Bednar details his "drugs shame."
The transfer lies today consist of Javier Mascherano going to Juventus, Anton Ferdinand is set for an exit from Sunderland and Portsmouth will return for Amr Zaki. The Mirror add that Fulham are targetting Legia Warsaw midfielder Ariel Borysiuk.
Finally, Will Buckley in The Guardian provides the forgotten story of how the 1970 World Cup changed TV. "There has been much tweeting about the decision to broadcast Saturday's England's qualifier only on the world wide web and the pundits are divided over whether this is the end of the world or the start of a new world or, for the fence-sitters, both. It is as nothing, however, compared to the innovations that preceded the broadcasting of the 1970 World Cup. The privilege of filming England's attempt to retain the World Cup was a once in every other lifetime opportunity for the cream of British sports broadcasters, who responded by developing a collection of formats so potent that they would come to dominate 21st-century television."
---