"It was Andrei Arshavin's night, it was Fernando Torres' night and then – when the shouting was done – it was clear that really it was Sir Alex Ferguson's night" – Sam Wallace
Comment & analysis round-up
Quote of the day: "This just shows that on a good pitch you can play good football in the Premier League. We are half happy because we scored four but half unhappy at conceding four and drawing after leading 4–3 with two minutes to go. Arshavin showed what a great player he is, with that short back-lift of his he is very dangerous. How United bounce back against Portsmouth could be decisive. I think it all depends on their games in hand but don't worry Liverpool, we will go to Manchester United there and try to win in the championship as well as the Champions League." – Arsene Wenger.
Runner-up: "We wanted three points, so it's two points dropped. We're relying on others to do us favours. It was a tremendous game for the neutral, but not for me. It would have been a disaster if we'd lost, but in the end that point could be big… It was a good sign to see the two owners together. Hopefully, they will sort their differences out." – Steven Gerrard.
Today's overview: Breathless. The papers arte falling over themselves in response to one of the great Premier League matches of all time, with the usual suspects richly coming in for deserved praise. While outside the main headlines there is support for Dimitar Berbatov, while the future's of Shearer and Hiddink are again discussed.
Martin Samuel summed up an incredible match. "Arsenal won the game, then lost it, then won it again, then let it slip, won it a final time and blew it in injury-time. Every single goal changed the status of the match, which is a remarkable sequence of action."
Andy Hunter saw the ghosts of 1989 during last night's gripping encounter. "Unlike 20 years ago, there is still chance of a reprieve for Liverpool's title challenge this season, although their reaction to Andrei Arshavin's 90th-minute goal indicated they had just witnessed the ghost of Michael Thomas." Henry Winter similarly concluded "for all Anfield's jubilation at Yossi Benayoun's late equaliser that took them top, it was impossible to escape the feeling that an Iron Curtain may have fallen on Liverpool's title show."
Kevin McCarra inked "Benitez did not savour this spectacle, but those who were enthralled are indebted to his men and to Arsenal. Excitement kept rippling around Anfield and the superb Benayoun acted throughout as if he anticipated being the key factor." More praise is dished out by Sam Wallace who determined "it was Andrei Arshavin's night, it was Fernando Torres' night and then – when the shouting was done – it was clear that really it was Sir Alex Ferguson's night."
Unsurprisingly, Andrei Arshavin is the talk of the town this Wednesday.
Kicking off the toasts is Paul Hayward, who points out how un-Arsenal Arshavin is. "Arshavin is a rare deviation from Wenger's path of home-coached youthful purity: a Ricky Hatton lookalike who was pulled off the shelf of emergency reinforcements." Next up is Ian Herbert noting how "no one is in any doubt about who Arshavin is this morning… Barely more than four touches for his four goals." Martin Lipman closes out the applause penning "if anyone was still doubting Wenger's decision to make the extra bit of deadline-day effort to land Andrey Arshavin, they surely do not any more."
Ahead of tonight's Manchester United-Portsmouth match, Stuart James salutes Paul Scholes prior to his 600th appearance for the club. James Ducker argues that "as he grimaces at the eulogies likely to come his way, it is fair to wonder if there has been quite so reluctant a hero as the English champions' ginger pimpernel." While according to Ian Herbert, "to Ferguson's mind, the man who arrived a year after the legendary class of '92 is among the top six or seven United players of all time."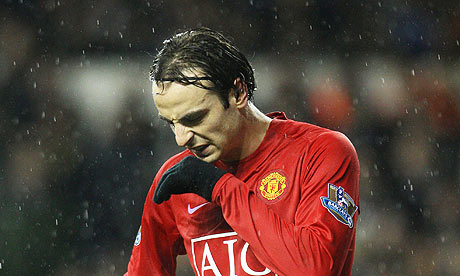 Countering the boo-boys, Matthew Syed makes the case for Dimitar Berbatov. "It is players such as Berbatov – his individuality, his elegance and, yes, his neuroses – who make football matter to so many of us… [Ferguson] will remember those life-affirming detonations of genius and his granite heart will soften, and he will reach for the teamsheet to scrawl the Bulgarian's name at the top of the page once again."
Once again Guss Hiddink's future is dissected, Martin Samuel explaining why the Dutchman should be kept at the Bridge. "Hiddink's impact at Stamford Bridge has been so far-reaching, and potentially so incredible, that losing him will be a genuine issue for the team, and succeeding him a serious challenge for any manager."
Simon Williams delivers the rumour that all Geordies will want to hear, that "there is a growing feeling on Tyneside and among close friends that [Newcastle] is a long-term project for Shearer" even if the Toon are relegated. The Telegraph remain unsure of Shearer's future writing "Shearer has repeatedly insisted he will not be at the helm come August with Joe Kinnear expected to return in some capacity, although the 38-year-old's denials have done little to dispel speculation that he could remain in charge."
There is analysis of Everton's route to success, with Gary Jacob suggesting that "in perverse way, [Everton's David] Moyes revels in having one hand tied behind his back financially." Ian Winrow adds that Moyes makes "up for the relative lack of big names and limited squad by drawing on qualities of spirit and an ability to turn adversity to the club's advantage." 
In other Premier League news, with his abacus in hand, David Conn reports on how Manchester City's accounts reveal the cost of Thaksin's ownership but the club's strategy under Sheikh Mansour seems secure, while Calvin Shulman lists his top 50 Portsmouth players of all time.
In today's transfer news, Dominic Fifield reports that "Chelsea are to sign the highly rated teenager Philipp Prosenik from Rapid Vienna in the summer. The move represents something of a surprise, with the chief executive, Peter Kenyon, having indicated earlier this season that Chelsea would be pursuing young British rather than continental talent in the future."
Other rumours include the Daily Mail's claim that "Wigan boss Steve Bruce is close to agreeing a deal for Rosenborg midfielder Anthony Annan." The Daily Mail also print that "Arsenal are monitoring Paris Saint Germain full-back Chris Mavinga." And finally the Daily Mail link Brazilian midfielder Michel Bastos with Spurs, Everton, Liverpool and Manchester City in England, as well as Bayern Munich, Lyon and Juventus.
The red-tops also peddle unlikely transfer stories, none bigger than Ian McGarry's report that "don't be shocked if the White Hart Lane boss is resurrecting David Beckham's career from the dead. That's the word from inside the game, which suggests that Becks could join Tottenham ahead of next year's World Cup finals." While over in the Mirrorr, James Nursey claims that "Aston Villa want Everton's Joleon Lescott as Martin Laursen replacement."
Finally, with racism rearing its ugly head once more in football, Paul Virgo reports how "Uefa wants matches to be halted if fans make racist chants."
---