"It was an audacious plot planned with military precision" – Shaun Custis on the Spurs Xmas party
Comment & analysis round-up
Quote of the day: "We just cannot keep going to the well time after time with the same players. We'll get injuries. The lads who played at Tottenham would have all played at Manchester United if they could have. But if we'd then suffered three or four injuries, I wonder if the question would have been, "Why did he play them?" – Mick McCarthy.
Runner-up: "Wenger is moaning like a drain because it doesn't suit Arsenal, he ain't moaning because it doesn't suit Stoke. Mick is doing what he thinks is beneficial for Wolverhampton Wanderers Football Club, I heard Arsène Wenger complain about that game and I also heard him complaining about the fixture list — and he's doing it because it doesn't suit Arsenal Football Club. He isn't saying it in the best interests of everyone else. He's saying it in the best interests of Arsène Wenger and Arsenal; and Mick McCarthy is doing exactly the same — he's doing what's in the best interests of his club. The other relevant point here is that I don't think Mick played a youth team, he played players he's spent decent money on and have played in the Premier League this year." – Tony Pulis.
Today's overview: Today's Champions League draw and Spurs' Xmas Party are two themes which receive attention but Mark Hughes and Manchester City's woes are the main story. Worth reading elsewhere are Jonathan Wilson on how a nutmeg on Henning Berg changed football tactics and a feature in the Mail on Arsenal's talent factory.
The Champions League draw focuses minds this morning. Patrick Barclay gets the ball rolling in The Times. "The main danger could be Bayern Munich. At one stage it seemed that they might fail to qualify and part company with Louis van Gaal, but the Dutch coach stays in charge of a powerful team featuring Franck Ribéry behind Miroslav Klose and Mario Gómez, with Bastian Schweinsteiger to provide support and set-piece delivery."
Kevin McCarra also looks at the potential dangers for the English trio. "The one side to gather more points than Fiorentina was Laurent Blanc's Bordeaux, who beat Bayern in both fixtures, and while any encounter with an English team will have to wait in their case it would be in the Champions League's interests if its destiny did not lie with the usual clutch of countries. At the least, it would be stimulating if clubs from England and Spain are given something to fear."
Glenn Moore picks Sevilla as the team to avoid. "Seville have one of the most potent front pairings in the competition in the shape of Brazilian Luis Fabiano and Freddie Kanouté, who has shown in Spain the potential he hinted at while with West Ham and Spurs. They also have Jesus Navas and Diego Capel on the wings, Didier Zokora in midfield, and a strong set of centre-halves including France internationals Julien Escudé and Sébastien Squillaci, and the Serb Ivica Dragutinovic."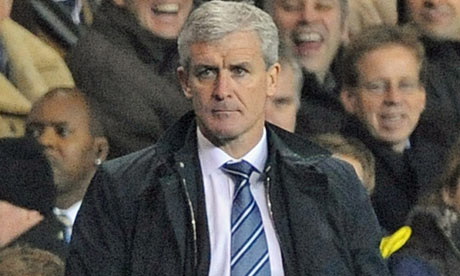 Manchester City's poor performance at Spurs continues to be taken to task. Jason Burt adds to the pressure on Mark Hughes by informing us that "Manchester City have approached Guus Hiddink about joining the Premier League club, according to the former Chelsea manager's agent. Cees Van Nieuwenhuizen confirmed to Telegraph Sport that he had held a discussion with City chief executive Garry Cook concerning the Russia coach's future. 'Yes, I did [speak to Cook]. But Guus is happy with Russia. Definitely,' Van Nieuwenhuizen said. 'I had a call because I have been working with Garry for 12 years since we worked together at Nike. But I have received calls from all over the world about Guus. There has also been an approach from Juventus.'"
David Conn has little sympathy for Hughes. "For all Hughes's qualities as a manager and a man, doubts have persisted outside City about his ability to motivate top-earning players and whether he can honestly address the causes of City's shortcomings. Mansour's investment has placed Hughes in the enviable position he demanded of his players: surrounded by everything that any manager could ask for, so, if the results do not come, left with no excuses." 
Oliver Kay outlines what Mark Hughes might do. "Hughes is looking for stronger personalities in his squad and, for all the longer-term plans to entice Yaya Touré from Barcelona and Franck Ribéry from Bayern Munich, his targets for the January transfer window will be more prosaic. While the manager has looked far and wide in search of a left back, targets closer to home may include Brede Hangeland, the Fulham defender, Scott Parker, the West Ham United midfield player, and possibly even David Bentley, the winger who is out of favour at Tottenham Hotspur."
Ian Herbert in The Independent claims City will turn to West Ham pair Matthew Upson and Scott Parker in January. "Upson has told West Ham he is prepared to stay to see out what looks like a possible relegation struggle, but West Ham's financial position could make a new City offer difficult to resist and the 30-year-old may feel that a possible half season at City may offer a better way of pressing his World Cup case to the England manager, Fabio Capello. Upson's team-mate Parker was tied to a new contract last January, leaving City to move for Nigel de Jong from Hamburg instead, but a new bid may be tabled."
In a seperate article, Herbert discusses the problems at City. "You know it's been a bad night when Gareth Barry, hardly the most demonstrative of Manchester City's midfielders, talks about the players being "at each other's throats" in the dressing room. But that's how it was, deep inside White Hart Lane late on Wednesday night, after the feeble and anaemic display which asked more questions about the value of Mark Hughes' investments than any other game in his 18 months at Manchester City."
Steven Howard in The Sun backs Mark Hughes to stick around at Eastlands. "True, the consistency of performance is not there. But this is still a team in the making. The task Hughes faced on arriving at City was not so different to that taken on by Alex Ferguson at Manchester United and it took him four years to see progress. You can't expect Hughes to have that long and even the patient and pragmatic chairman Khaldoon al Mubarak will have a tipping point. But 18 months is no time to complete what Hughes is trying to do and already it is so close to being right."
Jamie Redknapp casts his eye back on the action in the Premier League in midweek. "I worry about Manchester City's Joleon Lescott, who is out until the New Year with a knee injury. I had a similar problem and know what it takes out of you as a player. With fellow centre back Kolo Toure soon off to the Africa Cup of Nations, as well as struggling for form, it's easy to see where City will buy when the transfer window opens next month."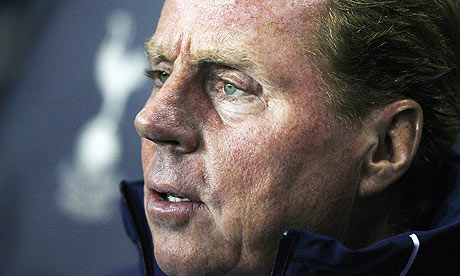 The main story in The Sun, a "world exclusive," details how Tottenham players hoodwinked Harry Redknapp by having an Xmas party in Dublin. "The Sun can today reveal SIXTEEN first-team stars coughed up £2,000 each to party organiser Robbie Keane for the wild night out after Redknapp had allowed them to go on what he believed was a golf trip. But the shamed players abused that privilege, with six of them even hiring a private jet to fly there and back. They arrived in Dublin last Tuesday and spent the night partying in a bar and a nightclub before flying back the following day. The party came just four days before Champions League-chasing Spurs lost 1-0 at home to struggling Wolves and is a major embarrassment to Redknapp, who only last Friday insisted there would be no Christmas party for his players."
Shaun Custis provides further details of the "plot" with one of the most laughable introductions in the history of football reporting: "It was an audacious plot planned with military precision. The objective? To get the entire Spurs squad to Dublin for a wild Christmas party and back again while maintaining the fiction that it was just a golf trip."
Jim White analyses the problems at Upton Park. "Poor Zola, it wasn't meant to be like this. He came to management two years ago intent on living up to West Ham's traditions of artistic football. Instead, his team have the horribly doomed look of the already relegated. Misfiring foreigners, broken-down strikers and a goalkeeper handing out gifts to the opposition: this is not a collection to give him much in the way of a decent night's sleep. Mind, even the shambles on the pitch appears in robust good health compared to what is going on in the boardroom."
Liverpool defender Jamie Carragher reveals in an interview in The Times how he rejected Fabio Capello's England recall. Carragher: "I was supposed to meet Franco Baldini for a chat a year ago and at the last minute I pulled out, it was more out of courtesy that I was going to do it. Stevie [Gerrard, the Liverpool captain] had mentioned it to me a couple of times, so I agreed to the meeting, but at the last minute I just didn't want to do it. I don't think my situation would change if I got back in the squad. John Terry and Rio Ferdinand are first choice and they are two of the best central defenders in the world. Maybe I would have won ten more caps over the last couple of years because Rio and John have missed a few games, but you couldn't ask for a better centre-half pairing than those two going into the World Cup." Carragher also ponders life after Anfield in the full interview.
Tony Pulis is interviewed in The Times. Pulis: "I keep saying, and I've said it to the players, what happens in a dressing room stays in a dressing room, whether that's with me and a player, whether it's two players together, whether it's the coaching staff and the players. I just think it's almost a sacred environment and that trust in that area is unbreakable."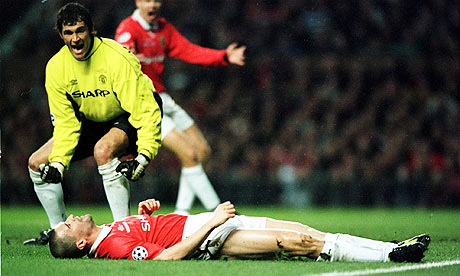 The excellent Jonathan Wilson answers the question: "How did a nutmeg change football tactics in the noughties? For the first time in over 30 years, an English side became a world leader in tactical innovation this decade – thanks to Henning Berg being nutmegged."
Also well worth a read this Friday morning, is the Daily Mail exclusive on Arsenal's talent factory by Matt Barlow. "This is the finest opportunity you are ever going to have to become an elite player and acquire some educational qualifications as you train. The rewards are enormous but you have to earn them. Give 100 per cent to everything you do and you will get there in the end.' Quote from the Arsenal Academy induction brochure, handed to scholars upon arrival." 
The Guardian also have Small Talk with BBC commentator John Motson. "You're an old romantic, Motty. Do you get disheartened by some of the diving and cheating that goes on in the game these days? Well I think everybody does. All the supporters would rather have a completely honest and clean game wouldn't they? But there's so much at stake now, that's the thing. Money rules in football … well, certainly at the top level it does, and I think we can't have an ideal world can we? These things happen, it's how you deal with them."
Chelsea dominate the transfer gossip this morning with The Sun claiming Carlo Ancelotti has targeted Bastian Schweinsteiger and Sergio Aguero is confident he can be a star at the Bridge. The Mirror suggest Tottenham are after Matthew Upson and The Sun say Spurs are chasing Victor Moses. From left field, the Mirror also link Blackburn with 16-year-old Bosnian midfielder Marko Maletic and Burnley with Jack Wilshere.
---
GAMBLING CAN BE ADDICTIVE, PLEASE PLAY RESPONSIBLY