"It is too much to expect that owners with no background in English football or any other kind should feel shame at dismissing a manager who has lost fewer games than any other this season in what is generally regarded as the toughest League in the world" – Steve Tongue
Comment & analysis round-up
Quote of the day: "Prior to the current season beginning, with significant investment in players and infrastructure in place, the consensus between the Board and
coaching staff was that appropriate agreed targets should be set for the 2009/2010 season… A return of two wins in 11 Premier League games is clearly not in line with the targets that were agreed and set. Sheikh Mansour and the Board felt that there was no evidence that the situation would fundamentally change. This is a particularly difficult announcement given the personal investment over the past 15 months on all sides and we would like to put on record our respect for and thanks to Mark Hughes and we wish him the best in his future career. Manchester City Football Club can confirm the appointment, with immediate effect on a permanent contract, of Roberto Mancini and are also pleased to announce that Brian Kidd will join Roberto as assistant manager." – statement from Manchester City.
Runner-up: "You can't build clubs in 18 months or one transfer window, you need a bit of time. It's got to stop. What the hell's the point spending years getting [coaching] badges and qualifications when you only get six months in the job? When things are not going well there is a clamour for the manager. I don't think anyone is surprised by these things anymore. It is ridiculous. You are not going to encourage any young person to try and take this up. What is the point? What are the stats? Managers last about 18 months in the Championship. It is longer in the Premier League but that is because of the amount of time Sir Alex Ferguson, Arsene Wenger and David Moyes have been in their jobs. I am disappointed for Mark Hughes. Really disappointed." – Steve Bruce.
Today's overview: It's Christmas time. The time for giving, for charity, for goodwill. Where the haves look after to the have-nots. Well, not in the News of the World it isn't.
Chelsea captain John Terry is named and shamed on the front page of the tabloid by Alex Palmer, after a sting operation uncovered how "Terry is SELLING private access to himself and his club through hush-hush £10,000 cash deals… Terry took the secret £10,000 cash payment this week to lay on a behind-the-scenes tour of Chelsea's training ground. He arranged the backstage visit for an undercover News of the World team WITHOUT permission from his club's boss Carlo Ancelotti. And it was all fixed by middle-man Tony Bruce, 58 – a well-known ticket tout. Multi-millionaire Terry told our men he would give his £8,000 share of the fee to the Make A Wish charity that fixes treats for terminally ill children. The remaining £2,000 went to Bruce for his 'cut.'"
There was little Christmas spirit at Eastlands on Saturday too, as Mark Hughes was unceremoniously sacked from Manchester City and replaced by Italian Roberto Mancini amid rumours of unrest and anger from the playing staff.
Dishing the dirt, Neil Ashton reported "Craig Bellamy and Shay Given led a six-man delegation after axed Hughes made an emotional dressing speech telling them he was being replaced by the former Inter Milan boss… The players were disgusted at the treatment of Hughes after it emerged his fate was sealed following the Carling Cup victory over Arsenal on December 2." In a seperate artle, Ashton summed up the consensus feeling that "there's no doubt Hughes has been treated badly by City's hierarchy and has not been given the chance to finish the job he started 18 months ago."
Jason Burt also feels sorry for Hughes. "The move is all the more galling given the pledge last April by City's owners, the Abu Dhabi United Group, that they would give Hughes time and wanted to support someone who is regarded as one of the brightest young managers in the country. Hughes had also been told that the top six should be his ambition for this season."
F
rom the sorry to the disgusted, as Steve Tongue rips into City for sacking Sparky. "It is too much to expect that owners with no background in English football or any other kind should feel shame at dismissing a manager who has lost fewer games than any other this season in what is generally regarded as the toughest League in the world. That, and his replacement by the watching Roberto Mancini after 18 months in the job, merely confirm two of the worst trends in the domestic game: importing the short-termism that afflicts coaches in Italy and Spain, where two years in the same job virtually qualifies for a long-service award; and the obsession with celebrity "big names", preferably foreign ones."
Mockingly, Mark Ogden coughed "for the 14th time since Ferguson arrived at Old Trafford in Nov 1986, City are going to recruit a new manager."Continuing the United comparisons, Neil Johnston wrote "City have lost just twice this season on the Premier League stage, three fewer than Sir Alex Ferguson. And while Rafa Benitez remains in charge at Liverpool after seven League defeats and a failed Champions League campaign, Hughes will be jobless this Christmas despite City sitting four points behind fourth spot with a game in hand."
So why is Sparky now unemployed?
David Conn answers that "the Welshman was sacked by a club who felt he could not meet their target of a place in the top four despite being given £200m to spend on players and further huge investment in training facilities and other infrastructure at the club." Money also is flagged up by Martin Johnson, who writes "Hughes was always a casualty waiting to happen, as the demands for instant success are a bit more instant when your transfer fund could bail out a High Street bank. Those of us still trying to budget for Christmas shopping in an official recession will not shed too many tears over somebody whose chequebook withdrawal stubs tot up, over 17 months, to some £244.5m."
Paul Wilson then added his two cents, writing "the only explanation is that the club's hierarchy no longer has confidence that any particular match can be won… With just one win in 10 matches going into this game, Hughes can offer little in his defence. Indeed it could be said his defence offers little in his defence, and that is the problem."
A third explanation, the Hughes' bullishness was his undoing, is forwarded by Paul Hayward. "The real catalyst was the battle he fought to choose his own players and backroom staff… Instead City's middle‑eastern owners opted for an employee reared in the subservient Italian way. Roberto Mancini will coach the players who step off Sheikh Mansour's magic carpet and keep his trap shut."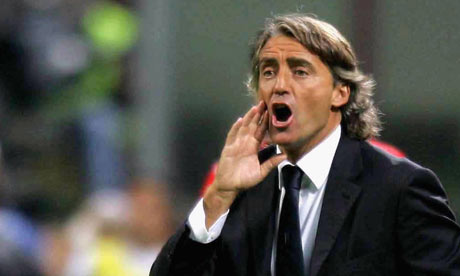 Moving onto Mancini himself, Jonathan Northcroft reveals some rumours surrounding the Italian's ontract. "[He] agreed a contract to take charge of City worth £3m net per year… the contract will run until 2013 though there is speculation – denied by Mancini's camp – that it can be broken after six months, should the Italian fail to pilot City to a top four finish."
Ian Hawkey delivers a succinct review of Mancini's CV. "Roberto Mancini, 45, was capped 36 times for Italy, scoring four goals, in a playing career that spanned 19 years with Bologna, Sampdoria, Lazio and Leicester City. As a player he won two Serie A titles, five Coppa Italias and two Cup Winners' Cups. As manager he won three Serie A titles, four Coppa Italias, two Italian Supercups."
Joe Bernstein also begins listing Mancini's transfer targets, scribbling "[he'll] will be given money to spend this January to improve the squad, with Juventus defender Giorgio Chiellini likely to be targeted in a bid to shore up the defence."
The outgoings are covered by Rob Draper who chimes "Robinho's move to Barcelona in January is still likely to be completed despite the arrival of Roberto Mancini as manager," while Simon Mullock crashes in with news that "Kolo Toure wants to quit Manchester City after less than a season at Eastlands."
Sorry Liverpool fans. After losing at Portsmouth on Saturday more woe is heaped on the faltering Anfield giants.
In perhaps one of the most optimistic opeds of the day, Paul Doyle rosily wrote "regeneration may be possible for Rafael Benitez's side, but a pretty vacant display at Portsmouth suggested a regime in decay." By contrast, Oliver Kay sees no light for the Merseysiders commenting "losing to Lyons and Fiorentina is one thing, being humbled by lowly Portsmouth is an embarrassment, not least in a week dedicated to the memory of Bill Shankly. Benitez had the haunted look of a man who has lost control of his team and his future."
And the Benitez-bashing is continued by Glenn Moore, who crashing in with "it may be time to examine the small print on Rafael Benitez's "guarantee" that Liverpool will finish in the top four this season. It is beginning to look as reliable as the ones handed out from a fly-by-night stall on Oxford Street."
Changing moods, serial piss-taker Rod Liddle delivers a brilliantly sarcastic article which begins "Forgive me, I'm still a little breathless. Not only did I officiate at the prestigious and glittering BBC Sports Cheats and Egotistical Maniacs of the Year, held this weekend in the boardroom at Notts County, but I'm still suffering the effects of turning out for Wolves last Tuesday night."
Quickly swapping topics once more, Nick Harris addresses the tabboo subject of gay professional footballers, claiming "Britain's foremost PR advisor, Max Clifford, told The Independent on Sunday last night that he has represented two high-profile gay Premier League footballers in the past five years and has advised them to stay in the closet because football 'remains in the dark ages, steeped in homophobia.'"
In a third stand-alone article, Piers Morgan comes across all Scrooge-like by barking "Wolves boss Mick McCarthy should be sacked for putting his ego before his team… I have enormous sympathy for Wolves fans and for the players caught up in their manager's appallingly arrogant attention-seeking. But I have even more sympathy for the integrity of the Premier League and the sport of football.  And for that reason, I hope Wolves get stuffed 4-0 by Burnley today, are relegated at the end of the season and McCarthy gets sacked and replaced by Roy Hodgson."
We close out with the transfers.
Robbie Keane's Tottenham departure is once again talked up in the backpages, Rob Shepherd announcing "Sunderland lead the chase for Tottenham striker Robbie Keane.  Aston Villa and Celtic are also keen on the 29-year-old Republic of Ireland striker, but Steve Bruce's Black Cats have the ready cash for a deal at around £12million." The money is immediately spent by Rob Shepherd who claims "Redknapp wants a new centre half with West Ham's Matthew Upson his first choice," while the Mail on Sunday print "Tottenham hope to snatch long-term Arsenal target Marouane Chamakh on a Bosman free."
Rob Draper crashes in with the news that "Chelsea, Real Madrid and AC Milan are all monitoring European football's latest teen sensation, 16-year-old Romelo Lukaku from Belgian outfit Anderlecht." Chelsea's targets are said to be much loftier though according to Steve Stammers, who chimes "Fernando Torres is a £60million target for Chelsea. There is a growing belief among Europe's richest and most powerful clubs that a season of Liverpool failure will force Torres – and his advisers – to review the player's career."And staying with the Blues, Steve Bates shouts "Chelsea are closing in on £25million Wolfsburg hot-shot Edin Dzeko in a bid to boost their firepower in the transfer window."
David Harrison farts the non-story that "Manchester United could make a £5million January swoop for Marseille winger Hatem Ben Arfa." And continuing the scarcely believable transfer lies, John Richardson trumpets "Manchester United boss Sir Alex Ferguson is planning a late Christmas present for Old Trafford fans with a move for £35million rated Karim Benzema in the January transfer window."
Liverpool fans will unlikely to be moved by Alex Shaw's report linking the Reds with Crystal Palace striker Victor Moses. "Spurs, Hoffenheim and Barcelona are keen on Moses but the Reds reckon they can land him for £5million."
Elsewhere, sfter netting a brace on Saturday night at Sevilla, Martin Hardy claims "Backburn will pay a club-record £10million for [Getafe's] Spanish striker Roberto Soldado." Greg Gobere states "Stoke and Wolves both have their sights on Cameroon star Somen Tchoyi." While Soriebah Kajue reports "Steve Bruce is considering signing £6-million Titus Bramble for the second time in his career as he looks to shore up his porous defence."
---