"It is not the limitless money of Manchester City that might break up that cosy elite, but the stealth and shrewdness of Aston Villa" – Mattt Dickinson
Comment & analysis round-up
Quote of the day: "The manager is as good as ever and will go on for a long time. I can still see him as manager of United in five years' time, easily, because as long as he is healthy he will have the desire to carry on. He has a great team around him, he has his passions away from the game and can get away with his horse racing. When he comes back to football he is refreshed, and I know he still has that desire… Our relationship has never been better and has evolved from me just being a kid to now when he speaks to me like a friend, and asks for my advice, which gives me tremendous confidence because it proves he trusts me." – Ryan Giggs.
Runner-up: "I can't get my head around the fact that the young players look at me the same way I used to look at Robbo and Brucey. I don't feel I'm that old yet. I often forget that everyone is younger than me because in my head I still think I'm about 25… While my body won't do what it is told all the time, my mind is quicker. I am much better at positioning so I don't waste energy. You have to think about your game more and use the ball better because that explosive pace has gone, but I'm a better player than I was in my early twenties." – Ryan Giggs.
Today's overview: Some of the Premier League's lesser lights come into focus this Tuesday, as the problems at Fratton Park and Upton Park are dissected by the fourth estate, while Aston Villa are called out as being capable of crashing the Top Four.
Dominic Fifield delivers a gloomy forecast to Portsmouth, dampening hopes that their transfer embargo will be lifted. "Portsmouth have held further talks with the Premier League aimed at lifting their transfer embargo but the efforts will be in vain unless an agreement over a repayment schedule can be reached with Chelsea over money owed on Glen Johnson." Fleshing out the details, Oliver Kay adds "the Portsmouth board were told that the embargo will remain in place unless they can find at least £10 million in order to satisfy the immediate demands of their list of creditors These include Chelsea, Tottenham Hotspur, Watford and at least two overseas clubs as well as Alexandre Gaydamak, the former owner, and HM Revenue & Customs."
From one relegation-threatened club to another, David Hytner surveys the problems engulfing West Ham. "Zola, who has had to rely on young players before their time, needs to strengthen the team in January but it is more likely that he will face a fight to keep his squad together. Clubs will come calling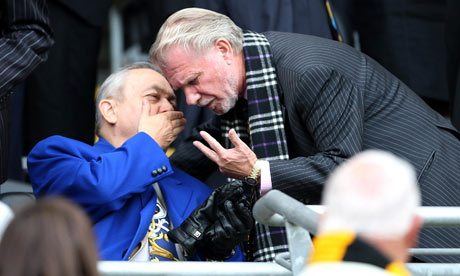 for the services of Robert Green, Matthew Upson, Scott Parker and Carlton Cole. The manager will stick to his footballing principles and, amid the turmoil, he retains the support of the Upton Park crowd as well as the board. What Zola would give, though, for a couple of boring 1-0 wins."
While the Hammers are struggling on one hand, Oliver Kay details how "the Icelandic owners of West Ham United will reject the £50 million offer that was made for the club yesterday by David Gold and David Sullivan, the former owners of Birmingham City." Sam Wallace explains why the proposed buy-out was rejected also out-of-hand. "West Ham United is set to reject another speculative £50m bid from the former Birmingham City owners David Gold and David Sullivan for the club because it does not come close to the money owed to it… The Icelandics are holding out for a bid from America, which they hope can rescue the club, 18th in the Premier League under manager Gianfranco Zola."
After the craziness of last weekend in the Premier League, the feeling that any team can beat any team in the English top flight is prevalent this Tuesday.
Talking generally, Louise Taylor celebrates the stagnation of the Top Four. "While Manchester City, Aston Villa and Tottenham Hotspur all possess the wherewithal to break into the charmed leading quartet, even comparatively inconsistent mid-table sides such as Sunderland have proved capable of beating Arsenal and Liverpool and drawing at Manchester United."
Delving into specifics Matt Dickinson focuses on Aston Villa's achievements as the Top Four's nemesis. "They say everyone can beat the big teams these days but there is only one Barclays Premier League side making a habit of knocking over all the top four. Chelsea, Liverpool and now Manchester United; in a couple of weeks we will find out if Aston Villa can add Arsenal to the list. Should they do so, we will have to take even more seriously the idea that it is not the limitless money of Manchester City that might break up that cosy elite, but the stealth and shrewdness of Aston Villa." John Percy continues the Villa analysis, noting "with victories over three of that four this term, optimism is steadily building and O'Neill's fantastic repertoire of self-deprecation will be severely tested over the remaining months of the campaign… There is also a depth to the Villa squad that O'Neill has yearned for since his appointment and only a little tweaking will be needed in next month's transfer window."
Staying with the Midlanders, John Percy salutes the recent upturn of Birmingham. "On a tight budget, with an array of waifs, strays and has-beens, McLeish has taken Birmingham to mid-table and the 17th place he targeted in May appears a humble ambition on current form – if they win against Blackburn, depending on results elsewhere, Birmingham could end the week in sixth spot, in the mix for the Europa League."
From the haves to the have-nots, as Rory Smith homes in on the problems at Liverpool and specifically the split of opinion on Rafa Bneitez. "There are those who would back the mastermind behind the miracle of Istanbul to the hilt, the Rafaelites, and those who see the studious, perfectionist, wilful enigma as myth, a man who has never truly adapted his style to the peculiar demands of the English game in pursuit of the holiest of grails which has eluded Liverpool for 20 long years. It is a schism which has paralysed the club."
Loudmouth Ian Wright makes himself public enemy number 1 at Stamford Bridge after The Sun's columnist tore into the collective character of Chelsea fans. "Since the summer of 2004, Chelsea have played 160 matches at home and lost just three times – against Barcelona, Liverpool and Arsenal. Yet, despite this astonishing record, it does not surprise me that Chelsea's players were booed off the pitch following their 3-3 draw with Everton on Saturday. Those fans who jeered are an absolute disgrace. They might have plenty of money but, in football terms, they have no class whatsoever."
For no apparent reason, Richard Williams speculates over who should take over at Old Trafford once Sir Alex steps aside. "If Blanc is too young for that job, my guess would be that O'Neill is too old for United and that Mourinho is too incorrigible a provocateur. The neatest solution would be for Blanc to maintain Bordeaux's success for another 18 months and see out his contract before taking over at Old Trafford in the summer of 2011. Ferguson would be able to move upstairs before his 70th birthday in the knowledge that there will be someone on the premises interested in comparing notes on vintage clarets as well as promising centre-backs."
It's a case of been there, done that for Notts County this Tuesday as Matt Scott discusses the topics of Sven, money, and quitting. "Sven-Goran Eriksson has called in his lawyers to help recover the millions of pounds he believes he is owed following the management buyout of Notts County last week… all the indications are now that Eriksson will quit over what he considers to be broken promises."
Turning to the transfers, where George Caulkin begins by detailing how Middlesbrough are fighting to hold onto Adam Johnson. "Johnson's progress in the Coca Cola Championship this season has been monitored by Sunderland, Chelsea and Everton, with Steve Bruce's club – who the winger supported as a boy – previously emerging as favourites to sign the left-footer."
The Independent drop a bombshell this Tuesday, reporting "Real Madrid are preparing to launch a January transfer bid for Chelsea defender Ricardo Carvalho. Reports today suggest the La Liga outfit have targeted the Portugal international following a serious injury to defender Pepe, who will be sidelined for six-months. To convince Chelsea to part with the 31-year-old defender it's claimed that Ruud van Nistelrooy will be offered in part-exchange." A faceless article in the Daily Mail also reports on the Carvalho-Van Nistelrooy link before adding "The Spaniards have also tracked Everton's 18-year-old utility man Jack Rodwell, but they are likely to plump for a more experienced defender this winter.  Manchester United's Nemanja Vidic has also been linked, while Arsenal's Gael Clichy is another on the radar if Madrid decide to strengthen at full back rather than centrally."
In an article which rings untrue in the Daily Mail we learn "Manchester United face battle with former England boss Steve McClaren to sign AC Milan striker Klaas-Jan Huntelaar." Similarly difficult to swallow, Andrew Dillon splutters in The Sun that "Rafa Benitez will try to exploit the uncertainty over West Ham's future by making a swoop for Scott Parker. Liverpool are ready with a £6million offer for the midfielder when the transfer window opens next month."
In the rest of the gossip, a faceless article in The Sun toots "Everton are set to bid £7m for Schalke midfield ace Lewis Holtby, 19, who has been getting rave reviews in the Bundesliga," while the Mirror write "Tony Pulis is ready to offer £4million for Newcastle striker Andy Carroll and hand him a Premier League return."
---
GAMBLING CAN BE ADDICTIVE, PLEASE PLAY RESPONSIBLY