"It is nights like this that give credence to the idea that Manchester United and Manchester City, light years apart not so long ago, are now on a trajectory in which their futures become entwined" – Matt Dickinson
Comment & analysis round-up
Quote of the day: "That's the way things happen sometimes, players we've let go have scored against us before. Things like that can come back and bite you at times. But we are happy with the players that we have." – Sir Alex Ferguson.
Runner-up: "I've heard about a dozen versions of the same rumour and they're all as daft as each other. I'd love to know who comes up with this kind of stuff because they must have an unbelievable imagination. Nothing happened, that's an absolute fact. And if anyone thinks this nonsense unsettles either me or the club then they're mistaken. If anything it's brought everyone even closer together because we've all had a good laugh about it. In the time since he's been here I've never had a problem with the manager or his staff, and certainly not at half-time in the Reading game when I was actually receiving treatment for the injury I'd picked up during the first half. The important thing for me now is trying to get myself fit as soon as possible so I can get back to working with the manager and the team to try and improve our situation. All the stories about me leaving are unfounded. The fans can be assured that I am doing all I can to get back to top form and help Liverpool finish the season on a high." – Steven Gerrard.
Today's overview: The blue half of Manchester is on their uppers this morning after the Citizens edge neighbours United 2-1 in their Carling Cup semi-final first leg. And Carlos Tevez is the man of the hour… except for at Gary Neville's house.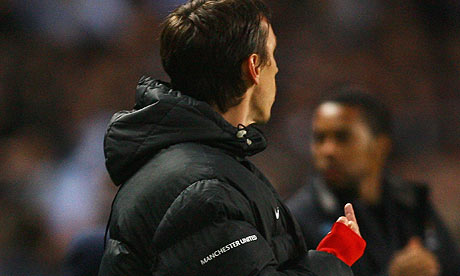 As Chris Wheeler reported, "two-goal hero Carlos Tevez was involved in an ugly altercation with former Manchester United team-mate Gary Neville… [After Tevez scored] Neville, who was warming up on the touchline, flashed back an offensive one-fingered response which could land him in trouble with the FA."
Extrapolating, Matt Dickinson makes the case that Neville's bitter middle-finger salute proves how City are closing in on United. "It is nights like this that give credence to the idea that Manchester United and Manchester City, light years apart not so long ago, are now on a trajectory in which their futures become entwined. You can draw that conclusion from City's victory. You can see it in the name of their match-winner, Carlos Tévez, stolen away from Old Trafford. But, most of all, it was there to be seen in the gesture that Gary Neville made to Tévez as the two exchanged insults after the latter's first goal. Not so long ago United had dismissed their local rivals as "noisy neighbours". Now they were being drawn into a bitter row over the garden fence. Bovvered? As the Neville digit was raised, it was hard to conclude otherwise."
Turning to Tevez, Kevin McCarra wrote "it is much too soon to tell whether City have been transformed but Tevez is certainly in the midst of an astonishing spell. He altered the whole nature of this game." Next to comment on the Argentine was Daniel Taylor. "This was the moment Tevez had been craving since his defection from Old Trafford and the lingering sense of bad feeling could be seen in the exuberant way he chose to celebrate compared to the respect he has afforded West Ham when scoring against another of his former clubs. Tevez was so pumped up he made a beeline for the touchline where Gary Neville had been warming up and informed his former team-mate (imagine Rod Hull with an invisible Emu) that he talked too much."
Henry Winter joined the Tevez love-in. "Where some cast quizzical aspersions over the adhesiveness of Tévez's first touch, his remarkable work ethic more than compensates. Few flaws could be detected in the emphatic way he converted his first-half penalty, while his headed second bore all the hallmarks of a serial poacher."
Steven Howard however opted to shower his praise on United, despite the Red Devils losing the match. "It is on nights like these that United show all their old character. Yes, they have blown hot and cold all season, with some woeful displays against teams that, in the past, they would have wiped off the map without breaking sweat. Yet as they showed at Stamford Bridge, they can still rise to the occasion – even in defeat. And so it was last night, when, trailing 2-1, they played their best football. Antonio Valencia, Michael Owen and Rooney might all have scored to procure the draw their overall superiority deserved."
West Ham finally have new owners after Davids Sullivan and Gold won the auction to buy the debt-laden Eastenders. But the situation, particularly financially, is slightly less than rosy.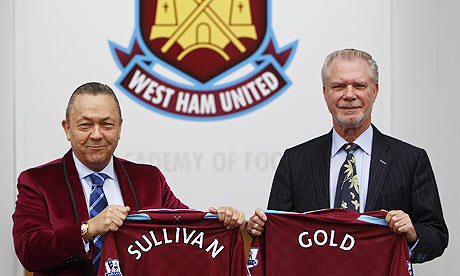 According to Pat Sheenan, the new owners plan "to immediately plough in £8m for new players to help save Gianfranco Zola's side from Premier League relegation," however Simon Cass takes a far less committal approach to transfers, rather opting to look at how the new owners are trying to swell the coffers. "As well as seeking more investment, the new co-owners are keen to pursue the possibility of renting the Olympic Stadium once the 2012 London Games are over and, in the meantime, have not ruled out selling the naming rights to Upton Park."
Matt Scott continues to pour cold water on thoughts that West Ham will take storm the transfer marker. "Although Gianfranco Zola will be permitted to sign new players during the current transfer window, the club's league position does not make Upton Park an attractive destination. Sullivan is poised to take personal responsibility for transfers alongside the new vice-chairman, Karren Brady, and the likelihood is that any arrivals this month will be loaned in rather than purchased outright."
The Mirror's John Cross publishes an exclusive interview with Arsenal captain Cesc Fabregas in which the Spaniard admits he lost the passion last season. Cesc: "I was really down last season. I couldn't enjoy anything, everything was negative. I lost that passion for the game and was happier closed off at home. It's a very odd feeling."
Turning to Spurs, Steve Sammers puts himself in line for the say-the-bloody-obvious award this Wednesday as the hack wastes his column by arguing it's bad that Tottenham have faltered against weaker opposition at home. "If Tottenham want to be part of it, they have to stop of the leakage of points at home when they face teams who shut up shop. With the eight points dropped against Hull, Stoke and Wolves they would be above Arsenal going into tonight's league game."
Are Pompey heading into administration?
Mark Irwin is the bearer of bad news reporting "Portsmouth were last night teetering on the brink of complete collapse over their unpaid £7.5million tax and VAT bill. The crisis club now has 21 days to come up with the money or face a winding-up petition in the High Court on February 10."
There are just 10 days to go in one of the most boring transfer windows for years, but the gutter press refuse to be beaten by spewing up a host of new lies this Wednesday.
Adopted the flawed logic of there is no smoke with fire, Ian Ladyman announces how the Spanish press believe the Wayne Rooney could be bought by Barcelona. "Barcelona appeared to kick off a campaign to attract his attention on Tuesday by apparently leaking a story to Spanish newspaper El Mundo Deportivo claiming that the striker has told former United team-mate Gerard Pique  now at the Catalan club – that he 'would love to play for Barcelona'. While there is unlikely to be any substance to that part of the story, the fact Barcelona are happy to make their interest known – there have been several links to Rooney in the Spanish media in recent weeks – suggests United are beginning to look vulnerable."
Alan Nixon, who it feels has been vomiting nonsense throughout the winter, today farts "Blackburn are trying to sign Uruguay World Cup midfielder Sebastian Eguren on loan from Spanish giants Villarreal for the rest of the season." Nixon continues to roll out never-gonna-happen stories by barking "Manchester United and Chelsea are in talks with Spain's new superstar Sergio Canales about a sensational move to England."
Liverpool continue to look for attacking reinforcements, David Maddock coughing "Standard Liege striker Milan Jovanonic is a free agent in the summer and could be bought for a nominal fee, and Benitez has made several enquiries about the Serbian."
Despite Manchester City being saturated with midfielders, Mark Irwin is caught gossiping that "City are trying to set up a loan deal for Mathieu Flamini – just a fortnight after signing his former Arsenal team-mate Patrick Vieira."
Turning to some of the lessor lights in the Premier League, The Mirror claim "Stoke boss Tony Pulis is lining up a £5m bid for Middlesbrough captain Gary O'Neil – after being priced out of a move for Scott Parker." Over in The Express we learn "Birmingham are close to completing a deal for Aston Villa midfielder Craig Gardner," while the Daily Mail link Galatasaray with a move for Benni McCarthy.
Galatasaray continue to do their shopping in England according to Gary Jacob, who claims Gala "are determined to lure a big-name forward from the Barclays Premier League and have identified Ryan Babel, Giovani dos Santos and Jo as potential targets."
The Daily Mail continue to churn out speculative stories including that Hull, Fulham and Ajax are all target Mido, and apparently Spurs, Arsenal and Liverpool are on alert as Klaas-Jan Huntelaar looks for way out of AC Milan.
---