"It is hard to say that England's chances of winning the World Cup have been significantly dented by [Rio's injury]. They already looked to be lacking something" – Barney Ronay
Comment & analysis round-up
Quote of the day: "It's a crazy game and things can change in a split second. One minute I'm trying to arrange my holiday, then I get a call asking if I was on holiday because Rio had pulled out of training. I said 'no' and then I was just waiting by the phone before getting a call saying I would be picked up in an hour. It's been a crazy day. For Rio to get injured, there would be no worse feeling for him as a player. To miss the biggest tournament in the world as the captain, I feel for him. I missed the Carling Cup Final in 2008, and there was nothing anyone could have said to me that could have made me feel any better. For Rio, the feeling will be the same, but it's a chance for me now. I've not had time to think about it but I've had call after call with people wishing me good luck. I know all the lads through having been with them for two weeks so I'll just be going out there and training as normal. I was planning to watch the first game of the tournament with my friends and family, but now I'm going to be there for real. I'll be going out there still having not yet won a senior cap, so where better place to get one if that was to happen. But I'll just go there and train like I do every day at Spurs and we'll have to see what happens. It's great to have four other Spurs lads out there as well." – Michael Dawson.
Runner-up: "Rio said: 'I think somebody cursed me.' That is honestly how he feels. 'Rio is very down. He cannot understand why this has happened to him. This injury is nothing to do with the ones he had before. It is completely different and it is very bad luck. Rio was feeling sharp and was ready for the World Cup. 'He has waited so long for this tournament and to try and help England win it. He had prepared himself so well. But he is a very strong man and he will be back. I'm sure he will be leading England in four years time at the next World Cup." – Pini Zahavi.
Today's overview: After having played less domestic football last season than permanently crooked defender Ledley King, it could have been forecasted that Rio Ferdinand would succumb to injury at some point during the summer. But with the England captain seeing his World Cup wrecked in the Three Lions first training session, Fabio Capello's plans have been unquestionably damaged almost immediately after touching down in South Africa.
Rio out, Dawson in & Gerrard promoted: Dominic Fifield gives the sad prognosis for Rio Ferdinand, reporting "the Manchester United centre-half is braced for up to eight weeks in rehabilitation after twisting the joint as he stretched to tackle Emile Heskey."
The speculation over who'll be England's leading centre-half pairing is lead by Oliver Kay. "Ledley King will be favourite to play alongside John Terry in central defence against the US — with Jamie Carragher, Matthew Upson and Dawson providing cover — but Capello said that he would wait before making a decision."
Sourpuss Barney Ronay jumped on the Ferdinand injury to spout his negativity towards England's World Cup chances. "England's squad, billed in some quarters as a last, final, one-more-time hurrah for an internationally unfulfilled generation of talented Premier League thirtysomethings, begins to look even more unexpectedly diffuse and stitched together… It is hard to say that England's chances of winning the World Cup have been significantly dented by this. They already looked to be lacking something. Now down to their third-choice skipper in Steven Gerrard, they will at least carry a sense of make-do and mend, of hope over expectation, and even a refreshing tinge of unfamiliarity."
Just a little more optimistic was Oliver Kay. "England's hopes have not gone down the drain. Where there are players of the quality and experience of Terry, Ashley Cole, Steven Gerrard, Frank Lampard and Rooney, there will always be hope, but expectation — expectation of reaching the later stages, not of lifting the trophy — is another thing entirely."
Paul Hayward summarises a hectic week in the life of Steven Gerrard. "Life-changing news has bombarded Steven Gerrard all week. First, the great Anfield stand-off ended with Rafael Benítez's departure, then 24 hours later Rio Ferdinand collided with Emile Heskey on the England training ground and the country's armband was thrust in the Liverpool captain's hand. Throw in a predicted £30m offer for his signature from José Mourinho's Real Madrid and all roads lead to Stevie G."
The promotion of Steven Gerrard is celebrated by Sam Wallace. "Ferdinand's injury at last elevates Gerrard into the role that many believe he should have had a long time ago. As the captain of England at a World Cup finals he finally has the job that he looked destined for ever since he set about dominating the Ukraine midfield on his England debut more than 10 years ago. He might have got the captaincy by default but it feels like a good fit nonetheless."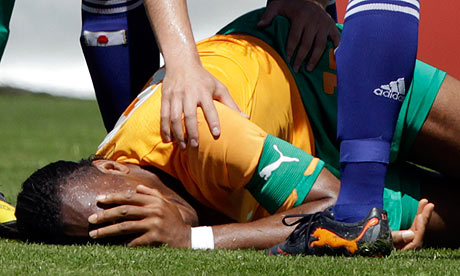 D'oh! for Drogba: Friday saw Didier Drogba suffer a serious arm injury in the Ivory Coast's 2-nil win over Japan, and the Chelsea forward's World Cup hopes are now in the balance.
Wrapping up the latest news on Drogba was Paul Doyle. "Didier Drogba, the Ivory Coast captain, underwent an emergency operation in an attempt to save his chances of participating in the World Cup… The loss of a player who has scored 44 goals in 69 appearances for his country – and hit 37 in all competitions for Chelsea this season – would severely damage the Elephants' chances of making an impact in South Africa."
World Cup Watch: Chris McGrath makes the case for Holland to do well this summer. "The one spark plug in the remorseless Internazionale engine, of course, was Wesley Sneijder. Together with his fellow Bernabeu reject, Arjen Robben, Sneijder gave the elite European season a vibrant orange hue. In the process, conceivably, both men may have discovered a winning mentality. And with Robin van Persie finding a silver lining of freshness, to the injury that clouded Arsenal's season, and a dazing depth of offensive options besides, the Netherlands perhaps have the most frightening attack in the tournament bar Spain."
An excellent article from Tim Rich focusing of the world of scouting ends off with a list of potential stars in South Africa. "Samuel Inkoom, Ghana Full-back, age: 21: An attack-minded defender, he was one of Basle's best players this season in picking up a league and cup double in his first season abroad. He is pacy and enthusiastic, with good ball control and looks to push on to support in the final third. Inkoom impressed in the World Under-20 Championship and was given his chance when Ghana sent a young squad to the Africa Cup of Nations last January."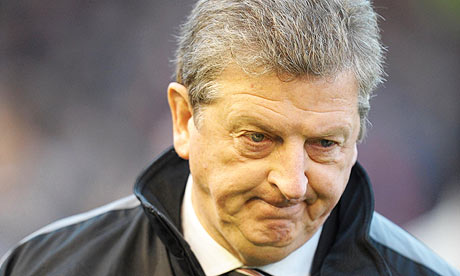 Liverpool's Manager Hunt: According to Andy Hunter, Roy Hodgsonis the front-runner for the vacant Anfield hotseat. "Liverpool hope to make rapid progress in their efforts to install a successor to Rafael Benítez with Roy Hodgson the leading candidate… [Fulham] would not welcome a move for their manager, who has a £2.5m release clause in his 12-month rolling contract at Craven Cottage."
Gary Jacob also speculates as to why Roy Hodgsonis likely to lead Liverpool next season. "Fulham believe that Liverpool may turn to Mark Hughes because he is out of work and there would be no compensation, but the appointment of a former Manchester United player would not be welcomed by fans. Also in Hodgson's favour is that he has a close relationship with Kenny Dalglish."
Looking at the other candidates, Patrick Barclay explains why he thinks King Kenny will not be Liverpool's next manager. "This is not the world as Dalglish knew it when he managed Liverpool before — when they could attract the likes of John Barnes and Peter Beardsley — or as he later knew it with Blackburn Rovers, the Manchester City of the time. True, when Blackburn's benefactor jetted in, it was from Jersey and not Abu Dhabi, but Jack Walker still made sure that it was Dalglish rather than Sir Alex Ferguson who received the benefit of Alan Shearer."
Jingoistic, Kevin Garside advises Liverpool to return to their historical roots. "Martin O'Neill and Roy Hodgson have been mentioned. But what about an aspiring young coach like Alex McLeish, who has demonstrated the ability at Birmingham to mould a team around the sound footballing principles demanded at Anfield? And he speaks the language of Shankly and Dalglish. A corrective brush is sweeping through the club. The expansive franchise model has failed. A new period of austerity beckons, but at least the club has a chance to recover its soul. And in Dalglish, the right man to start that process."
Throwing a spanner in the works, The Sun's Paul Jiggins reports that "Sven Goran Eriksson confessed last night to being a lifelong Liverpool fan and admitted: Managing the Kop would be a dream job."
In the fallout from the drama at Liverpool this week, Rory Smith suggests that Inter Milan could be the big winners. "The club's president Massimo Moratti… is confident of securing Benítez after giving up hope of luring the England manager Fabio Capello back to league management, and is likely to offer him the enticement of the chance to make Javier Mascherano, Liverpool's unsettled midfielder, his first signing of the summer."
The Transfers: Gary Jacob delivers a raft of gossip in The Times including news that Palermo have rejected Birmingham's approach for striker Fabrizio Miccoli, Sunderland are linked with PSV keeper Simon Mignolet, both Arsenal and Marseille are said to be eyeing Rennes midfielder Sylvain Marveaux, and Grenoble forward Danijel Ljuboja is a reported target for both Stoke and Wolves.
Roddy Forsyth reveals how Spartak Moscow have made an official €10 million bid for Celtic's Aiden McGeady. Mark Wilson however counters in the Daily Mail with his version of events, saying "Celtic have rejected an official approach from Spartak Moscow and told the wealthy Russians that Aiden McGeady was not for sale."
The Daily Mail reveal that Michael Essien has signed a two-year contract extension at Chelsea. Chris Wheeler then steps up the Blues news reporting "Chelsea will exploit the turmoil at Liverpool by launching a sustained bid to sign Fernando Torres in a British record transfer this summer. As revealed in Sportsmail last month, Roman Abramovich is ready to lock horns with Manchester City owner Sheik Mansour in a deal that could reach £70million."
Elsewhere, the Daily Mail linked Stoke with a £4m move for Boro's David Wheater, The Sun link James Milner with Manchester City and Nadir Belhadj with West Ham, and in continental news the Mirror announces that "Werder Bremen have completed the signing of Marko Arnautovic from Dutch champions FC Twente."
Finally, the Star spew the never-gonna-happen story that "Japan want to lure back Arsene Wenger as their national team manager."
---