"It is a no-brainer that Arsenal will still finish above £100m, or whatever is at the latest count, Manchester City" – James Lawton
Comment & analysis round-up
Quote of the day: "Going to Arsenal is my dream. I am at the end of my contract and the club want to turn this into a money issue. What the club are asking for is not fair. I am angry. I am even disgusted. I don't understand why people are doing this to me. Ever since I've played football, I've given my all for this club and for the fans. I believe I deserve more consideration." – Marouane Chamakh.
Runner-up: "He's a big name." – Sunderland assistant manager Eric Black on Tottenham's Darren Bent.
Today's overview: With eleven days until the start of the Premier League season the intensity around Arsenal's lack of summer signings, Manchester City's pursuit of Joleon Lescott and Xabi Alonso's proposed move to Real Madrid is cranked up another notch.
Kicking off with a piece of real news, Henry Winter reports in the Telegraph that "the Premier League is considering extending the transfer window by 24 hours because August 31, the traditional deadline day, falls on a UK Bank Holiday."
In a sign of how the mighty have fallen, Richard Williams tells the story of Chartlon's Jonjo Shelvey – a 17-year-old midfielder who last week turned down the chance to join Chelsea for £3.5m. "Shelvey has come to the conclusion that the chance to share a dressing room at Chelsea's luxurious training ground with the likes of Frank Lampard and Didier Drogba is some way short of a guarantee that you are actually going to play alongside them in real matches. And he is willing to wait until West Ham, his preferred destination, can stump up a fee acceptable to his current employers."
Its not all bad news for Chelsea though, Matt Hughes reporting how Joe Cole has told Chelsea he wants to stay. "Chelsea are in the process of putting together an improved package worth around £100,000 a week, but are waiting to see how Cole recovers from a serious knee injury before opening formal negotiations."
While Cole looks to be staying at the Bridge, The Sun splash with news that "Arsenal are on the verge of signing Salomon Kalou from Chelsea. The Gunners have offered £6million for the 28-year-old Ivory Coast striker – but the Blues are insisting on £8m."
Having seen Arsenal impress at the Emirates Cup, David Hytner notes how the return of Rosicky and Eduardo "resemble new signings but have the advantage of being schooled in the Frenchman's philosophies" although the scribe questions the players' ability to stay fit throughout the season. Elsewhere, Jeremy Wilson keeps focus on young Jack Wilshere claiming the teenager will be called up to the England U21 squad next week.
Amy Lawrence forecasts the year ahead for Arsenal. "Wenger has come to the conclusion that shape, not personnel, will be the key to a big improvement… Throughout pre-season Wenger has shifted it to a 4-3-3. He has plenty of options for his attacking trio, with Van Persie, Nicklas Bendtner, Andrey Arshavin, Eduardo, Theo Walcott and Carlos Vela all in contention. A Barcelona-style passing game, with a bit more bite up front than Wenger's usual deviation from 4-4-2, is the new formula."
Sam Wallace also picks up on the Gunners' new formation. "The weakness is where Wenger finds a holding midfielder as an alternative for Song who is still some distance from establishing himself in that position. Abou Diaby can play that role and there are still the rumblings about Patrick Vieira returning."
Adding a third voice, James Lawton also lays out his thoughts on Arsenal ahead of the new season. "There are one or two things you can say with a degree of confidence. One is that the entertainment quota there will at times fly off the graph. The other is that it is a no-brainer that Arsenal will still finish above £100m, or whatever is at the latest count, Manchester City."
Its a difficult day for Evertonians with James Ducker spreading the news that Joleon Lescott has told "the club that he wants to leave in a bold attempt to force through a move to Manchester City… [it] raises the prospect of the England defender being deemed an outcast in the event that he is kept at Goodison Park against his wishes." According to Paul Joyce a sticky situation may be about to unfold as "Lescott has been told he will not be allowed to leave Everton despite demanding a move to Manchester City."
Rory Smith is at pains to stress how Lescott "stopped short of formally handing in a transfer request," before claiming that the Toffees are after "Albin Ebondo, of Toulouse, and Miguel, of Valencia. Moyes may also use the money to increase his £13 million offer for Steven Defour, the Standard Liege captain."
Lescott's almost-certain departure from Goodison is also tempered by news in the Guardian that Everton have signed Philippe Senderos from the Gunners. However, one player less likely to be leaving the Emirates is Emmanuel Eboue, with Gary Jacob announcing that "Fiorentina claim to have withdrawn from talks… after being unwilling to meet the £8.5 million valuation of the midfield player. The Italian club were offering about £4.5 million."
One of English football's brightest talents has made his way to the Premier League as Stuart James details Aston Villa's "£6m with add-ons to follow" swoop of Fabian Delph from Leeds. In a supplementary article, Stuart James notes how O'Neill "[appreciates that Delph] requires time to mature on and off the field. His tackling can be overzealous at times, as highlighted by the 13 yellow cards he picked up during last season, while his conviction for a drink‑driving offence in December means that he will spend his first term at Villa Park being ferried to and from the club's training ground."
Sandy Macaskill sets high targets for teenager Delph. "O'Neill revealed that he intended to make a 'like-for-like' replacement for Gareth Barry this week. It could be that he sees Delph, a predominantly left-sided player who can also be deployed in a more central role, as just that."
(A video showcasing all the goals scored by Fabian Delph last season can be seen here.)
Also making signings late Monday night were Blackburn, David Hytner inking that Nikola Kalinic and Franco Di Santo (on loan) have arrived at Ewood Park.
As standard, the Daily Mail regurgitate an unlikely list of transfer rumours starting with the news that "Steven Defour has joined Roma's Alberto Aquilani on the list of candidates to replace Xabi Alonso at the heart of Liverpool's midfield." Next, "Tottenham Hotspur have held talks with Moussa Sissoko's advisers as they step up their attempts to sign the highly rated midfielder," while Fulham are set increased their Team USA quota once more by posting a £6.5m bid for Jozy Altidore.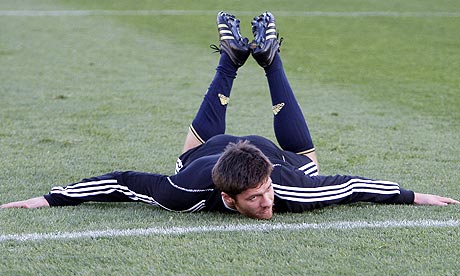 Wrapping up the news from the rest of the rags, the major bone of contention revolves around Xabi Alonso's future. The Sun's Phil Thomas leaves himself some wiggle-room scrawling "Liverpool will splash out £20million to land Roma midfielder Alberto Aquilani – but only when Xabi Alonso finally joins Real Madrid." The Mirror's David Maddock goes further though, headlining his article "Alberto Aquilani to join Liverpool as Xabi Alonso seals Real Madrid move."
And in the best of the rest, Martin Lipton claims "Chelsea moved closer to landing Andrea Pirlo last night – as AC Milan lined up Real Madrid's Mahamadou Diarra as a replacement," while the Mirror appear to be having a laugh headlining an article as "Lita gets dream move with Boro."
Lastly, we end with Mike Norrish's passionate rant against Darren Bent's use of Twitter.
"Why would anyone follow a footballer on Twitter? Yes, the collected musings of Stephen Fry may be of interest. But those of Bent? Surely 140 characters is way too much space for reporting anything he's ever said? You wouldn't need much more space to write his biography (My first draft is 90 characters: "Get Ipswich deal, do ok, join Charlton, do ok, join Spurs, get rich, miss lots of chances")."
---